A year ago I stumbled across a recipe for a Beefy Queso Dip featuring one of my all time favorite foods, Velveeta. To this day, I'm not really sure what Velveeta is actually made of, but to be honest, I don't even care if it's made from toxic waste, it's literally the most incredible "cheese" product that's ever been invented. A Velveeta mac and cheese is 100 times better than any other mac and cheese I've ever had, and I dare someone to dispute that.
The plain Velveeta/Rotel Tomatoes Dip has been around for a trillion years (this is not a researched fact, but it's been around)...so when the idea of adding in Beef and other tasty ingredients into this dip was introduced to me I had to try it. I made a large pot of this amped up queso dip and my husband and I literally finished the whole thing by ourselves. That's over 2 pounds of beefy, cheesy goodness, that two people ate in one sitting. You can judge me, it's ok, my arteries are still in shock.
I like this dip because it takes only 20 minutes to make, it can feed a small country of people (unless you're me and eat like a football team), it's got a ton of flavor and it's great for things like football parties or even a holiday party as an appetizer.
Pro tip: put the dip in a fondue pot to help keep it warm when you're serving it. There's nothing worse than a congealed mess of cheese.  
While this recipe is not a total original, my recipe below is how I made it. My major alteration: using Grass Fed Ground Beef instead of just regular ground beef. Trust me, it makes a HUGE difference in terms of flavor. Also, don't skip the pepper jack cheese - it's a vital component.
Enjoy!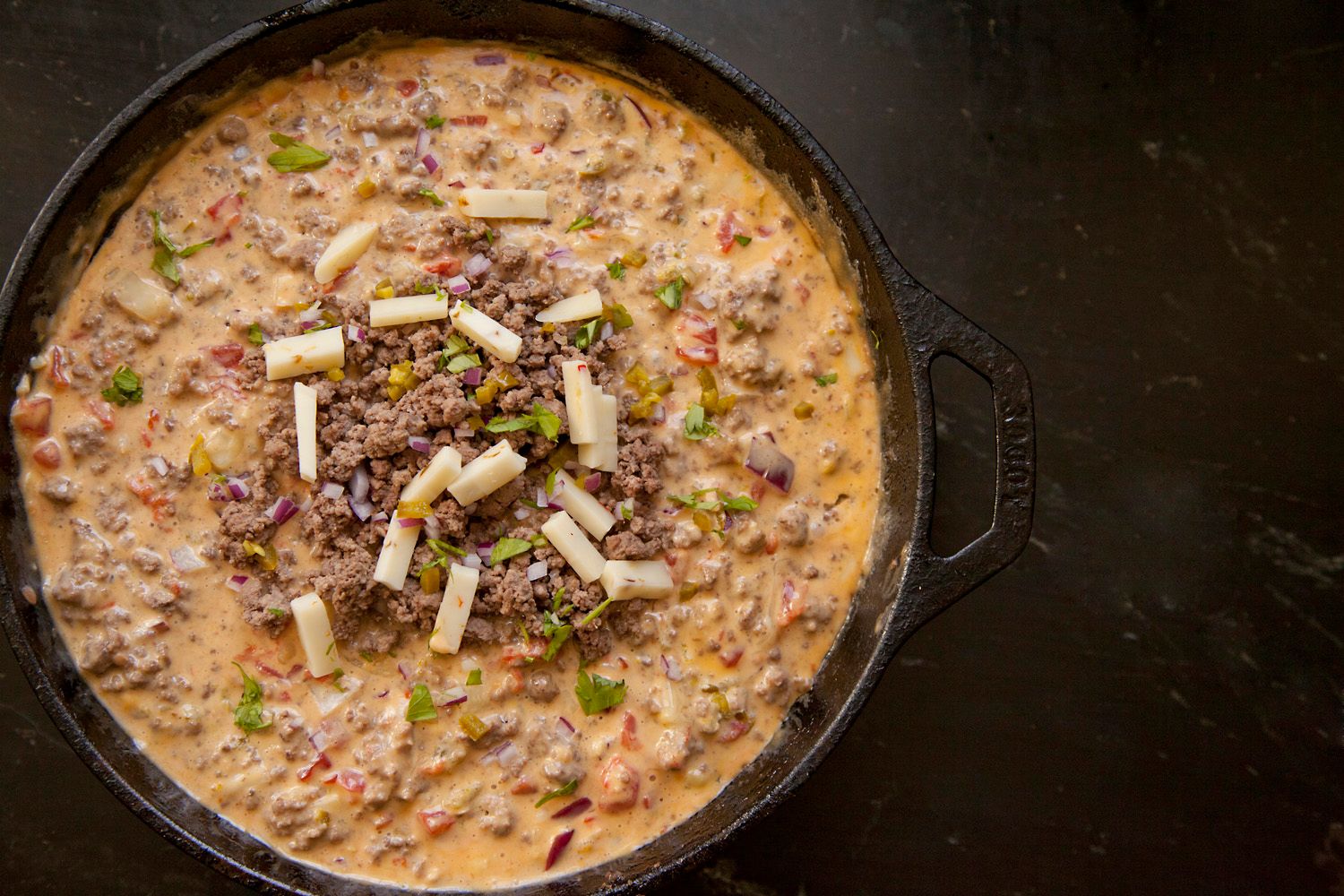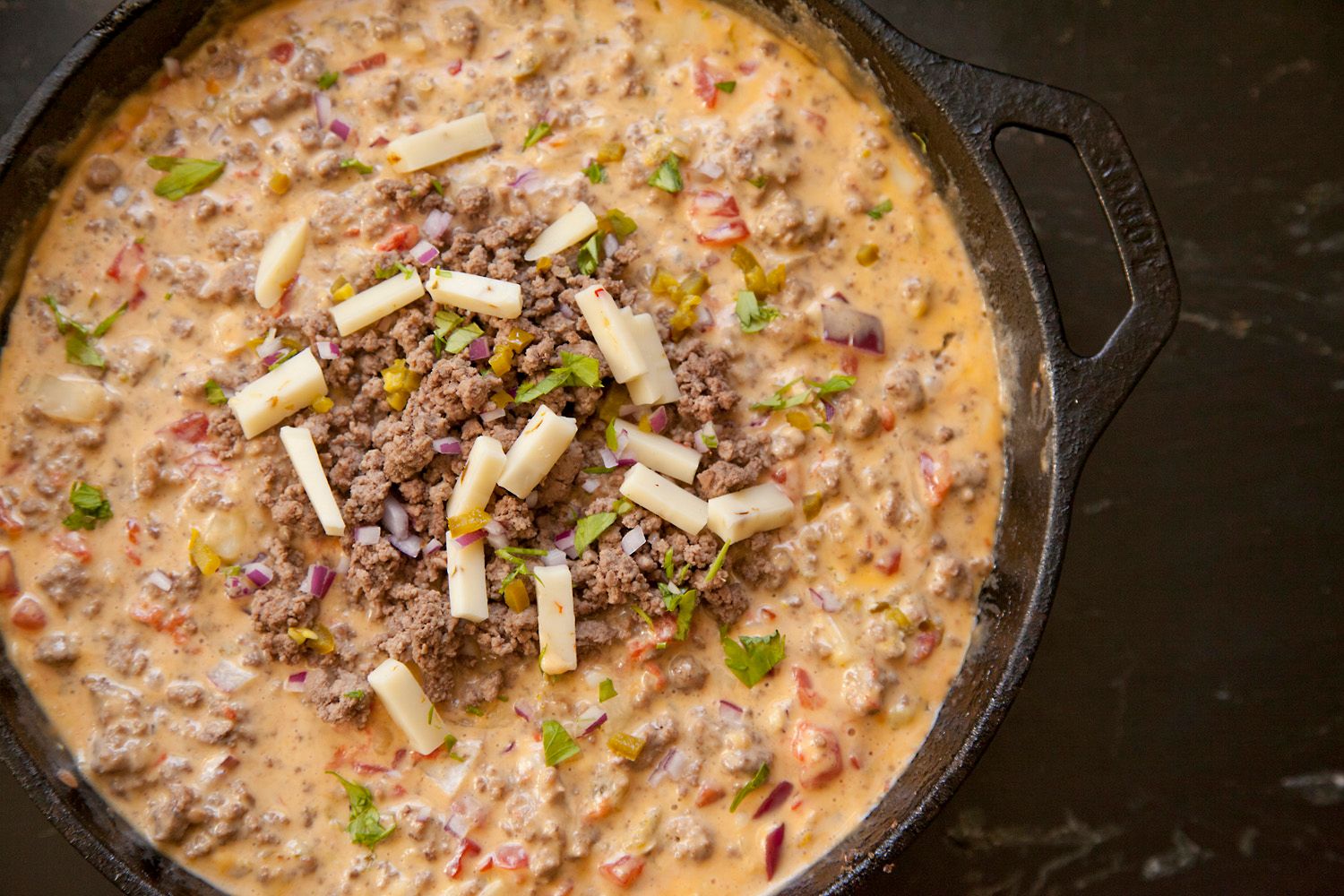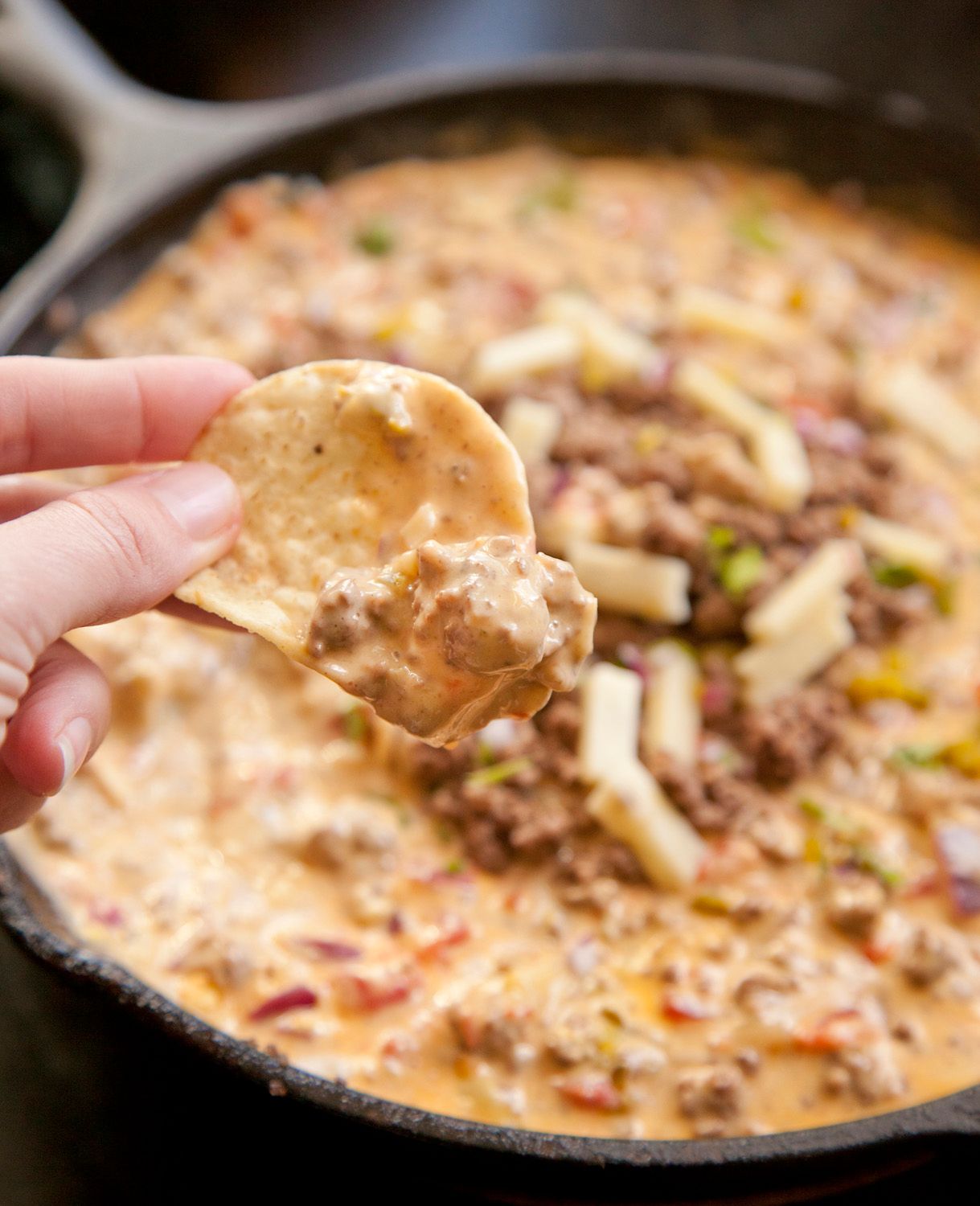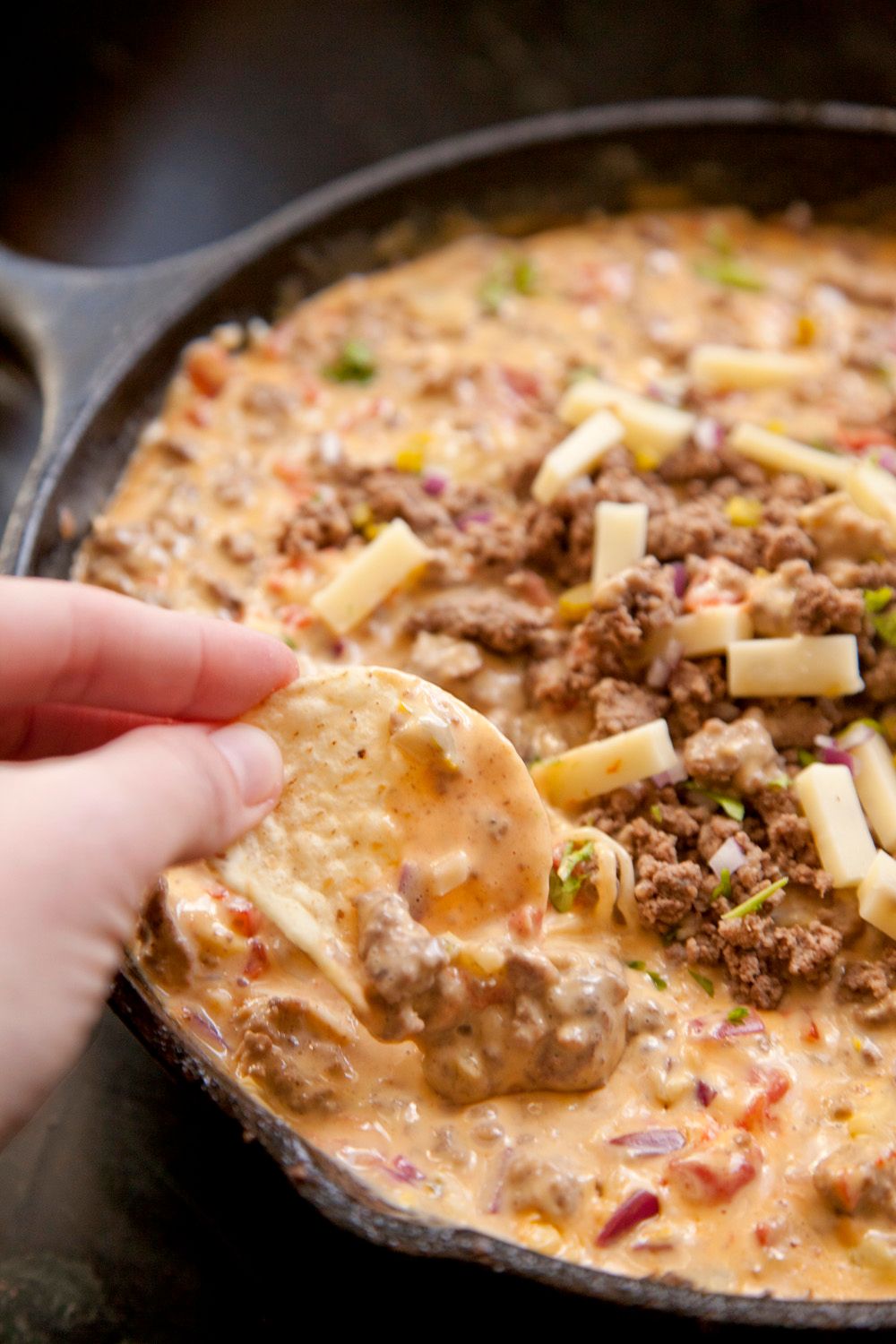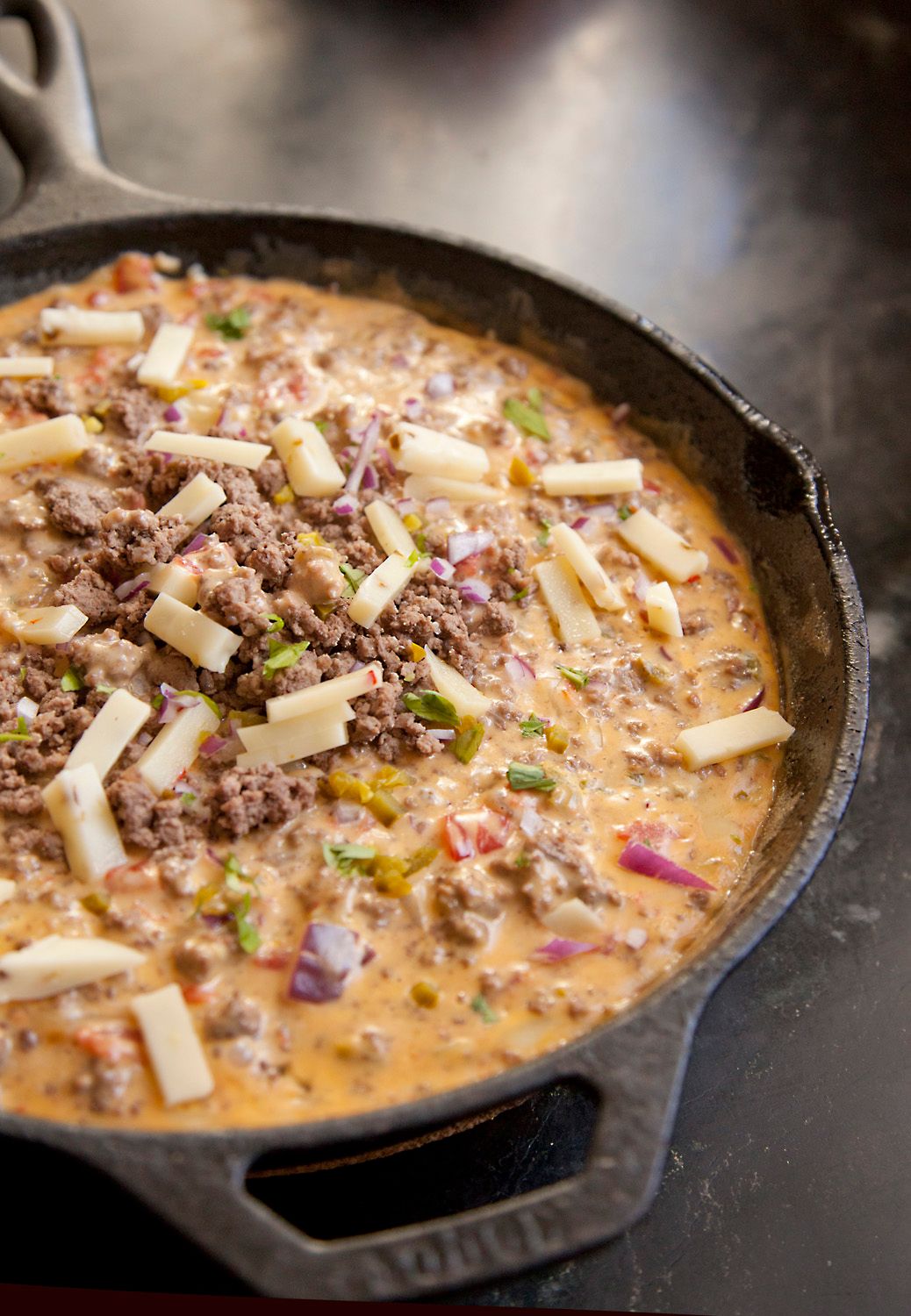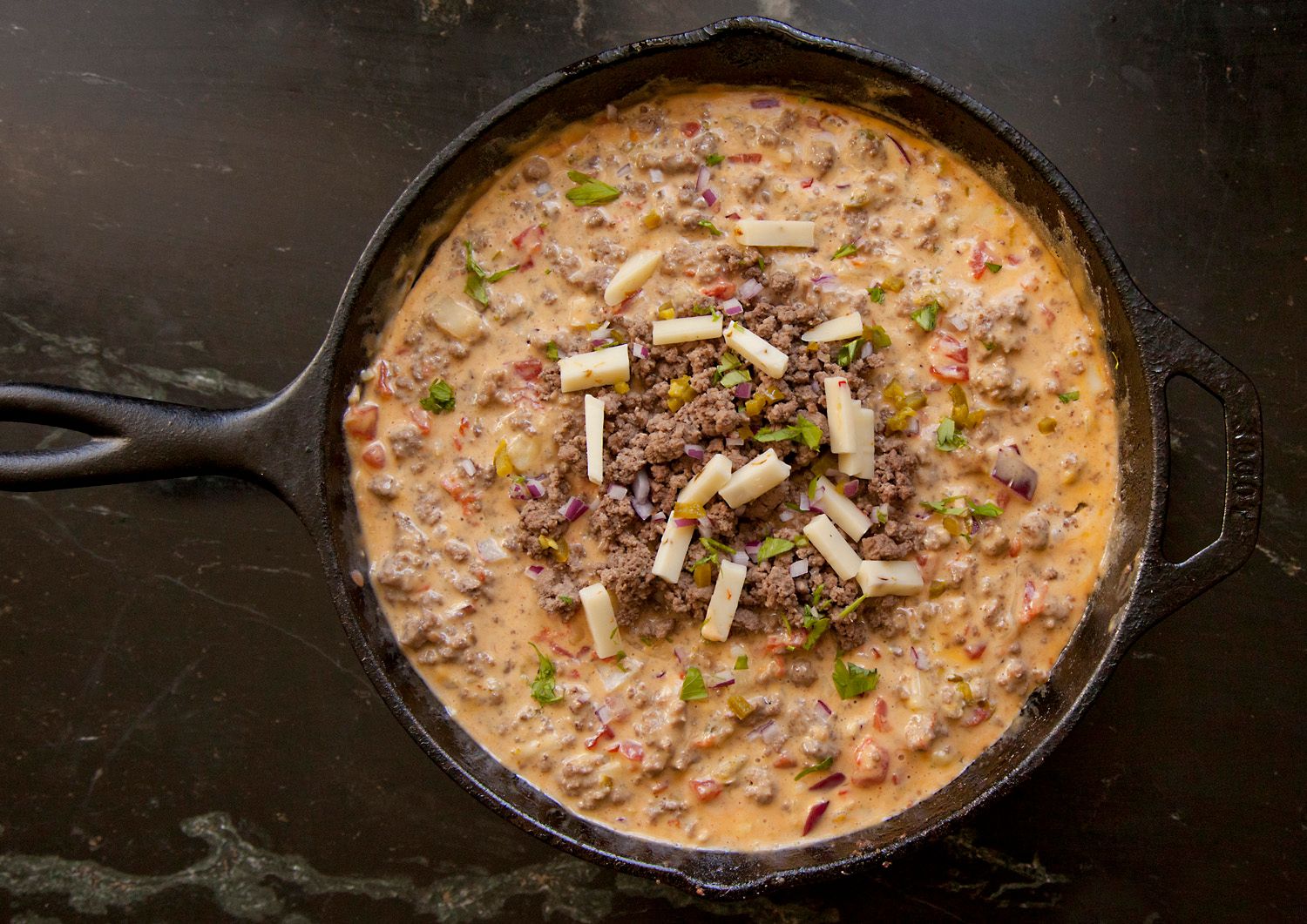 Ground Beef Queso Dip
Prep Time
---
10 Minutes

Cook Time
---
10 Minutes

Total Time
---
20 Minutes

Yield
---
Serves 6-8

Ingredients
1 pound Grass Fed Ground Beef
1 pound Velveeta Cheese, cut into large cubes
1, 10 oz. Can Rotel Tomatoes (medium heat)
2 Tablespoons Garlic, minced
1/2 cup Red Onion, minced
2 Tablespoons Jalapeno, minced
3/4 cup, Pepper Jack cheese, shredded
---
Directions
In a 10" castiron pan (or other oven safe pan), brown your ground beef over a medium heat until there's no pink. Drain the meat through a sieve and set the meat aside.
Place your pan back on the stove and over a medium heat, add in your Velveeta and the entire contents of the Rotel tomatoes can.
Stir frequently until the cheese is completely melted.
At this point, add back your drained beef to the pan and the garlic, red onion, jalapeno and pepper jack cheese. Stir to combine and rewarm the beef.
Optional: at this point you can put the pan under your oven's broiler for a few minutes to get the top slightly golden brown or you can serve it as is. To help keep the pan warm, try putting your queso dip in a fondue pot!
Serve with tortilla chips and enjoy!