Where do I begin my story about Baked Ziti Pizza?.....
Picture this: it's 2005, I live in New York City, Union Square, more specifically, and I am a junior at NYU. I am living my best life with my friends, going to parties, bars, and staying out til almost sunlight every weekend.
It's 3am on no particular Saturday, and after a night of partying and too many Jack and Cokes, my friends an I decide, it's time for food. Anyone who's been at this juncture in your life knows that when you're craving late night food, there's something specific you need, and for me, it was the need for carb-centric food, and lots of it. So my friends and I walk across 14th street to our favorite late night pizza place, Amore's which seemed to always be open no matter what ungodly time of night it was.
At this point, I have frequented Amore's enough times in my altered state that the woman, Rosa, who works there, knows me by name, knows my order, and even knows a little about my personal life after the gospel according to Jack Daniel's spewed out random information from my mouth for her listening pleasure.
Rosa, who couldn't have been taller than 4 foot 9 inches, embraces me with a hug as warm as my mom's as soon as I enter Amore's, I ask about her family, she tells me about her son, and then she says, "the usual?" – A question I thought only existed in small towns where everyone knows everyone and people go into their local eatery and the waiter says, "the usual, <insert person's name here>?"
My usual, as you may have guessed, was the impeccable Baked Ziti Slice of Pizza. When you want carbs on carbs, cheese, and the perfect combination of textures to bite into, this is the ultimate pizza order. Amore's was our go-to spot every single weekend for the year that we lived in that area of the city. After my roommates and I moved out of Union Square, the void of Amore's was palpable for me.... no other late night eatery could satisfy my 3am cravings for pizza with the warm embrace of Rosa and Amore's.
Fast forward 18 years (yikes!), I have a moment of clarity when deciding what to make for dinner that night when I randomly think of Amore's and the Baked Ziti Pizza. And BOOM, just like that, all the memories and tastes of those late nights comes back to me and I know, I need to recreate that slice of pizza to the best of my abilities and do Rosa proud.
After recipe testing this a few times, I got it pretty damn close to the glory of Amore's (which, sadly, is no longer open). I know at first this dish may seem absurd, pasta on top of pizza, 3 types of cheese, your arteries, etc., but it's worth it. Whether you try it on a cheat day, or are like me and eat like a heathen on the daily, this pizza is amazing and I guarantee you'll love it! And maybe it will make you think about your version of Amore's, because after all, isn't food and the sense of taste one of the major memory evokers that people can have?
Enjoy!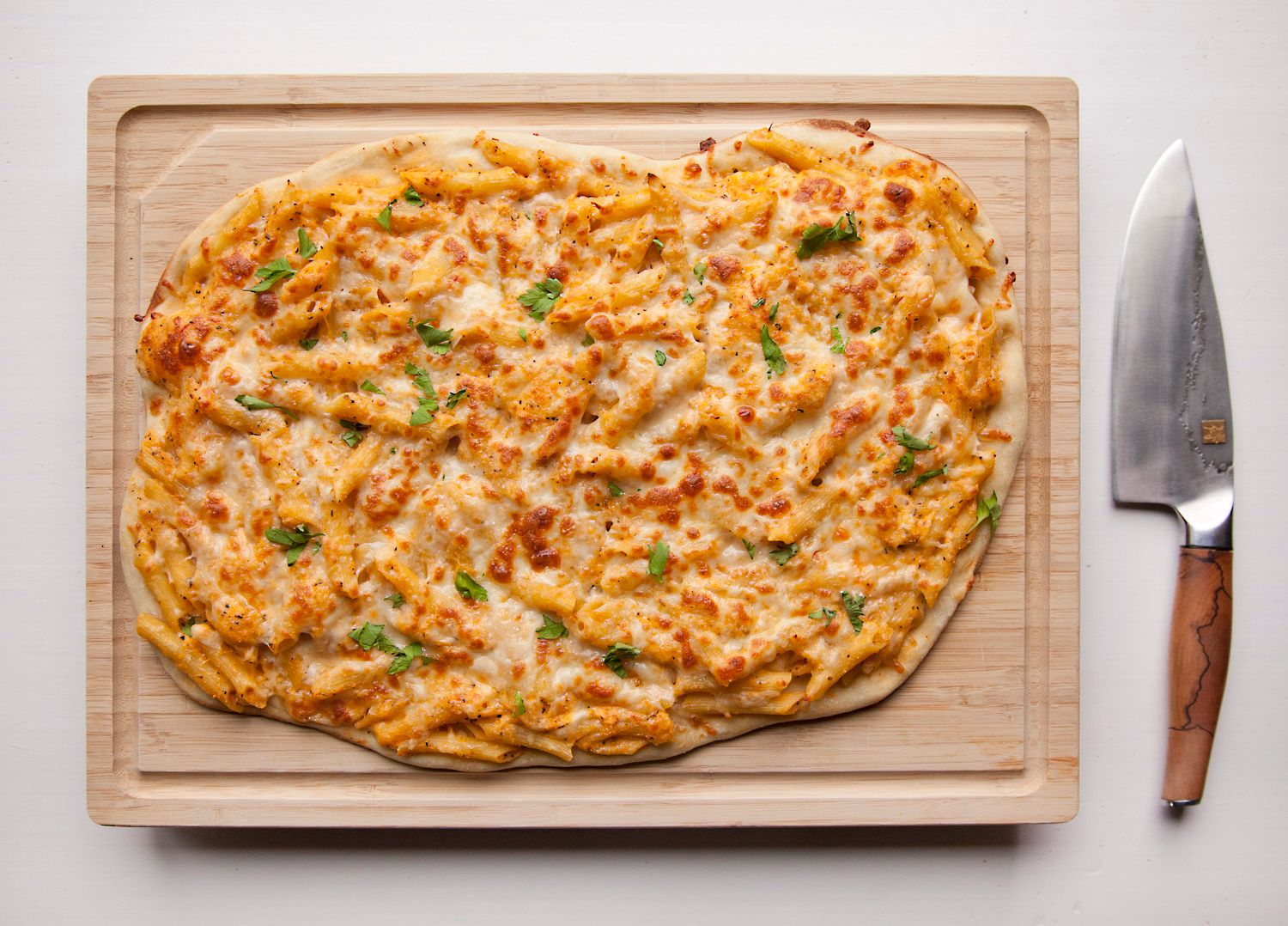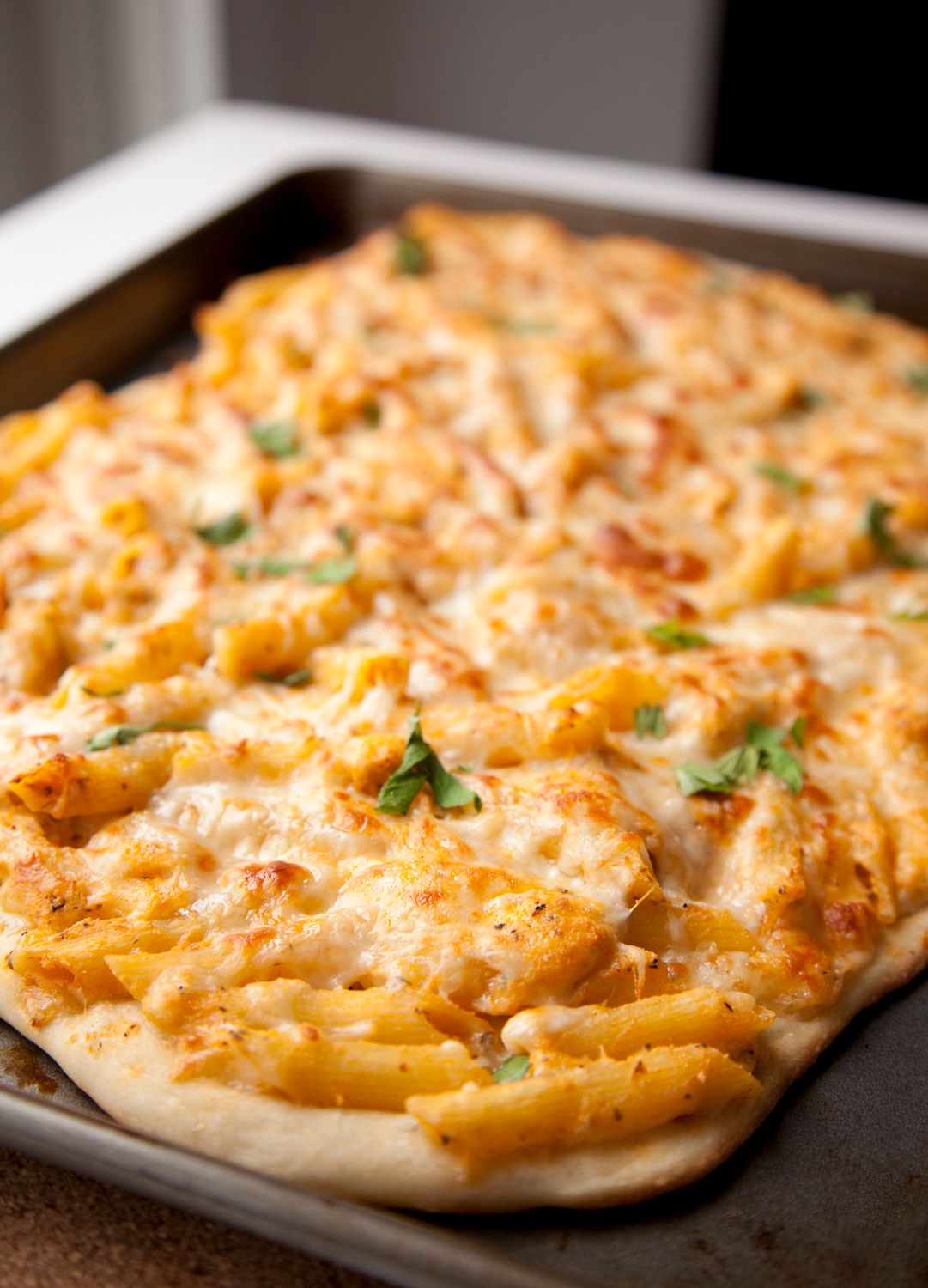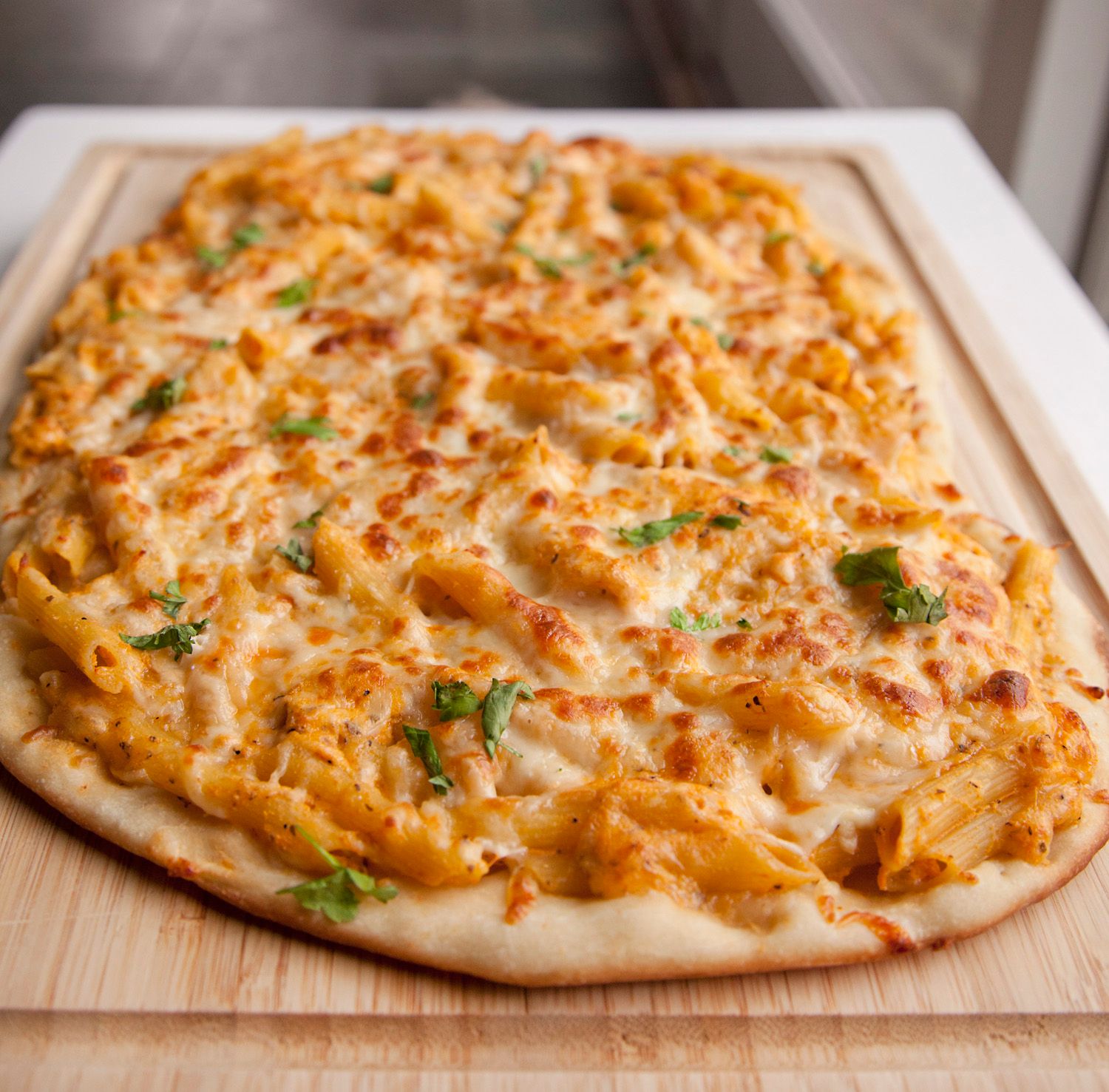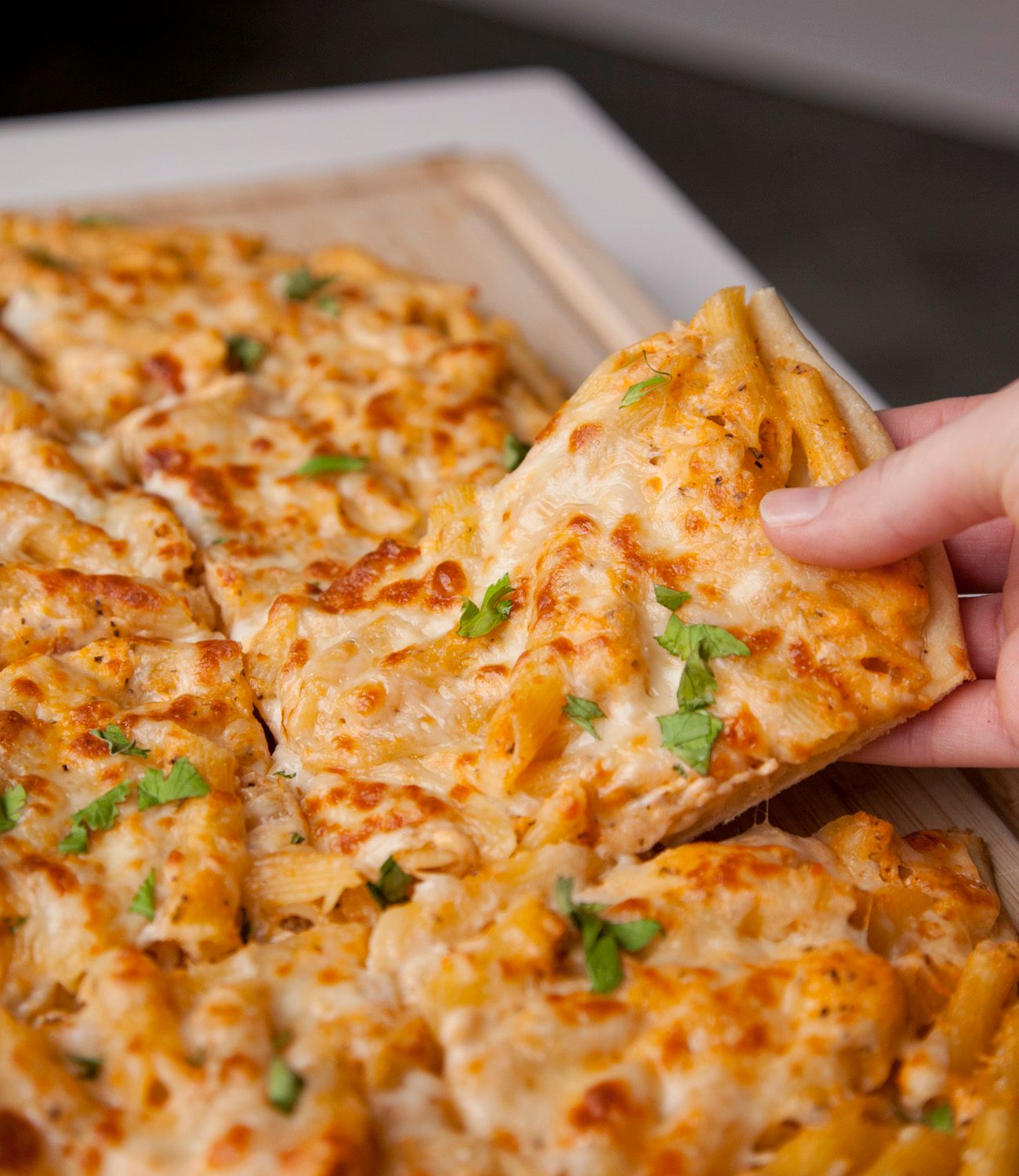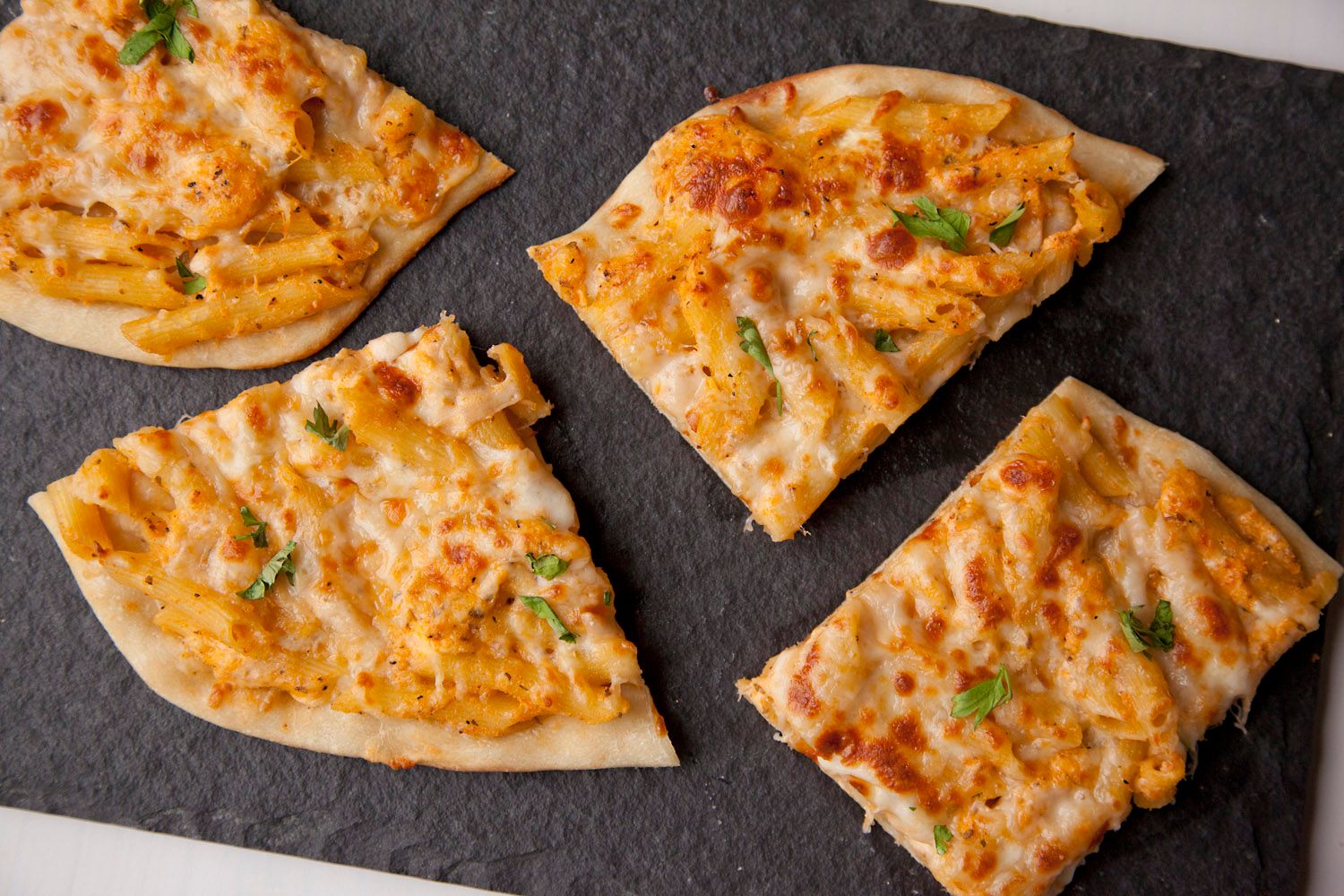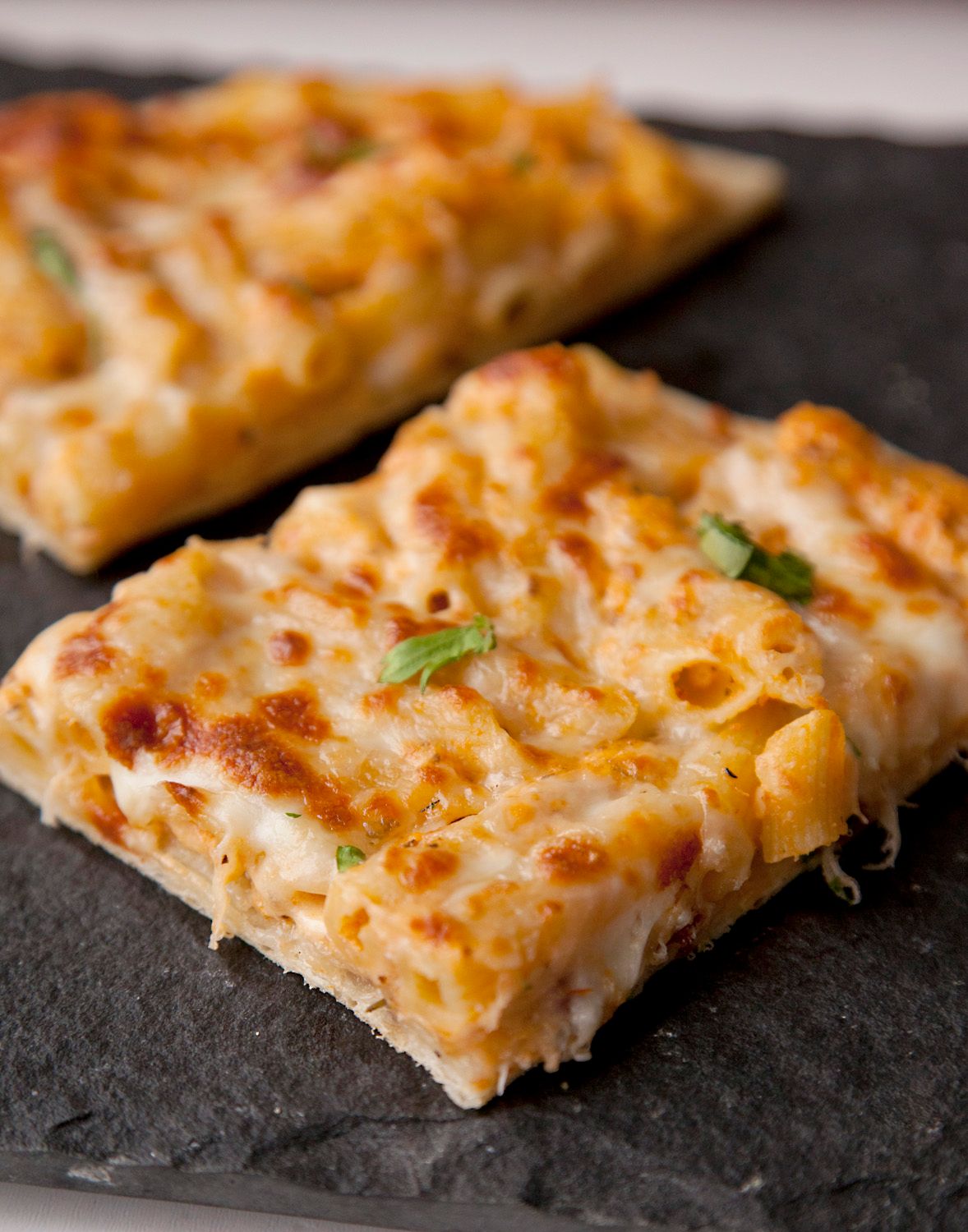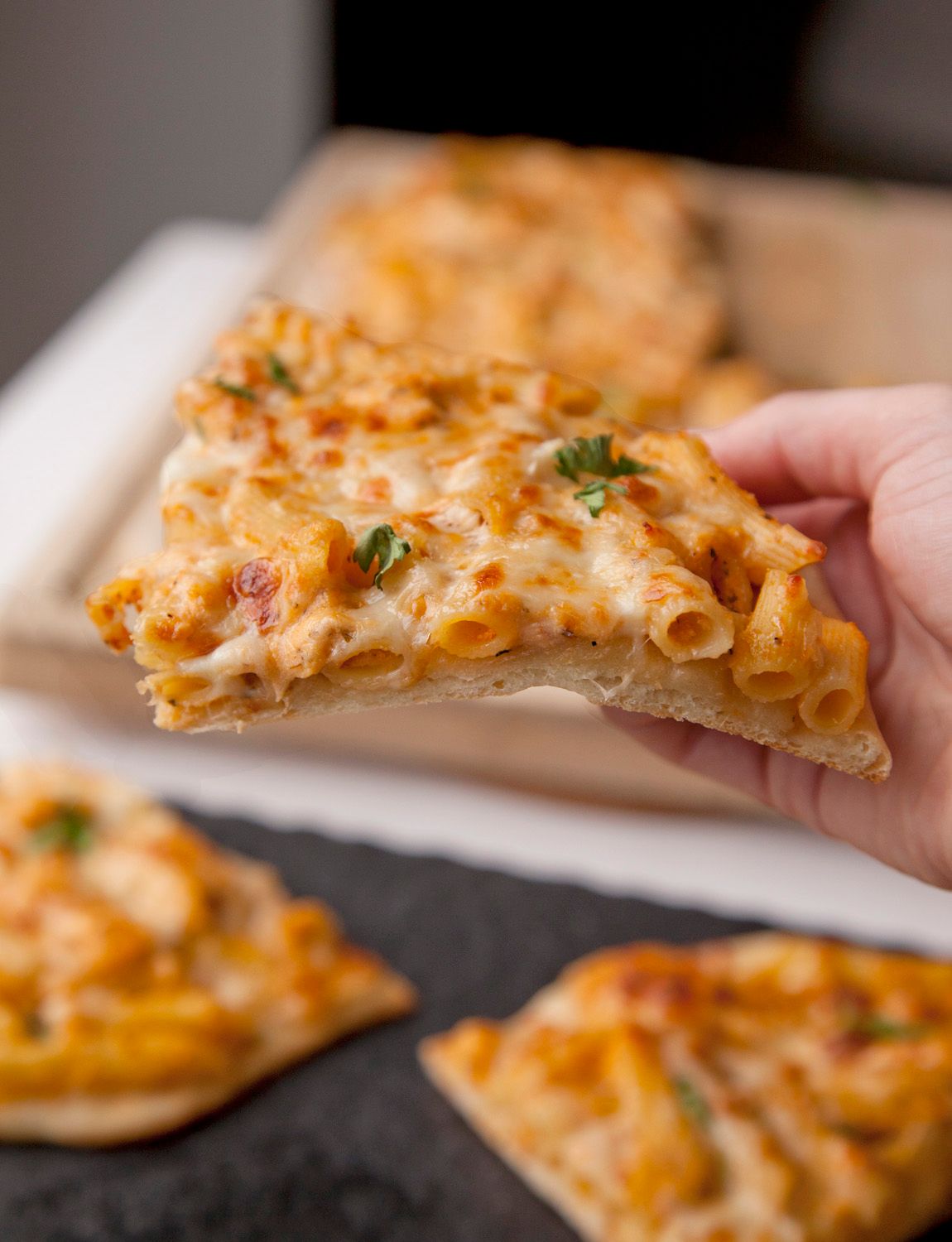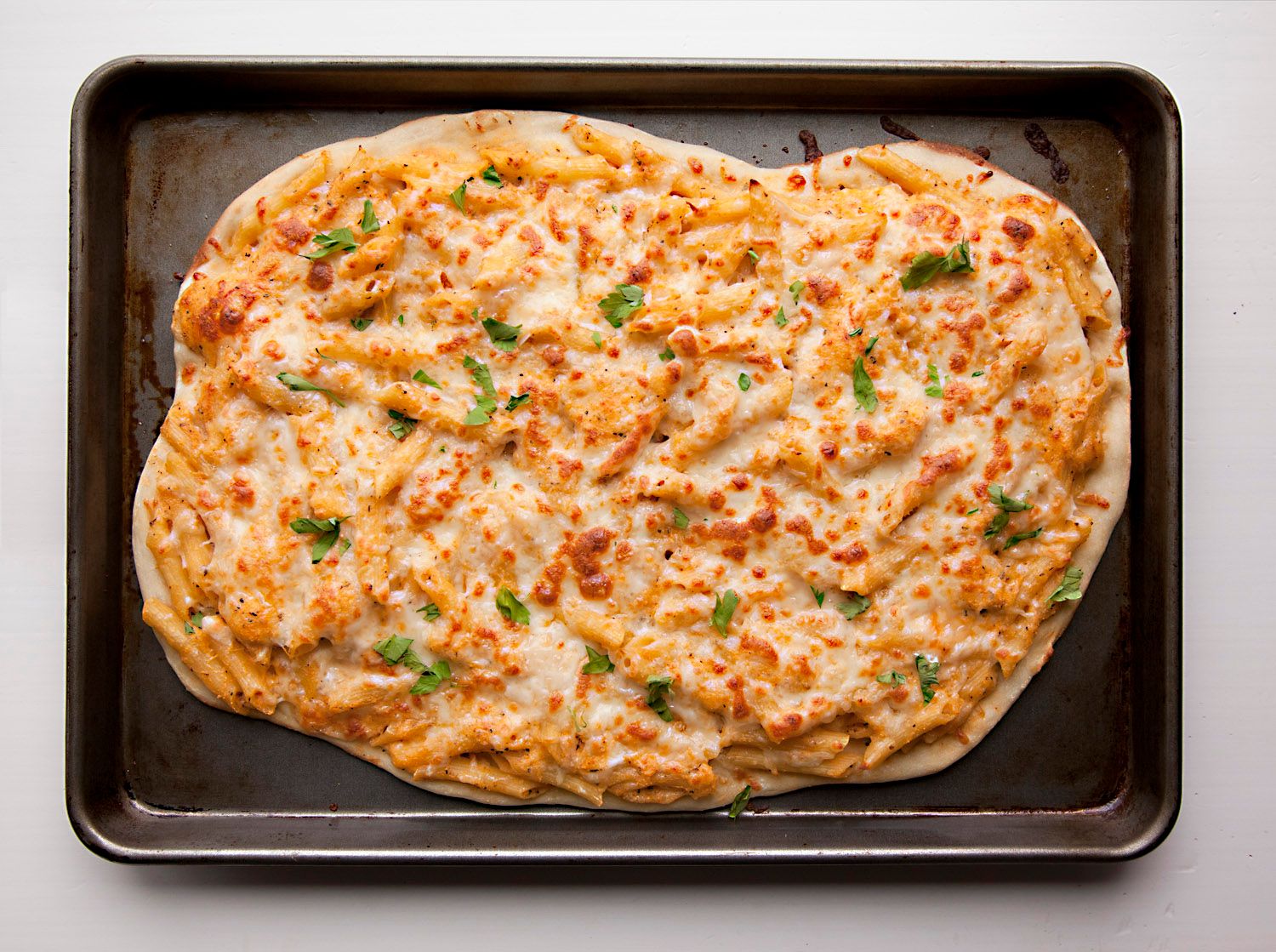 Baked Ziti Pizza
Prep Time
---
5 Minutes

Cook Time
---
30 Minutes

Total Time
---
35 Minutes

Yield
---
Makes 1 Pizza Pie

Ingredients
1 pound Pizza Dough (my favorite is from Trader Joe's)
8 oz. Penne Pasta (uncooked)
3/4 cup Ricotta Cheese
1/4 cup Tomato Sauce
1 teaspoon Dried Oregano
1/2 teaspoon Garlic Powder
1/2 teaspoon Black Pepper
1.75 cups Shredded Mozzarella Cheese, divided
1/4 cup Shaved Pecorino Romano
Parsley, for garnish
---
Directions
Preheat your oven to 375 degrees and grease a large baking sheet.
In a medium sized pot, cook the Penne pasta 2 minutes less than the package suggests. Drain the pasta and put the pasta back into the pot you cooked it in.
To the pot of cooked pasta, add in your ricotta, tomato sauce, oregano, garlic, pepper and 1 cup of your shredded mozzarella. Stir together to combine completely.
Meanwhile, carefully stretch out your pizza dough to fill the entire surace of your pre-greased baking sheet. Make sure the dough's thickness is even all over.
Pour the pasta mixture from your pot on top of the dough and spread all over in an even layer (leaving a border for the crust). Top with the remaining mozzarella and the pecorino romano cheese.
Bake in the oven for 15 minutes or until the bottom of the crust is golden brown. I then place the pizza under the oven's broiler for about 2 minutes just to get it bubbly on top.
Remove from the oven, top with fresh chopped parsley and serve!