I love cooking pizza and playing around with the various toppings, but I realized I never tried making my pizza gluten free.
So I wanted to test out a new dough recipe, tweaked to my flavor profiles, and this was my result. I topped the pizza with one of my favorite combinations of flavors: Some homemade Marinara Sauce, Fresh Shredded Mozzarella Cheese, Slow Roasted Mini Heirloom Tomatoes and fresh Basil.
I must say, I was a little leery about Gluten Free dough (the dough is my favorite part of a pizza, and the thing I am usually most critical about when eating pizza), but I really liked the flavor and texture of this dough! I made my dough more on the thick side (because I like some chew to my dough) – but to create a more crisp crust, make two medium sized pizzas (instead of one large) and make the dough closer to ¼" thick – I made mine closer to ½".
I also plan to play around with the amount of xanthan in my dough to play with the various textures it can achieve!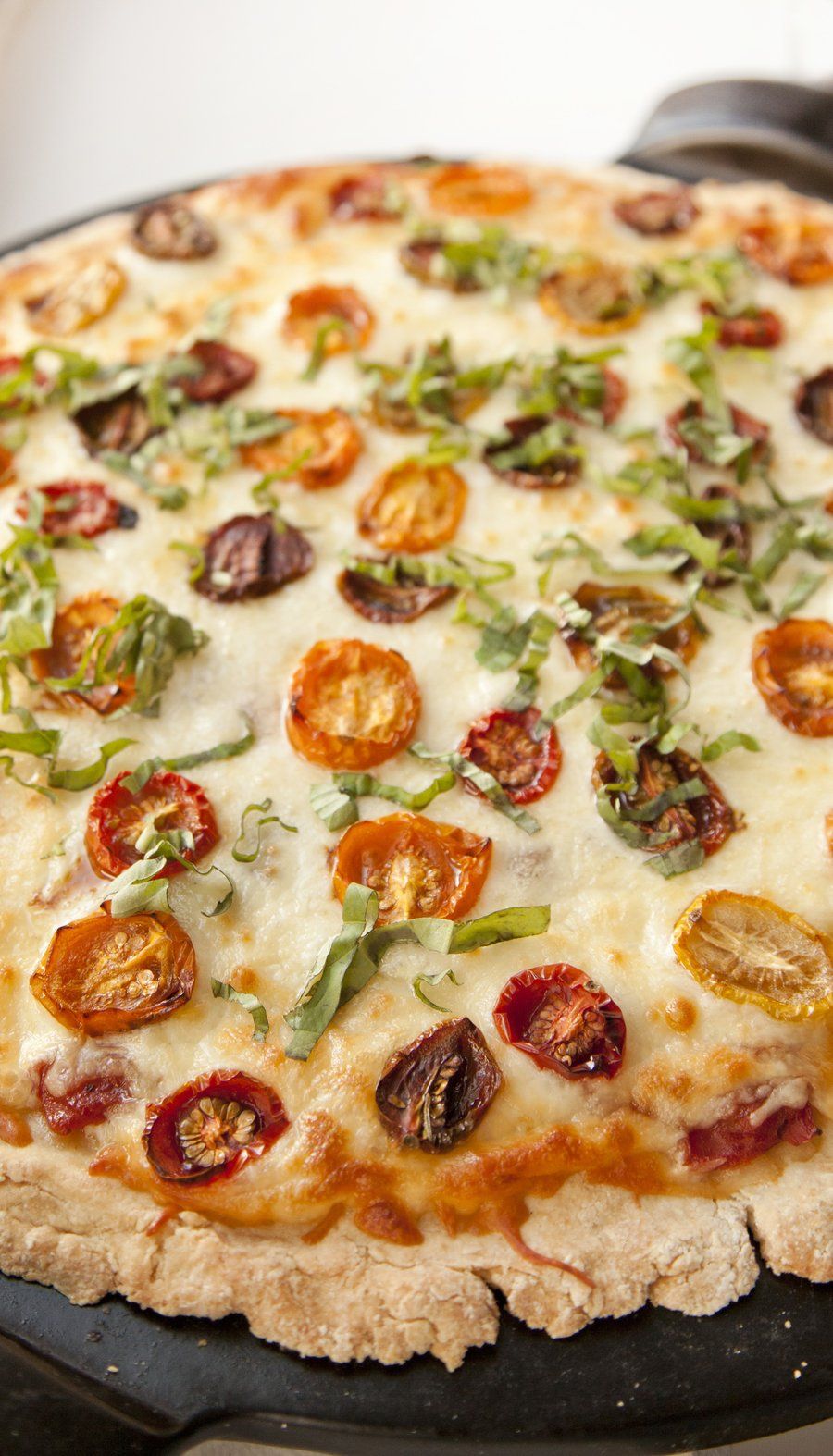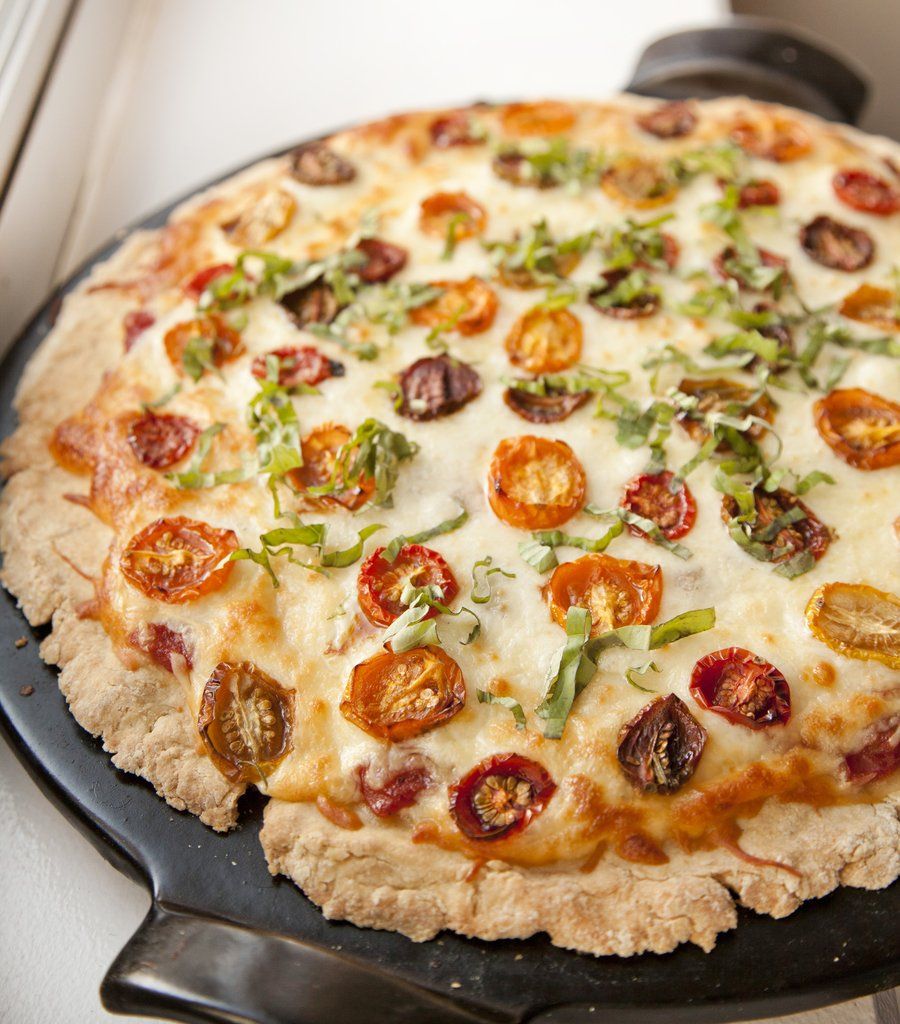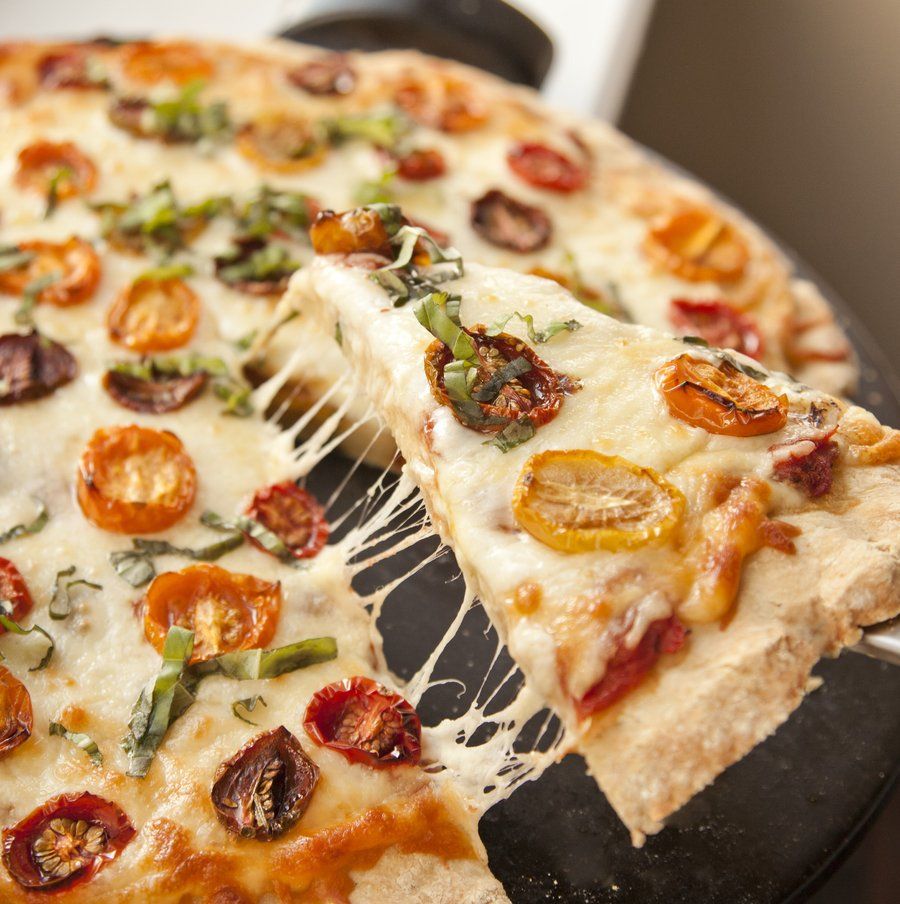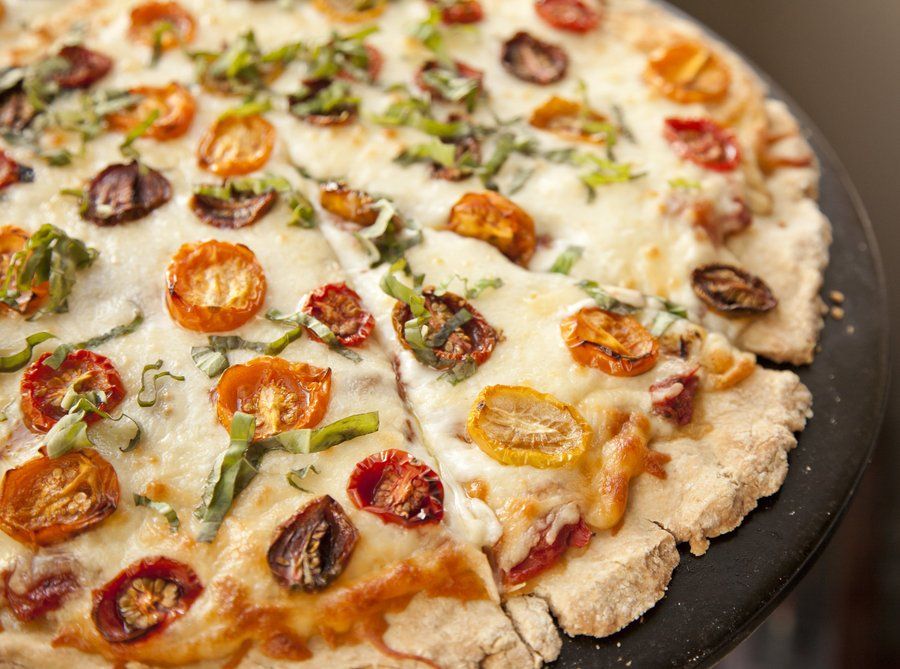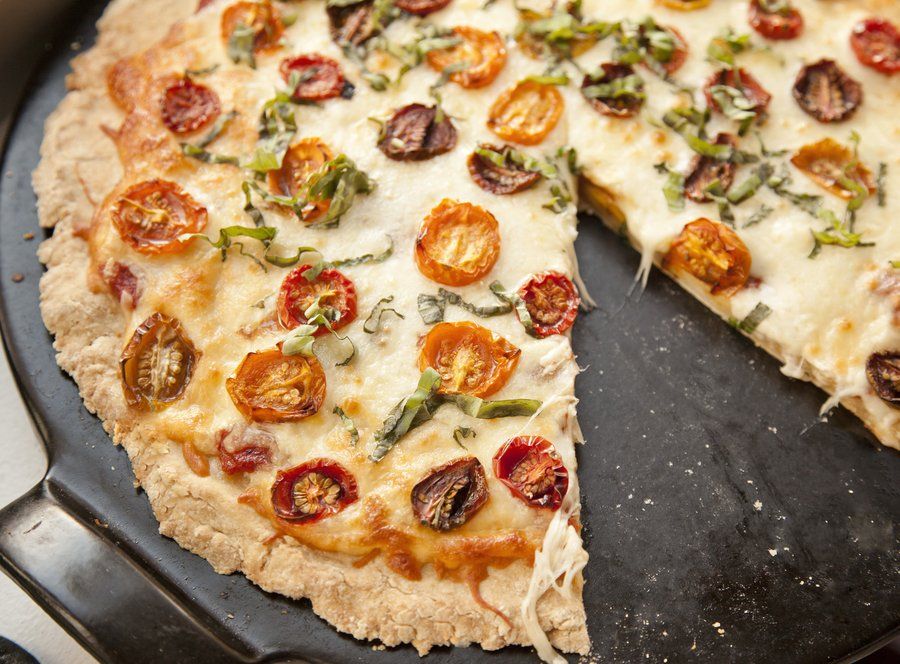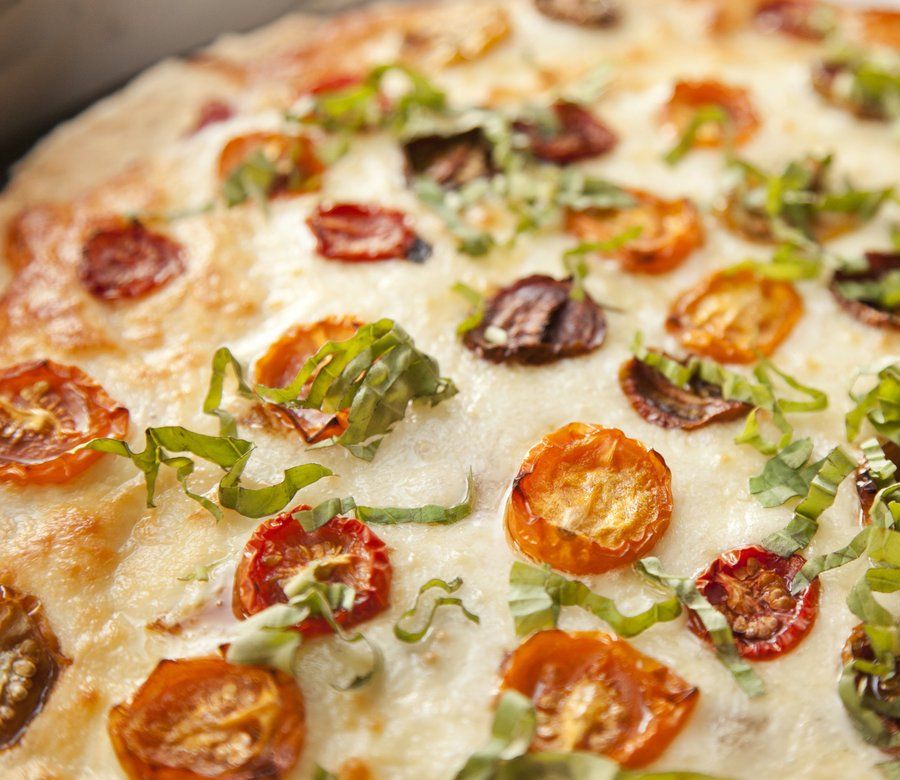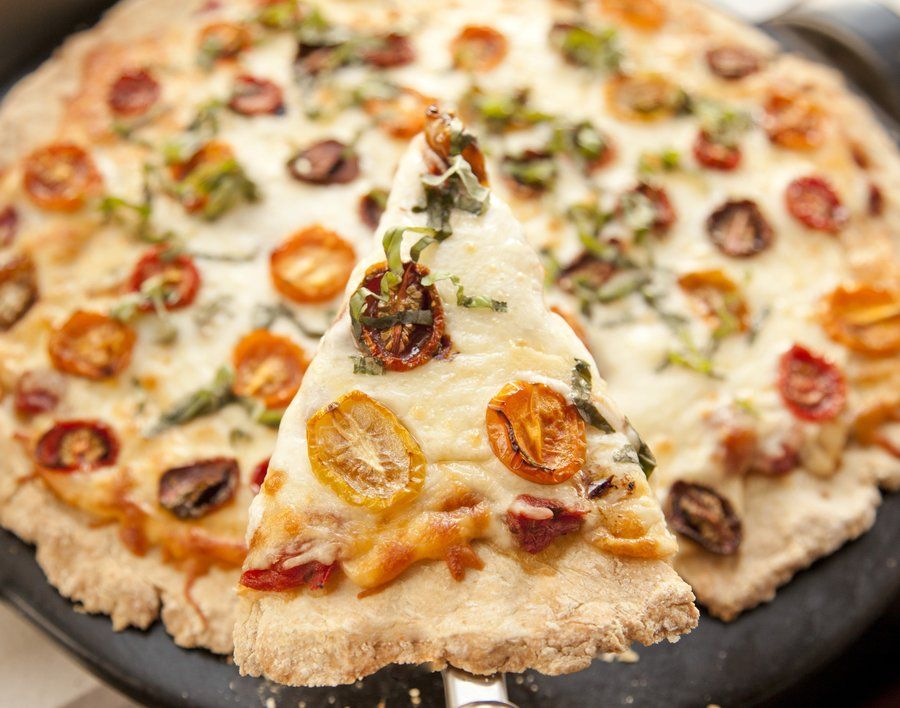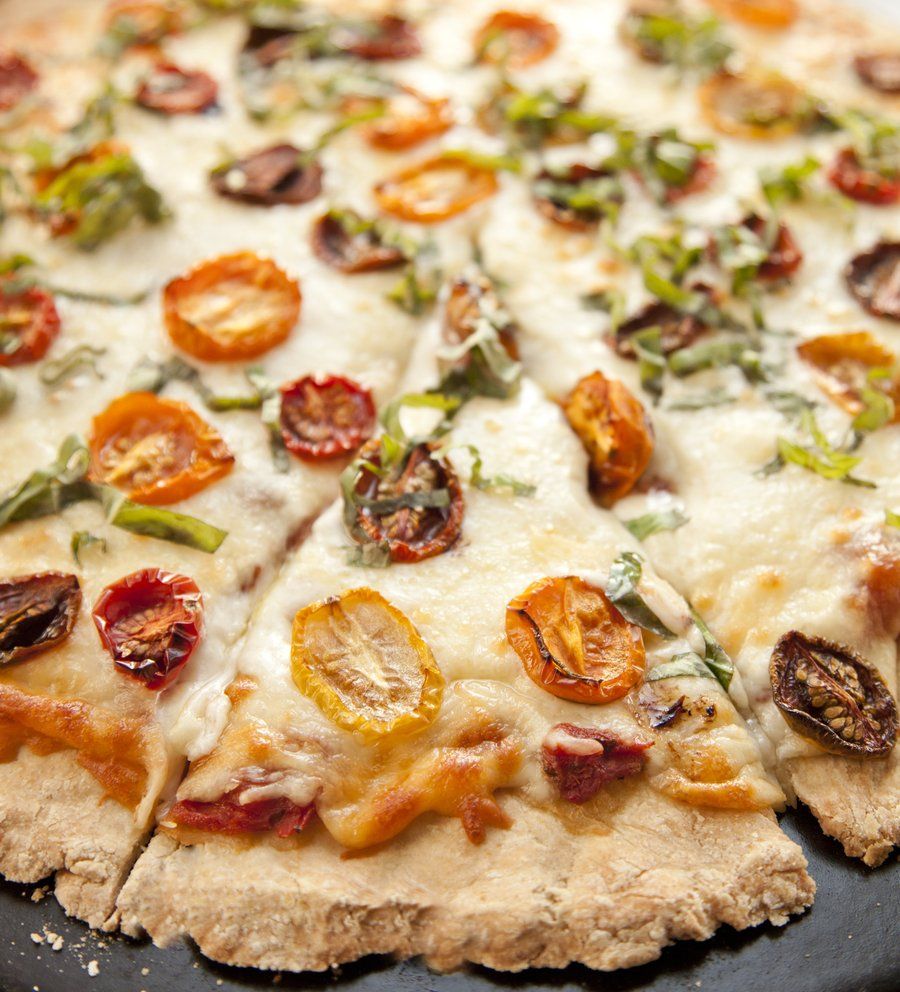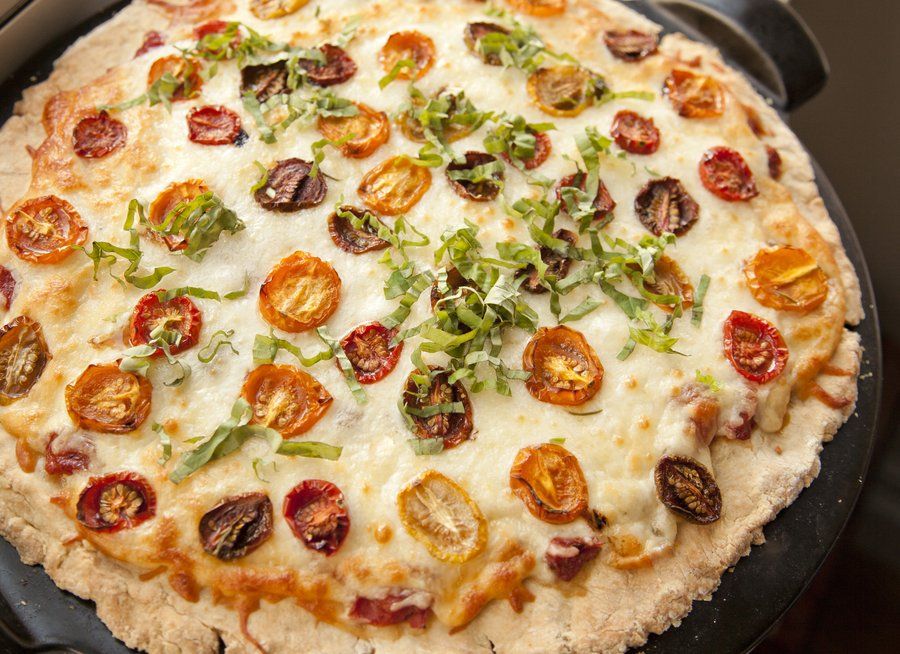 Gluten Free Pizza with Roasted Heirloom Tomatoes
Prep Time
---
2 Hour 20 Minutes

Cook Time
---
2 Hours

Total Time
---
4 Hour 20 Minutes

Yield
---
Makes 1 Large Pizza

Ingredients
10 oz Mini Heirloom Tomatoes
3 Cups Gluten Free All Purpose Flour
1 Teaspoon Salt
4 tsps Xanthan Gum
1/2 Teaspoon Baking Powder
1 Package Active Dry Yeast
1 1/4 Cups Water (divided)
1 Tablespoon Sugar
2 T Extra Virgin Olive Oil
1 Cup Pizza Sauce (my recipe below)
3 Cups Mozzarella (shredded)
Fresh Basil Leaves (chiffonade)
---
Directions
Preheat your oven to 325 degrees. Cut all of your mini heirloom tomatoes in half, lengthwise using a serrated knife. On a baking sheet that has a resting rack on it, spread out all your tomatoes and drizzle with olive oil, salt and a little sugar. Bake in the oven for 1 hour. Remove.
While the tomatoes are cooking make your dough: In a large bowl combine your flour, salt, xanthan and baking powder. In a separate small bowl combine your yeast and 3/4 cup of your water (heated to 110 degrees). Add the hot water to the yeast and let sit 1 minute. Sprinkle in your sugar and let the yeast bloom for 9 minutes.
Add your yeast mixture to the flour in the bowl, to that also add in the olive oil and the remaining 1/2 cup water. Kneed with your hands until the dough comes together. Allow your dough to rest in a large bowl for about 2 hours - after that, spray a pizza stone or baking sheet with non-stick spray and spread out your dough into a 1/4-1/2" thickness.
When your tomatoes are done cooking, remove them from the oven, turn the oven to 350 degrees. Put your pizza crust in and cook 20 minutes (your dough will crack but that's normal!) Remove the pizza and top with your tomato sauce, mozzarella, and then heirloom tomatoes. Bake another 20-25 minutes until the cheese is bubbly and the crust is golden brown.
Remove from oven and top with fresh basil - serve hot.
Pizza Sauce
Prep Time
---
10 Minutes

Cook Time
---
2 Hours

Total Time
---
2 Hour 10 Minutes

Yield
---
Yields 2 quarts of Sauce

Ingredients
1 tsps Extra Virgin Olive Oil
1 tsps Fennel Seeds
1/2 tsps Red Pepper Flakes
1 small dice Onion
4 minced Garlic Cloves
2 28 ounce Can Whole Tomatoes
1 1/2 Cups Tomato Puree
2 tsps Dried Basil
1 tsps Crushed Bay Leaf
---
Directions
In a large pot, over medium high heat, add your Extra Virgin Olive Oil. Once hot, add in your fennel seeds and crushed red pepper flakes and cook 1 minute.
Add in your onion and cook about 5-8 minutes until it starts to turn translucent. Add the garlic and cook another 2 minutes.
Now you can add in your whole tomatoes, tomato puree, basil, and crushed bay leaf. Bring to a boil, then reduce to a low heat, cover and let cook about 2 hours.
Once it's done, place in a Vitamix or other strong blender and puree til smooth. Taste and season with salt and pepper. Jar for later use or use right away.