I was at the gym yesterday and decided to watch the Food Network while working out. There's nothing quite like the motivation of seeing a chef cook a juicy cheeseburger on tv to get you running faster on a treadmill.
On yesterday's show, a chef was making a spatchcock chicken on the grill. A spatchcock chicken is just a whole chicken, who's backbone is removed, allowing the chicken to lay flat. This form of whole chicken is great because it roasts faster and more even, it can be grilled, and the skin gets crispy ALL over which is honestly the best part of the chicken.
I have seen many versions of spatchcocked chicken involving dry rubs, basting with marinades, and more….but I wanted to make a compound butter flavored with bright summer flavors and rub that all under the skin of the chicken allowing the chicken meat to be flavored with deliciousness from the inside.
I had gotten a huge head of cilantro from our local farm share, and wanted to pair that with some bright lemon, fresh garlic and create a compound butter from all these ingredients. I added in some ground coriander to add a depth of flavor and lots of black pepper for a little kick.
I also love a roasted or grilled lemon, so I wanted to also include that with the dish too. So after spatchcocking my chicken, I laid down a layer of sliced lemons on a baking rack, placed my chicken on top of the lemons, rubbed my compound butter under the chicken's skin, and allowed all these components to work their magic in the oven to create a super flavorful and juicy chicken.
And the best part is, this entire meal was made in a hour and is super impressive both in flavor and look!
Enjoy!
For a video showing you how to perfectly Spatchcock a Chicken click HERE!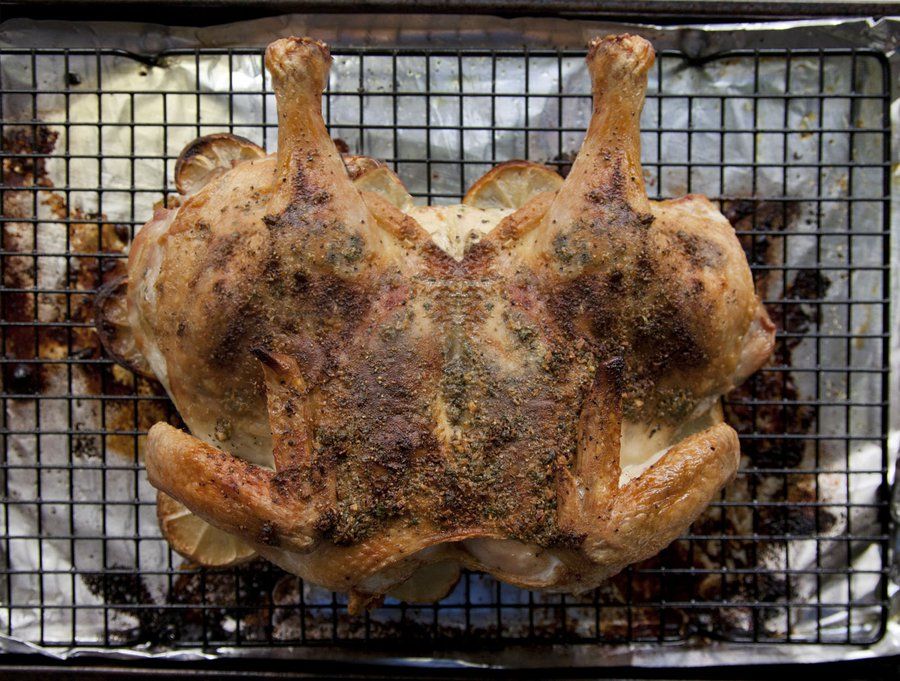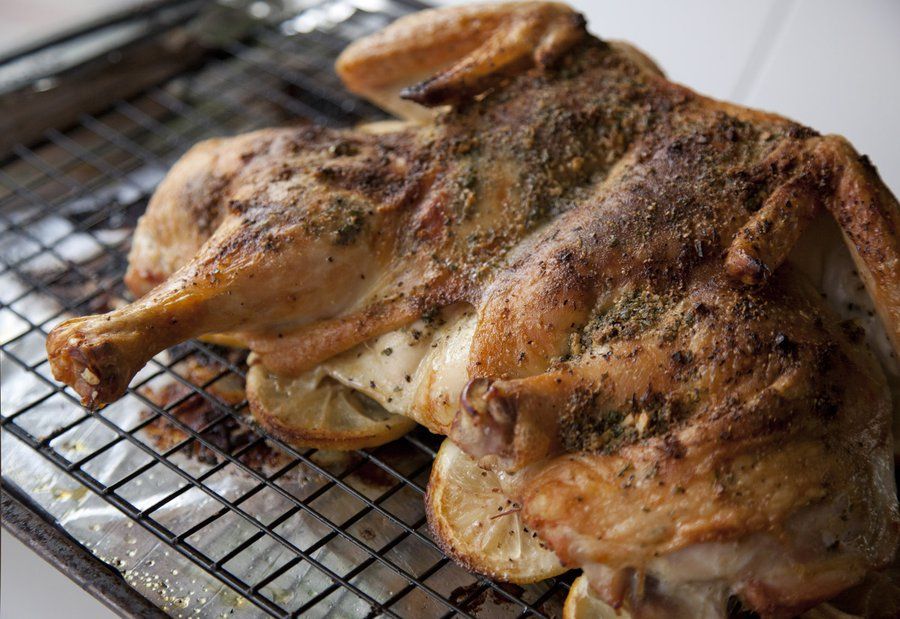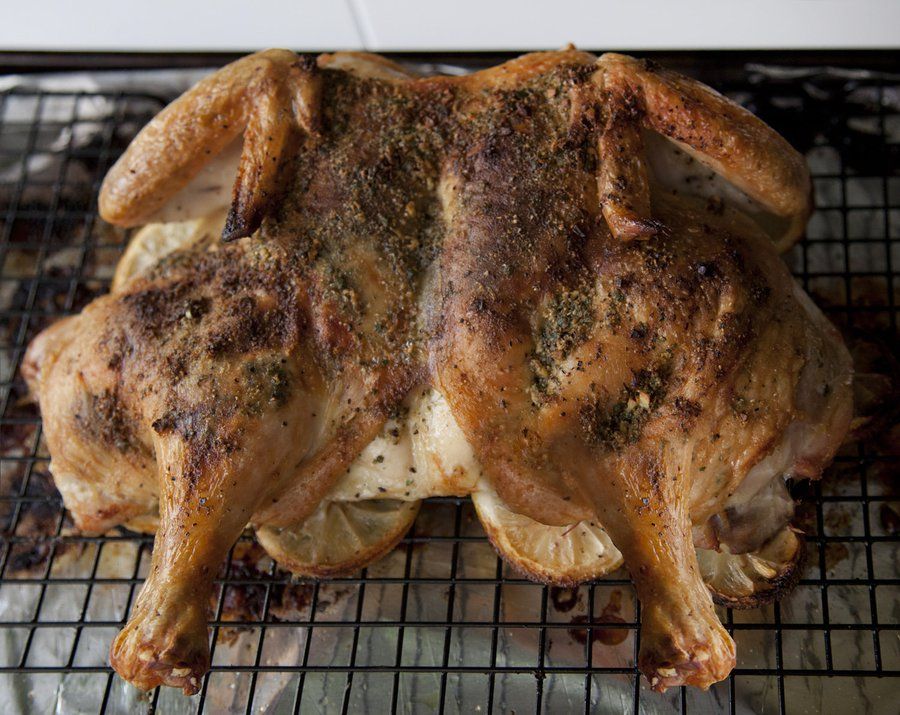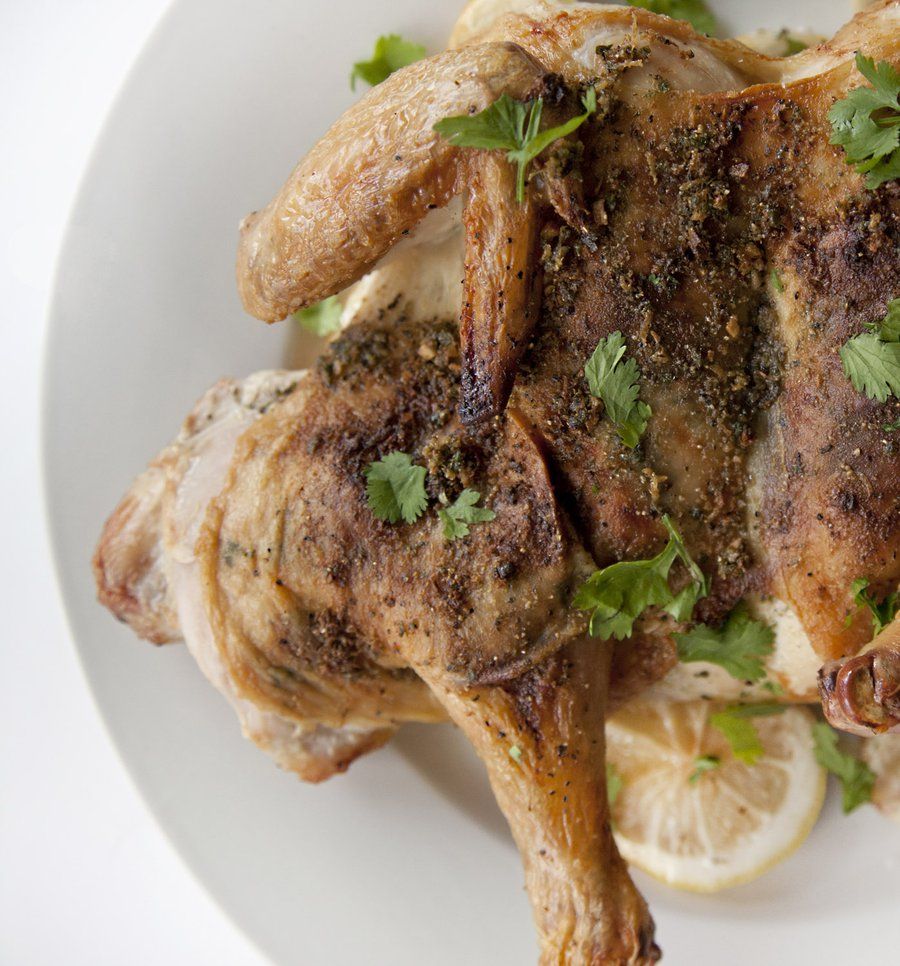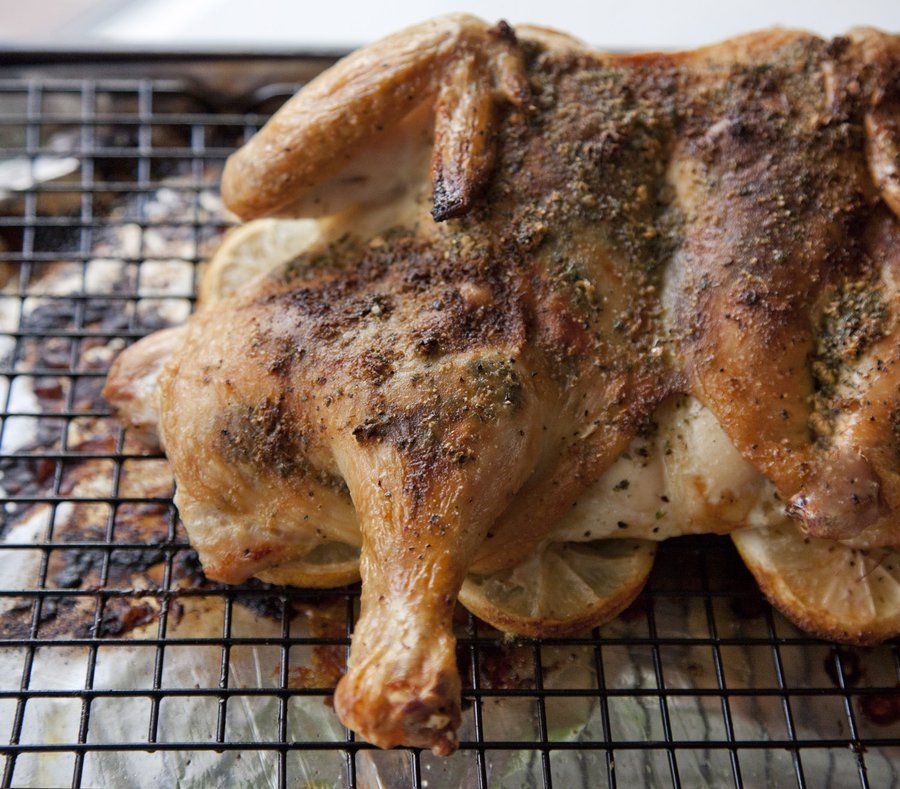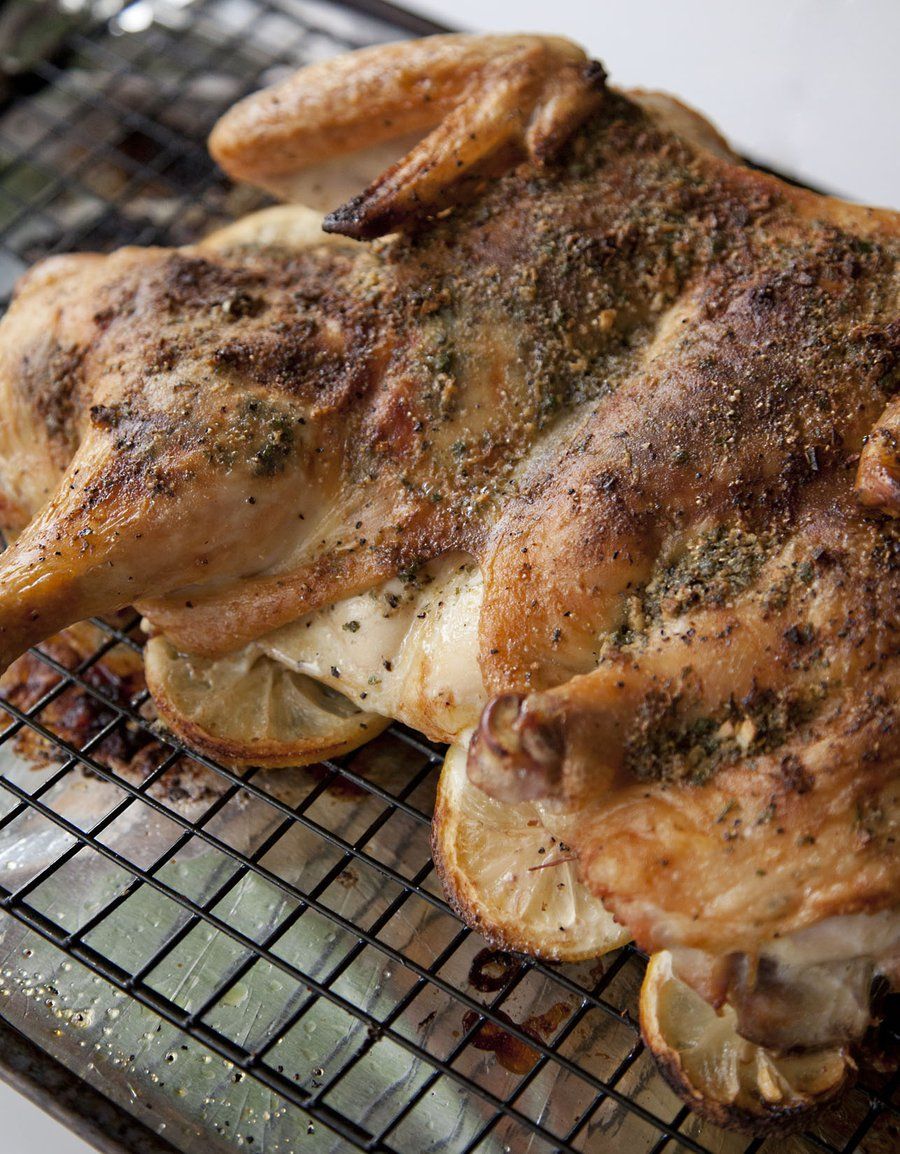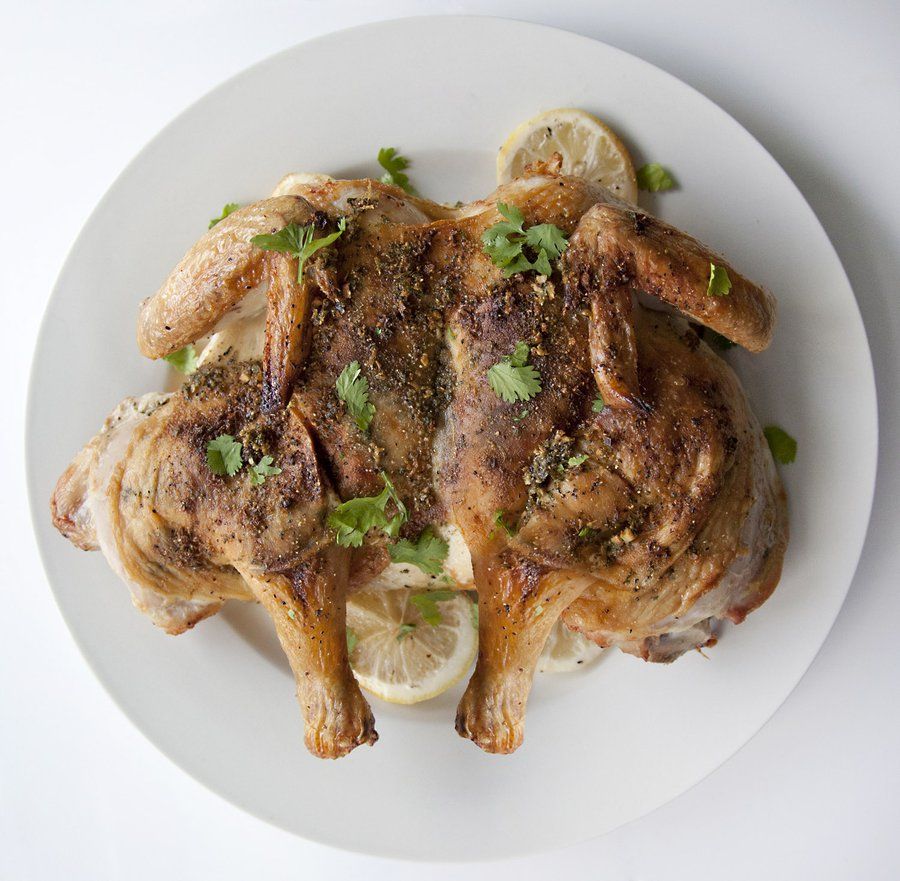 Garlic & Lemon Spatchcock Chicken
Prep Time
---
5 Minutes

Cook Time
---
55 Minutes

Total Time
---
1 Hour

Yield
---
Serves 2-4

Ingredients
4 3/4 lbs Whole Chicken (spatchcocked)
2 Lemons (zested, then sliced into 1/4" thick slices)
4 T Butter (room temperature)
2 tsps Garlic (minced)
2 tsps Cilantro (minced)
1 Teaspoon Black Pepper
1 Teaspoon Lemon Zest (from the lemons listed above)
1 Teaspoon Coriander
1/4 Teaspoon Salt
---
Directions
For the Compound Butter: Combine room temperature butter, garlic, cilantro, pepper, lemon zest, coriander and salt in a bowl and mix together until combined. Set aside.
Preheat your oven to 425 degrees. Line a large baking sheet with tin foil and place a baking rack on top. Lay down a layer of your sliced lemons.
Spatchcock the chicken: On a cutting surface place chicken breast-side down. Using a pair of sharp kitchen sheers, and starting at the thigh end, cut along one side of the backbone.Turn chicken around and cut along the other side of the backbone to remove it (save the backbone for stock). Flip the chicken over and press firmly on breastbone to flatten the chicken until it is lying completely flat.
Generously salt and pepper the non-skin side of your chicken. Then, place the chicken skin side up on top of your layer of lemons on the baking rack. Carefully loosen the skin from the breast and legs of the chicken and, using your clean hands, spread half of the compound butter mixture underneath the skin. Save 1 Tablespoon of the compound butter for later. Lightly salt and pepper the outside of the chicken and place in the oven for 40 minutes.
After 40 minutes, remove the chicken from the oven and spread the remaining 1 Tablespoon of Compound Butter on the skin. Place the chicken back in the oven and cook another 15 minutes (or until a thermometer reads 165 degrees internally).
Allow the chicken to rest about 15 minutes after removing it from the oven. Cut up the chicken and serve with the lemons it was roasted with.