Before having kids, once a week, my husband and I would do themed cook-offs at home. Sometimes the theme was a genre of cuisine (French, Italian, American) and sometimes it was a course (appetizers, canapes, main course). Other times we would take the "Chopped" approach and have to use certain ingredients in our dishes....but it was always fun to see what my hubby would come up with because he's actually quite a good cook.
On one cook-off occasion, the theme was appetizers and my hubby, Justin, made Fried Goat Cheese Balls. After I got over the insane mess he had created in my kitchen, I tried his creation and forgave the shambles that he left my kitchen in. This cook-off took place well over a few years ago, and I haven't had Fried Goat Cheese since then....until I decided to take matters into my own hands and make my version of Fried Goat Cheese Balls. My hubby made his topped with Prosciutto and a Honey Emulsion: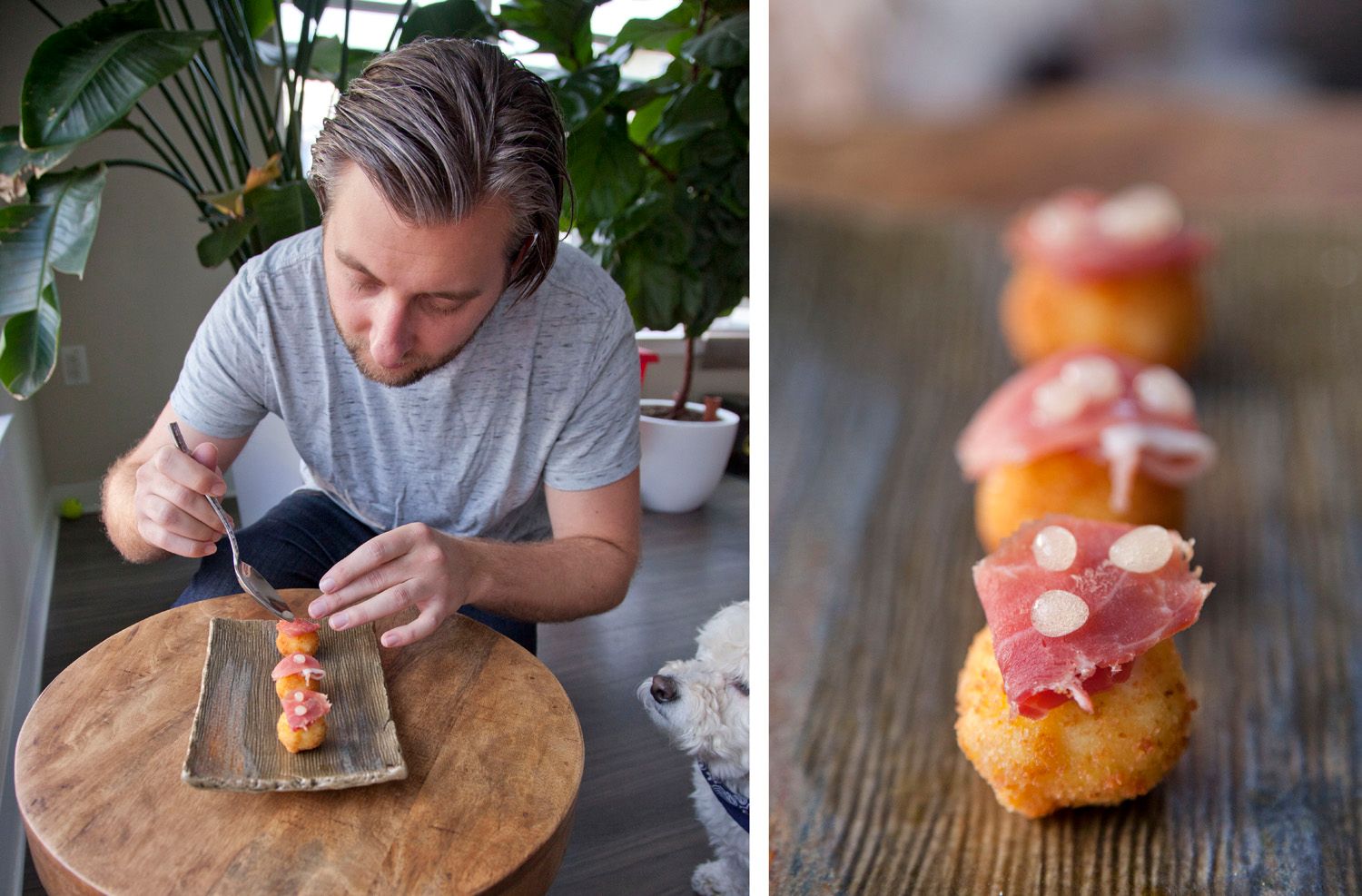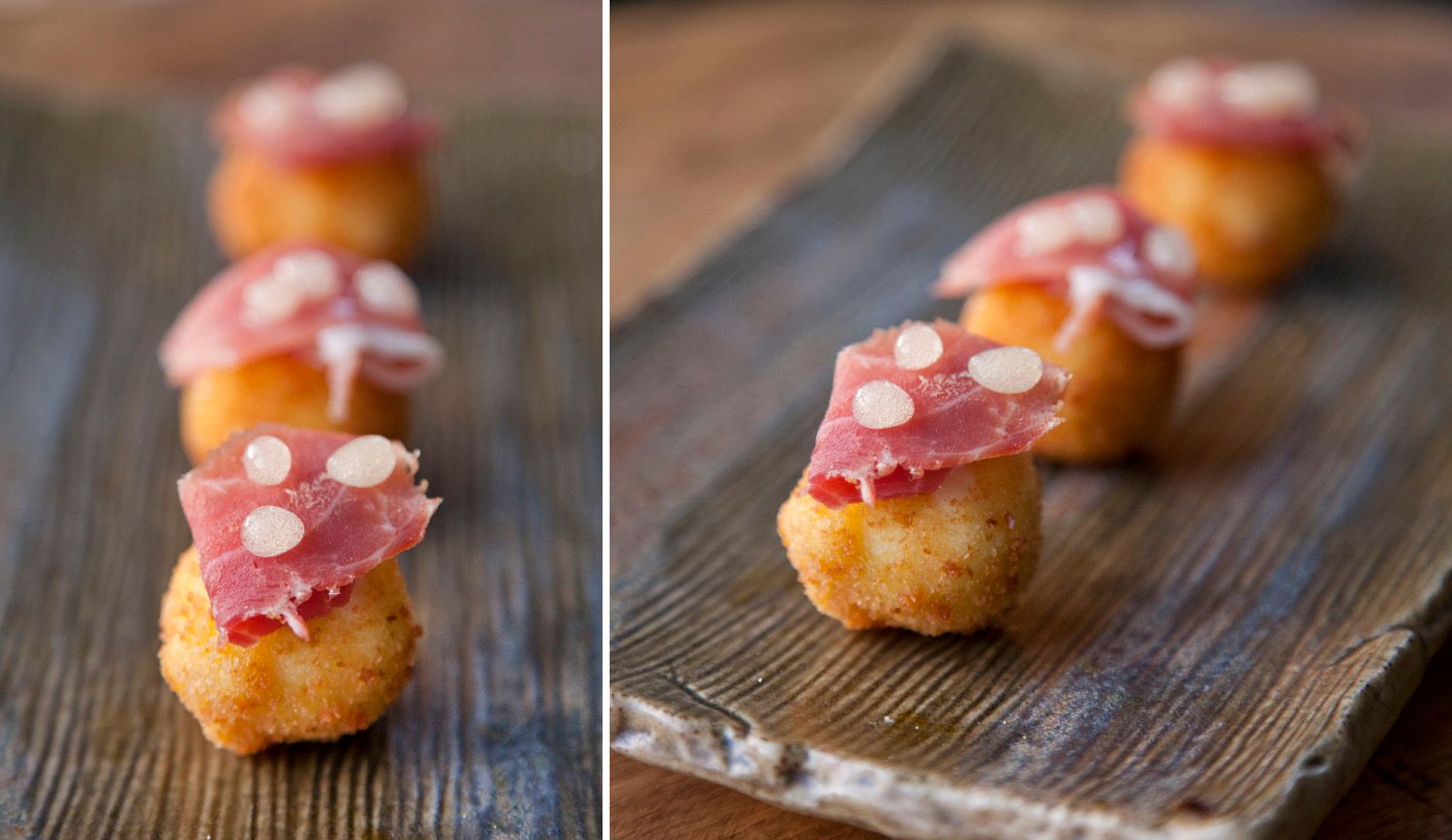 While Goat Cheese is not for everyone (my in-laws absolutely detest anything goat cheese related), for those of us who love it, this is your dish. The part that's fun is coming up with things to pair it with... you can serve it with Marinara Sauce, Pesto Sauce, jam, a drizzle of honey....really this is where the creativity comes in. I have to say my favorite combination was the sweet elements (jam and/or honey) - it was a perfect pairing. Speaking of a perfect pairing, pair this with a crisp White Wine (like a Sauvignon Blanc or a Pinot Grigio) -- the taste of the wine will perfectly compliment the goat cheese flavor. This is a great appetizer to serve for your next party - or for the upcoming Super bowl!
Enjoy!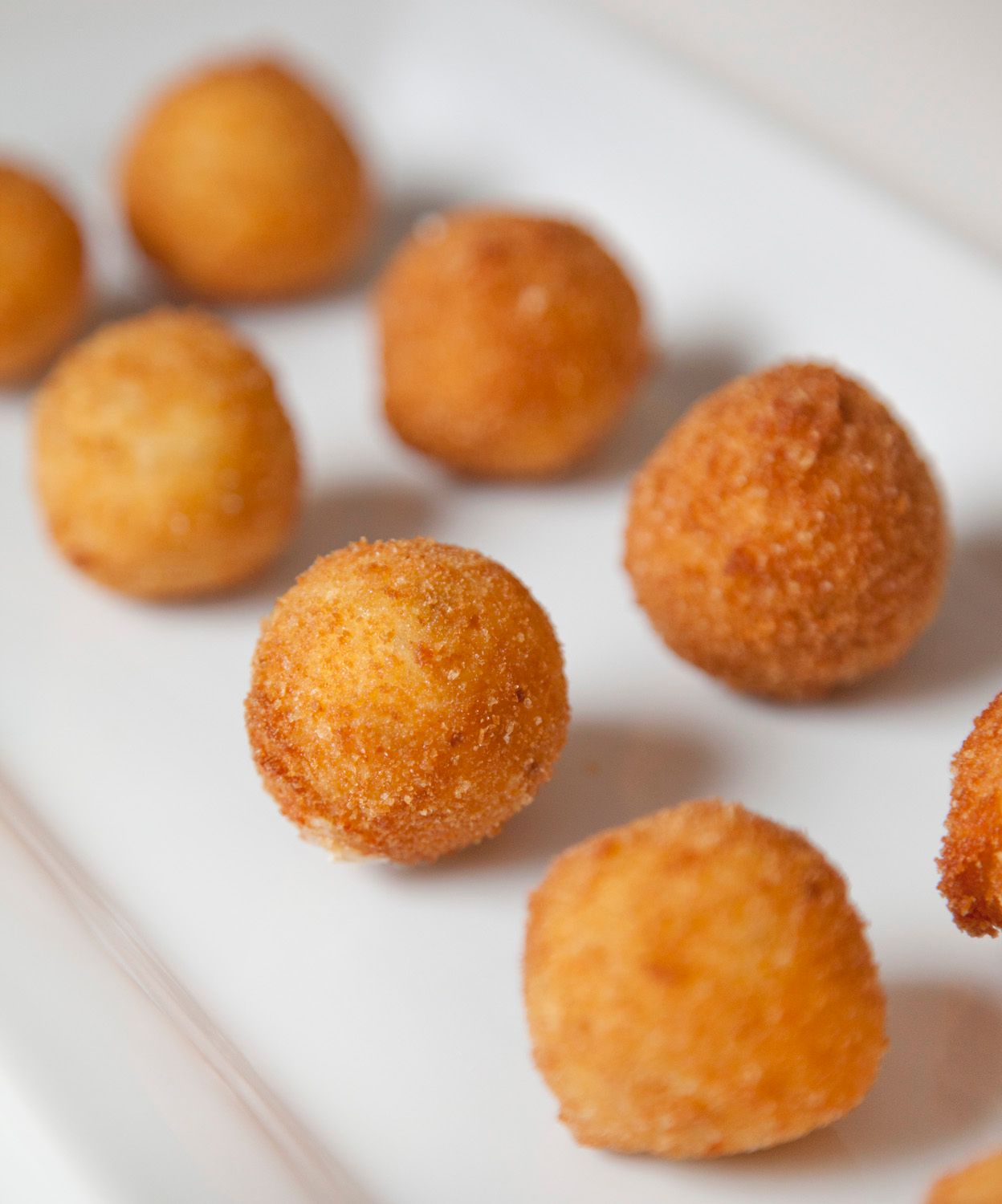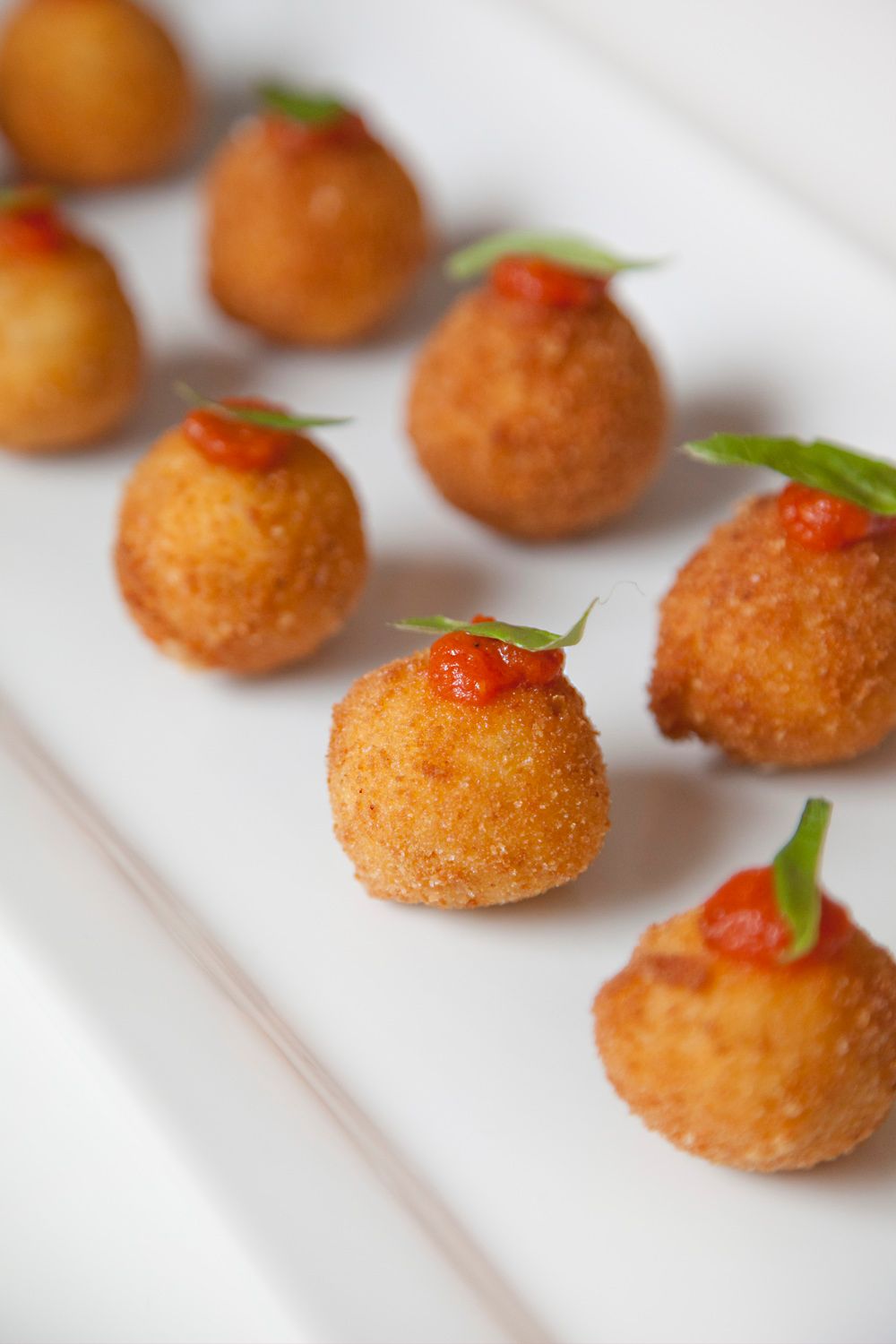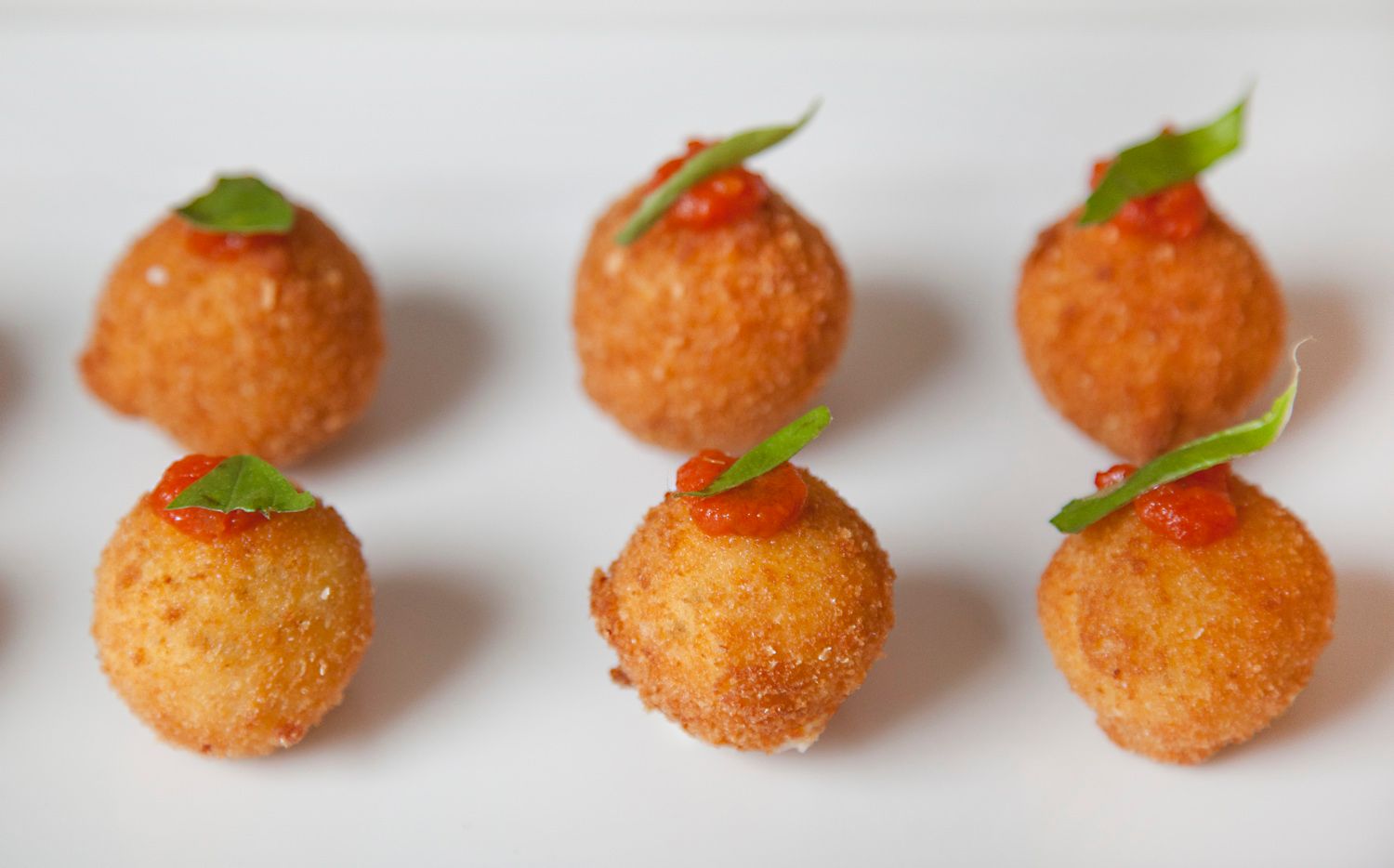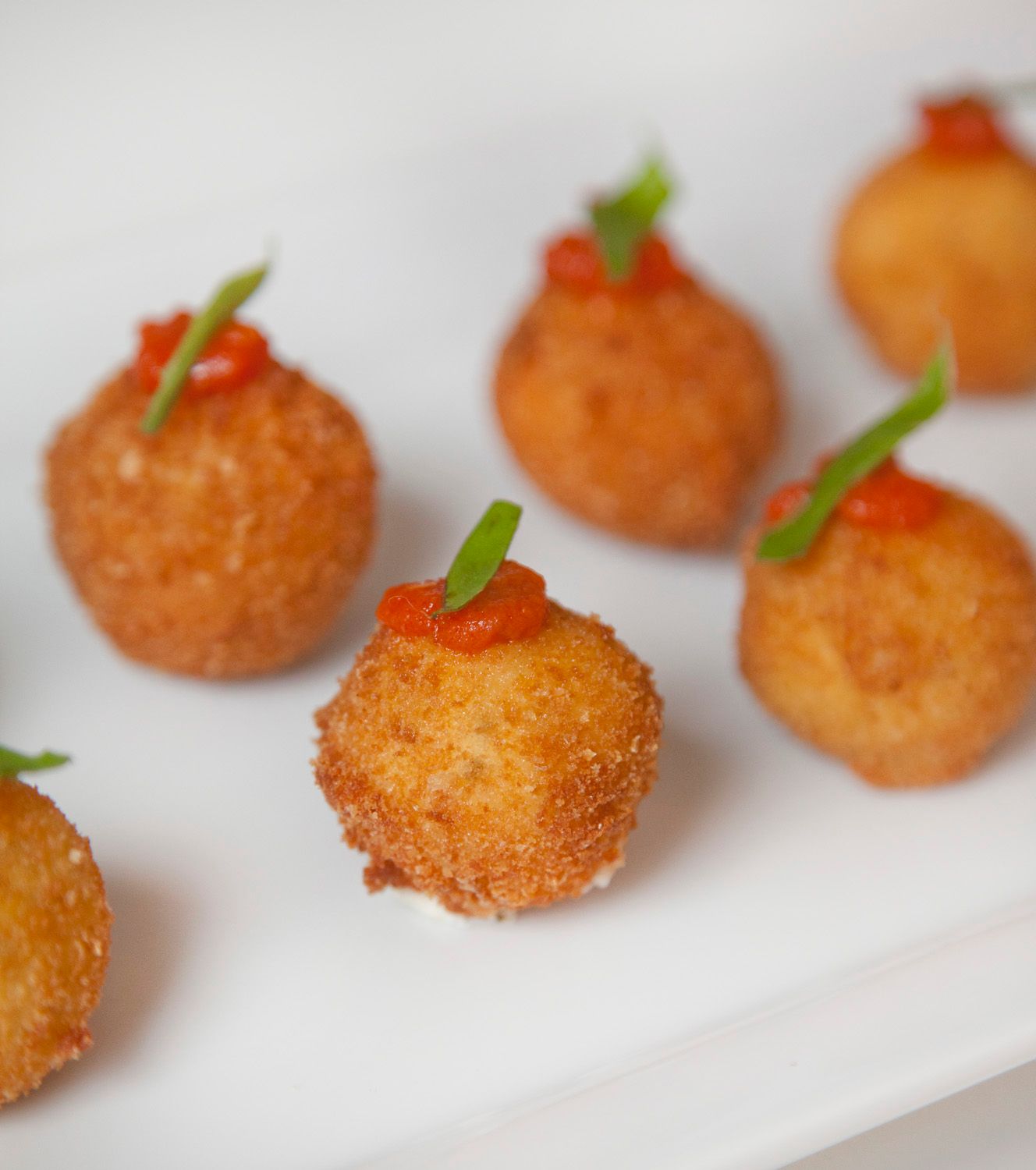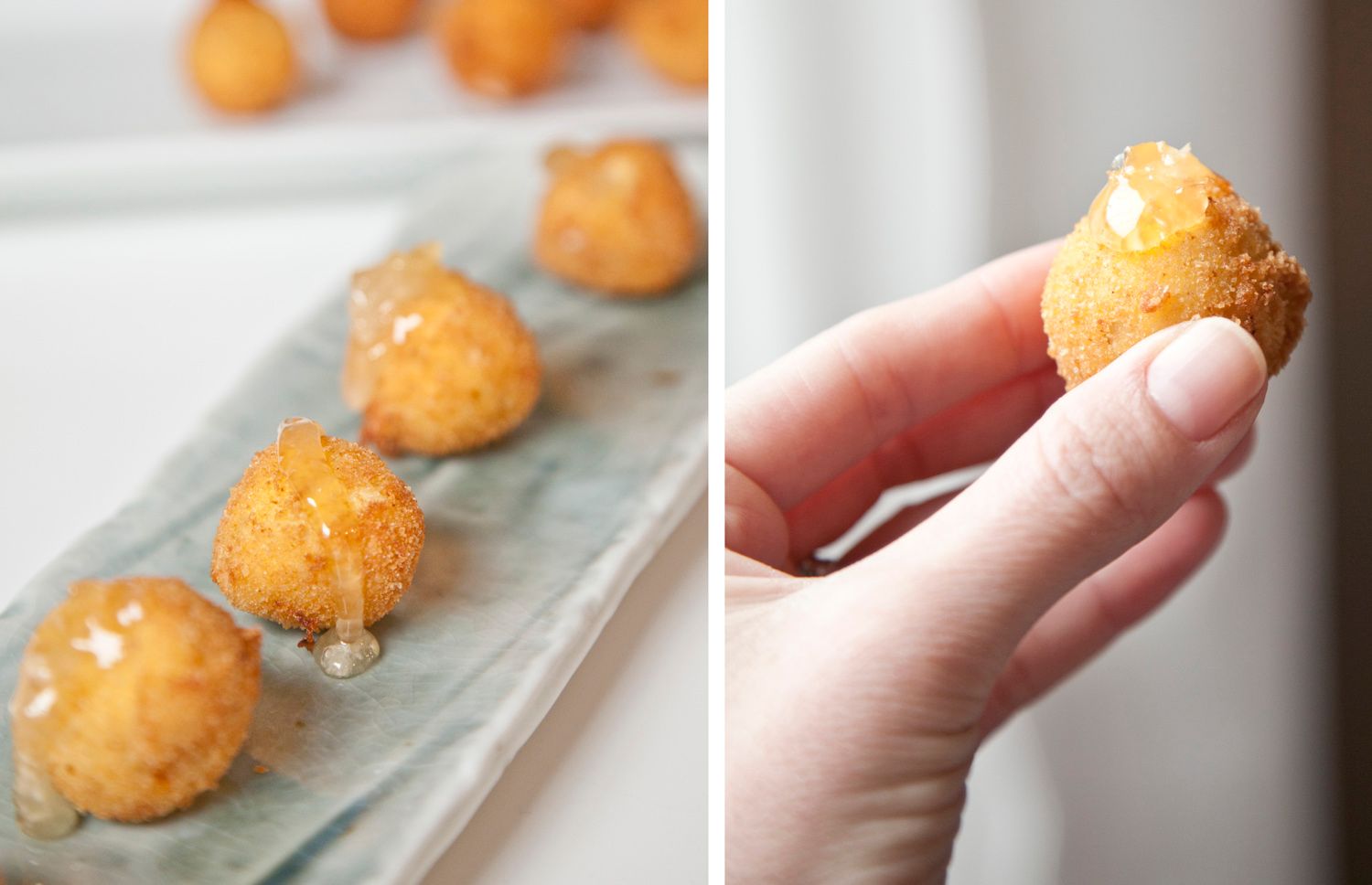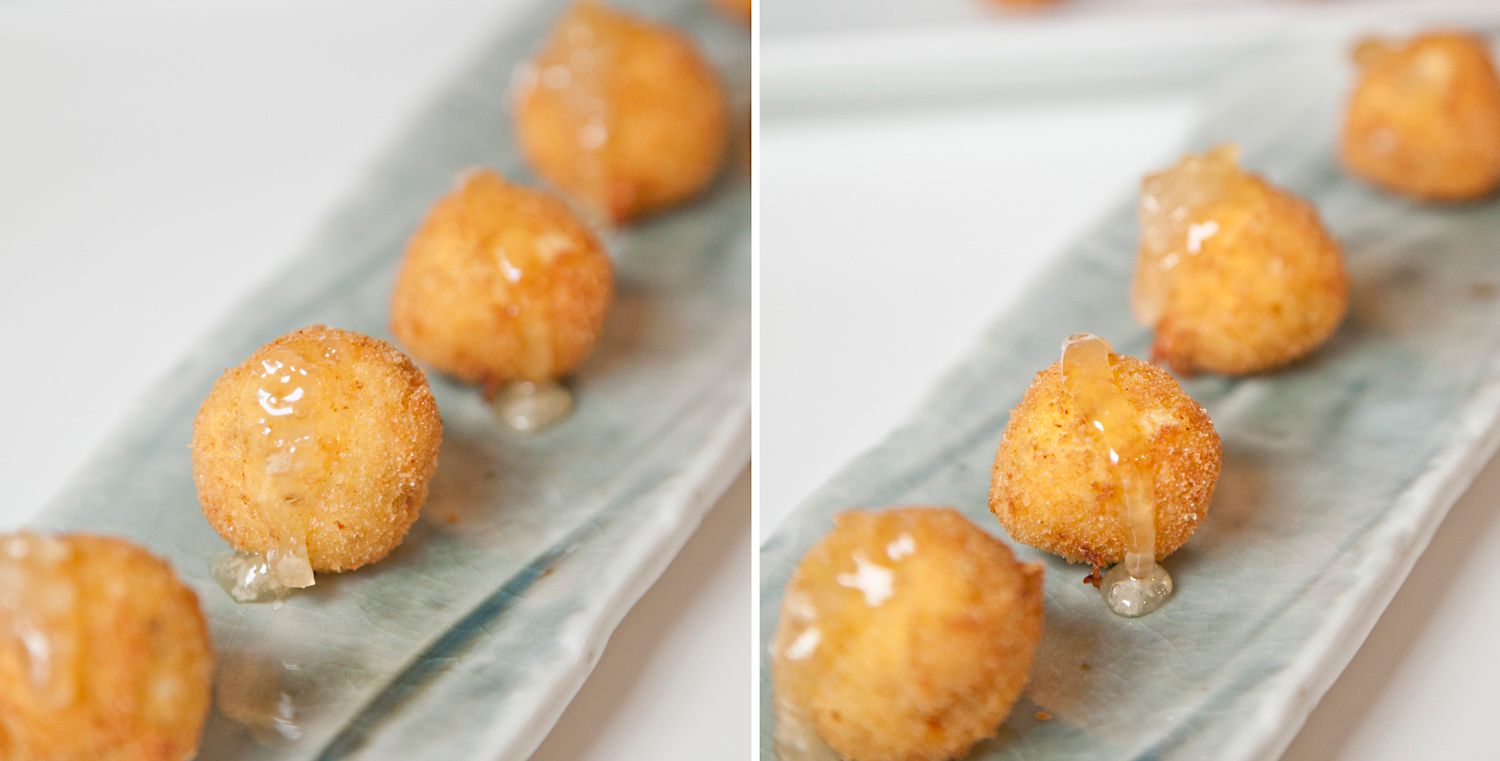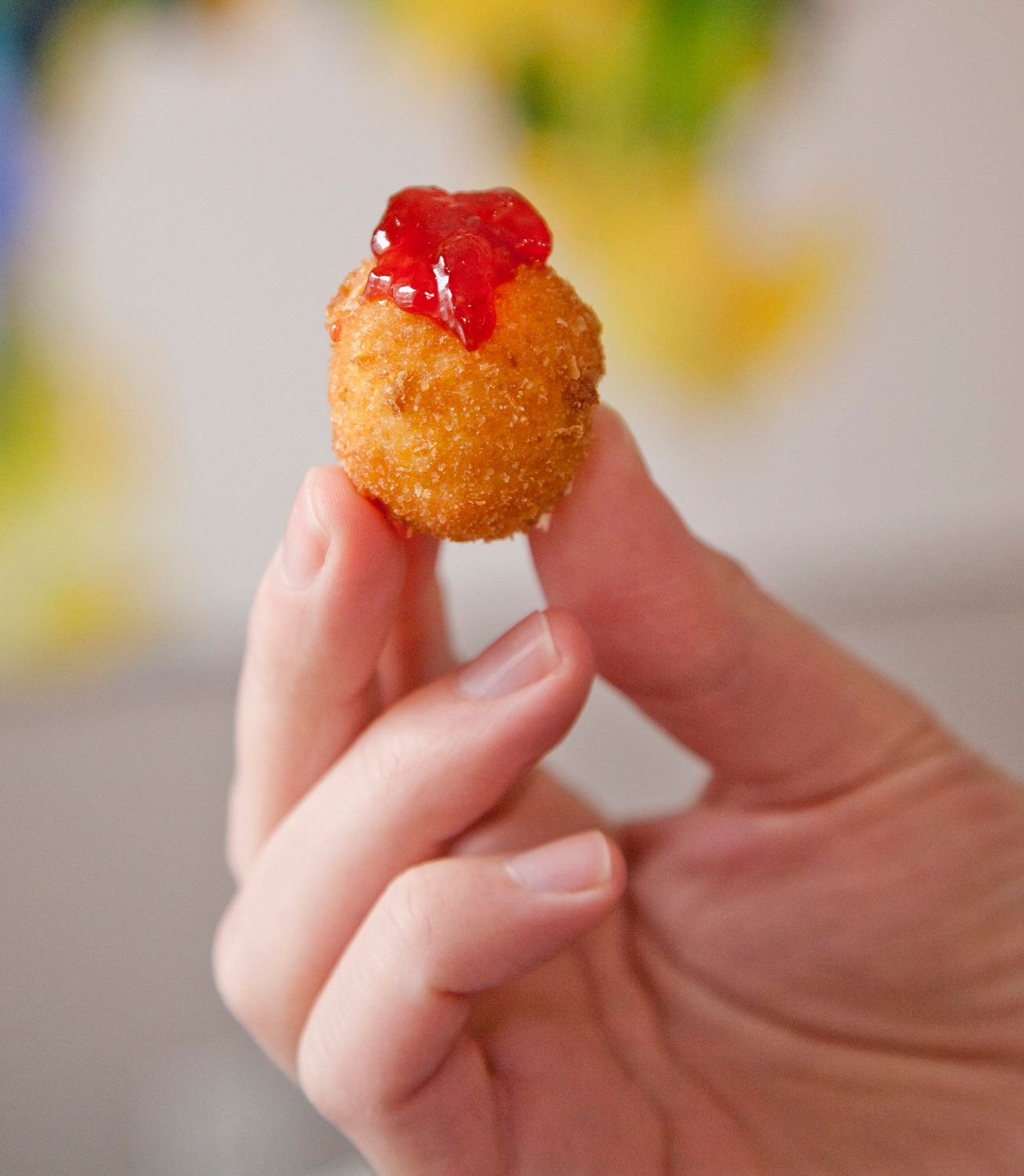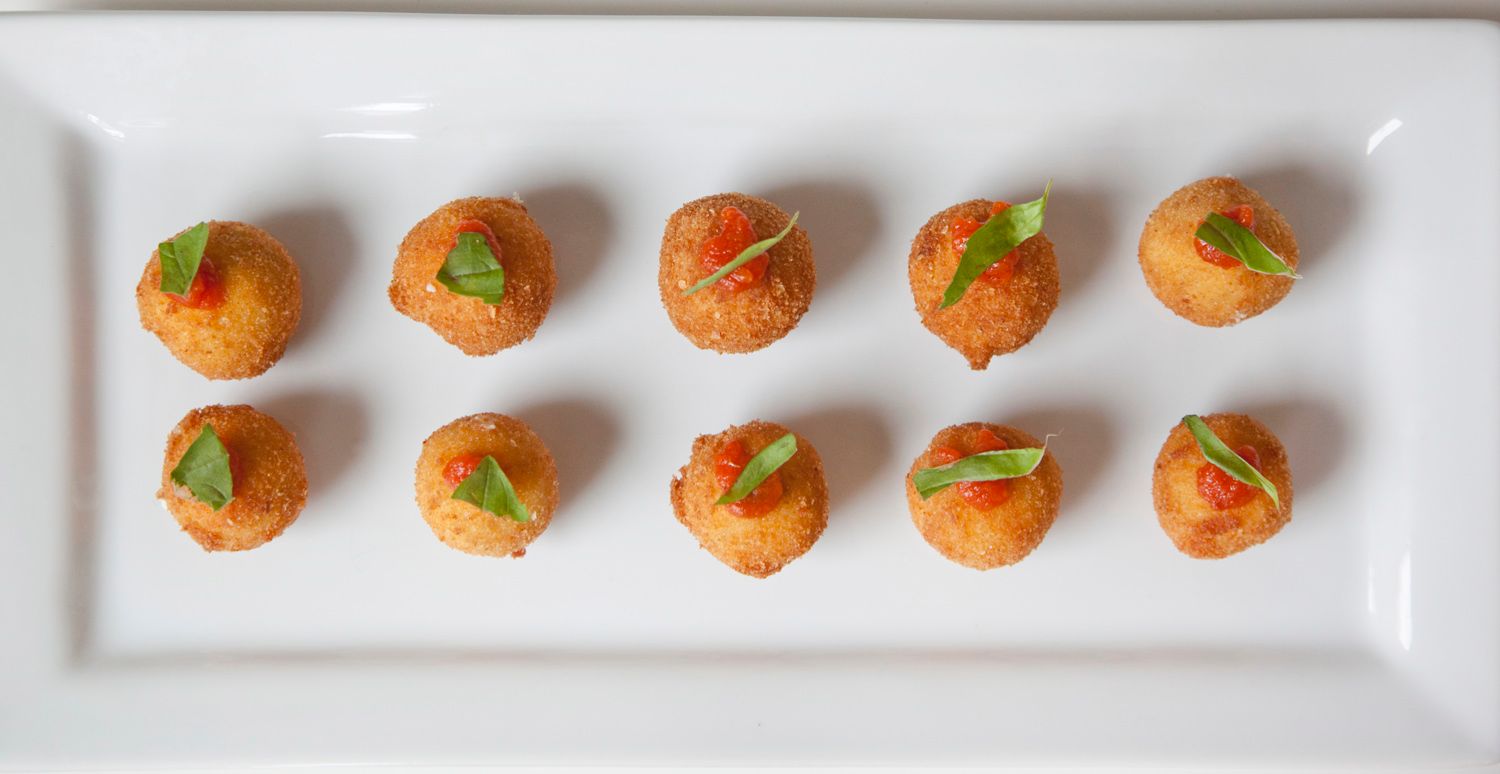 Fried Goat Cheese Balls
Prep Time
---
30 Minutes

Cook Time
---
5 Minutes

Total Time
---
35 Minutes

Yield
---
Makes 20-25 Balls

Ingredients
10 ounces Goat Cheese
1/2 teaspoon Dried Oregano
1/2 teaspoon dried Thyme
1/4 teaspoon Black Pepper
2 Eggs (mixed with 2 teaspoons of water)
3/4 cup Unseasoned Breadcrumbs
1/2 teaspoon Salt
Canola Oil, for frying
---
Directions
In a large bowl, mix together your goat cheese, oregano, thyme and black pepper until fully incorporated.
Roll the goat cheese mixture into 1 inch round balls and place on a plate.
In a small bowl, whisk together your egg with water until mixed. In another bowl, mix your breadcrumbs with your salt.
Dip your goat cheese balls in the egg mixture and using a fork, make sure it's fully coated. Place the ball in the breadcrumb mixture and coat fully as well. Repeat this process again (you are double breading each ball).
Place the breaded balls on a parchment lined baking sheet. Once you've double breaded all the goat cheese balls, place in the freezer for 15 minutes to set.
While your balls are in the freezer, heat up a medium sized pot with about 2 inches of Canola Oil in it. Get the oil to 360 degrees.
In batches, deep fry your goat cheese balls until golden brown (about 2 minutes). Be careful not to over-fry, as the balls will explode. Remove the balls from the oil and let drain on a paper towel lined plate.
Serve immediately with honey, jam, marinara sauce, or plain!