I'm not sure what's gotten into me this year, but I feel like I am Valentine's Day obsessed. Maybe it's because I added another Valentine to my world last year (my baby, Sheppy), maybe it's because quarantine has led me to celebrating everything and anything, or maybe it's because the holiday gives me an excuse to bake all sorts of fun sweets that have pink or red embellishments. Whatever the reason, I have really been having fun creating these holiday themed treats that can also be used for other holidays if you just switch up the color palettes or the decorations.
I always make cookies but I thought cookie bars might be a fun change up - what I love about cookie bars is that they are the perfect gooey texture on the inside, but the bottom gets this nice crust to it. I also love the combination of milk chocolate chips and white chocolate chips in a cookie. I used mini white chocolate chips because they're super sweet, and I wanted the sweetness to be more dispersed in the cookie. You can make these without the M&M's or with different flavored M&M's like peanut, pretzel, etc.
Enjoy!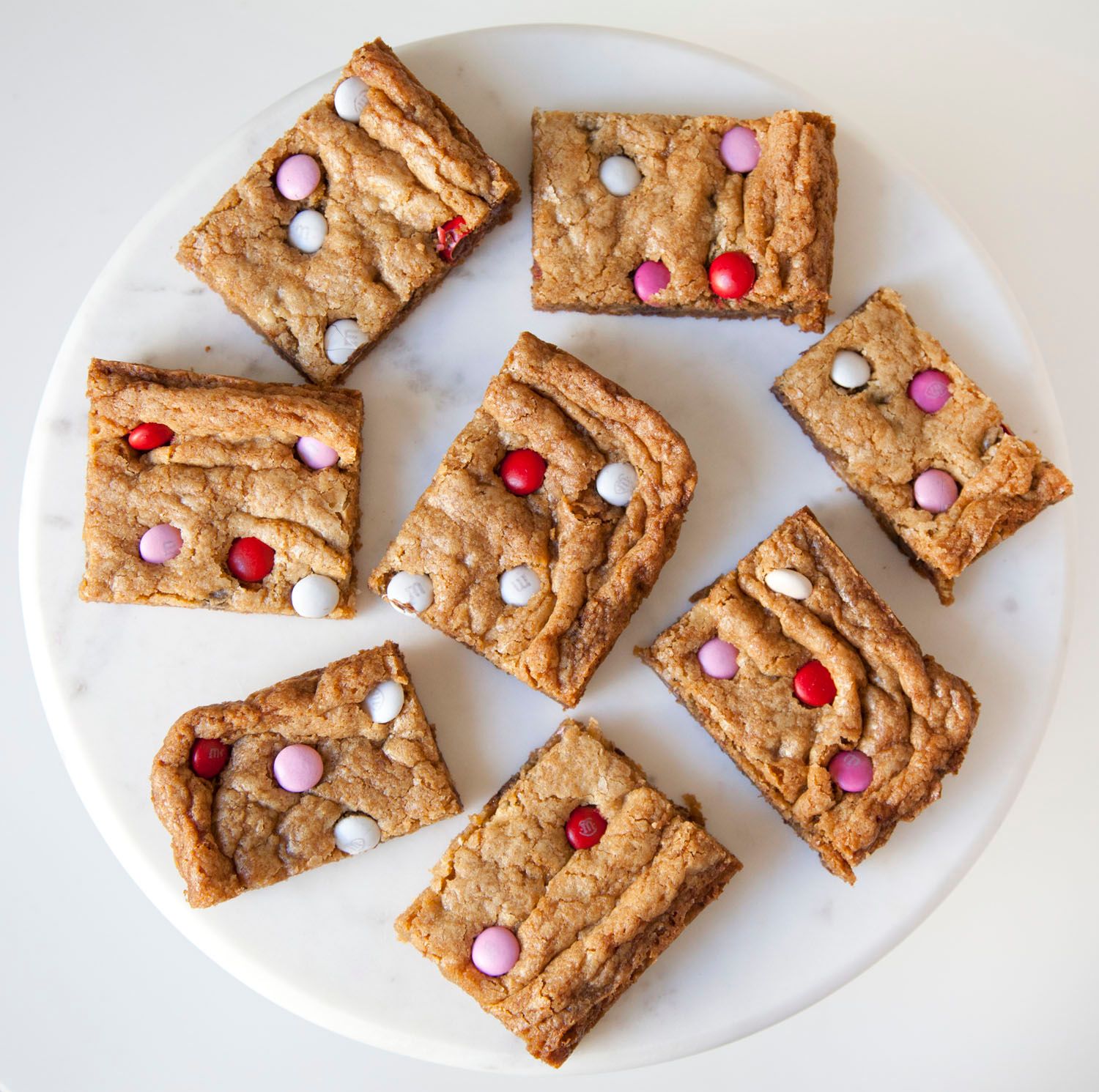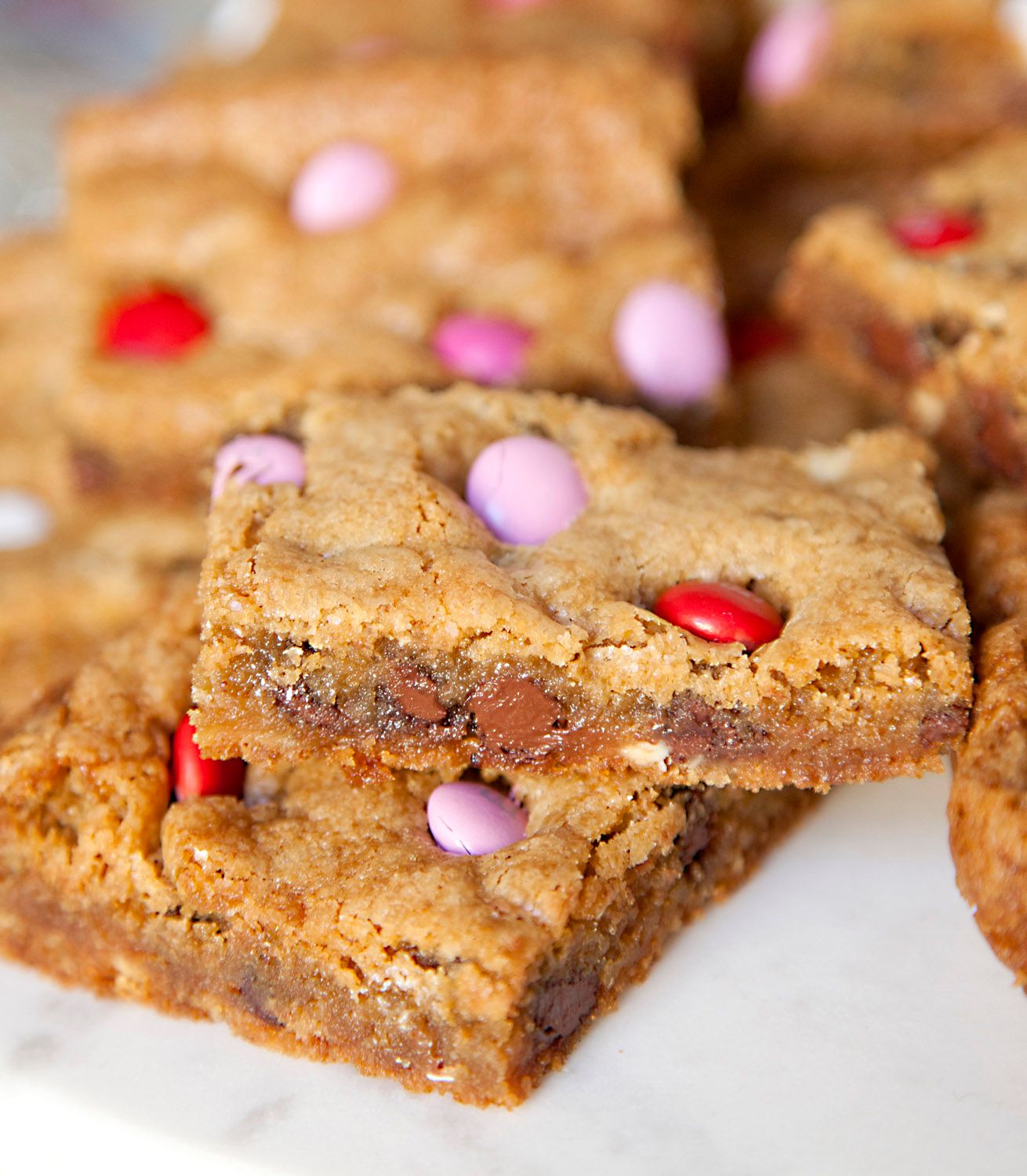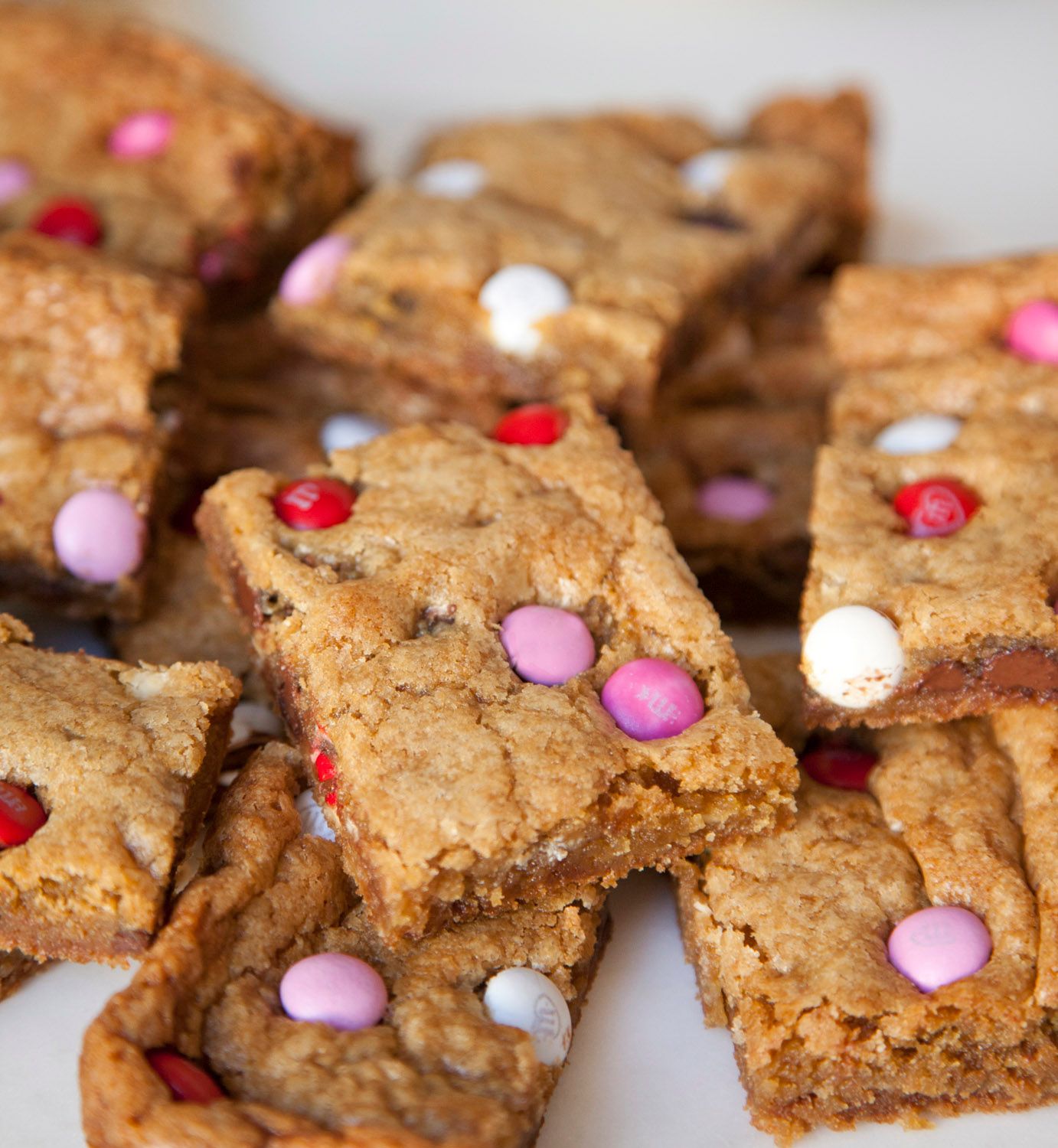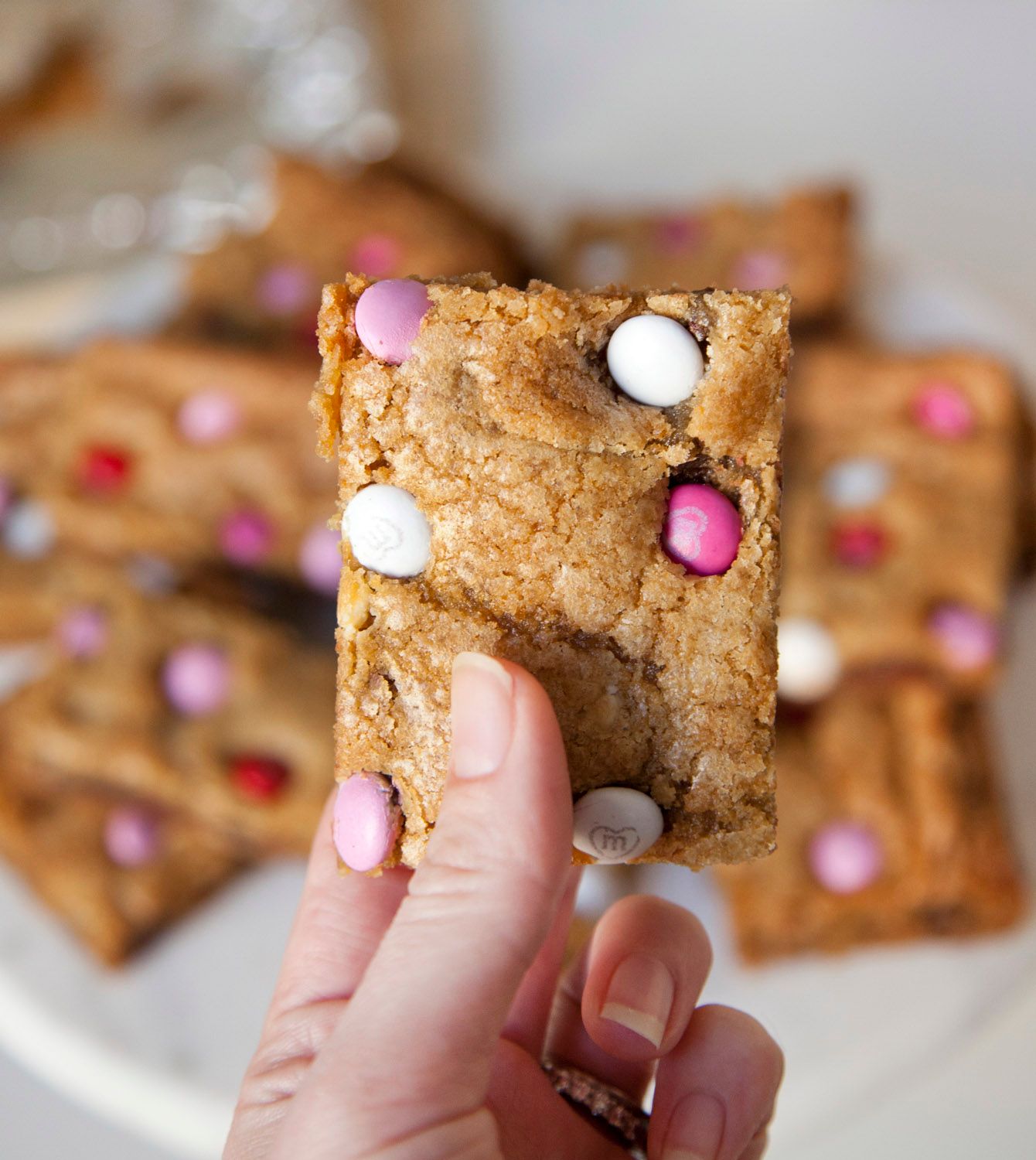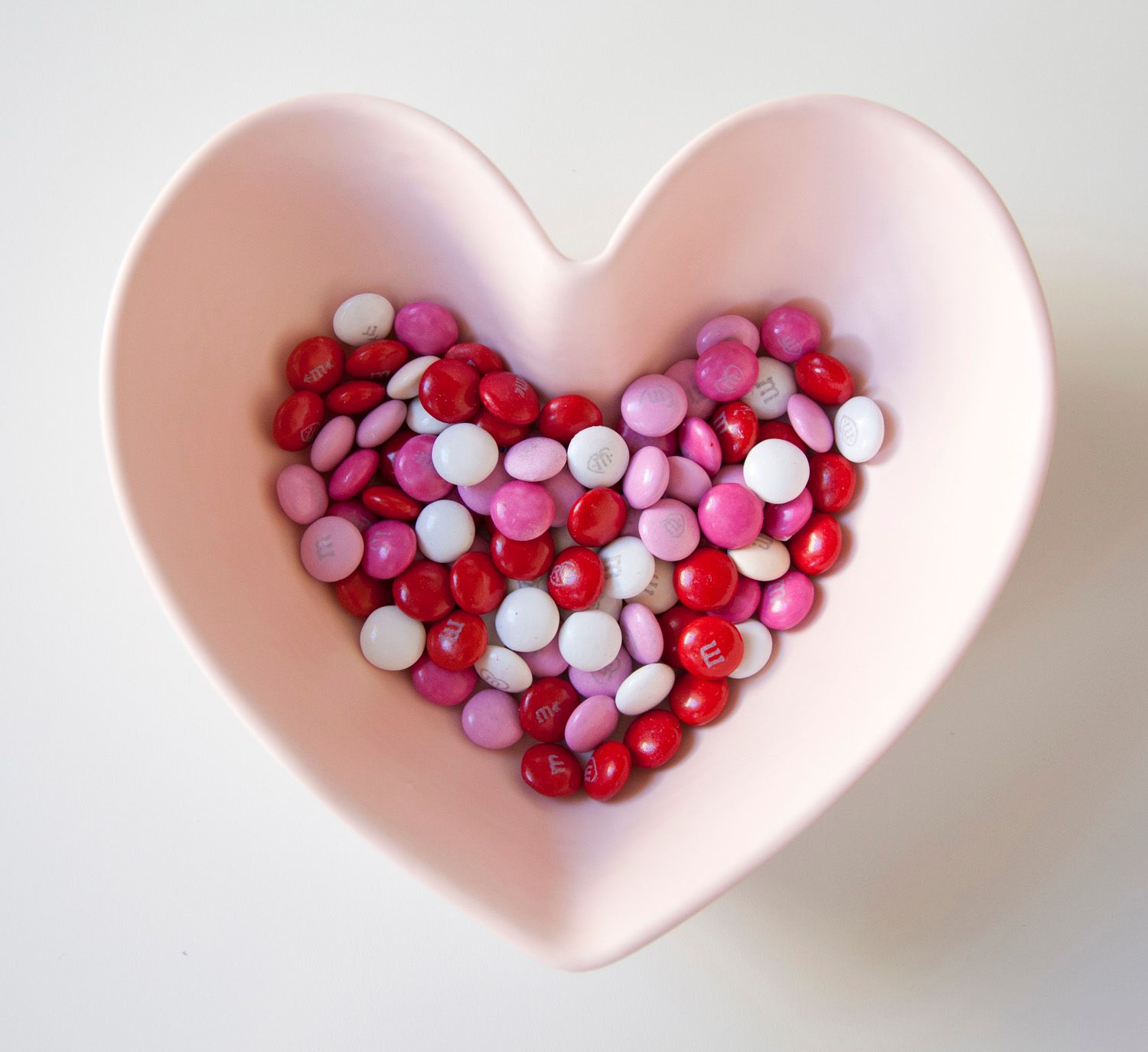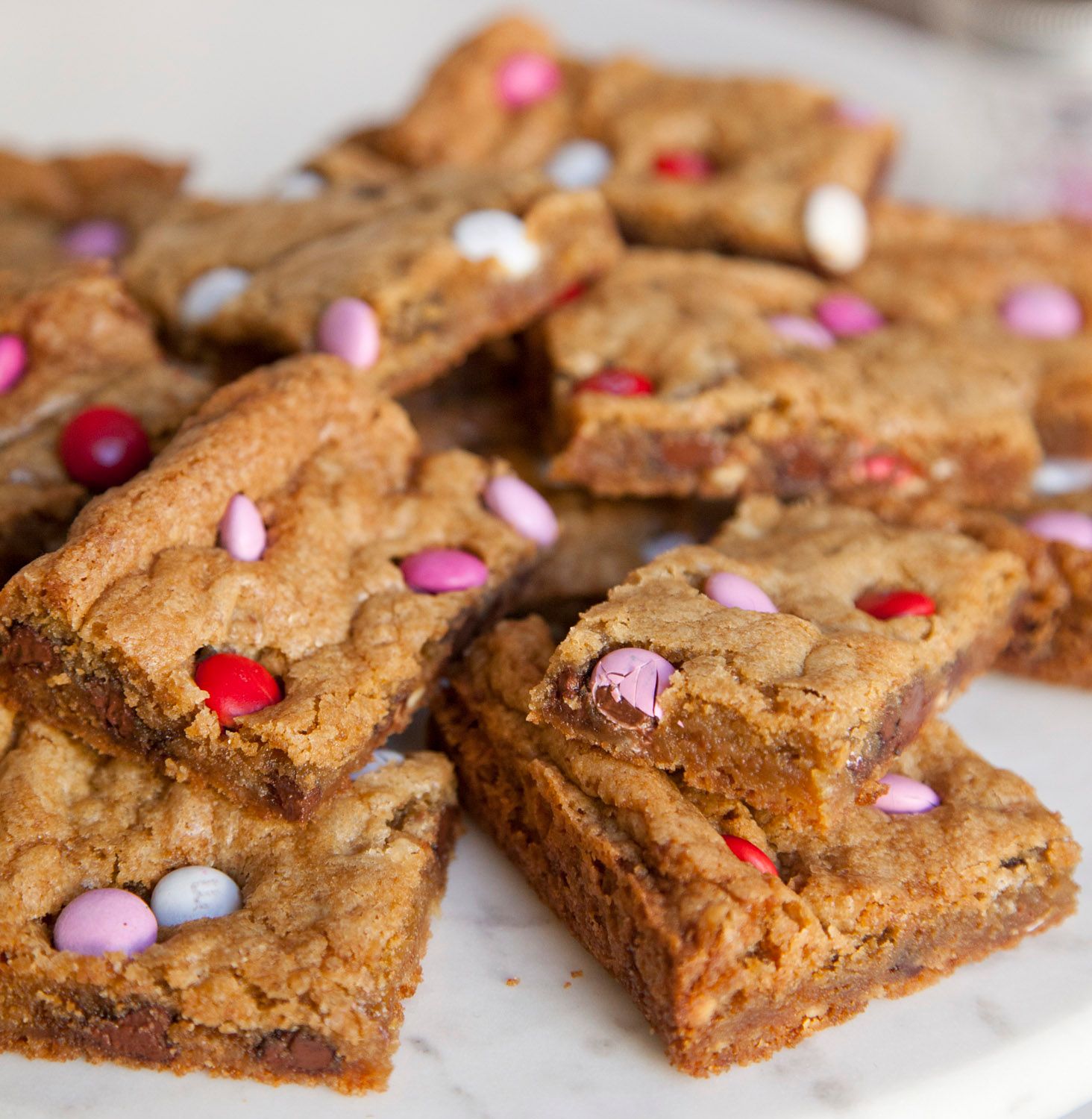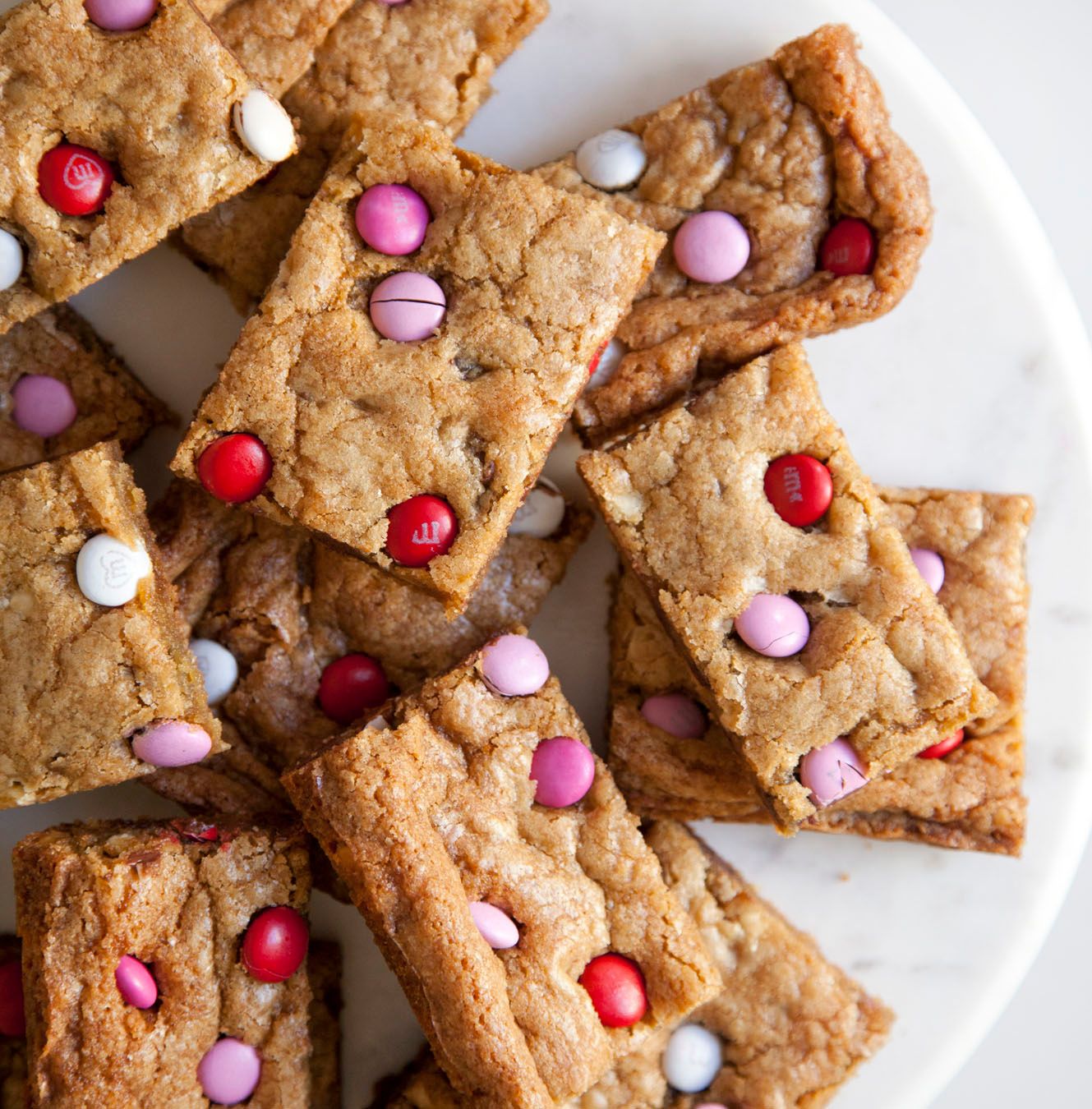 Valentine's Day Cookie Bars
Prep Time
---
15 Minutes

Cook Time
---
25 Minutes

Total Time
---
40 Minutes

Yield
---
Makes 16 Bars

Ingredients
3/4 Cup Butter (at room temperature)
1 Cup Brown Sugar
1/2 Cup Granulated Sugar
1 Egg
1 Egg Yolk
1 Tablespoon Vanilla Extract
2 Cups All Purpose Flour
2 Teaspoons Cornstarch
1 Teaspoon Baking Soda
1/2 Teaspoon Salt
1/2 Cup Chocolate Chips
1/4 Cup Mini White Chocolate Chips
1/4 Cup M&M's
---
Directions
Preheat your oven to 350 degrees and line a 9x13" pan with tin foil. Spray the tin foil with non-stick spray.
In a large bowl using a handheld or stand mixer fitted with the paddle attachment, beat the butter until creamed and smooth – about 1 minute. Add the sugars and beat on high speed until light and fluffy, about 3 or 4 minutes. Scrape down the sides and bottom of the bowl. Add the eggs, and vanilla and beat on high until fully combine, about 2 minutes.
In a separate bowl, whisk together the flour, cornstarch, baking soda, and salt. With the mixer on medium low, add in your flour mixture slowly and mix until fully combined. Turn off your mixer.
Add in your chocolate chips and mix until combined.
Spread the cookie dough in an even layer on your prepared baking sheet and bake 25-30 minutes (you want the inside just cooked through).
Remove the pan from the oven and immediately push the M&M's into the dough with your fingers while the dough is still soft and hot.
Allow the cookies to cool in the baking sheet for 10 minutes before removing them to put on a cooling rack. Allow the cookies to cool completely before cutting.