There are few forays into food that I remember so vividly as the time I tried Calamari for the first time.  While dining out with my parents, my dad ordered this interesting sounding dish and insisted I try.  Being a 5 year old, "I will only eat PB & J", I was extremely skeptical but my dad replied with, "They're Italian French Fries."
Every kid on the planet loves French Fries and being that my mom was Italian, I was sold pretty quick.  Served with a side of Marinara Sauce, I basically completely housed the entire plate of said "french fries". It was only a few years later, when out at an Italian Restaurant, after now learning how to read (I was a slow learner….), that I read the fine Italic print under the Calamari Appetizer on the menu….."Fried Squid". Ummm say wah? Dad, did you deceive me?! Was my childhood based on a lie?!?!
Ok calm thyself, young Sara. Alas, it was true….squid was what I loved all these years. Scarfing down entire plates of fried goodness only to find out it was some slimy creature from the deep.
I quickly got over myself and realized, who cares what this is, it's delicious! So with that, tonight, despite it being MY birthday, I insisted on cooking this as an appetizer! They came out great and I have also attached my awesome Homemade Marinara Sauce Recipe which, I can't tell a lie, I came up with on the fly tonight and it was AWESOME!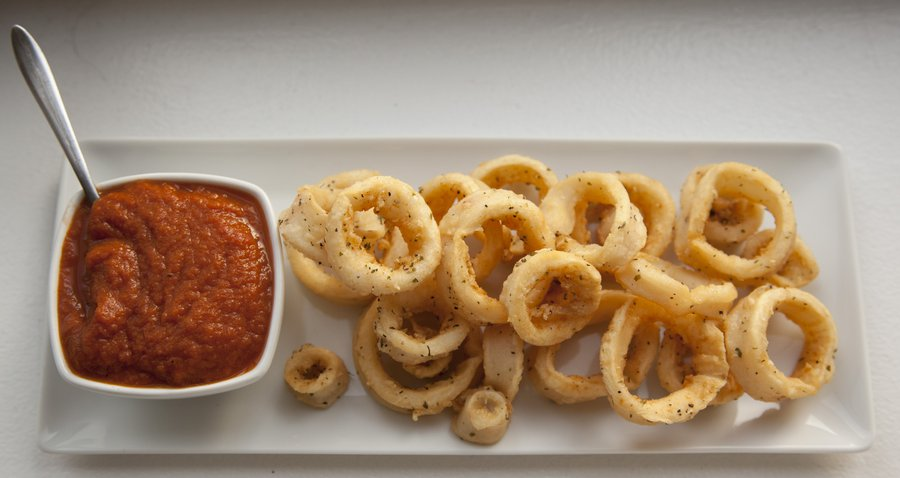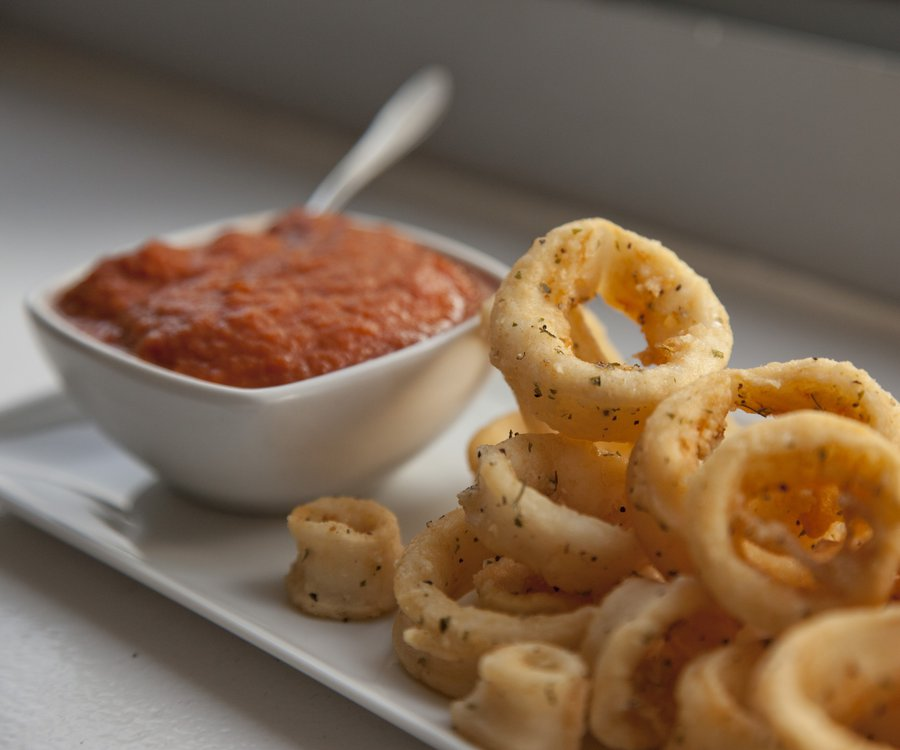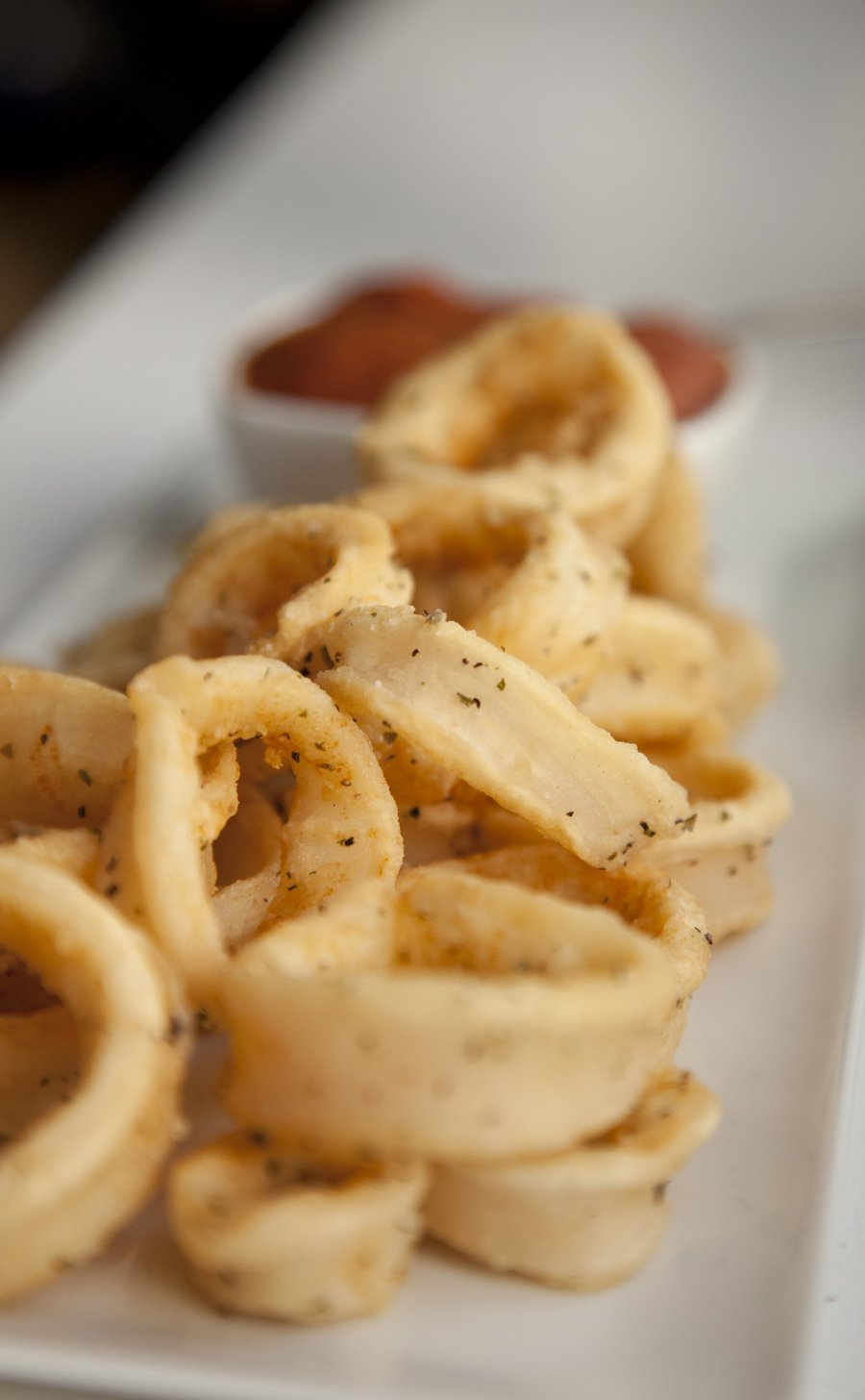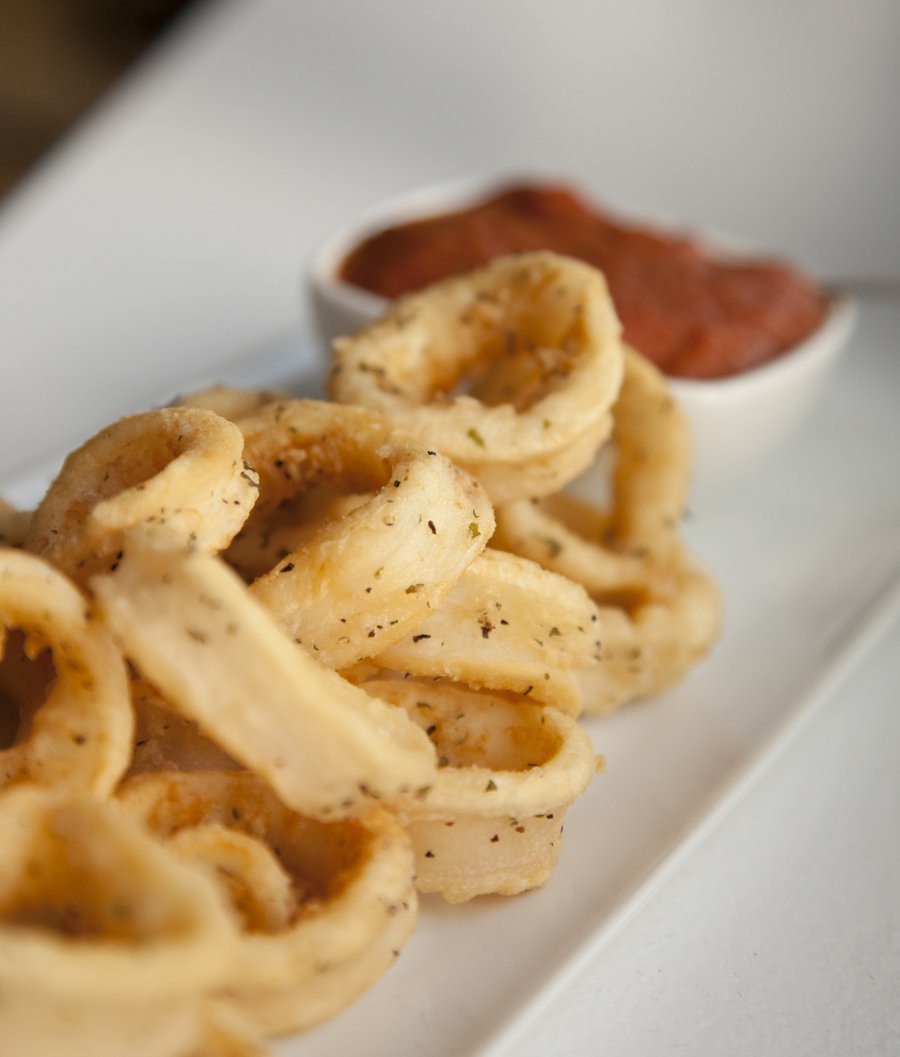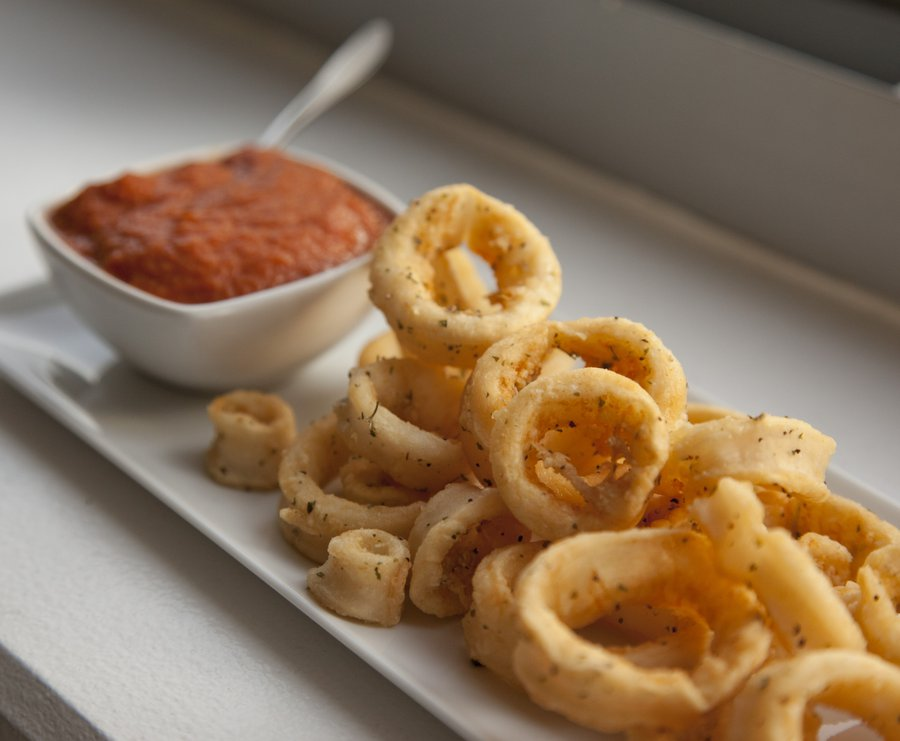 Fried Calamari
Prep Time
---
5 Minutes

Cook Time
---
15 Minutes

Total Time
---
20 Minutes

Yield
---
30 Pieces

Ingredients
3/4 lbs Squid (Cleaned Comletely)
3/4 Cups Flour
2 T Salt
1 tsps Black Pepper
1 tsps minced Parsley
Canola Oil (for frying)
---
Directions
Cut your cleaned squid into 1/2 inch wide rings. In a bowl, combine your flour, salt, pepper and parsley together. Heat up a fryer with Canola Oil to 370 degrees.
Dredge your calamari rings all over in the flour mixture, shaking off any excess flour before putting in the deep fryer. Fry til golden brown and let drain on a resting rack. Serve with Marinara Sauce (recipe below).
Marinara Sauce
Prep Time
---
1 Minutes

Cook Time
---
2 Hour 30 Minutes

Total Time
---
2 Hour 31 Minutes

Yield
---
4 Cups

Ingredients
1 chopped roughly Onion
1/4 chopped roughly Fennel Bulb
4 smashed Garlic Cloves
1/4 Cups Dry White Wine
28 oz Can of Pureed Tomatoes
1 T Dried Basil
1 tsps Dried Bay Leaf
1 tsps Red Pepper Flakes
Salt and Pepper (to taste)
---
Directions
n a saucepan, heat up some Olive Oil. Saute your onion, fennel and garlic. Cook for about 8 minutes over medium heat, until the onions start to soften.
t this point, add your White Wine and cook til absorbed. Add in your Pureed Tomatoes (I love San Marzano 's brand the best), Basil, Bay Leaf, Red Pepper Flakes and some Salt & Pepper. Cover and cook on a low heat for at least an hour.
At this point. taste the sauce, and season with salt and pepper. Take the pot off the heat and puree it's contents in a Vitamix (or whatever blender you may have) until completely smooth. Taste and season again.