Since I was a little kid, I've grown up on the classic meal of having a protein, starch and a vegetable…..and now, as a 27 year old, I find myself basing all of my dinners around that structure. I grew up with a mom who when asked at a restaurant how she wanted her steak cooked, would respond with [a variation] on this answer:
"Take the meat out of the fridge, turn the oven up to 350, take a picture of the oven, show it to my steak, and then serve me the steak"
Needless to say, I started eating my meat black and blue from a very young age, and literally cannot bare the thought of eating it any other way.  "Still mooing" is how I ask for my steak in restaurants….although I think mom's answer takes the prize for creativity and best reaction from the waitstaff.
For this installment of Urban Cookery, I felt like making a risotto, but wanted to infuse the classic flavors with mushrooms. I paired it with these gorgeous Filet Mignon's I got, and made a household favorite, Garlic Roasted Broccoli.
To assemble, lay down your risotto on a plate, slice your filet, and place on top, spoon some sauce around the meat, and place the broccoli around the plate. ENJOY!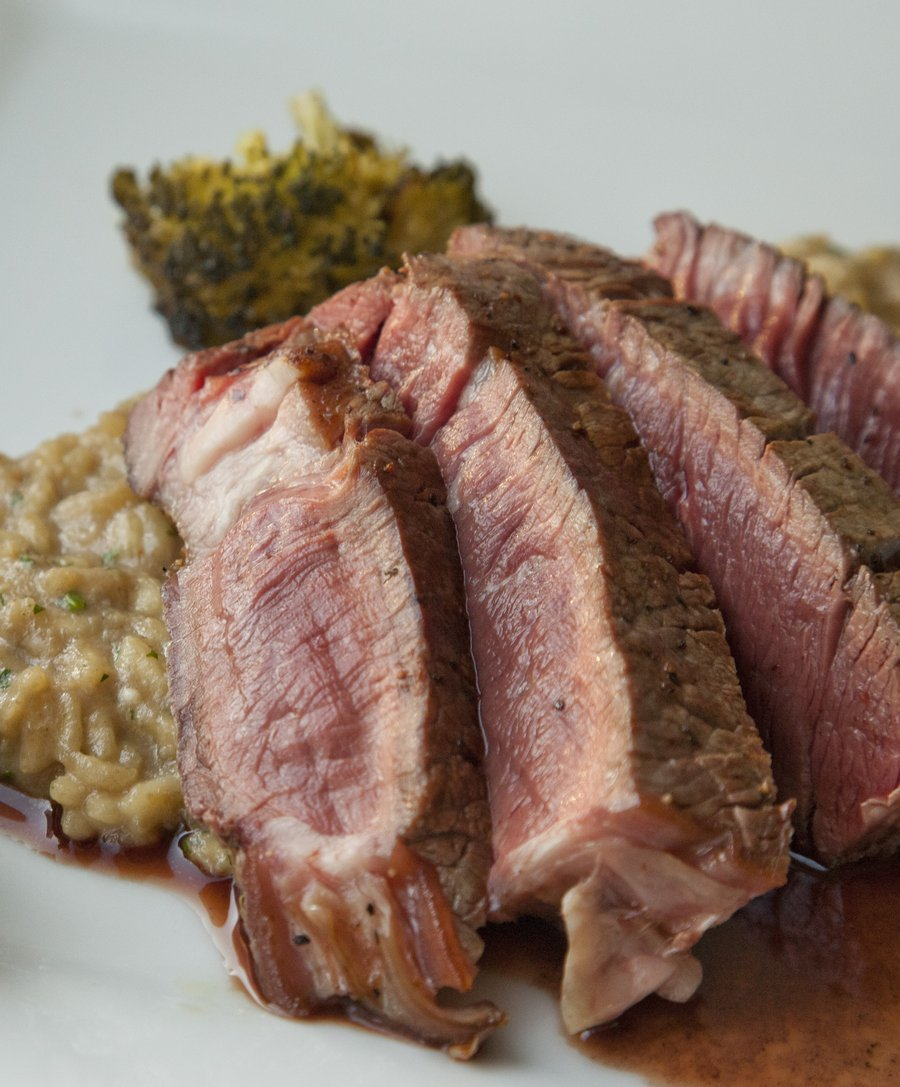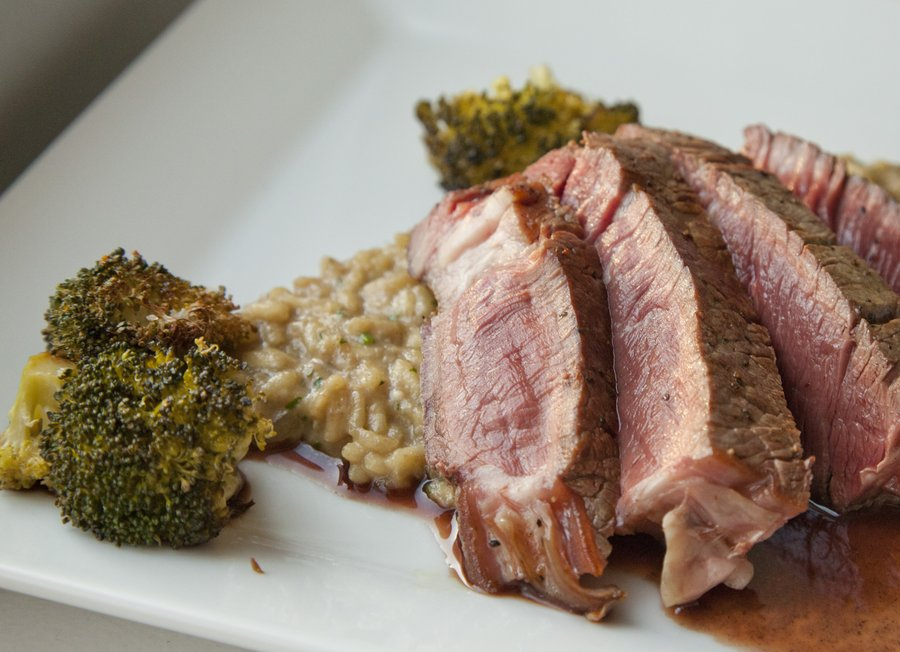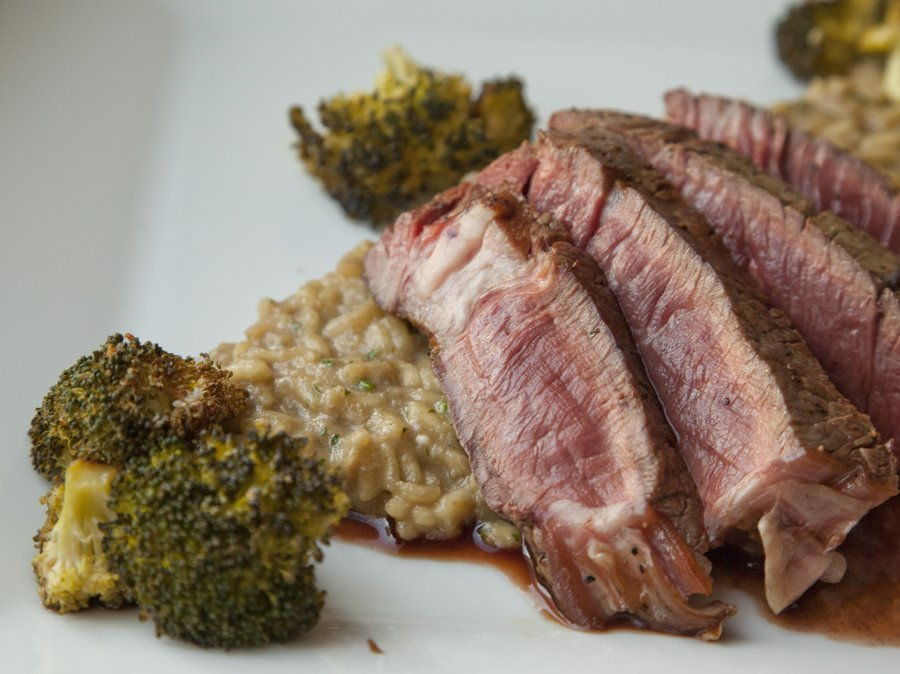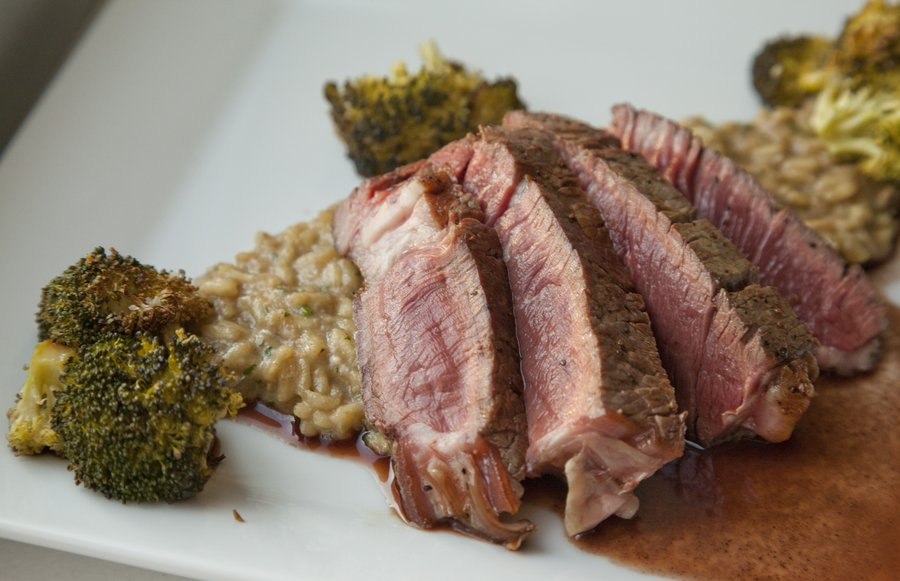 Filet Mignon with a Pan Sauce
Prep Time
---
5 Minutes

Cook Time
---
20 Minutes

Total Time
---
25 Minutes

Yield
---
Serves 2

Ingredients
2 Pieces Filet Mignon (8oz Each)
Salt and Pepper
2 T minced Shallot
2 oz Red Wine
6 oz Beef Stock
1 T Butter
---
Directions
In a medium saute pan, heat up some Canola Oil until super hot. Season both sides of your meat with Salt and Pepper. Saute the steaks in pan until they're golden brown on the first side. Flip over and repeat - finish cooking in the oven if necessary. Remove from saute pan and let rest about 10 minutes while you prepare the pan sauce.
In the same skillet you sautéed your meat in, dump out any excess oil from the pan. Over a medium heat, put your minced shallots into the pan and cook for about a minute, stirring so as not to burn the shallots. Deglaze with the red wine and reduce til completely dry (almost looking like a sticky paste). Add in your stock, and reduce down until the consistency is thick enough to coat the back of a spoon (nappé consistency). Add in your 1 T of Butter at the end, and season if necessary.
Mushroom Risotto
Prep Time
---
10 Minutes

Cook Time
---
45 Minutes

Total Time
---
55 Minutes

Yield
---
Serves 2 (3 cups)

Ingredients
1 Cups Arborio Rice
2 T Butter
1/2 Cups minced Onion
1/2 Cups Dry White Wine
3 Cups Low Sodium Chicken Stock
8 oz Button Mushrooms (cleaned, tips of the stem cut off and chopped)
grated Parmesan Cheese (As needed, to taste)
minced Parsley (As needed)
Salt and Pepper (to taste)
---
Directions
First, put your chicken stock on the stove to heat up - your chicken stock must be simmering in order to properly cook the risotto.
Next, take your rough chopped mushrooms, and put in a food processor to completely mince (you want it almost like a paste). Once done, heat up a small skillet and saute the mushrooms in some Canola Oil until they have completely lost all moisture. Set aside for later use.
Now it's time to cook the risotto. In a large pot, heat up your butter. Add in your onions and sweat for a few minutes, making sure not to brown them. Then add in your arborio rice, and lightly coat with the butter, stirring for about 2 minutes. Now add in the white wine and reduce til dry.
At this point, ladle in about 1 cup of your hot chicken stock and stir constantly (risotto is an arduous, but rewarding process). Stir until most of the liquid is evaporated, then add another cup of Chicken Stock. Repeat this process (stirring the entire time), until the rice is completely tender (you may not need all the stock, or you may need more depending on how you like your risotto). I like mine al dente which used about 3 cups of stock.
Once tender, mix in your mushrooms, and parmesan cheese. Season with salt and/or more parmesan, then sprinkle in the parsley.
Roasted Broccoli
Prep Time
---
5 Minutes

Cook Time
---
40 Minutes

Total Time
---
45 Minutes

Yield
---
Serves 2

Ingredients
1 Head Broccoli (stems removed, florets cut into bite-sized pieces)
3 minced Garlic Cloves
Extra Virgin Olive Oil
Salt
---
Directions
In a cast iron skillet, add in your broccoli and garlic, toss generously with Olive Oil and sprinkle on some salt. Cook in a 400 degree oven for about 40-45 minutes (mixing around every 10-15 minutes). You want the broccoli to be crisp and slightly browned. Taste and season if necessary. (** If you have it, I like to use a tiny bit of truffle salt to season just at the end - great flavor!)