As anyone who reads my blog can tell, I don't exactly make super "health" foods….I mean don't get me wrong, I eat a vegetable at every meal but to me the idea of eating a salad is like asking me if I want to get a root canal. Salads just don't do it for me…..until this masterpiece came along! Alas, it is loaded with completely unhealthy components but you only live once and hell, I want my food to taste good. Follow the recipe below, but what I did was I marinated the chicken in a little Olive Oil, Canola Oil, some White Wine Vinegar, Salt and Pepper and let sit in the fridge for an hour. I then grilled it which gave great flavor. To make the Vinaigrette have a little more pop to it, add a drop of honey in!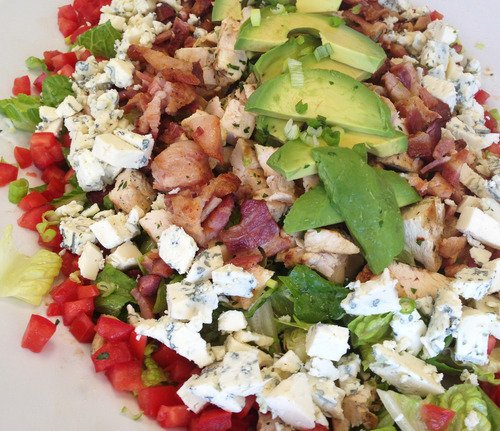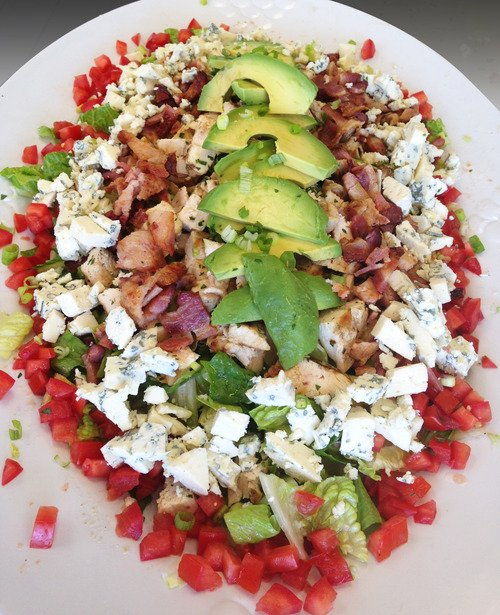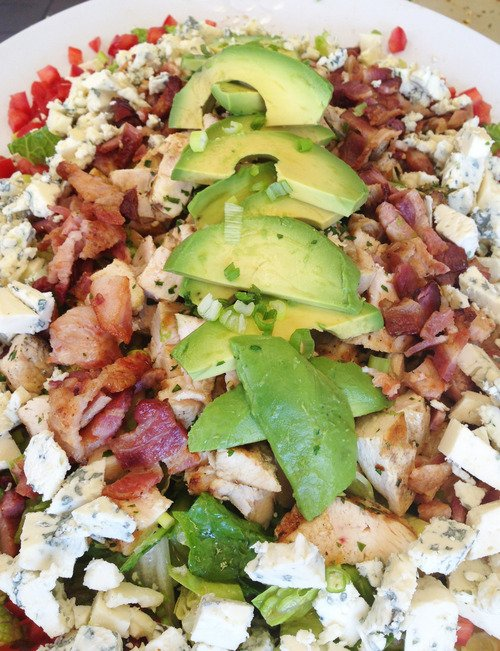 Cobb Salad
Prep Time
---
25 Minutes

Cook Time
---
20 Minutes

Total Time
---
45 Minutes

Yield
---
10 Servings

Ingredients
5 Bone in Chicken Breasts
Salt and Pepper
20 Slices Bacon
1 1/4 lbs Romaine Lettuce
10 oz diced Tomato
10 oz crumbled Blue Cheese
3 Avocados (Peeled, pitted, and diced)
5 sliced thin Scallion (Bias-cut)
---
Directions
Season the chicken breasts with salt and pepper and roast/grill until they have an internal temperature of 165 degrees. Cool. Remove from the bone and cut into 1/2" dice.
Cook the bacon slices until crisp. Drain on a paper towel and keep warm.
Salad Assembly: For each Serving, toss 2 ounces Romaine with 2 teaspoons of Vinaigrette. Mound on a plate and top with 4 oz chicken, 1 1/4 oz Diced Tomato, 1 oz Blue Cheese, 2 oz Avocado, 1/4 oz Scallions, and 2 crumbled Bacon Strips.
Red Wine Vinaigrette
Prep Time
---
5 Minutes

Total Time
---
5 Minutes

Yield
---
8 fl oz

Ingredients
1 T minced Shallot
1 T Dijon Mustard
2 fl oz Red Wine Vinegar
6 fl oz Canola Oil
Salt and Pepper
2 tsps Optional Flavorings (herbs and spices)
---
Directions
In a small bowl, combine shallot, mustard and vinegar.
Add the Canola Oil gradually, whisking constantly.
Add additional flavorings - taste and season with salt and pepper. Adjust the acid/oil balance if needed.