Recently I have been crowd sourcing my recipes from my friends on Facebook by creating polls asking them, "would you rather eat ­­­­_________ or ________?" The polls usually tend to sway heavily in one direction over another until this past week….the poll was: Beef Chimichangas or Korean Grilled Steaks. With only 1 vote separating the winner from the loser, Beef Chimichangas won. I have to admit, I was kinda hoping it would, but I will definitely be making some Grilled Korean Steak ASAP (especially since I just learned about a local Korean Supermarket with all kinds of yummy goodies!)
I tested out a new marinade for this recipe, which literally consisted of chopped chipotle peppers in adobo sauce. You marinate your steaks in there for at least a few hours and then either grill them up or sear them over the stove!
But getting back to the chimichanga itself; a chimichanga is basically a deep fried burrito (whomever invented this, I applaud you). It's such a versatile food because you can stuff anything into a chimichanga….. pulled chicken, beans, guacamole, salsa, cheese, shrimp…whatever you're into… but tonight we went with steak!
You don't have to use a super nice cut of steak like a filet mignon….I got a top sirloin (which of the 3 types of sirloin, is the most prized and most tender). I highly suggest grilling the steak if you have the ability because nothing beats the flavor of a grilled steak.
The Chimichangas also were stuffed with a homemade Salsa, Cilantro Lime Rice, Sliced Avocado, Shredded Lettuce and topped with some Sour Cream! The salsa is one of the best components of this dish, adding the perfect amount of acidity to cut the spiciness of the steak.
Pair these will my homemade Margaritas and you'll feel like you're on a tropical vacation to Mexico!
Enjoy!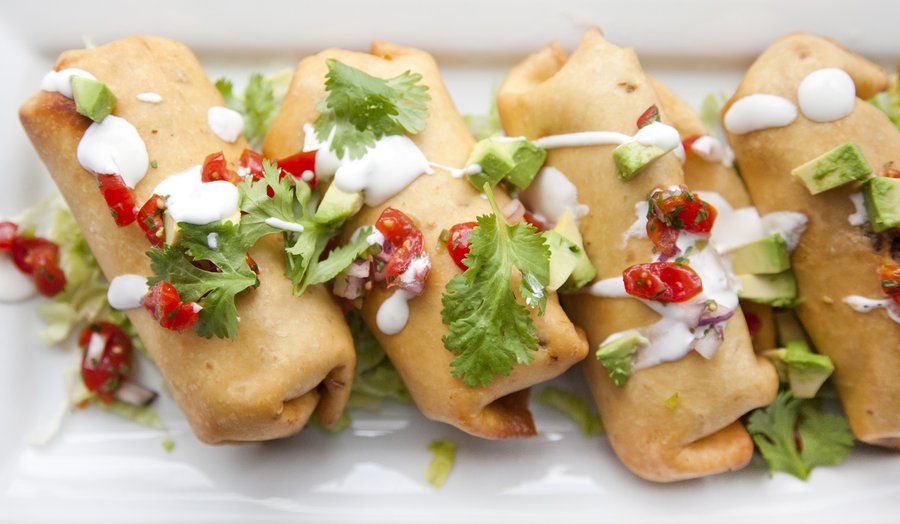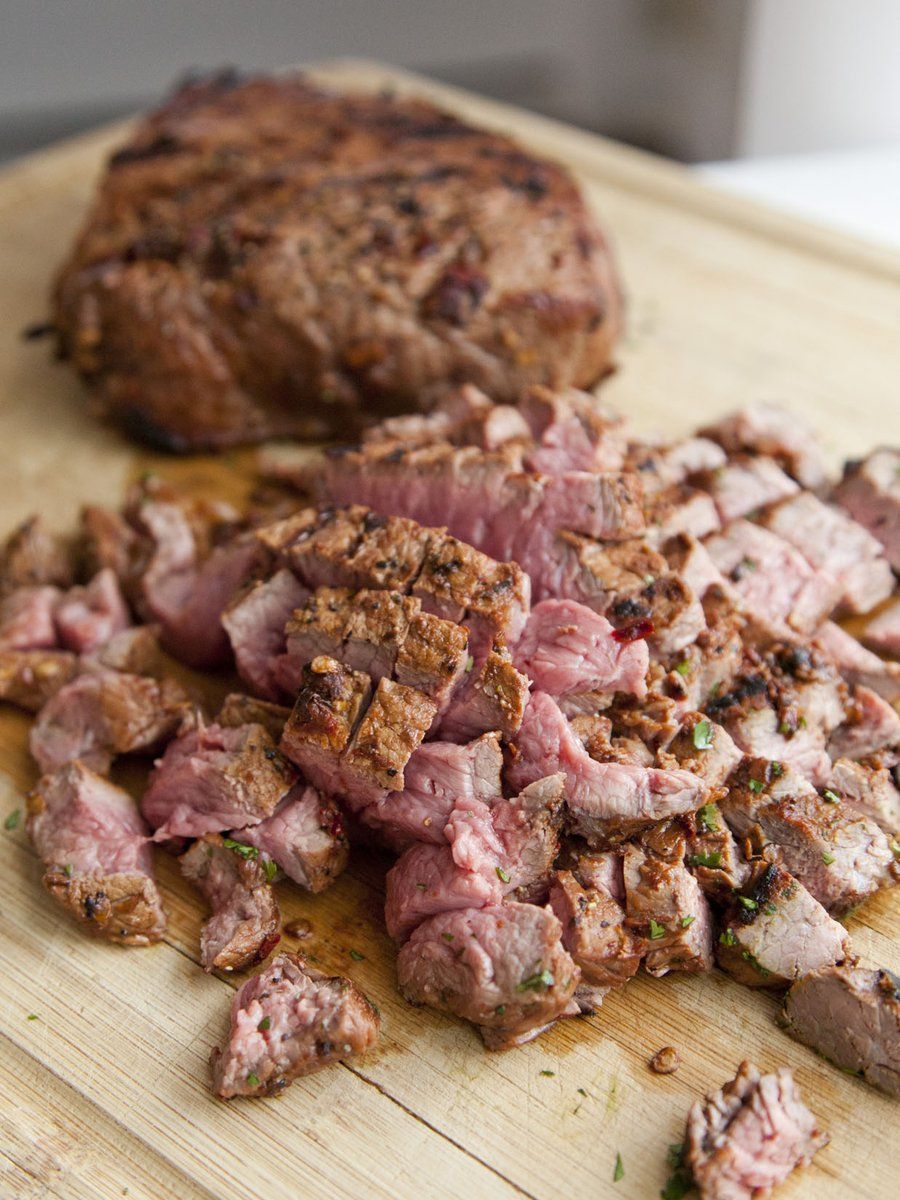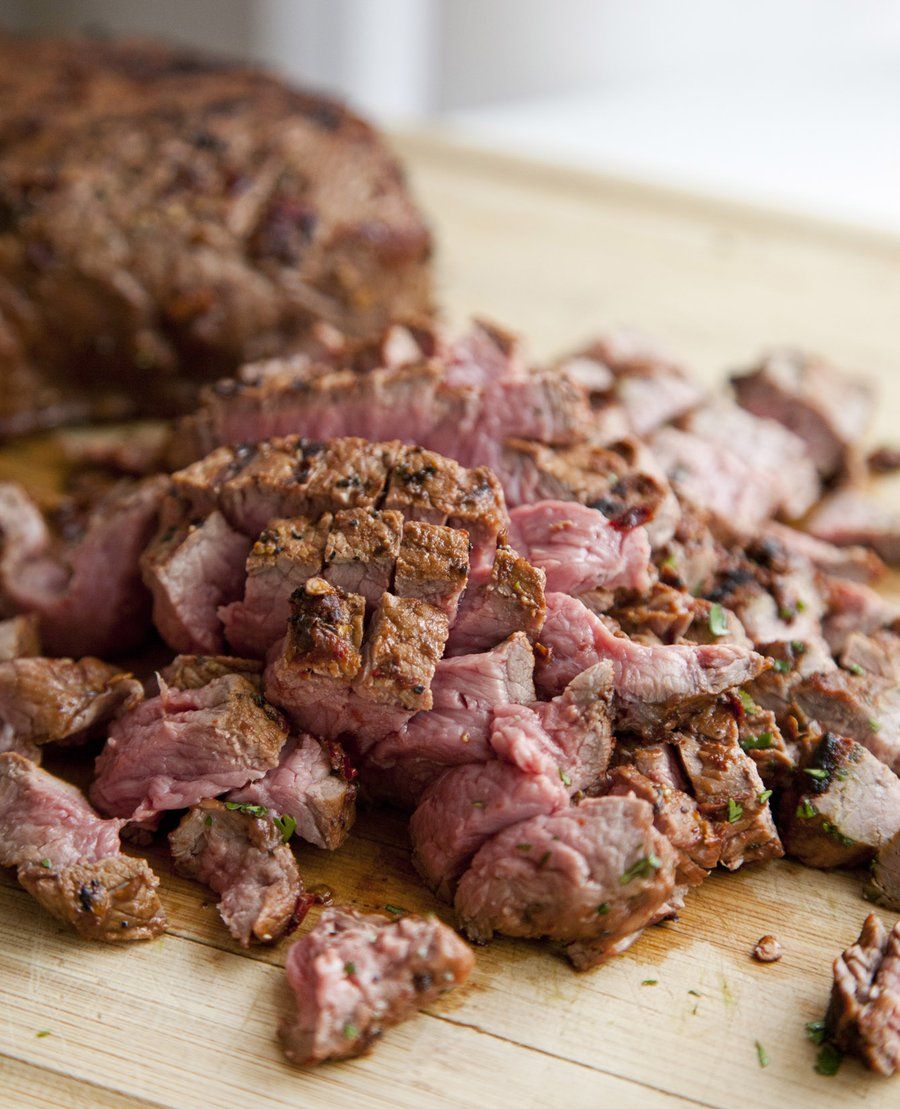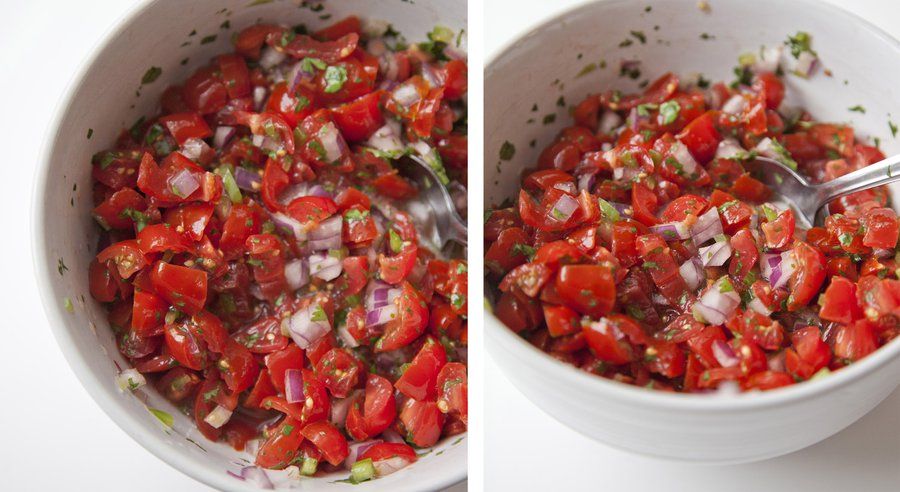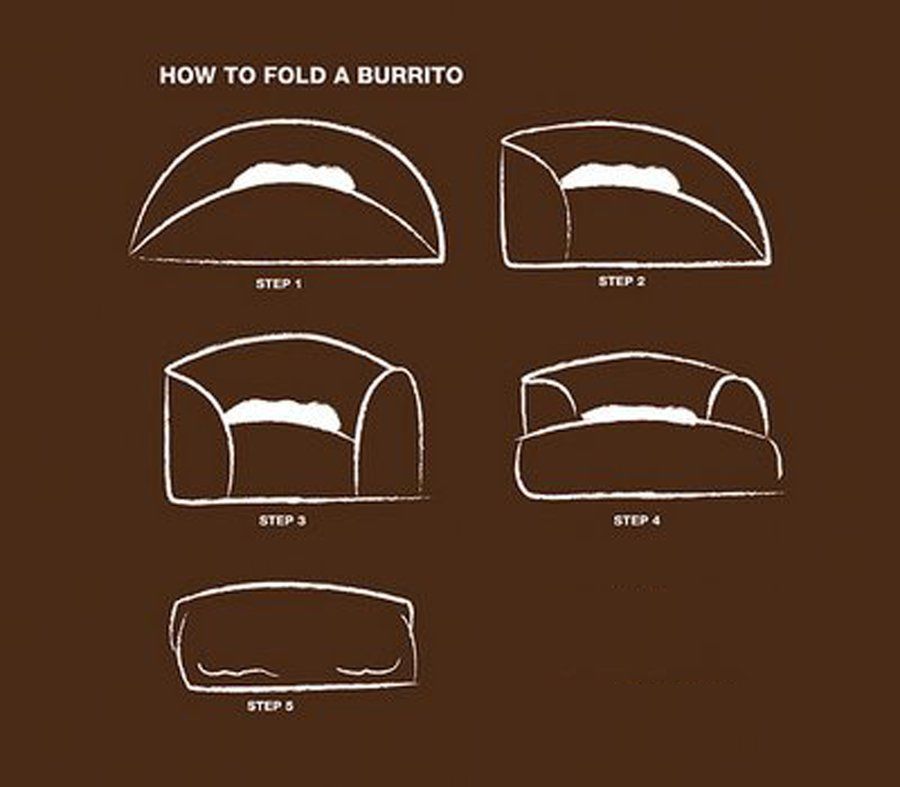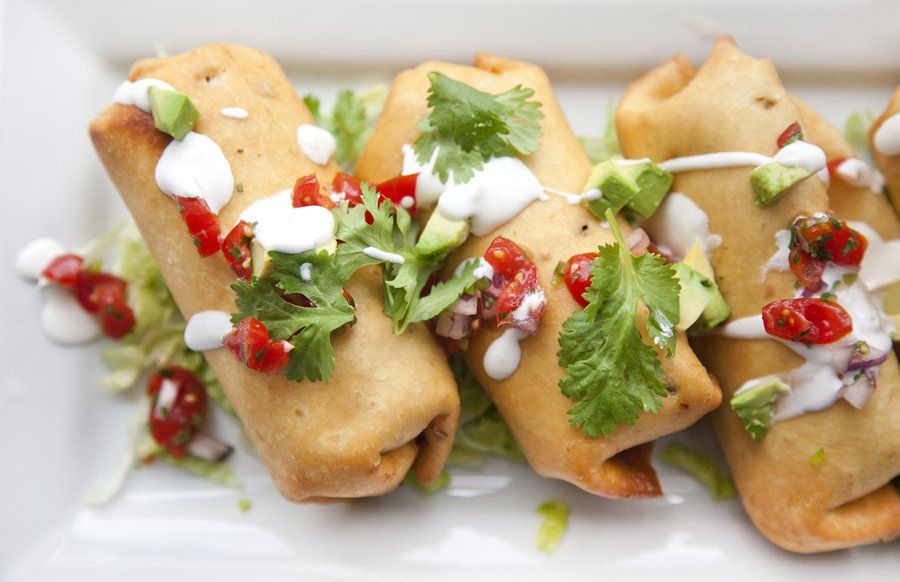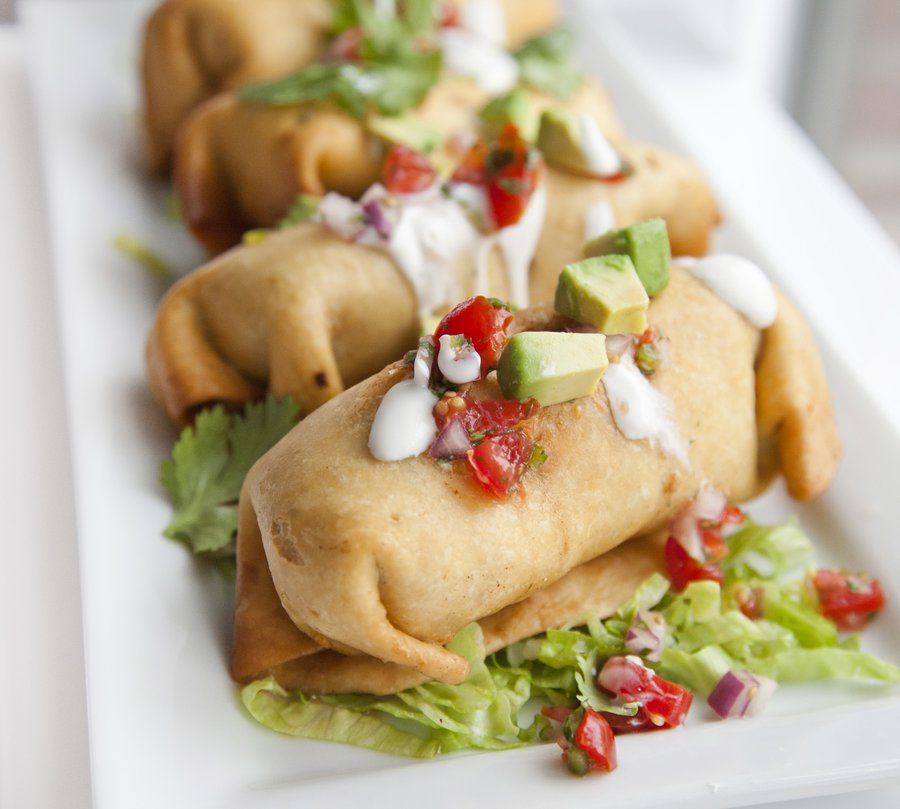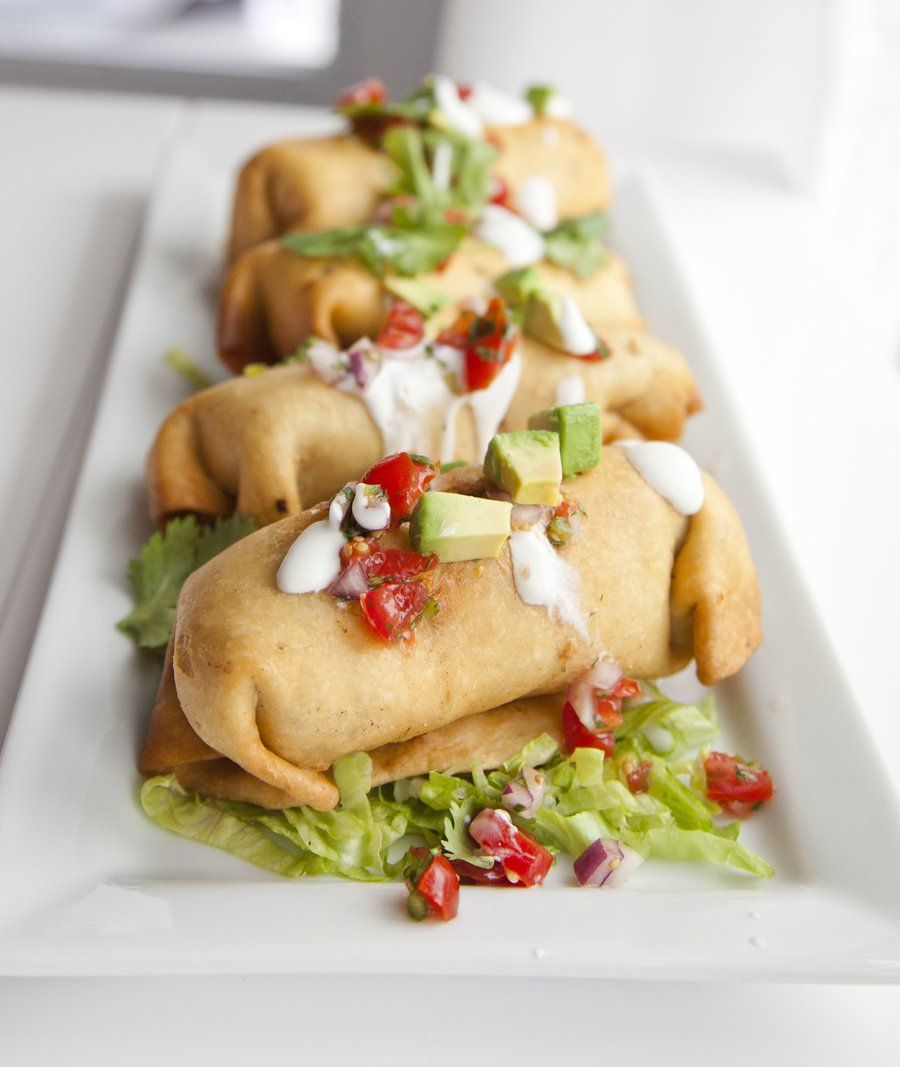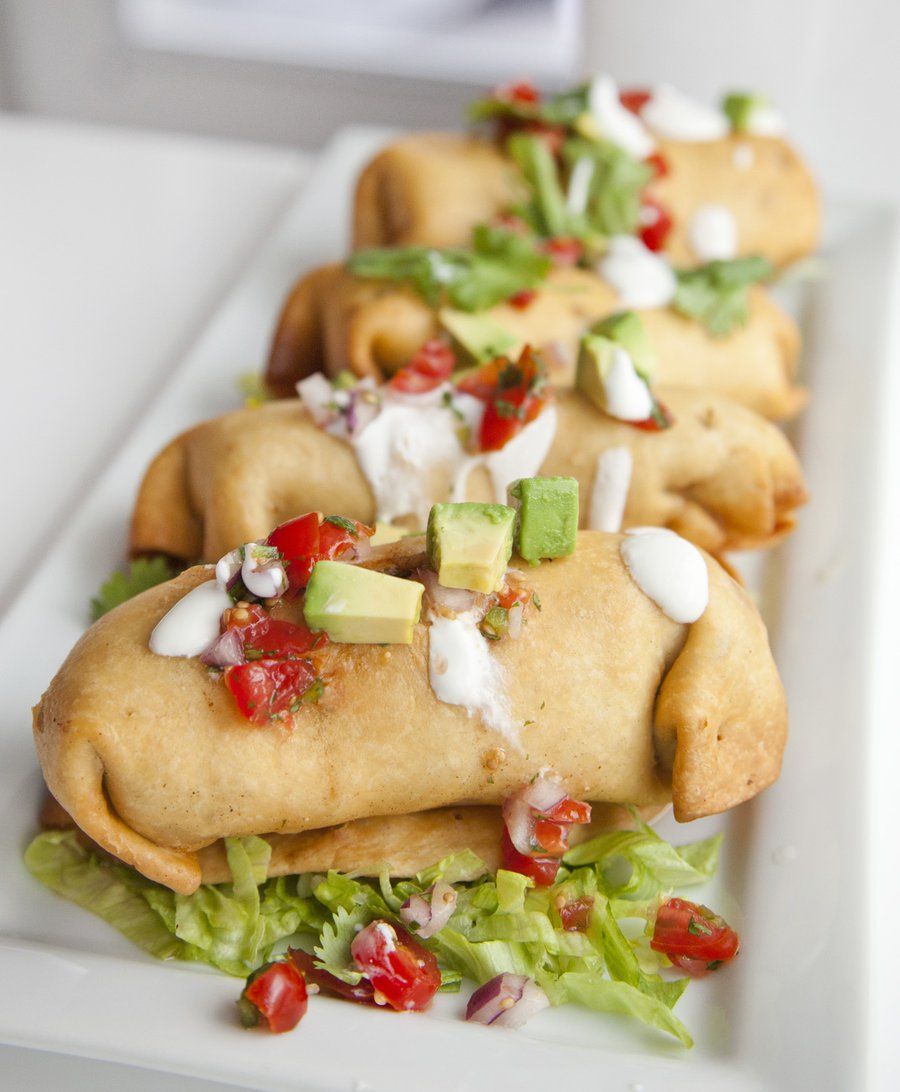 Chipotle Marinated Steak
Prep Time
---
3 Hour 5 Minutes

Cook Time
---
6 Minutes

Total Time
---
3 Hour 11 Minutes

Yield
---
Makes 1.5 lbs of Steak

Ingredients
1 1/2 lbs Sirloin Steak
5 Chipotle Peppers in Adobo Sauce (minced)
Salt and Pepper (to season)
---
Directions
Place your steaks (whole, fat trimmed) in a large ziploc bag. To that bag, add in your minced chipotle peppers in adobo sauce. Remove the air from the bag and seal tight. Mix the steaks around so that all steaks are covered in the chipotle peppers. Place in the fridge and allow to marinate for at least 2 hours.
Heat up a grill on high. Remove the steaks from the fridge 30 minutes prior to cooking. Salt and Pepper both sides of the steaks and cook about 3 minutes per side on a super hot grill.
Allow the steak to rest 5-10 minutes before dicing into small cubes.
Tomato & Jalapeno Salsa
Prep Time
---
10 Minutes

Total Time
---
10 Minutes

Yield
---
Makes about 3 cups

Ingredients
2 Cups Tomato (diced small)
1/2 Cup Red Onion (diced small)
2 T Jalapeno (minced)
2 T Cilantro (minced)
Juice from 1/2 a lime
Salt (to taste)
---
Directions
In a bowl combine & mix together all ingredients. Allow to sit for an hour in the fridge before serving.
Cilantro Lime Rice
Prep Time
---
5 Minutes

Cook Time
---
12 Minutes

Total Time
---
17 Minutes

Yield
---
Makes about 1.5 cups

Ingredients
1/2 Cup Basmati Rice
1 Cup Water
1 Teaspoon Butter
2 T Cilantro (minced)
1 Tablespoon Lime Juice
---
Directions
Add your rice, water, butter and a pinch of salt to a a small pot. Bring the water to a boil. Cover the pot, and reduce the heat to a simmer and cook about 12 minutes or until all the water has been absorbed.
Turn the heat off and let the rice sit (cover on) for 4 minutes. After 4 minutes, add in your lime juice and cilantro and fluff with a fork.
Taste and season with salt.
Chipotle Steak Chimichangas
Yield
---
Serves 4

Ingredients
8 8" Flour Tortillas
1 Cup Sour Cream
1 Recipe Chipotle Marinated Steak
1 Recipe Tomato and Jalapeno Salsa
1 Recipe Cilantro Lime Rice
Iceberg Lettuce (shredded)
1 Avocado (pit & skin removed, sliced thin)
---
Directions
To assemble your chimichangas, heat up a 8" wide pot filled with Canola Oil 2/3 of the way up the pot. Heat the oil to 365 degrees.
While the oil is heating up assemble your chimichangas: Lay down your tortilla, add 2 Tablespoon of sour cream and spread it around the center. Add in 1/4 cup of your steak, 3 Tablespoons of your Salsa, 2-3 Tablespoons of Rice, some shredded lettuce and a slice of avocado. Repeat this with all tortillas.
Fold up the tortilla as you would a burrito (see image below) and secure the tortilla with multiple toothpicks.
Place the chimichangas two at a time into the oil, making sure the oil stays at 365 degrees. Remove the chimichangas with a slotted spoon once golden brown, and place on a plate lined with paper towels to drain.
Remove toothpicks and serve hot with extra sour cream and salsa (optional)!