I am not really sure where to start this post…
There is nothing I love more in the world (family & dogs excluded) than building the perfect Cheese & Meat Board. It goes without saying that I absolutely LOVE cheese – in fact there's only 1 cheese out there that I haven't been able to fall in love with and that's Feta (sorry, Feta, you just ain't my jam). And as much as I love cheese, I love any and ALL cured meats even MORE: Prosciutto, Salami, Sopresatta, Pepperoni, Capicola….the list is never ending…
When I am given the opportunity either professionally or personally to put together a Cheese & Meat Board, I am in my element.
I joke that I have a PHD in Cheese and Charcuterie, but in reality, I really do (just not officially….).
I have big ideas and future goals to open a local Cheese and Charcuterie food truck or small 15-seater restaurant with some of the best wines I've tasted over the years being featured alongside my favorite cheeses/meats. But until then, I will just continue to experiment and eat cheese with reckless abandon.
I have been tasting cheeses for years with the goal of creating a Sara arsenal of the best cheeses out there. I have been to countless cheese stores, talked with countless cheese mongers, and read thousands of articles on cheese just so I could feel like my cheese knowledge was on it's a-game.
I love pairing various cheeses with fruits, jams, honey, salt, etc and seeing what each added element brings out in the cheese. I also relish putting cheeses together with various charcuterie meats and seeing which pair well, which over power the other, and which should just be left to their own devices. But what I REALLY love – is pairing all the aforementioned with WINE.
Shocking.
I am 99% of the time, a dry white wine drinker – Pinot Grigio and I go way back. Which, for cheese pairings is actually in my opinion, the best. Most cheeses not only go amazingly with the crispness of a Pinot Grigio or a Sauvignon Blanc, but the wine can totally change the taste of the cheese (for the better). Some cheeses go even better with Chardonnays and some cheeses can hold up to the body and boldness in red wines…but all around I stick to my Pinot Grigio….. or PG as we call it on the streets.
But back to the stars of the show: the Cheese and the Meats. Every time I build a cheese board, the cheeses are always different. Typically I will always have Prosciutto, salame/pepperoni, and a country Pate to round out the meat section (sometimes I get Sopressata if they have the kind I like).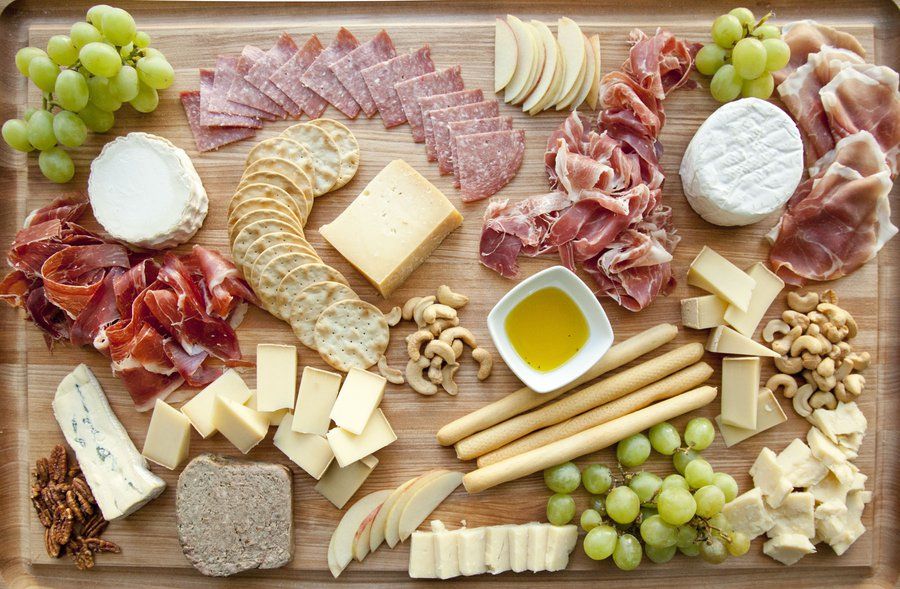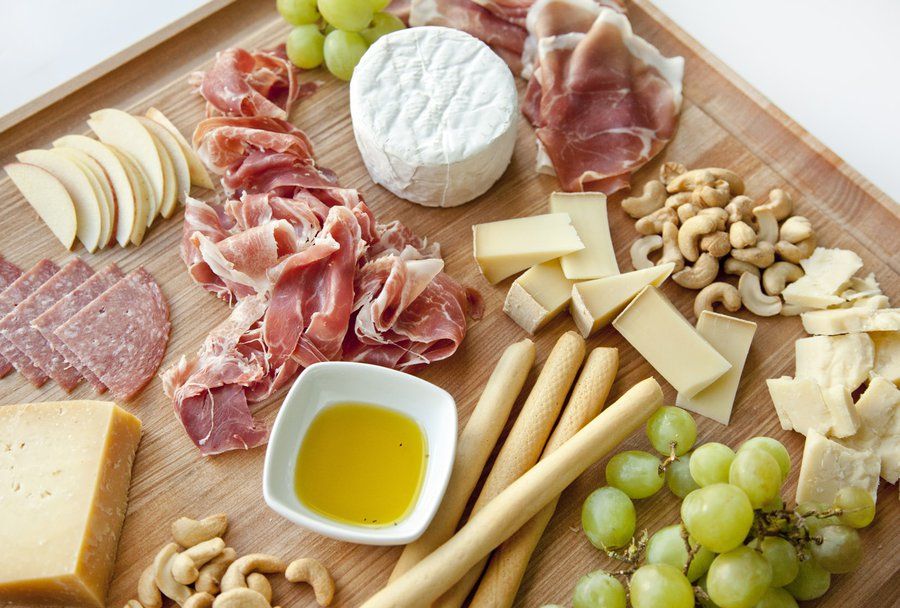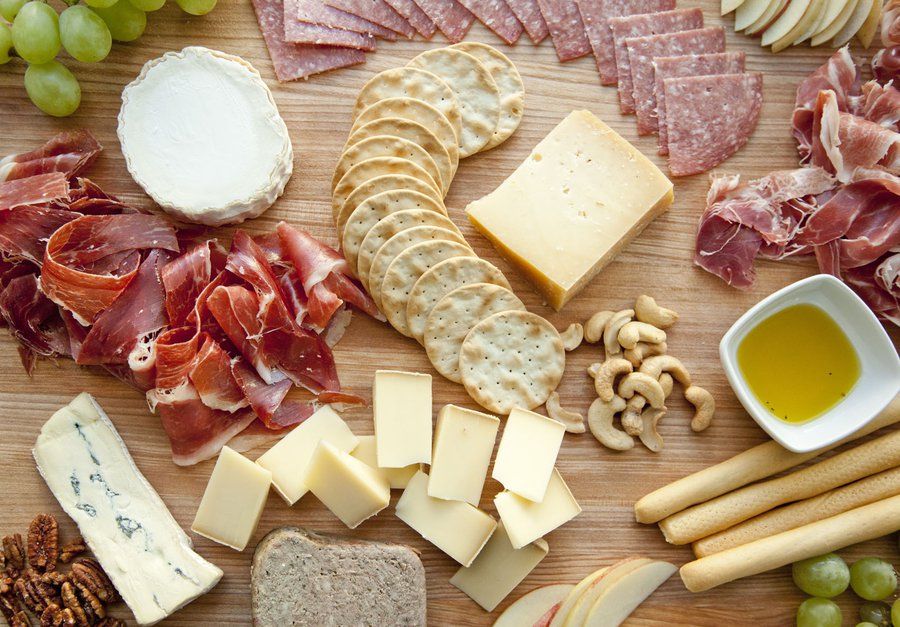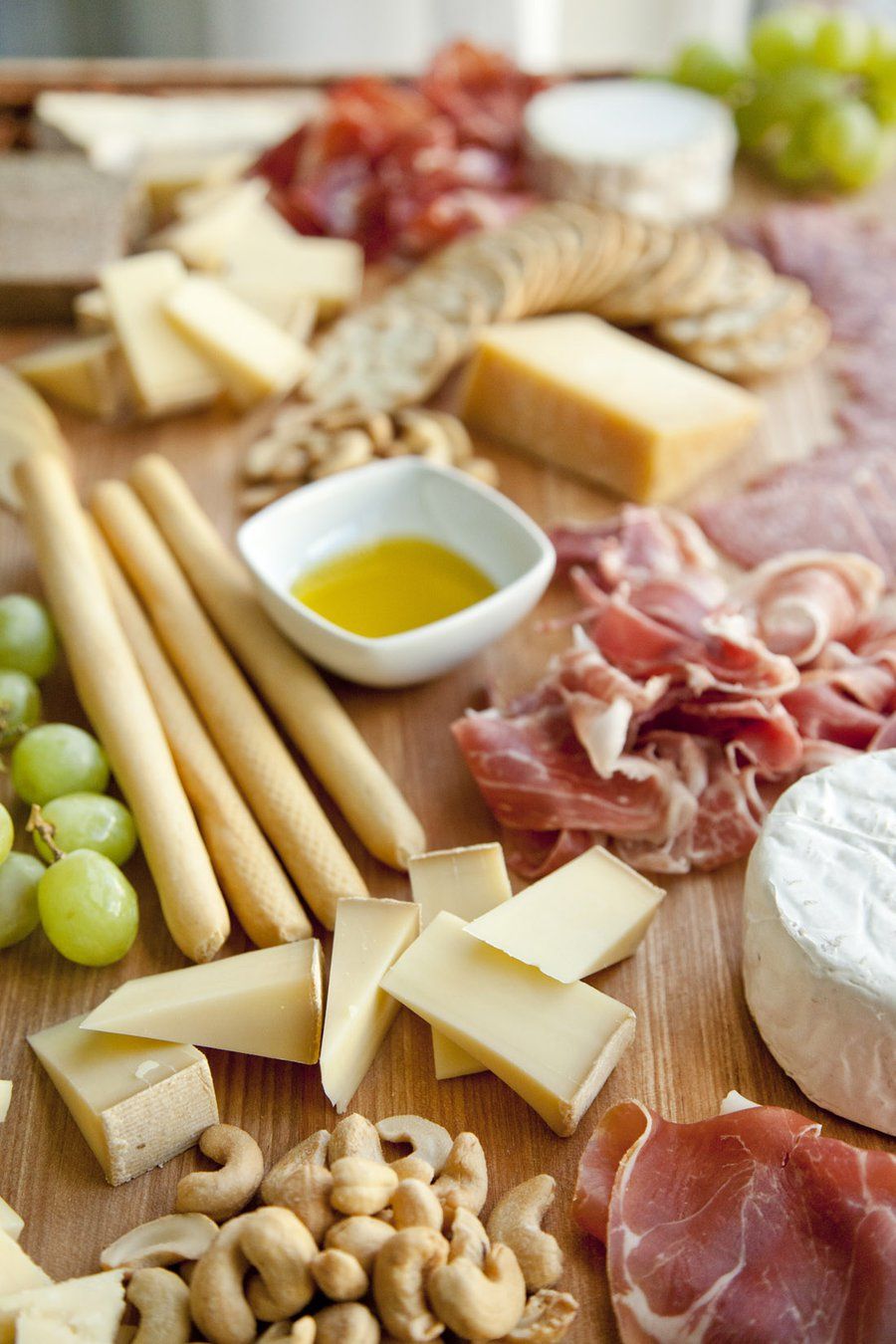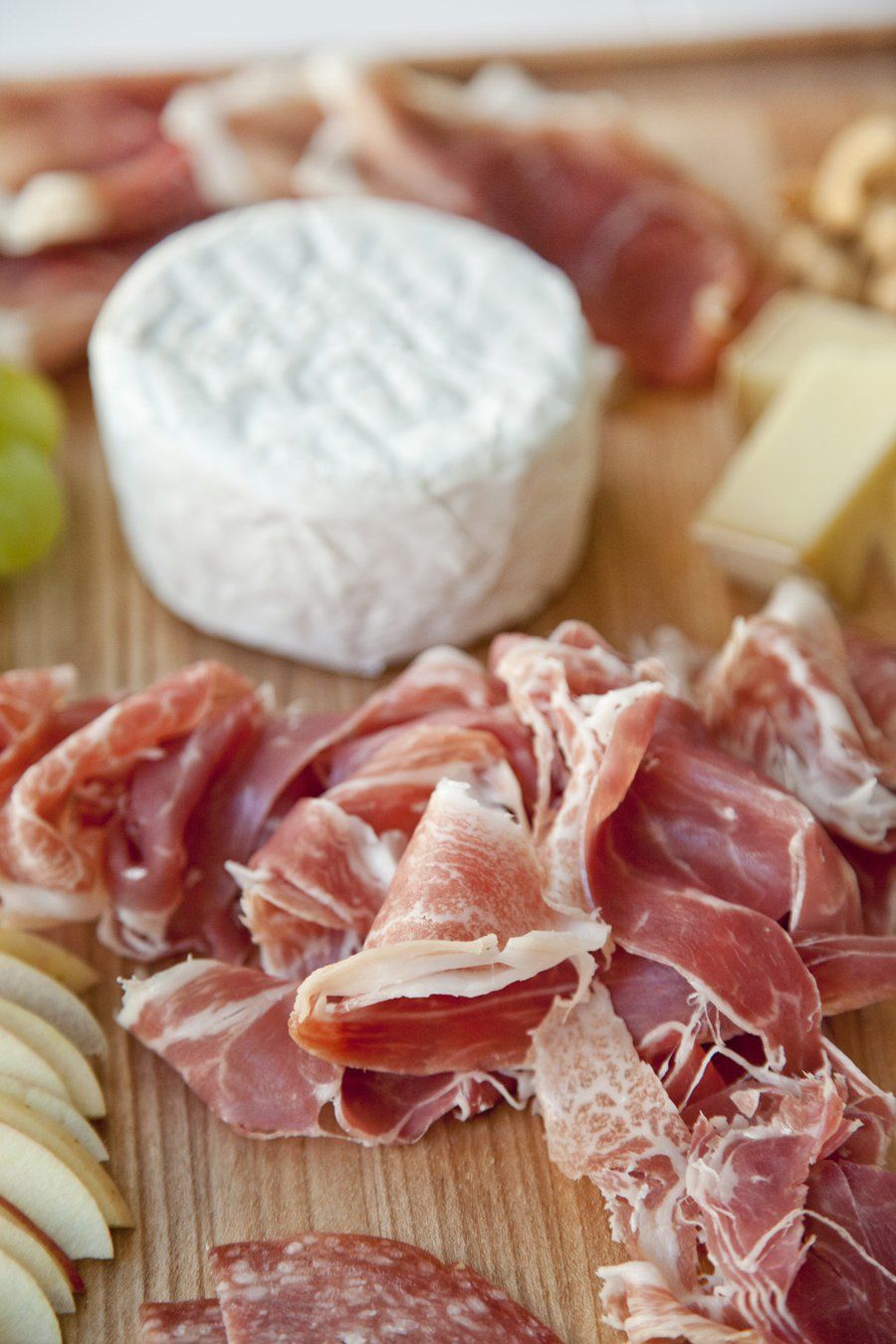 So for this blog post I got some of my absolute favorite cheeses and some new cheeses that I was given recommendations for. Our cheeses are as follows:
·      Beecher's Aged Cheddar – an 26-month aged Cheddar from one of my FAVORITE New York based Cheese makers, Beecher's Cheese. I was actually able to buy this in our local Wegmans store which is a huge bonus considering we no longer live in walking distance to Beecher's Cheese. But if you're ever in NYC – head to Beecher's Cheese and check out the Cellar where they have great happy hour deals on foods featuring their amazing cheeses!
·      Tete de Moine – a cylindrical semi-hard Cheese from Switzerland that has some of the most incredibly nutty notes and is by far my favorite to pair with any white wine. The first time my husband and I tried it was at a restaurant in NYC called Artisinal – we got a cheese plate as an appetizer and told the waiter to pick his favorite cheeses for us to try. Tete was one of the cheeses he chose and we immediately became obsessed with its nutty, unique flavor. I have found this cheese in both Whole Foods and Wegmans!
·     Bucheron (Goat Cheese) – if I can find it, I usually will get a specific type of Goat Cheese called "Caña de Cabra" – which is a Spanish Goat Cheese that I can't get enough of. We first tried Caña de Cabra in one of our favorite NYC restaurants, Toro. The Caña de Cabra was paired with peaches and a drizzle of honey and was the most perfect salty & sweet bite I can remember in my history of eating. If you find a "Bucheron" that's a pretty close second to Caña de Cabra which is what I got for last night. Bucheron is not like most goat cheeses you would think of in log form from your supermarket…this is the real deal for goat cheese lovers.
·      Cowgirl Creamery's "Mt Tam" Triple Crème – this is my absolute favorite Triple Crème ever and is made by Cowgirl Creamery in California – but at $33 a pound I usually only keep it only for super special occasions (like last night!). I have been able to find this in Whole Foods, which is amazing because it's pretty hard to find. I had actually first tried this cheese while visiting Beecher's in NYC – the cheese monger there had suggested it and when I saw the price I was a little leery, but after a few Pinot Grigios in Beecher's Cellar, I decided to go for it…..and it is now my absolute favorite cheese of all time. Yea, I said it.
·      Cambozola Champignon – this cheese was recommended to me by a friend and was described as "Blue Cheese and Brie had a baby". Since I am not a huge blue cheese fan, I figured anything having a baby with brie has got to be good, and now I am a convert. There's a distinct Blue Cheese taste without being overpowering the way most blue cheeses are. And the creamy texture is very much like a brie – an excellent addition to any cheese board!
·      Pavino Cheese – Made by Roth Cheese makers, this was a new addition to my cheese board. While in Whole Foods the other day, they had samples of this cheese and I immediately fell in love. It can best be compared to a Parmesan Cheese but with more depth in flavor. The taste adds a great umami component to the cheese board and is a great hard cheese to try (I am also looking forward to cooking with this cheese).
·      Prosciutto San Daniele – forget Prosciutto de Parma, if you haven't tried Prosciutto San Daniele, you haven't experienced all that Prosciutto can offer. This is my favorite cured meat in any situation – and is always on my cheese and charcuterie board.
·     Jamon Iberico – For Christmas, my husband's uncle got us two packages of artisan Jamon Iberico – one was "de Bellota" which is basically cured ham from Spain or Portugal and the other was "pata negra" which is a term used to describe Jamon Iberico in general. Both are very similar to Prosciutto with small differences in texture (de Bellota was drier than Prosciutto) and in flavor.
·     Genoa Salame – When I can find it, my first choice for an additional cured meat is the Vermont Cure & Smoke's Uncured Smoked Pepperoni. I could eat this for breakfast, lunch and dinner…but unfortunately since moving form NYC, I have not been able to find it. I used to get it at Murray's Cheese in NYC, but have been unsuccessful in locating it in Princeton, NJ. So as a semi-close second, I have been adding Genoa Salame, Sopressata, or other cured meats of the like….last night I used Genoa Salame.
·      Accompaniments – Pate de Campagne (Country Pate), Green Seedless Grapes, Gala Apple sliced thin, Cashews, Candied Pecans from Trader Joe's (amazing sweet element to add), Olive Oil, Water Crackers, Breadsticks, and sliced baguette from our local boulangerie, Terra Momo.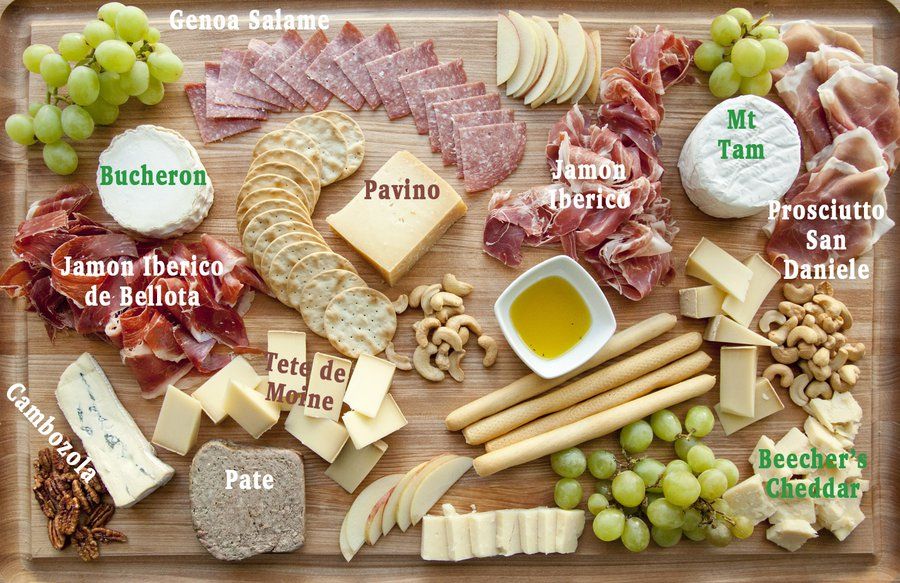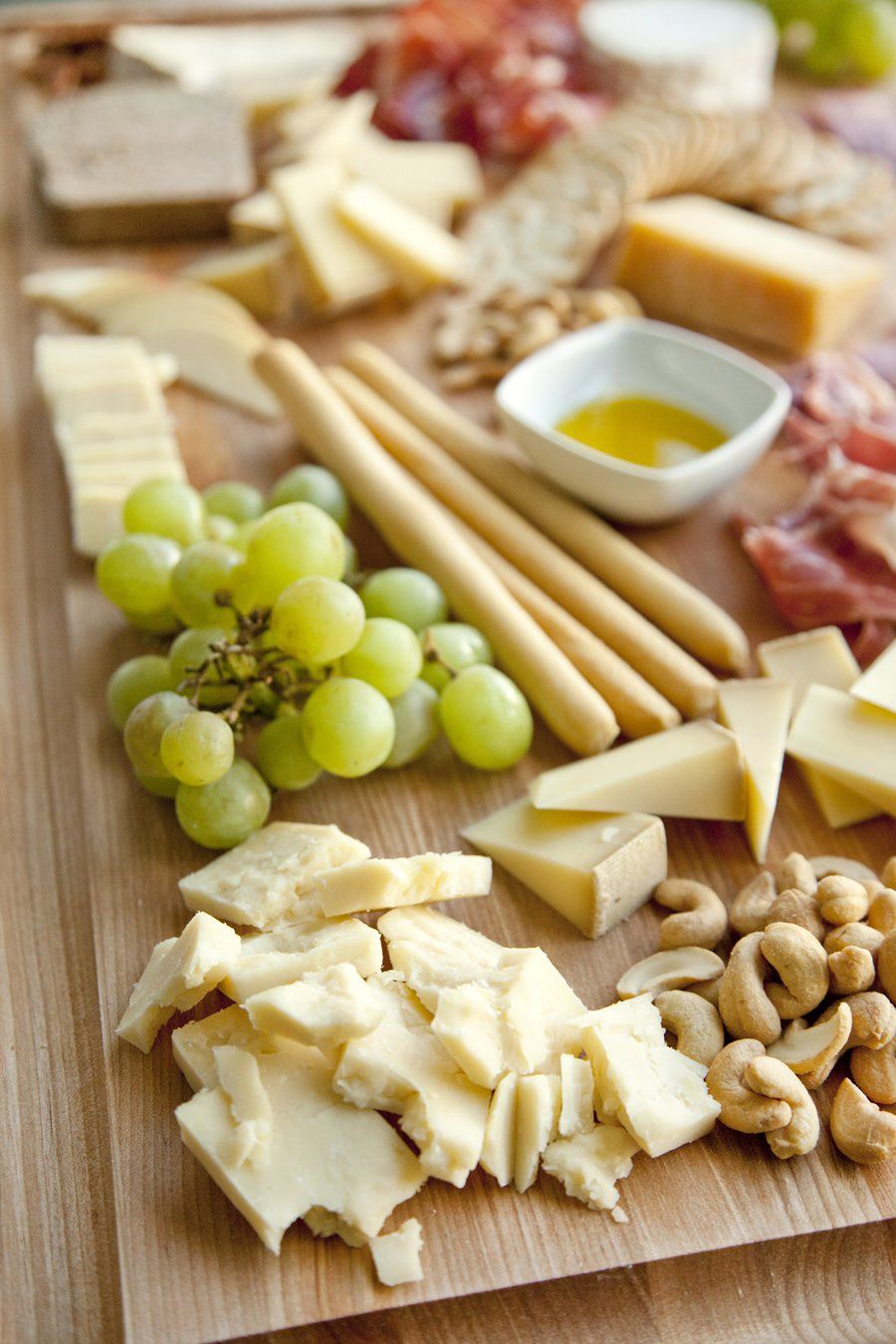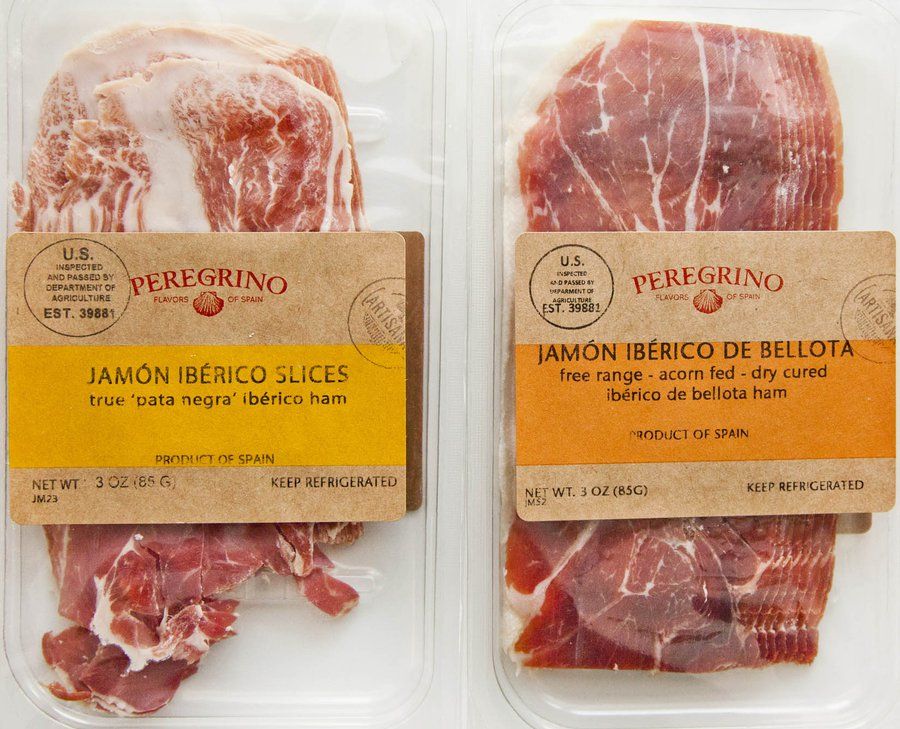 Sometime I also add jams, cornichons, pears, peaches, honey, fresh figs, dates…. the possibilities are endless. A couple of notable mentions in terms of cheeses that I absolutely love but didn't put on this cheese board are as follows:
·      Cotswold Cheese – a semi-hard English Cheese that my dad introduced me to and I am obsessed with (you can find it at Trader Joe's!)
·      Cremeaux de Borgogne – a triple cream brie from France that I could slather on a dog turd and still find it delicious – this pairs amazingly with Prosciutto on a sandwich! This Triple Cream is one of my favorites but since I had the Mt Tam on the board already, we didn't have room for another brie.
·      Taleggio Cheese – If you like a funky smell and a super creamy and delicious Italian cheese, try out some Taleggio – it's also one of my favorite cheese to make Three Cheese White Pizza with alongside Mozzarella and Parmesan.
·      Burrata – If you haven't tried Burrata yet, I am not sure you've really experienced life to its fullest… is a fresh Italian buffalo milk cheese made from mozzarella and cream. The outer "skin" is solid mozzarella, while the inside contains stracciatella and cream, giving it an unusual, soft texture. Smeared on a fresh baguette alone it's absolute perfection….
·      Quadrello di Bufala – oddly enough, this Italian Cheese is made from the milk of a Water Buffalo (kind of awesome and weird) and is a less pungent than Taleggio but a more flavorful Mozzarella – a really great find!