There's something so wonderful about the simplicity of a Caprese Salad. This Salad is usually comprised of Tomato, Mozzarella Cheese and Fresh Basil. I decided to take mine to the next level by adding Roasted Asparagus, Pancetta and a Balsamic Reduction. The most important part of a Caprese (in my opinion), it getting the freshest and highest quality ingredients. This is not the time to buy Polly-o Mozzarella…get the good stuff! And use fresh basil (I started growing basil in my apartment for moments like this!) Also, make sure you get a good batch of tomatoes…. I don't think there's anything more disgusting than biting into a mealy tomato.
I had a few other ideas on how to amp up this salad - I was going to alternate in with the tomatoes and mozzarella, some thin sliced, fried zucchini slices (however, I couldn't find zucchini at the store yesterday - wtf).
Some other ideas:
Alternate Proscuitto, Pepperoni or Sopresatta in with the Mozzarella and Tomatoes
Try my Parsley Oil (recipe below) to drizzle on top
Fry up some thin slices of Eggplant to add in there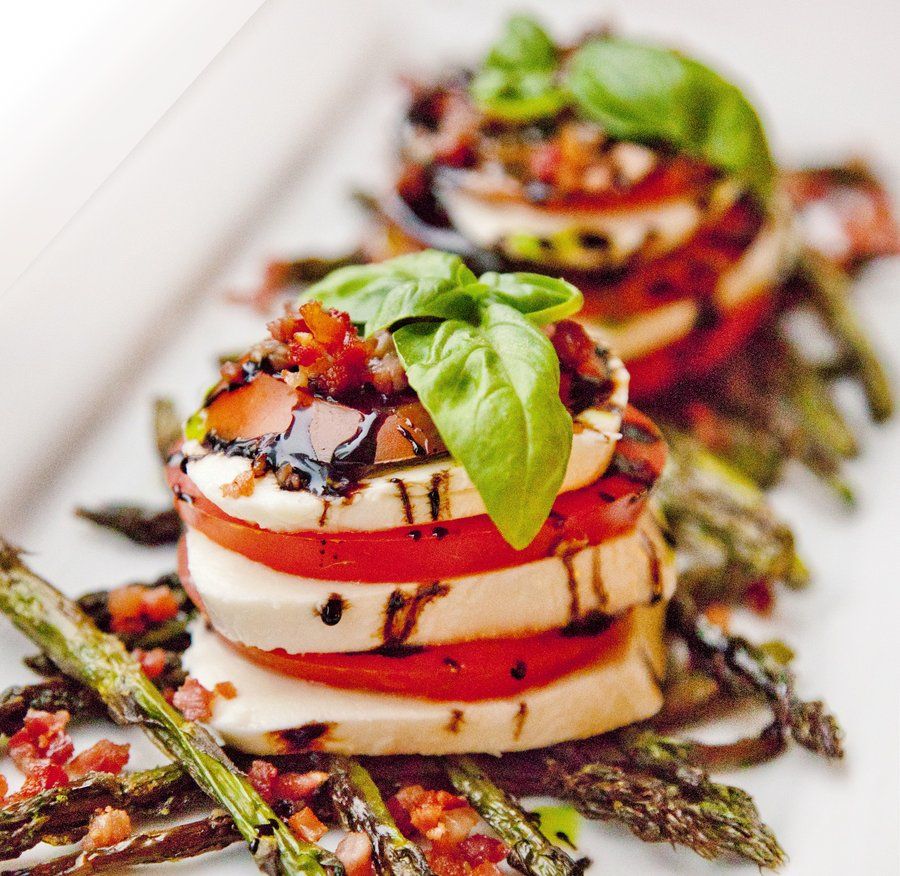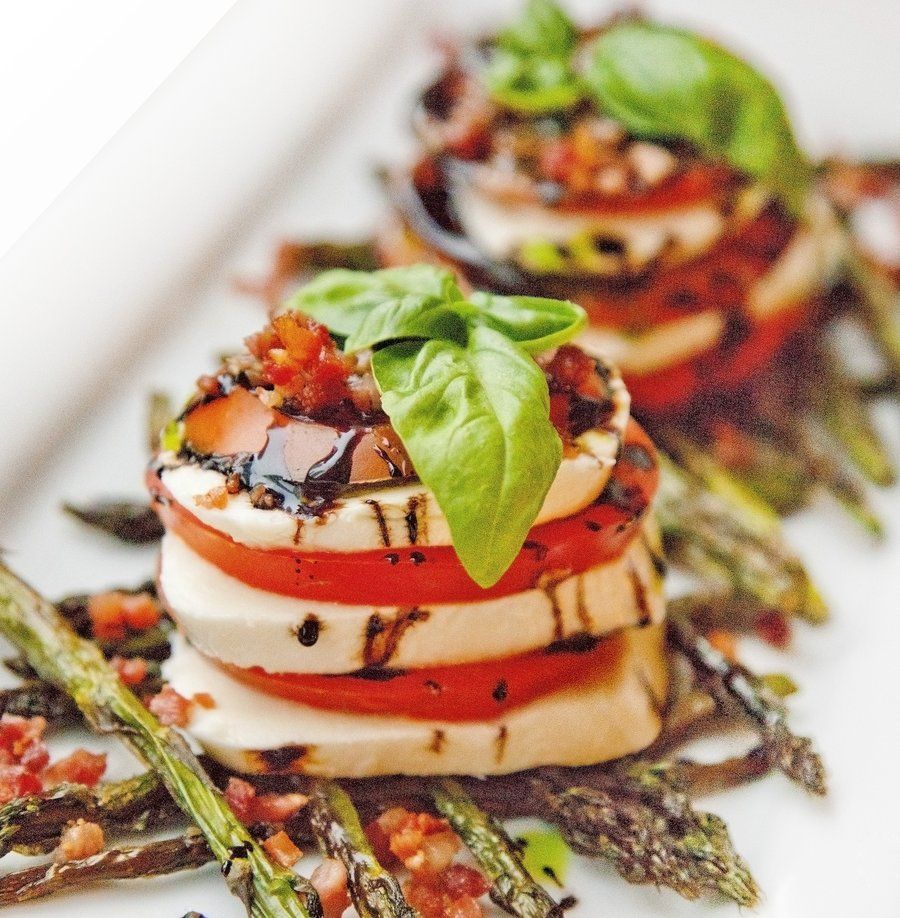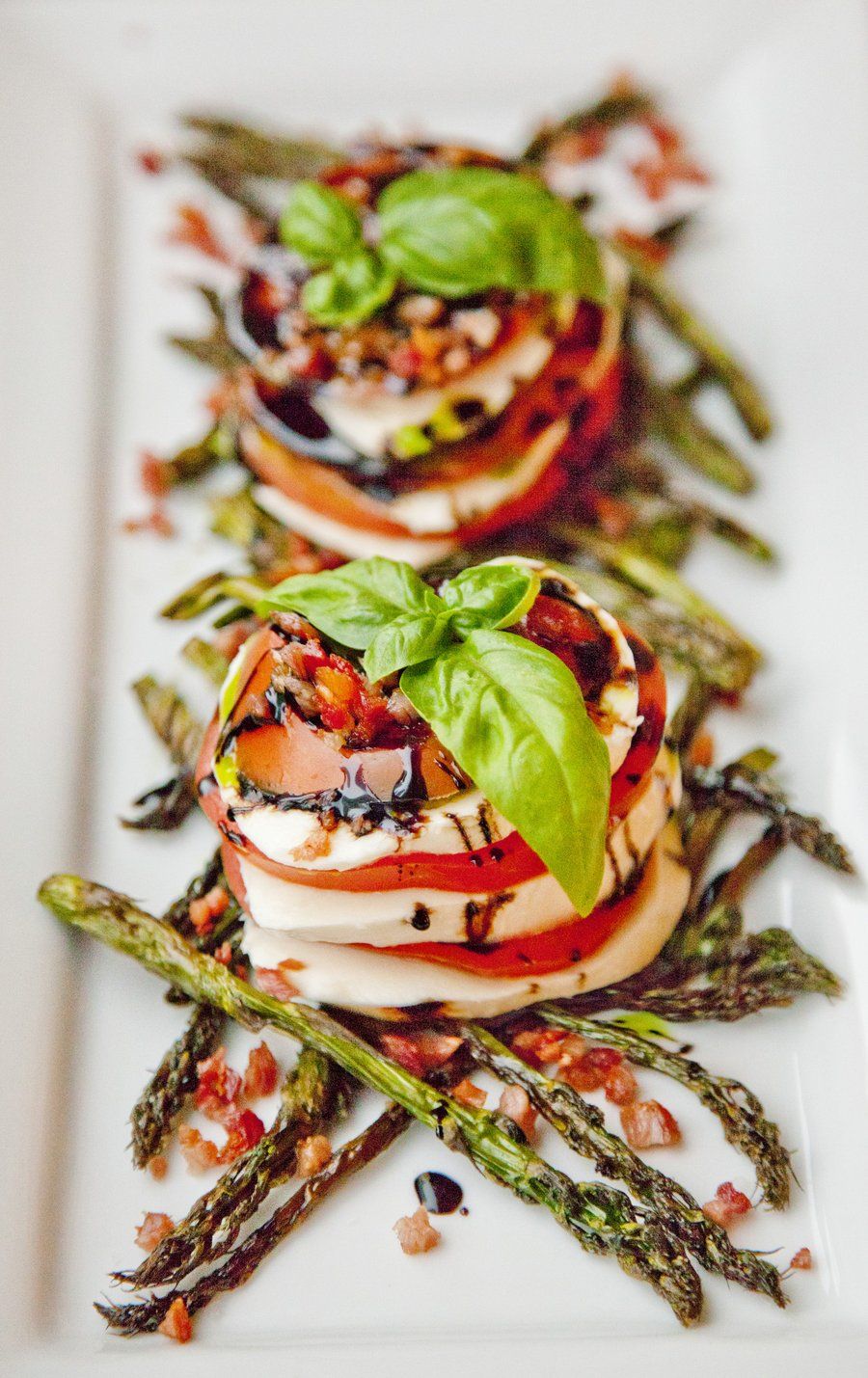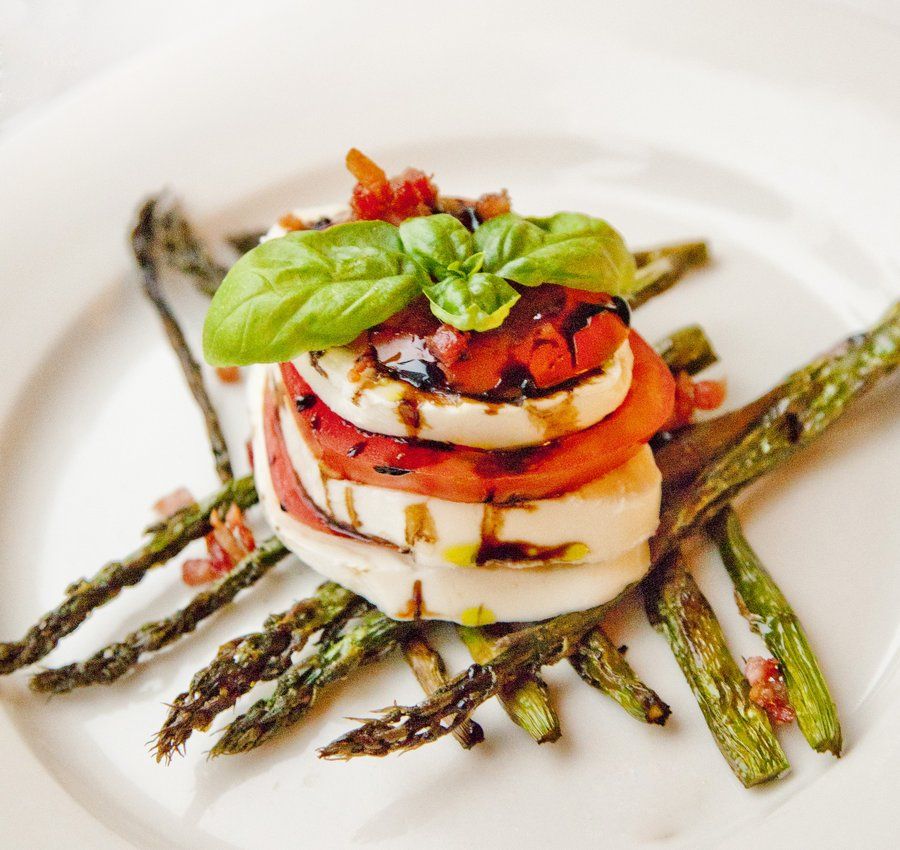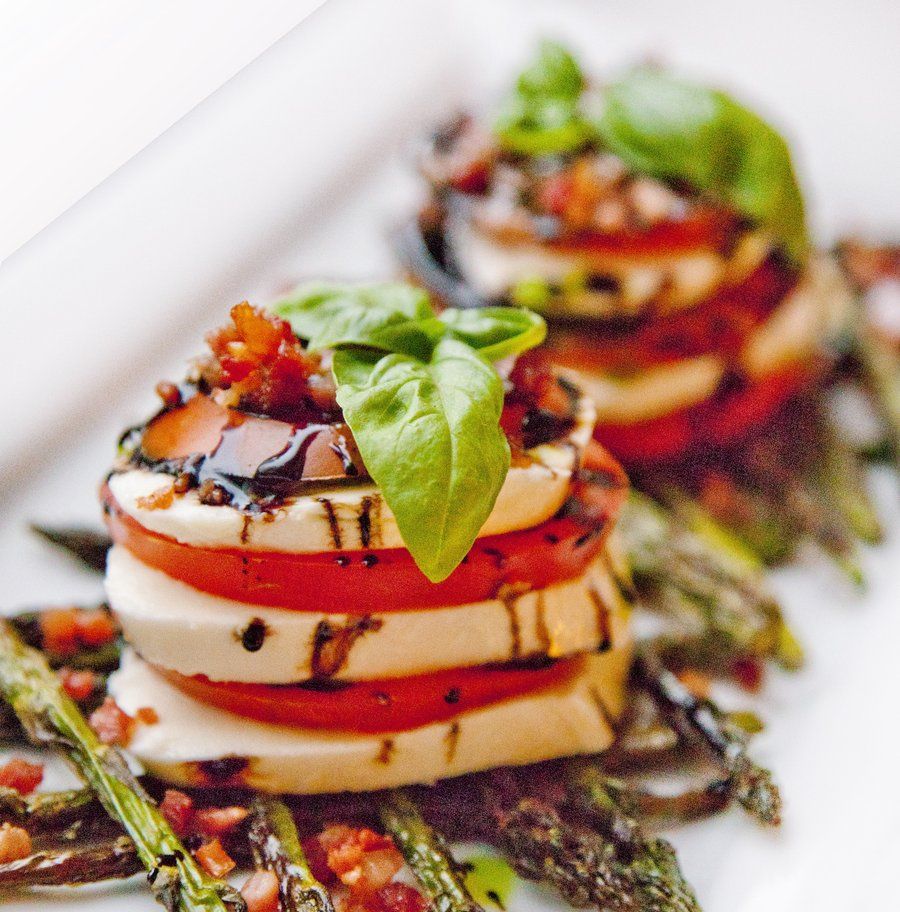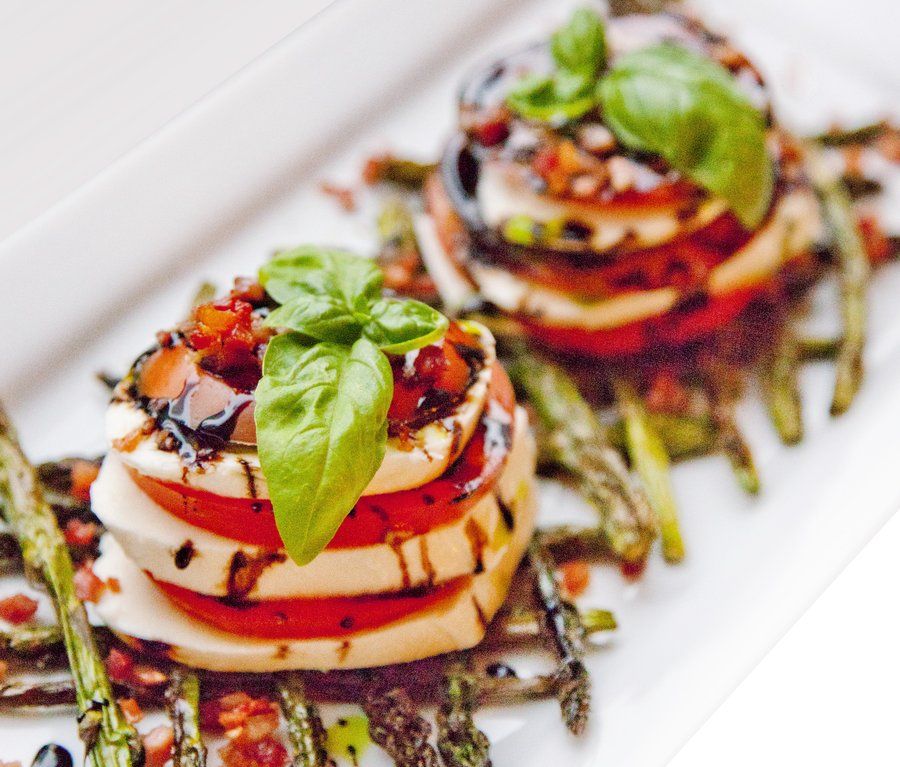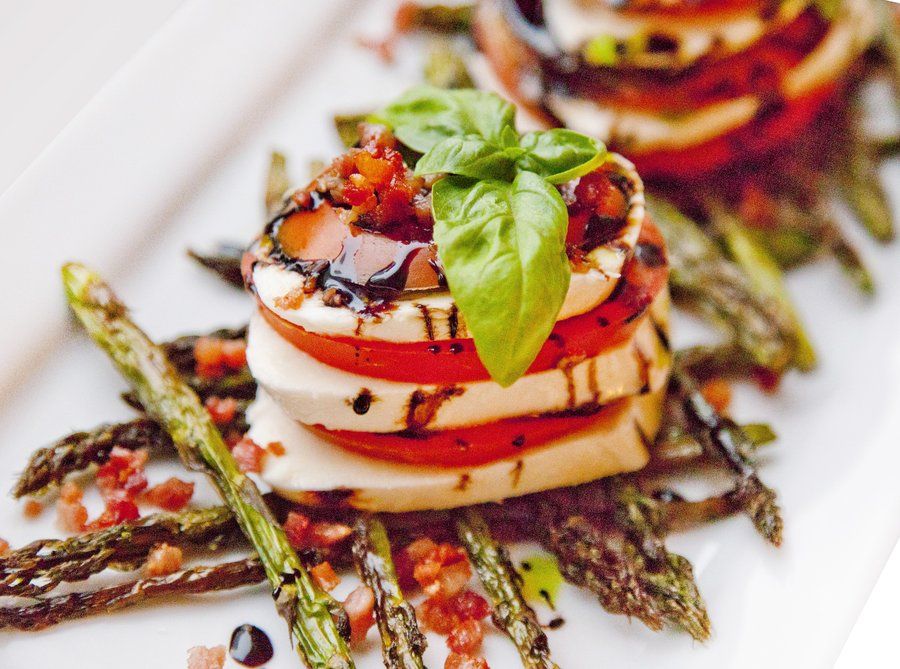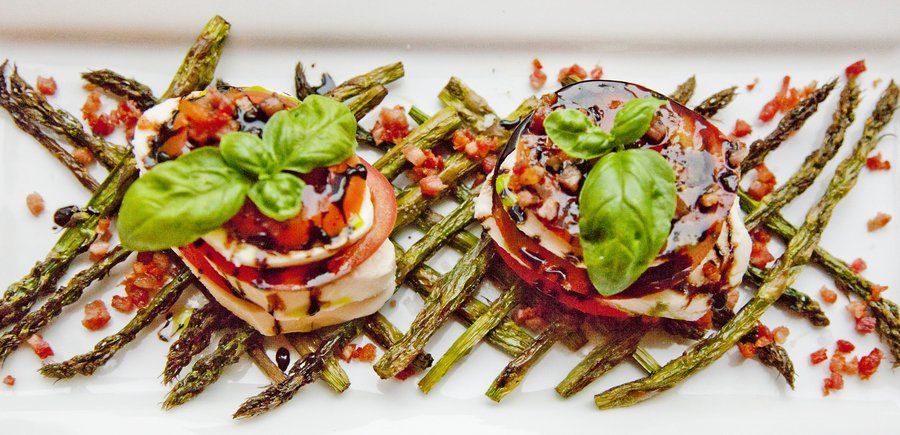 Caprese Salad with Pancetta and Asparagus
Prep Time
---
10 Minutes

Cook Time
---
45 Minutes

Total Time
---
55 Minutes

Yield
---
Serves 4

Ingredients
1 Pound Asparagus (2" of the non-floret ends, cut off)
Extra Virgin Olive Oil
Salt
1/3 Cup Balsamic Vinegar
4 oz Pancetta (cut into 1/4" cubes)
2 Tomatoes (sliced into 1/4" slices)
8 oz Fresh Whole Milk Mozzarella (sliced into 1/4" slices)
Fresh Basil Leaves
---
Directions
Preheat your oven to 400 degrees. on a sheet tray lined with a silpat, lay out your asparagus. Toss with Olive Oil and a generous amount of salt. Bake in the oven for 45 minutes - shaking the tray every 15 minutes.
While your asparagus are baking, make your balsamic reduction. Place your balsamic vinegar in a small sauce pan. Bring to a boil, then reduce to a simmer until it's reduced by at least half (about 10 minutes). Turn off the stove and allow to cool in the pot. Next, in a small saute pan, cook your cubed pancetta until nice and crispy. Drain on a towel lined plate.
To assemble: Lay down your roasted asparagus. Arrange your tomato and mozzarella slices in an alternating pattern - drizzle a little Olive Oil on top. Drizzle your balsamic reduction over the top with a spoon. Sprinkle Pancetta all over and then add your basil to garnish.
Parsley Oil
Prep Time
---
10 Minutes

Total Time
---
10 Minutes

Yield
---
Yields 1 cup of Parsley Oil

Ingredients
2 Cups Parsley (mostly leaves but some stems are ok)
1/4 Cup Salt
2 qt Water
1 1/2 Cups Canola Oil
---
Directions
Bring water and salt to a boil. Place your Parsley Leaves (with some stems) into a small sieve. Once your water comes to a boil, immerse your parsley into it for 15 seconds. Remove and place directly in an ice bath.
Remove parsley from ice bath and squeeze out all water. Place half the parsley into the blender and cover with about 1 cup of Canola Oil. Blend for 30 seconds. Add in the rest of your parsley and another 12/ cup Canola blend for 1.5 minutes.
Strain through a fine mesh sieve into a container, and let slowly drip. Do not stir the herb, they will cause the oil to be cloudy. Place the strainer and container in the fridge and let drip a few hours.
Discard of solid in strainer and only use the oil that dripped into your container. Place in a squirt bottle for easy and decorative usage.