Yesterday, my husband Justin and I went out for a delicious NYC Sunday Brunch. I am usually not one who eats a large lunch (I save myself for my favorite meal, dinner). So after eating a small cow at brunch, once dinner time rolled around, I wasn't super hungry. I wanted to go with something on the lighter side, and decided on my new favorite seafood: Chilean Sea Bass. The other day, I cooked Sea Bass with a delicious Basil Pea Puree and Parmesan Potatoes, so last night I wanted to try out a different flavor profile: Asian.
I love the Carrot Ginger dressing you get on salads at Japanese restaurants so I used that as the inspiration for the puree, and I threw in the edamame just for fun (I love edamame!) To give the fish an Asian flare without overpowering it's awesome flavor, I sautéed it in sesame oil instead of canola oil. I must say, the hit of the show was the Carrot Ginger Puree (a Sara original).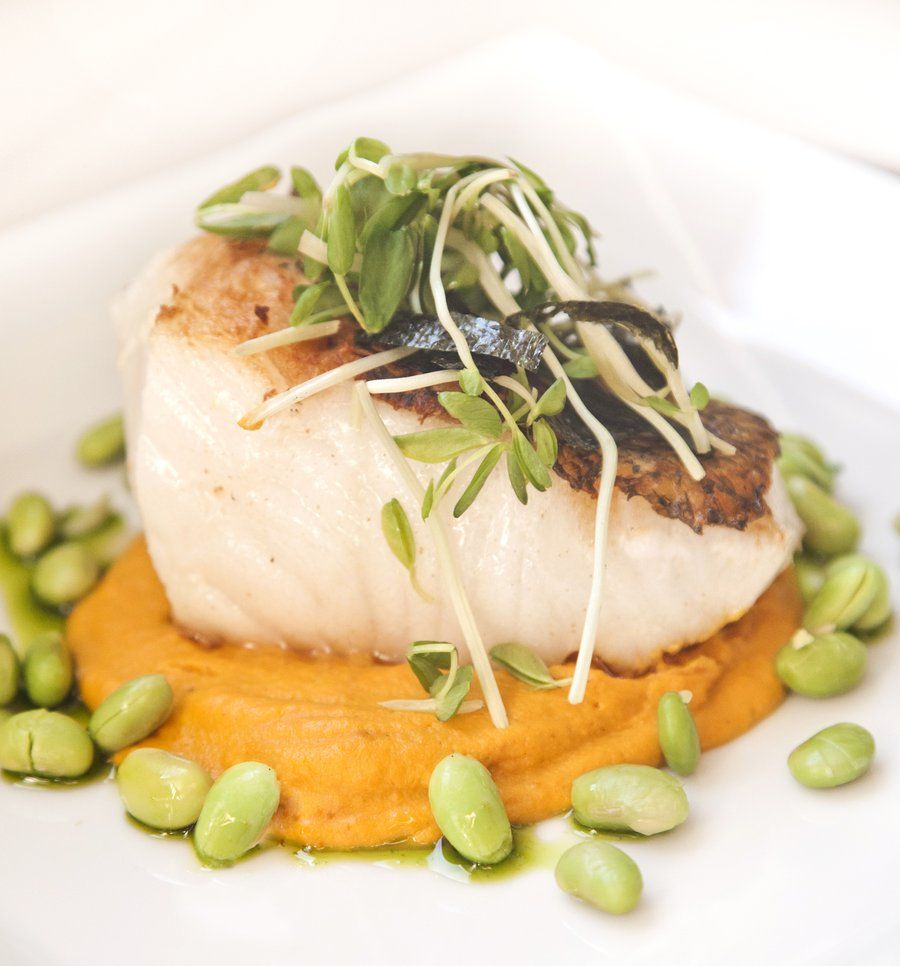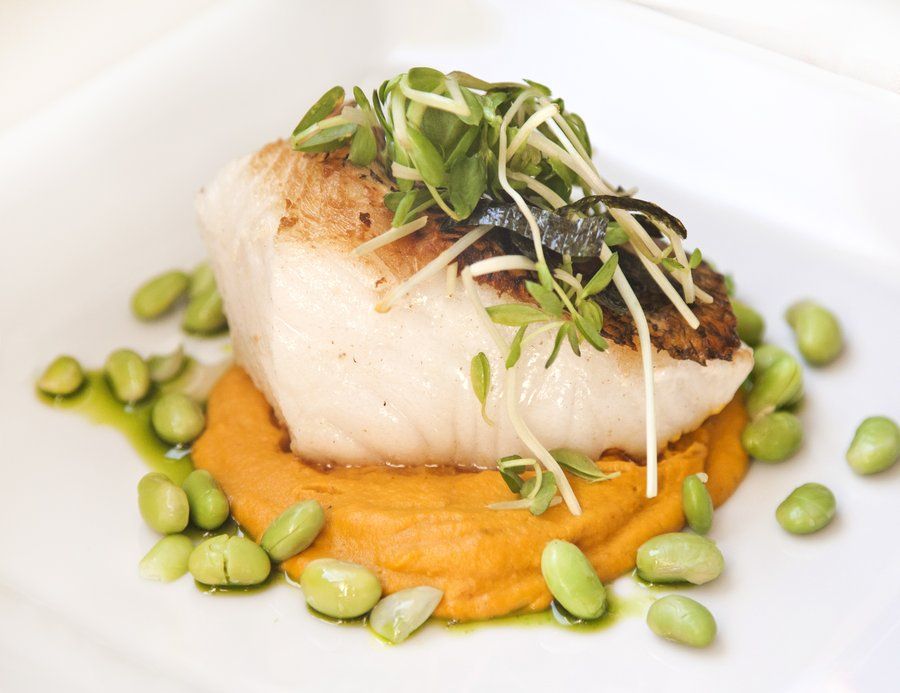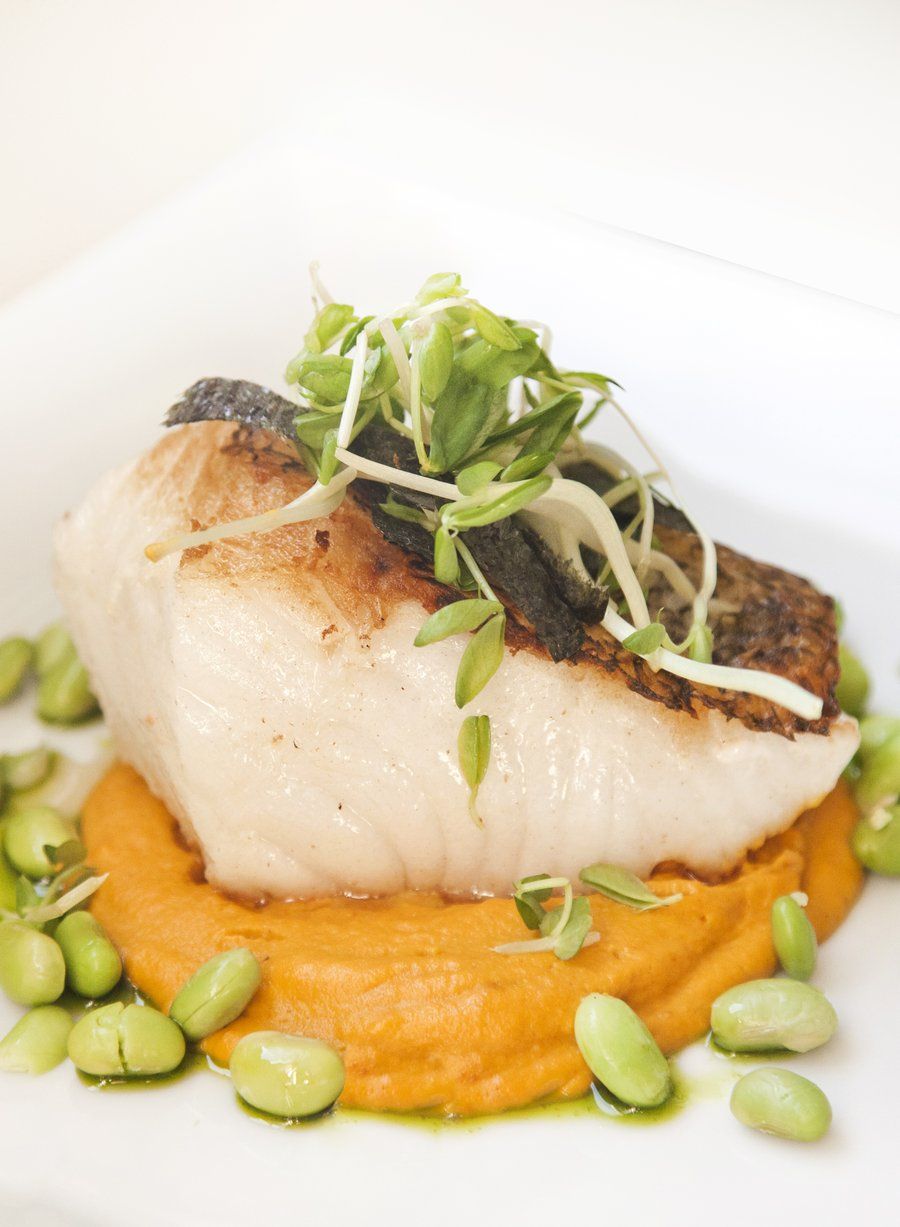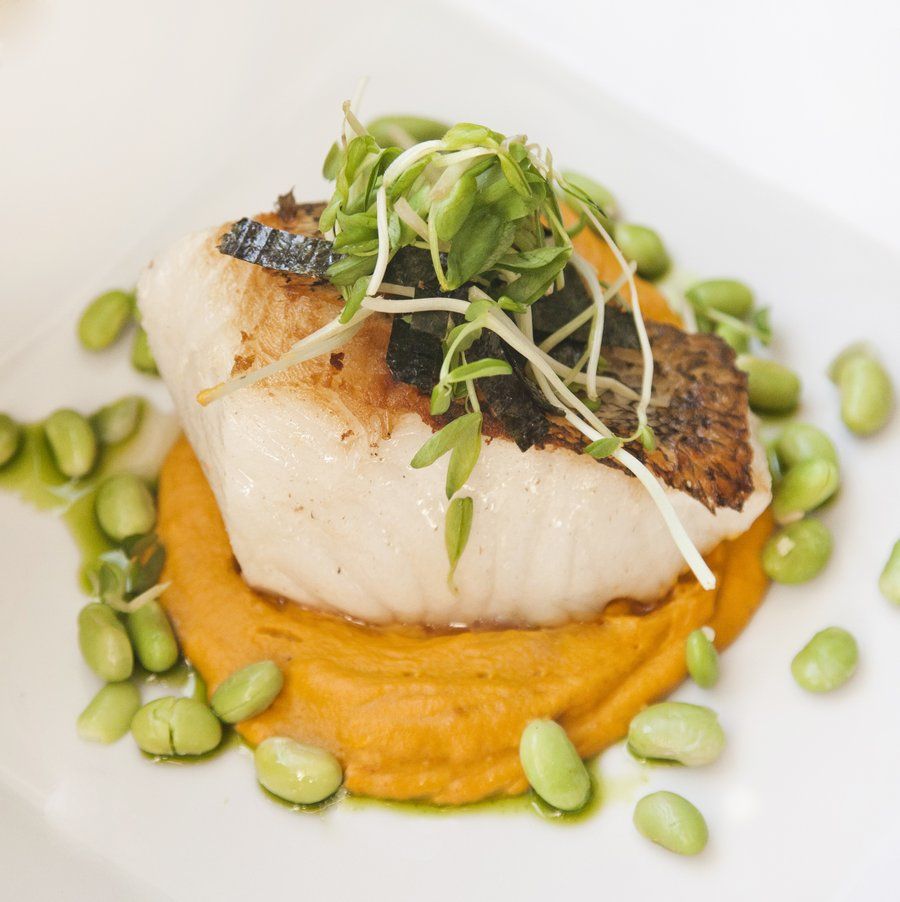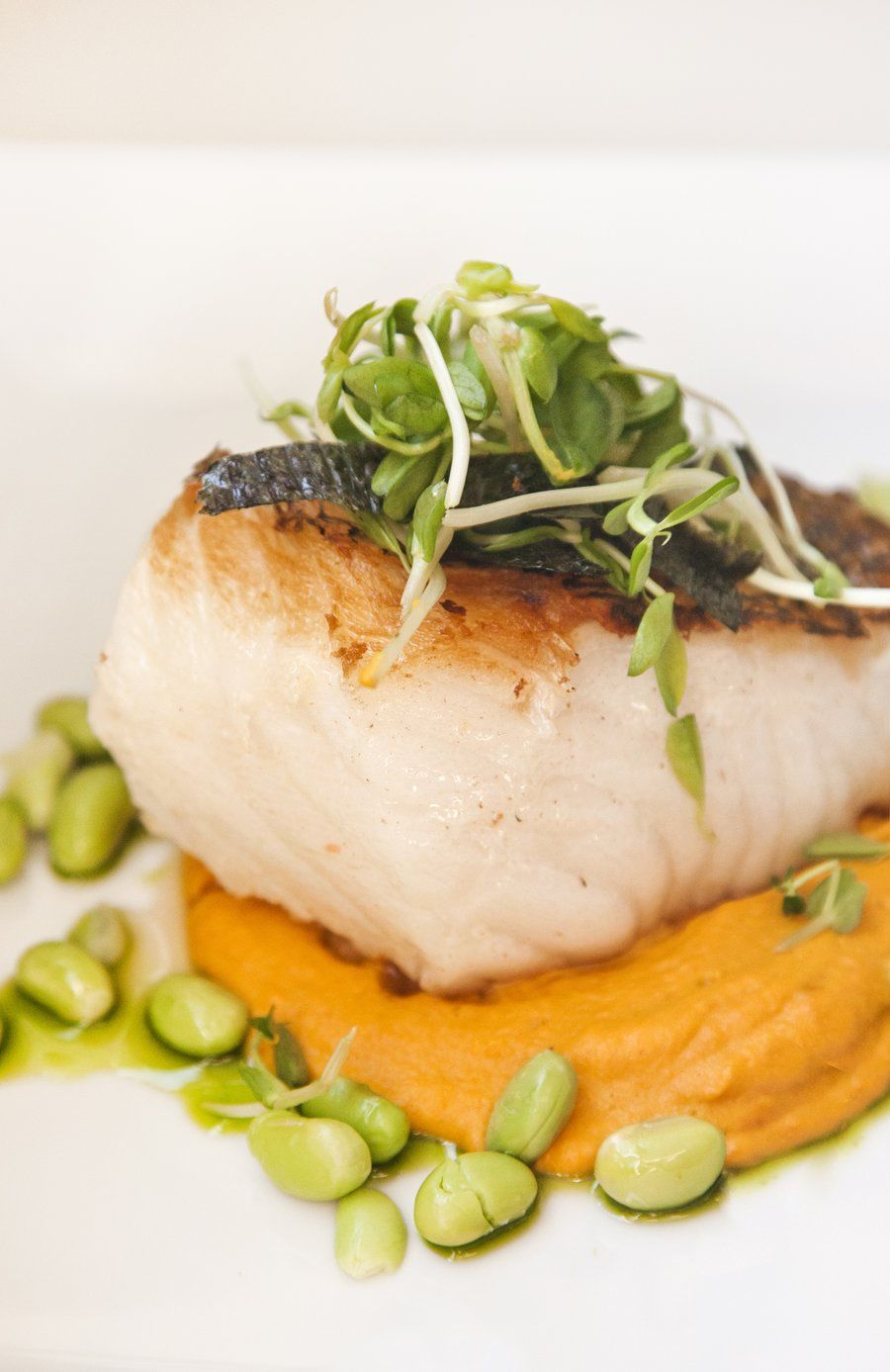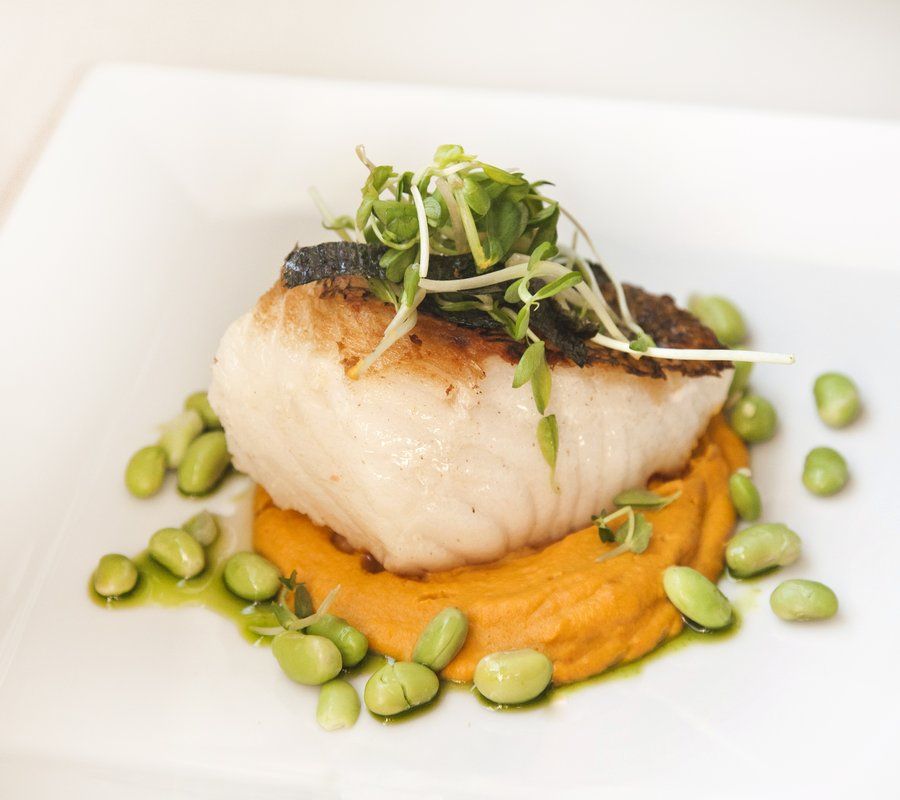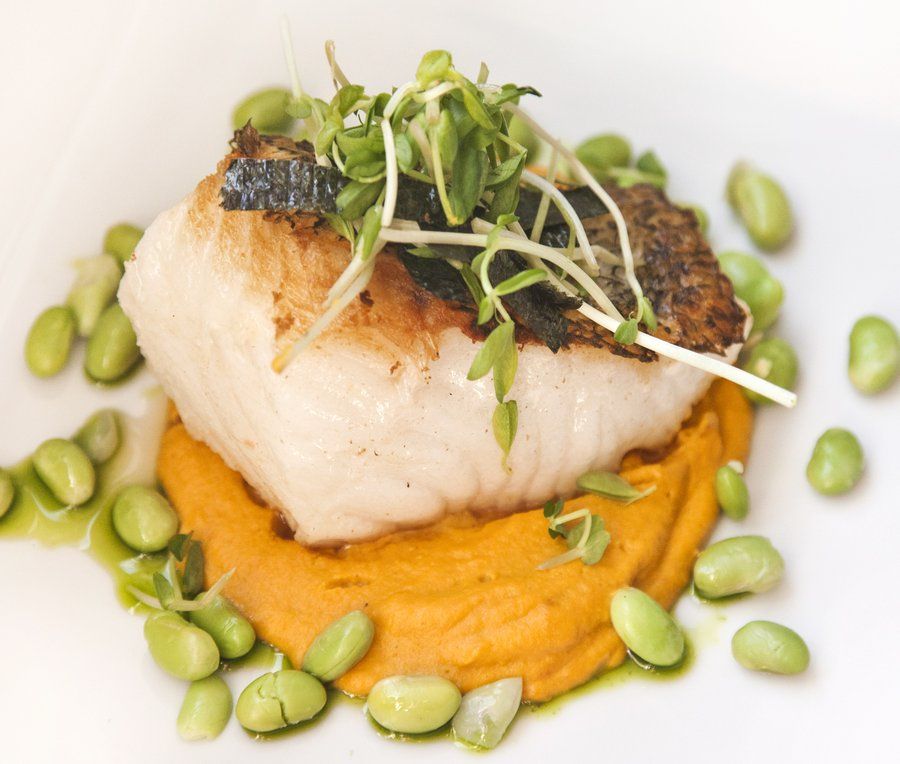 Asian Style Sea Bass with a Carrot Ginger Puree an
Prep Time
---
1 Hour

Cook Time
---
10 Minutes

Total Time
---
1 Hour 10 Minutes

Yield
---
Serves 2

Ingredients
7 oz Carrots (peeled and cut into 1 inch pieces)
1/4 Onion
Extra Virgin Olive Oil
Salt
3/4 Teaspoon Ginger Powder
1/2 Cup Heavy Cream
1/2 Teaspoon Tahini Paste
1/4 Teaspoon Cumin Powder
Pinch Cayenne
1 Pound Chilean Sea Bass (cut into 2 equal fillets)
1 1/2 T Sesame Oil
1 Teaspoon Butter
1 Teaspoon Lemon Juice (fresh)
1/2 Cups Edamame
Pea Shoots and Nori (for garnish)
---
Directions
First make your puree. Preheat your oven to 400 degrees. Peel your carrots and cut into 1 inch pieces. Use about 1/4 of an onion, leave it whole, don't chop it. Toss the carrots and the onion in Olive Oil and Salt. Place on a silpat lined baking sheet and cook for 35 minutes - shaking the pan halfway through. Once they're tender enough to be poked with a paring knife easily, they're done. Place the carrots and onion in a blender/Vitamix.
Add to the blender your ginger powder, heavy cream, tahini, cumin powder, and a pinch of cayenne. Process until it's completely smooth - about 1 minute. Taste and season with salt - process again for 10 more seconds. Pass the contents of the blender through a fine mesh strainer to remove any grittiness. When ready to serve the puree, place in a small pot and heat up over a medium flame on the stove.
For the fish: Heat up a medium sized saute pan - add your Sesame Oil. Once hot, season your fish on both sides with salt. Add the fish, skin side down to the pan and cook about 2-3 minutes until your fish is halfway cooked. Flip the fish over and cook til it's cooked through.
Plate the Carrot Puree, place the fish on top. In the same pan you were sautéing your fish, dump out any excess oil. Place your butter in the pan and cook until it starts to brown slightly. Add in your lemon juice, swirl around the pan for 5 seconds, then ladle over the fish. Finish the plate with some de-shelled edamame and top the fish with a mix of thin sliced nori and pea shoots.