Cacio e Pepe, literally translated means "Cheese and Pepper"....arguably, 2 of my favorite ingredients in cooking. This dish is not only incredibly easy to make, but can be made in under 20 minutes....and is a real crowd pleaser!
But I digress on the topic at hand for a moment to explain my absence in the blogging world… 5 months ago today, I gave birth to my amazing and incredibly adorable daughter, Mayzie! While I have actually still been cooking almost every night since her arrival, I have been making things that were either already on the blog, or too lame to blog (putting together a turkey and cheese sandwich, hardly seems like chef material). Now with my girl getting a little older and a little more independent, mamma is getting back into the blogging scene!
Now that we have the sabbatical covered and clarified, let's get back to the pasta and cheesefest that just occurred in my kitchen...
First off, I used Bucatini pasta, which happens to be my all time favorite pasta in the pasta world...,but this dish will go great with any pasta with a decent surface area to it (ie. Fettucini, spaghetti, egg noodles, etc). In addition to the pasta, the next most important element is the cheese. Do not skimp on the cheese - get good quality, and use the two different cheeses, it makes a difference!
I serve my Cacio e Pepe with fresh basil, which isn't traditionally used in the dish, but I think it adds a great, fresh contrast to the cheeses...that addition is totally your call. I also like to add in chicken to round out the meal with a little protein:
-2 chicken breasts (1 per person) seasoned with Salt, Pepper, Oregano and Garlic Powder -Baked at 425 degrees for 30-35 minutes, and then sliced thin and tossed in with the pasta!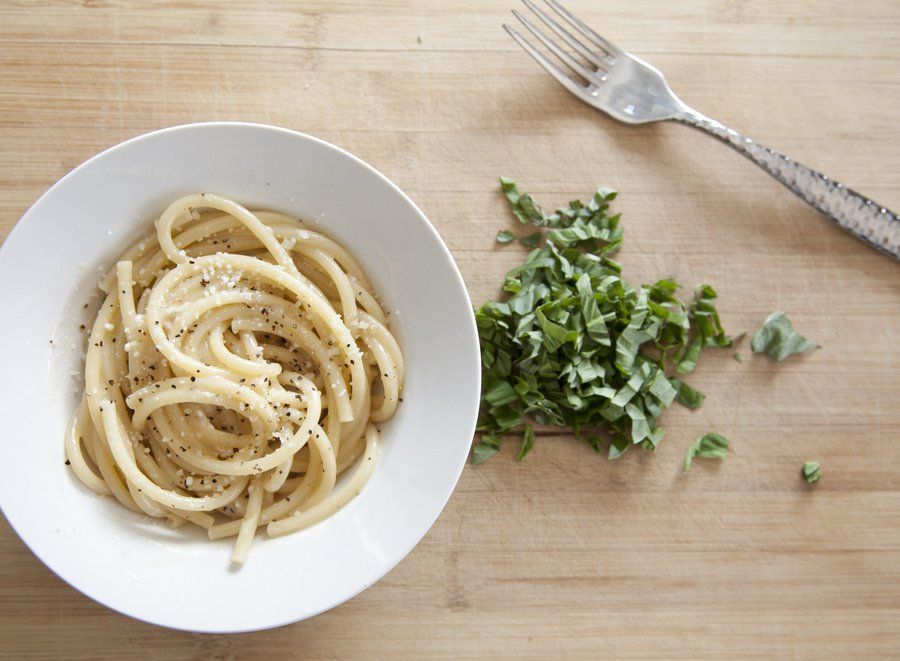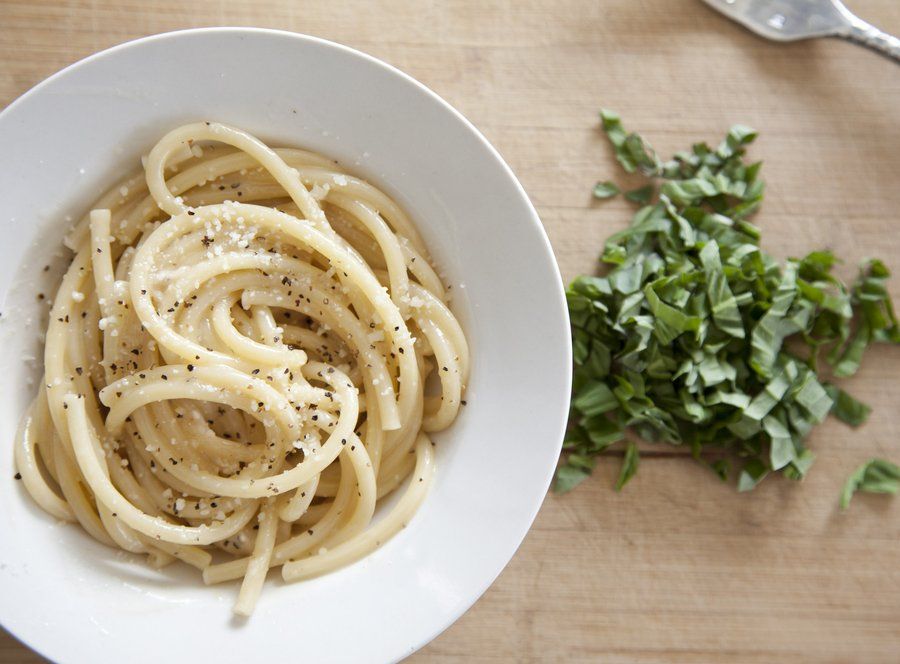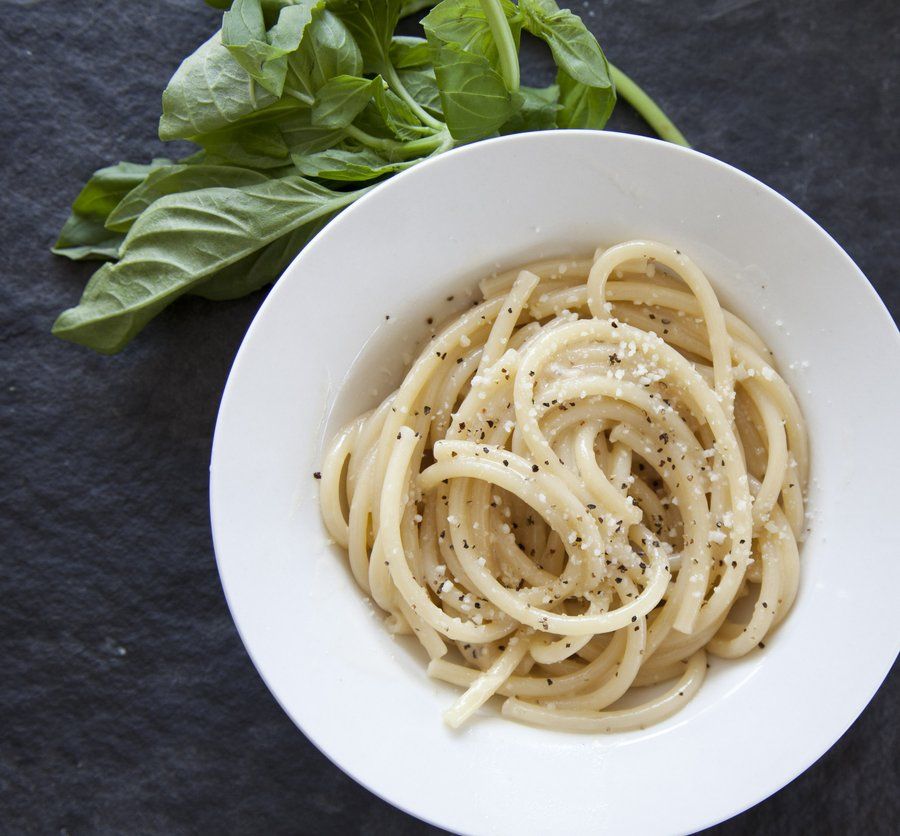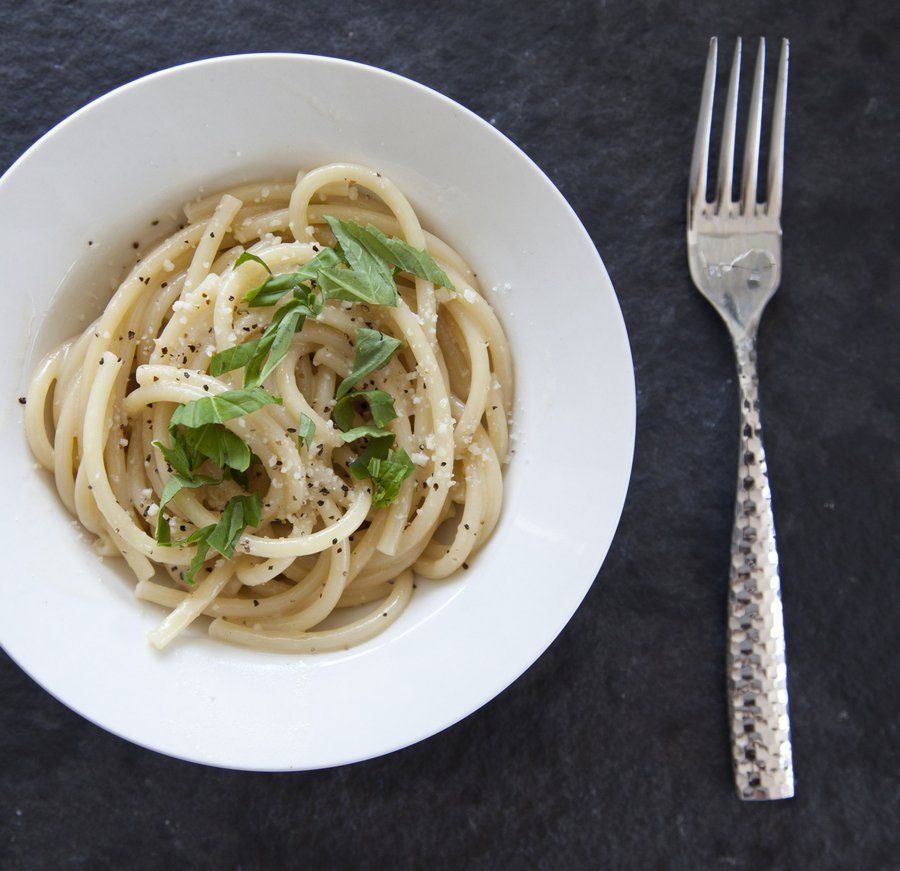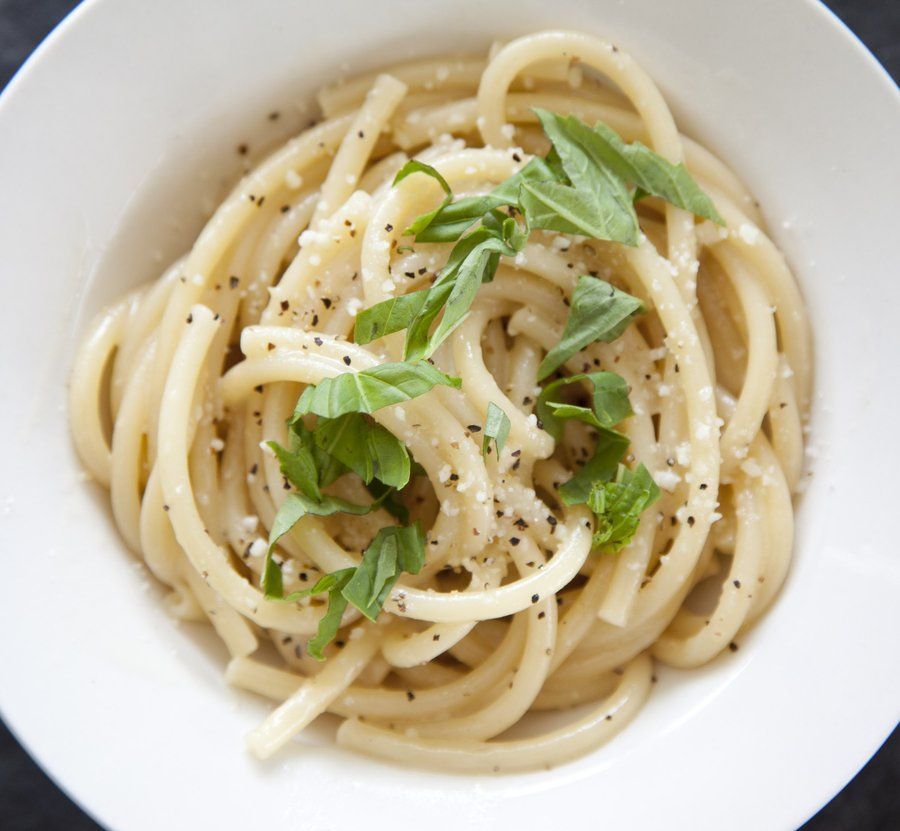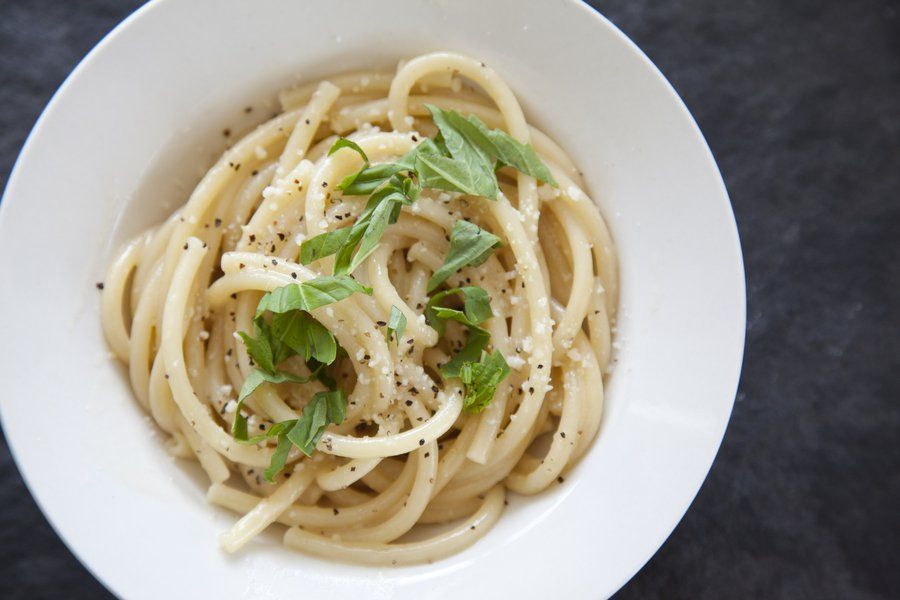 Cacio e Pepe
Prep Time
---
6 Minutes

Cook Time
---
9 Minutes

Total Time
---
15 Minutes

Yield
---
Serves 2

Ingredients
6 oz Bucatini (or any substantial pasta - egg noodles, fettucini)
4 T Butter (divided)
1 Teaspoon Black Pepper
1/3 Cup Pecorino Romano (grated)
1/2 Cup Parmesan Cheese (grated)
Basil (Chiffonade - optional)
---
Directions
In a large pot, add 1 tablespoon of salt to about 1.5 quarts of water. Bring to a boil and cook your pasta as directed on the packaging. *Once your pasta is cooked, reserve about 1 cup of the cooking liquid.
Meanwhile in a medium sized saucepan, add 2 tablespoons of your butter and your pepper and cook til it's bubbling. Slowly add in about 1/3 cup of your pasta cooking liquid and bring to a simmer. At this point, add in the rest of your butter and the 2 cheeses. Add in the pasta and toss together with tongs until the cheese is melted and the pasta is coated evenly.
*If you need to add more cooking liquid, add as needed!
Serve with a sprinkling of black pepper and grated Pecorino Romano. *Optional: add fresh basil on top!