My favorite style of cooking is Braising. Slow and low cooking, yielding the tenderest of meats, all while developing a beautiful and flavorful broth....it's got Sara written all over it. One of my favorite meats to braise are Short Ribs. Anytime my husband and I go to restaurants with Short Ribs on the menu, it's a done deal for me. Some of the best Short Rib dinners I have eaten have been out West in Colorado….nothing makes a day of skiing more satisfying than a slab of perfectly cooked beef. However, one of my favorite Short Rib Dinners was right here in NYC at David Burke's Townhouse - fantastic dish!
It's so much fun to play around with herbs, techniques and flavors when braising. Every time I braise, I do something different with the ingredients just to see the types of flavors I can elicit. This recipe is flawless - it's easy to make, your house will smell like Heaven, and it's an extremely impressive looking dish.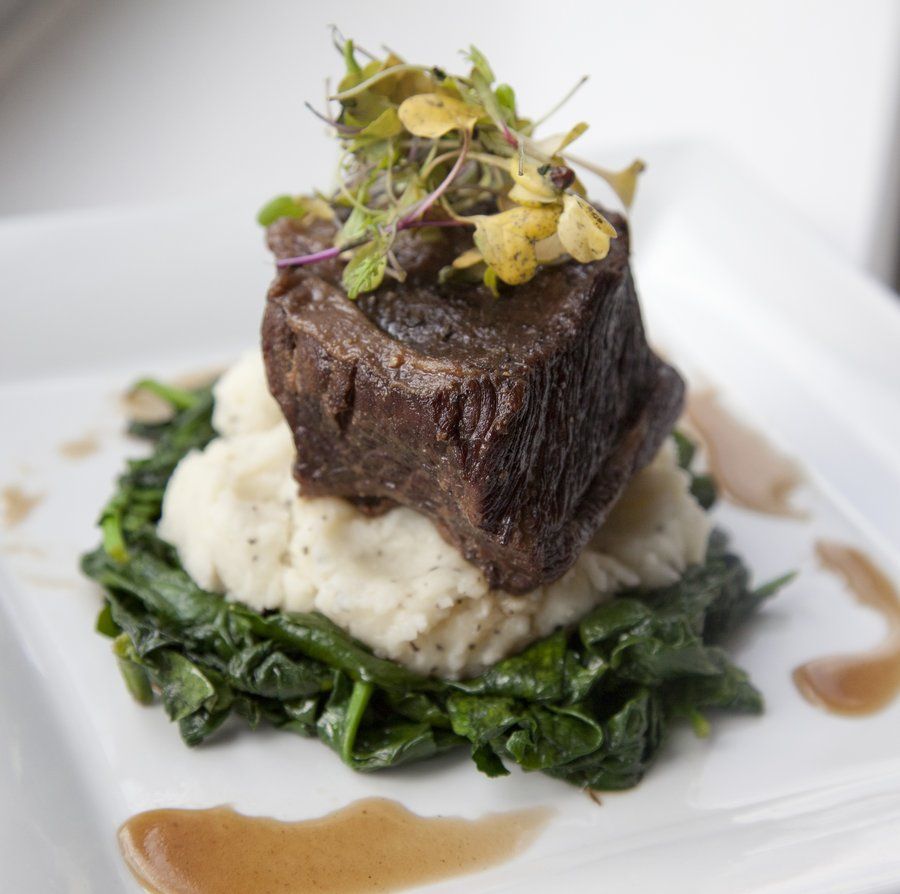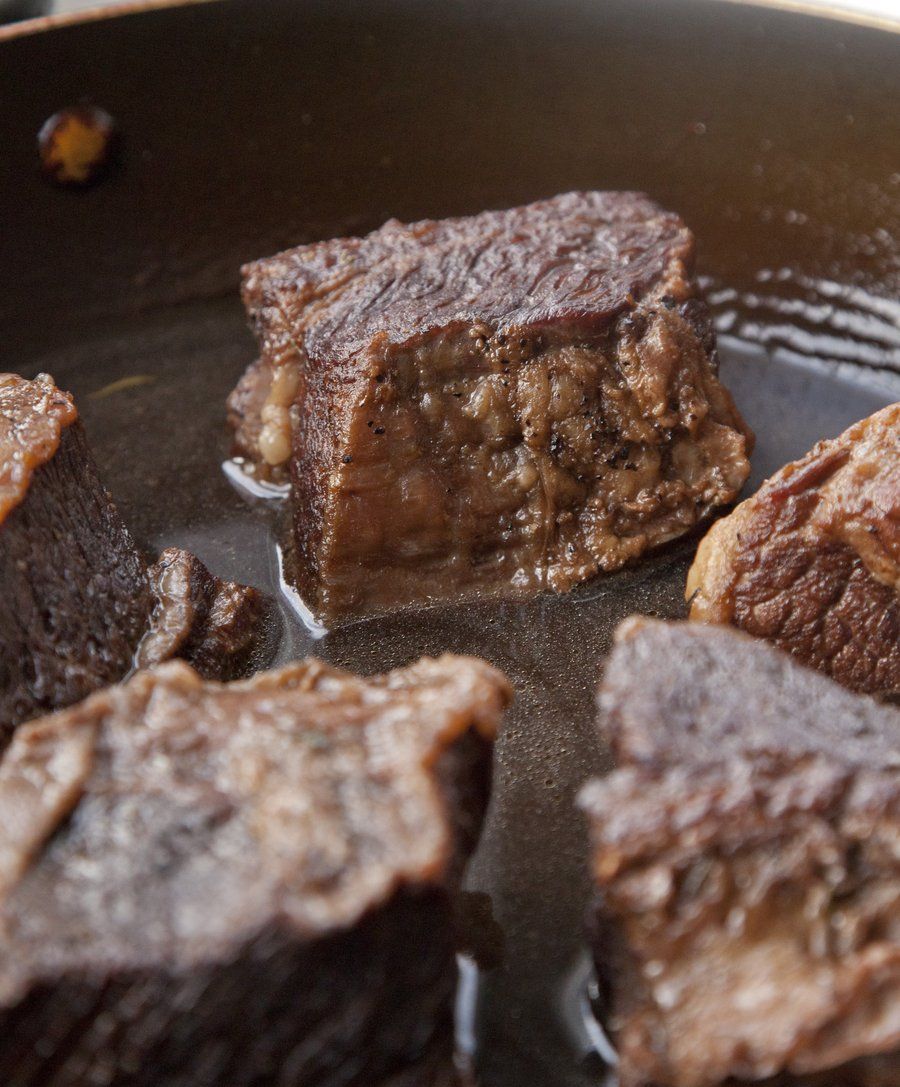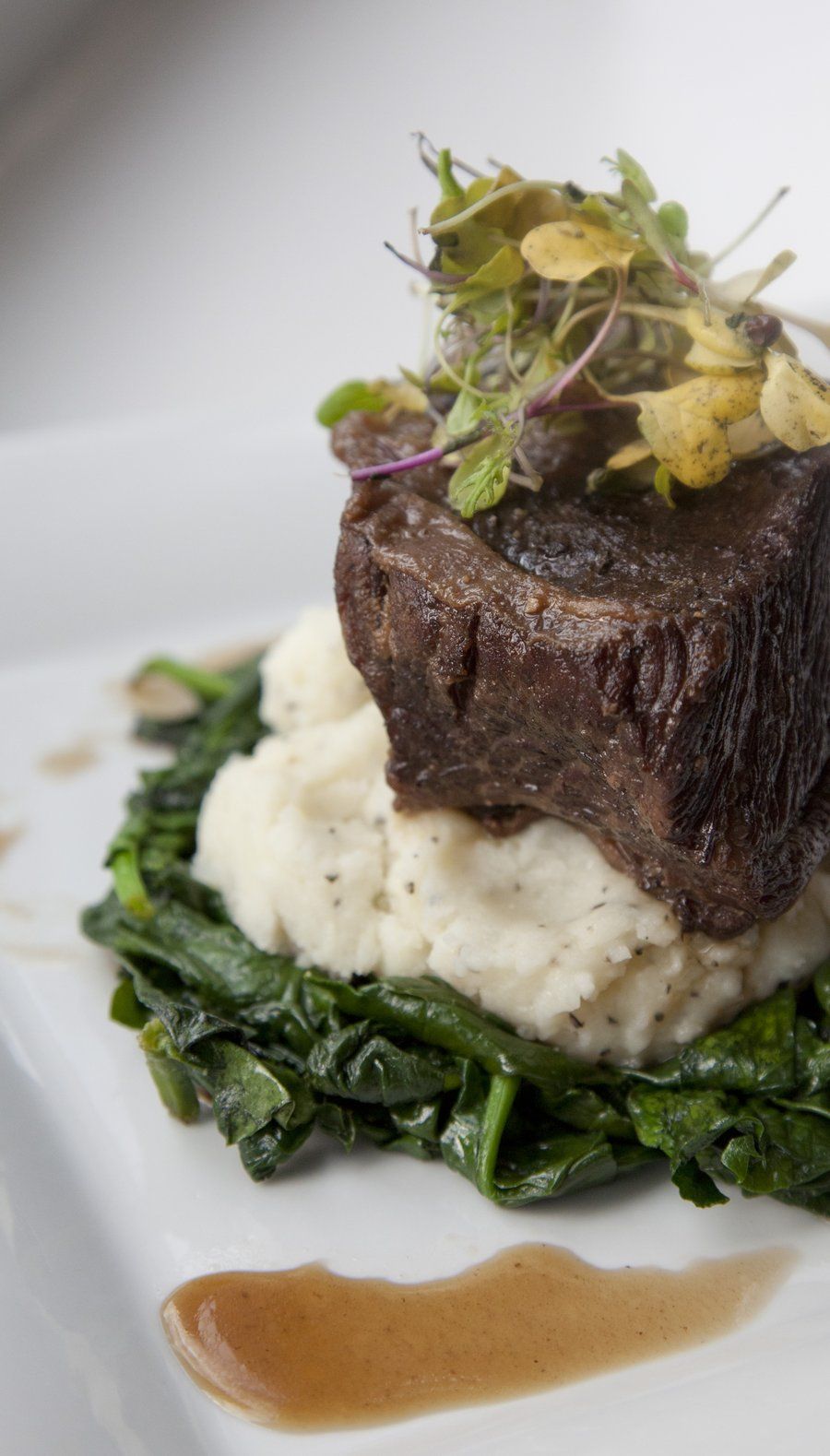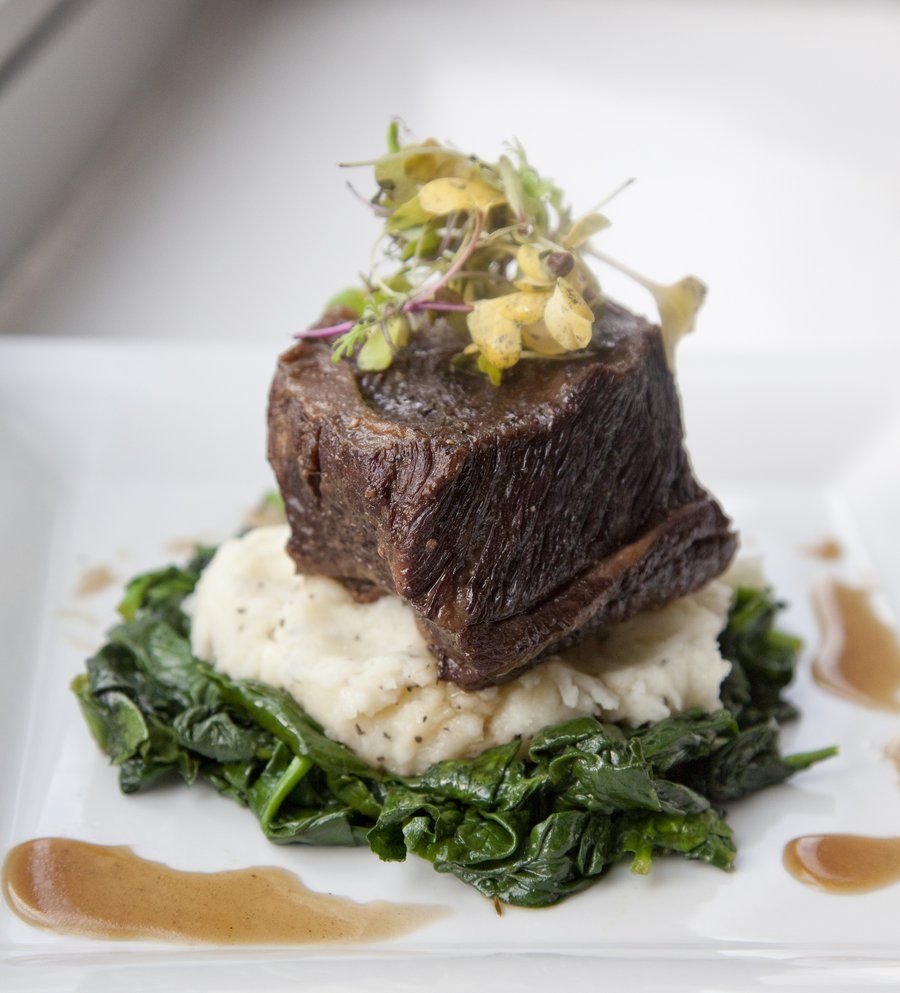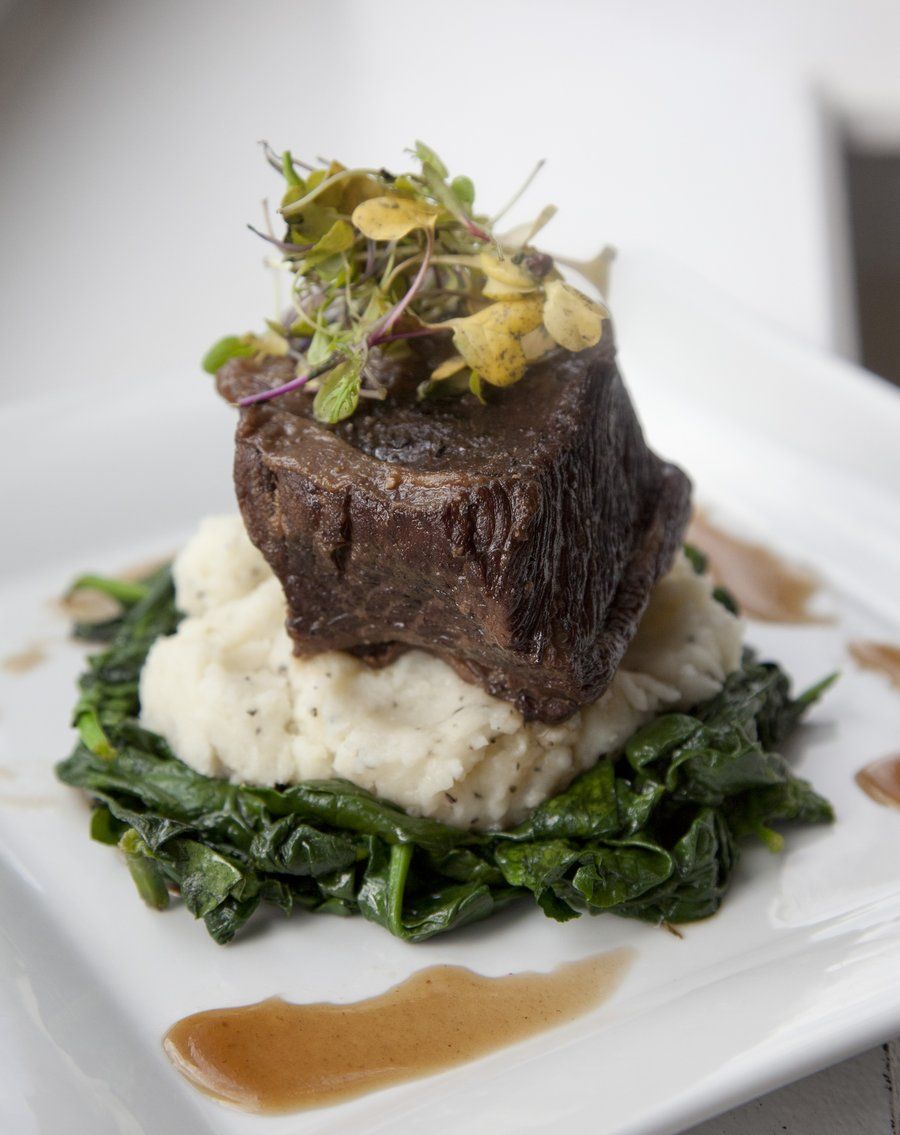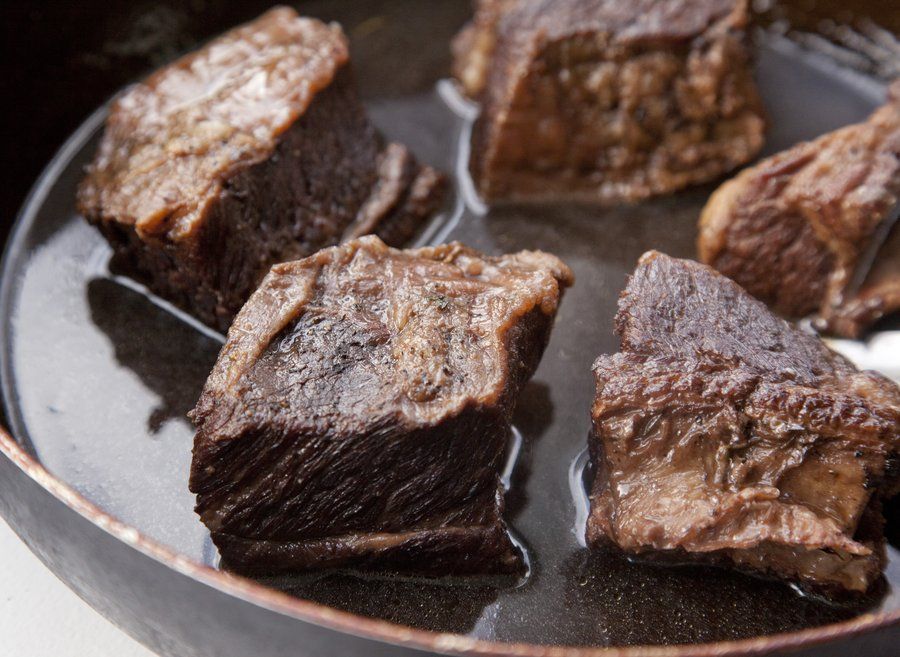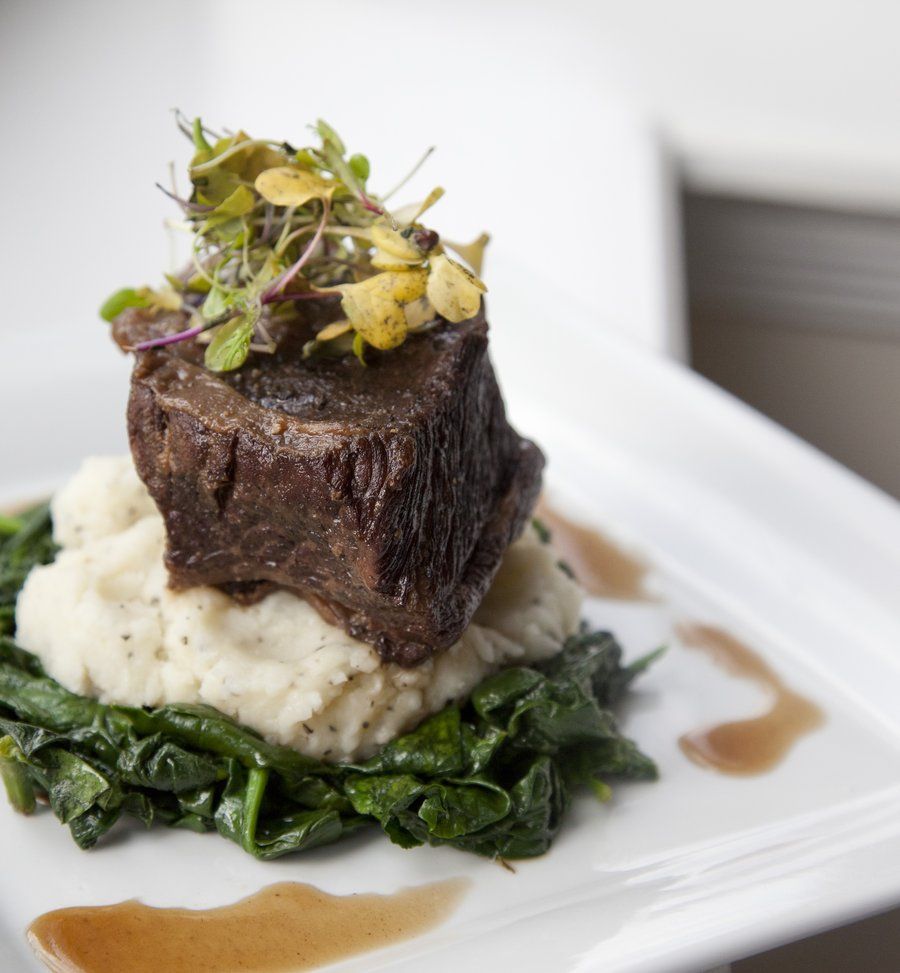 Sautéed Spinach
Prep Time
---
5 Minutes

Cook Time
---
5 Minutes

Total Time
---
10 Minutes

Yield
---
Serves 2

Ingredients
10 oz Spinach
3 minced Garlic Cloves
Extra Virgin Olive Oil
Salt (to taste)
---
Directions
In a saute pan, heat up some EVOO and add in your garlic. Saute for 30 seconds, and add in your spinach.
Saute while stirring until all the leaves have wilted. taste for texture and salt. Take off the heat.
Braised Short Rib
Prep Time
---
15 Minutes

Cook Time
---
3 Hours

Total Time
---
3 Hour 15 Minutes

Yield
---
Serves 2

Ingredients
2 1/2 lbs Bone in Short Ribs
Salt and Pepper
2 chopped roughly Celery Stalks
1/2 chopped roughly Onion
2 cut in half Garlic Cloves
4 Cups Low Sodium Beef Broth
1/2 Cups Red Wine
1 Sprigs Rosemary
4 Sprigs Thyme
1 Bay Leaf
1 Handful Parsley Stems (optional, but they add great flavor)
---
Directions
Season your Short Ribs liberally with salt and pepper on all sides. In a heavy bottomed pot, heat up enough Canola Oil to lightly coat the bottom of the pot. When the oil is smoking hot, and in your short ribs and brown on all sides. Remove short ribs to a resting rack.
Pour off the excess fat in the pot and add in your onion, celery and garlic. cook for 5-8 minutes over a medium heat, stirring to get all the brown bits off the bottom of the pot. Add in your wine and cook til the wine has completely reduced.
Add back your short ribs and pour in your stock. Add your herbs and bring to a boil. Reduce to a simmer, cover and cook 2 hours. Uncover the pot at this point and cook another 30 minutes.
Remove your short ribs from the pot (discard of any lose bones) and let rest on a rack. Strain your braising liquid through a fine mesh strainer and discard of all the solids. Pour your liquid back into your pot and start to reduce your liquid over a medium high heat. Once it can coat the back of a spoon, taste and season with salt and pepper.
Add your short ribs back to the pot and gently baste with the reduced liquid. Serve the short rib with a little braising liquid on top. *Optional: you can set your ribs under a broiler for a few minutes with some of the braising liquid on top to give it a more glazed look - just don't keep them under the broiler for too long!
Potato Puree
Prep Time
---
5 Minutes

Cook Time
---
15 Minutes

Total Time
---
20 Minutes

Yield
---
Serves 2

Ingredients
1 Potato
3 T Butter
2 T Milk
1/4 Cups grated Parmesan Cheese
Salt and Pepper
1 tsps minced Rosemary
---
Directions
Peel your potato and cut into 1" pieces. Place in a small pot with enough water to cover them completely. Season with a liberal amount of salt. Bring to a boil and simmer until completely fork tender.
Drain potatoes and pass through a ricer, right back into the original pot. Stir in your butter, milk, cheese, Olive Oil and herbs. Taste and season with salt and pepper.