Today I decided to braise a duck. Originally, I went to the market thinking I would buy some duck legs and braise those. After realizing the store had no duck legs and that each duck breast was $18 a pound, I changed up my course of action.
I decided to buy a Whole Duck, a beautiful 5 pound little ducky - and what a better deal that was! I got a whole duck for $24....from that duck I created the following:
2 legs and 2 breasts to braise
I rendered out 2 cups of duck fat (which to put in perspective, would cost about $20 in a supermarket - it is literally liquid gold)
In that fat, while I was rendering it, I cooked the duck wings confit for a little lunch snack (it's good to be Sara)
I had to write this all down because I was so proud of my frugal prowess in this supermarket excursion. So with that I bring you two recipes....First, my Braised Duck Legs & Breasts in a Pinot Noir Sauce.... and to follow soon, French Fries cooked in duck fat! *cue happy Sara music*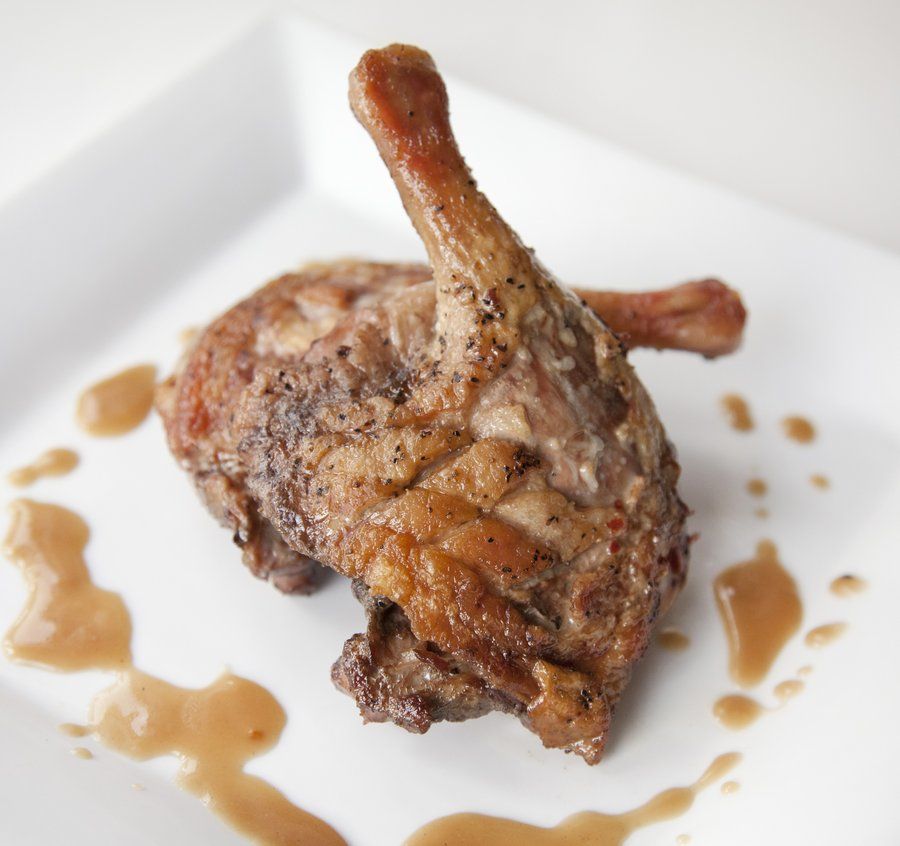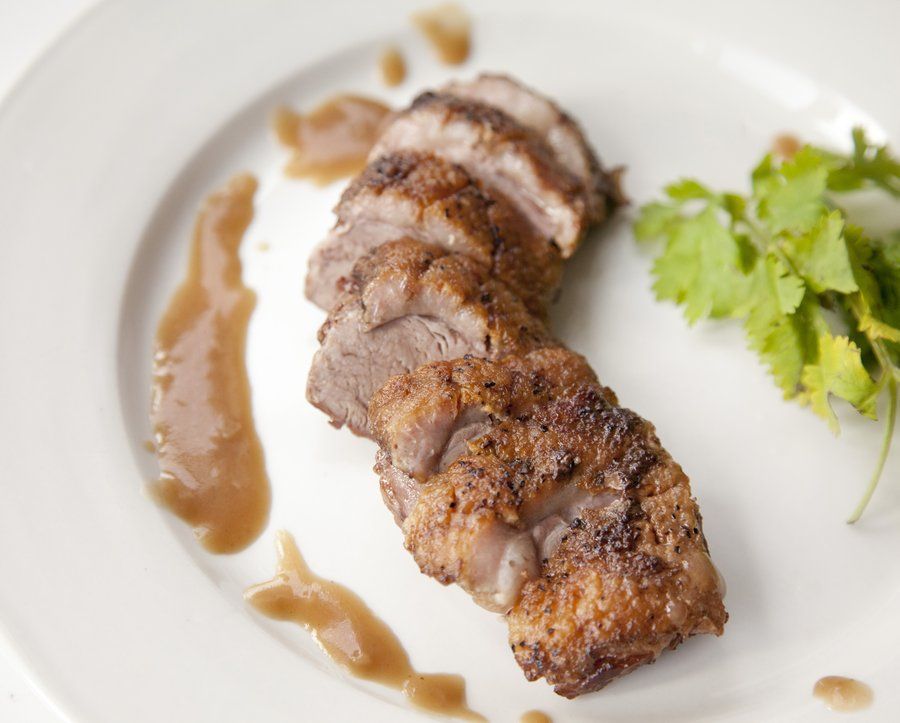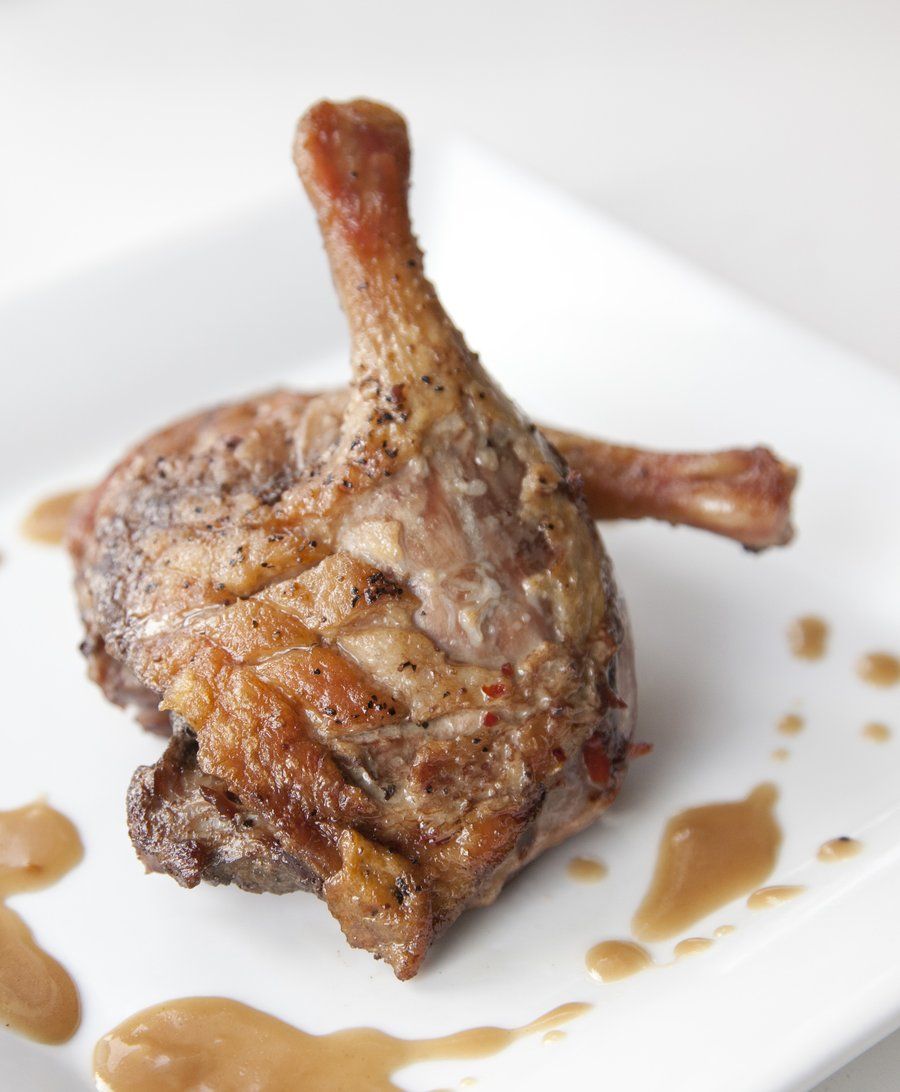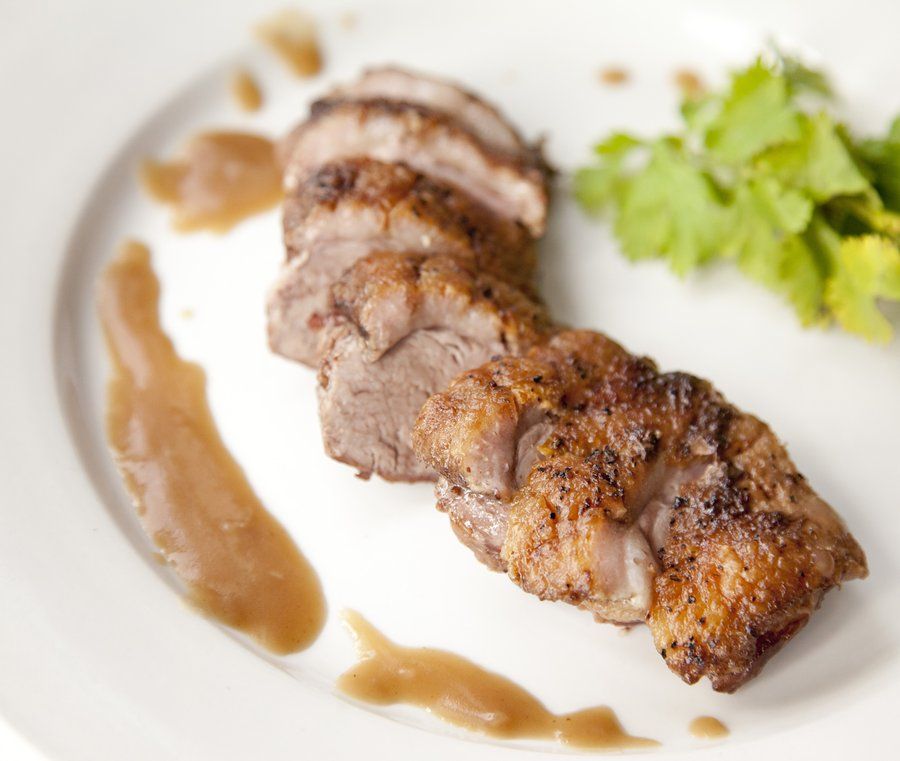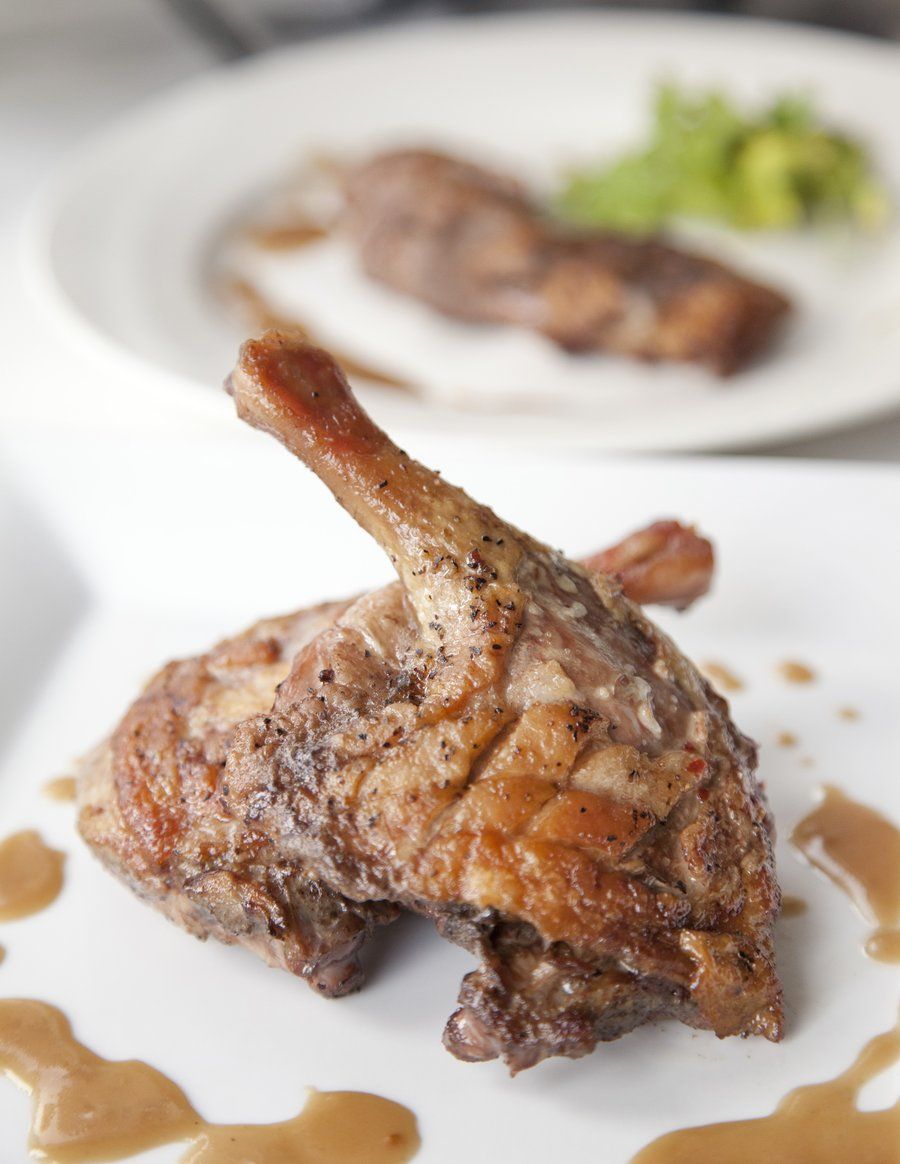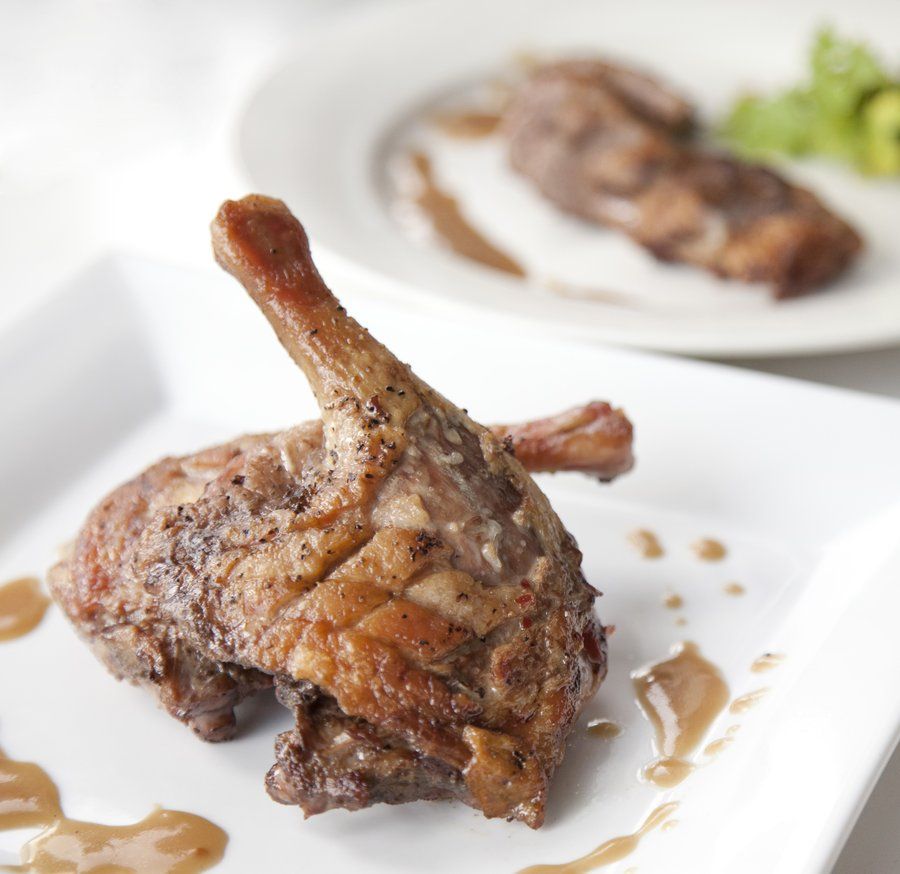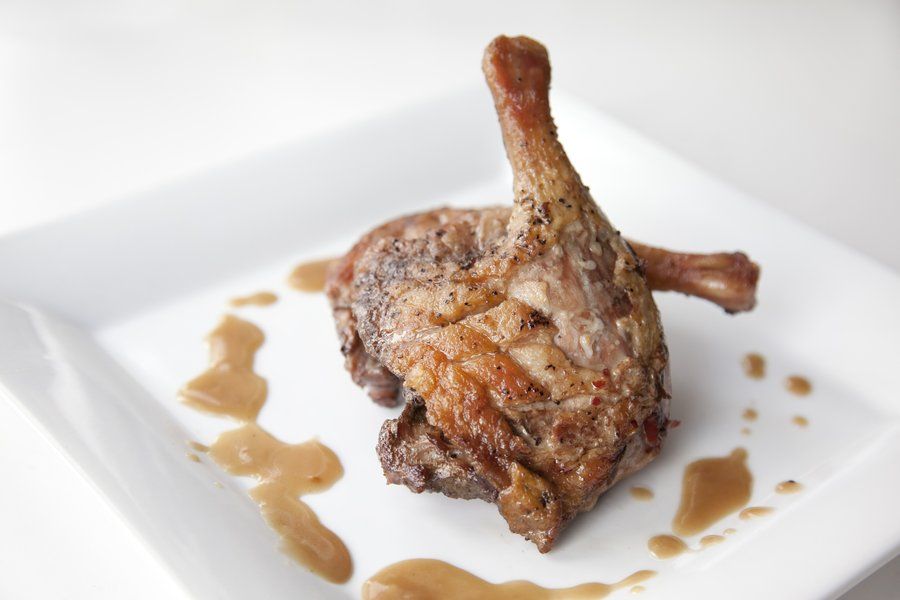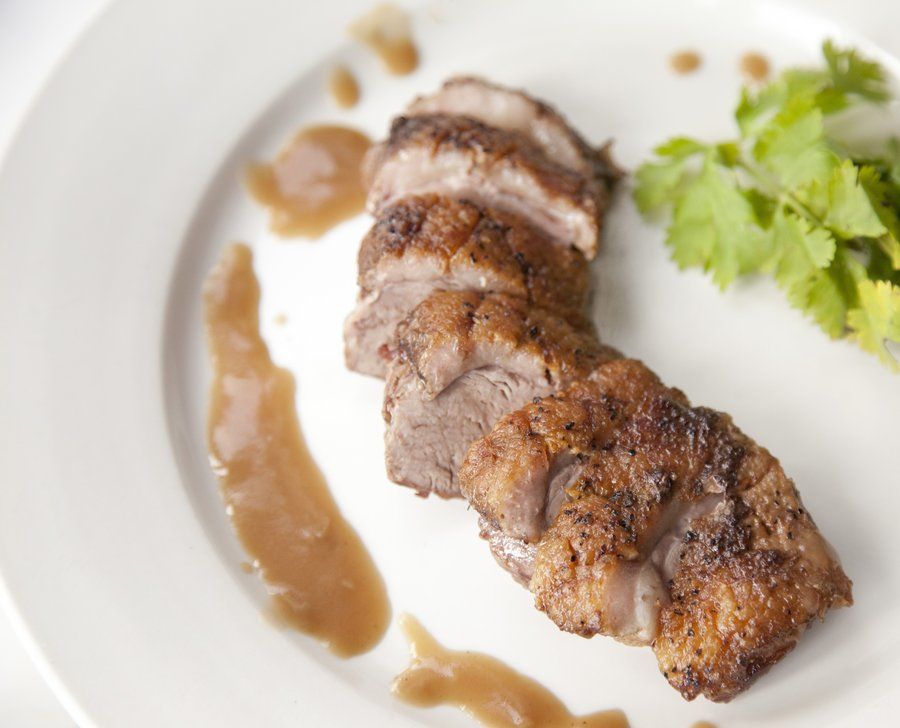 Braised Duck
Prep Time
---
40 Minutes

Cook Time
---
4 Hour 30 Minutes

Total Time
---
4 Hour 10 Minutes

Yield
---
Serves 2

Ingredients
5 lbs Whole Duck
Salt and Pepper
1 Cups chopped roughly Carrot
1/2 chopped roughly Onion
3 smashed Garlic Cloves
1/2 Cups Pinot Noir Red Wine
8 Sprigs Thyme
1 Handful Parsley Stems
20 Whole Black Peppercorns
2 Bay Leaf
4 Cups Low Sodium Chicken Stock
1/4 tsps Red Pepper Flakes
---
Directions
I butchered an entire duck - giving me 2 breasts and 2 legs (you can buy these separately, but buying a whole duck is vastly cheaper). Heat up a large dutch oven to the point of smoking. Season your duck breasts and legs generously on both sides with salt and pepper.
Add your duck pieces to the dutch oven skin side down. Cook over a very high heat for about 10-12 minutes, rendering out all that skin fat. Once the fat side is a nice golden brown, flip the pieces over, and cook another 1-2 minutes. Remove from pot and place on a resting rack.
Dump out all but 1 Tablespoon of the duck fat (**Save this duck fat - it's like liquid gold!). Add to your pot, over a medium heat, your onion and carrot. Cook about 8 minutes til the onion starts to turn translucent. Add in your garlic and cook another minute. At this point, add in your red wine. Cook til the wine has completely evaporated (about 5-8 minutes).
Place your duck back into the pot, skin side up. Add in your peppercorns, thyme, parsley stems, bay leaf, red pepper flakes and chicken stock. Bring up to a boil. Reduce to a simmer, cover and cook 2 hours.
Remove your duck from the pot and place on a resting rack. Drain the braising liquid through a fine mesh strainer. Discard of the solids and pour the liquid back into the pot. Let cool and skim off the fat from the top. Bring the liquid up to a simmer and reduce til a syrup like texture. Taste and season with salt and pepper.