One of my favorite ways to cook meat is to braise it. I have always loved the process of braising: searing meat, cooking veggies, making a beautiful jus, and plating at the end. Braising chicken is great because it cooks up super quick – for thighs, you only need to braise about 40 minutes (as opposed to braising short ribs which take over 3 hours).
This is a super simple recipe, packed with flavor and is a great foray into the world of braising if you've never tried it before.
A couple of notes on how to make this a successful dish:
1.     Use fresh herbs – the sage and rosemary in this dish really create most of the flavor, don't use dry herbs, get the real deal!
2.     When searing the meat, make sure your oil is extremely hot!! Use a paper towel to dry off any moisture from the chicken, then season the chicken with salt and pepper (generously), then add the chicken to the pot – this will ensure the perfect sear.
3.     Usually when I braise, once the meat is done cooking, I will remove it and reduce the sauce down more to create more of a glaze – feel free to try this!
4.     If you want to round out this dish even more – add in some quartered red skinned potatoes when you add your chicken back into the braise and cook the same way!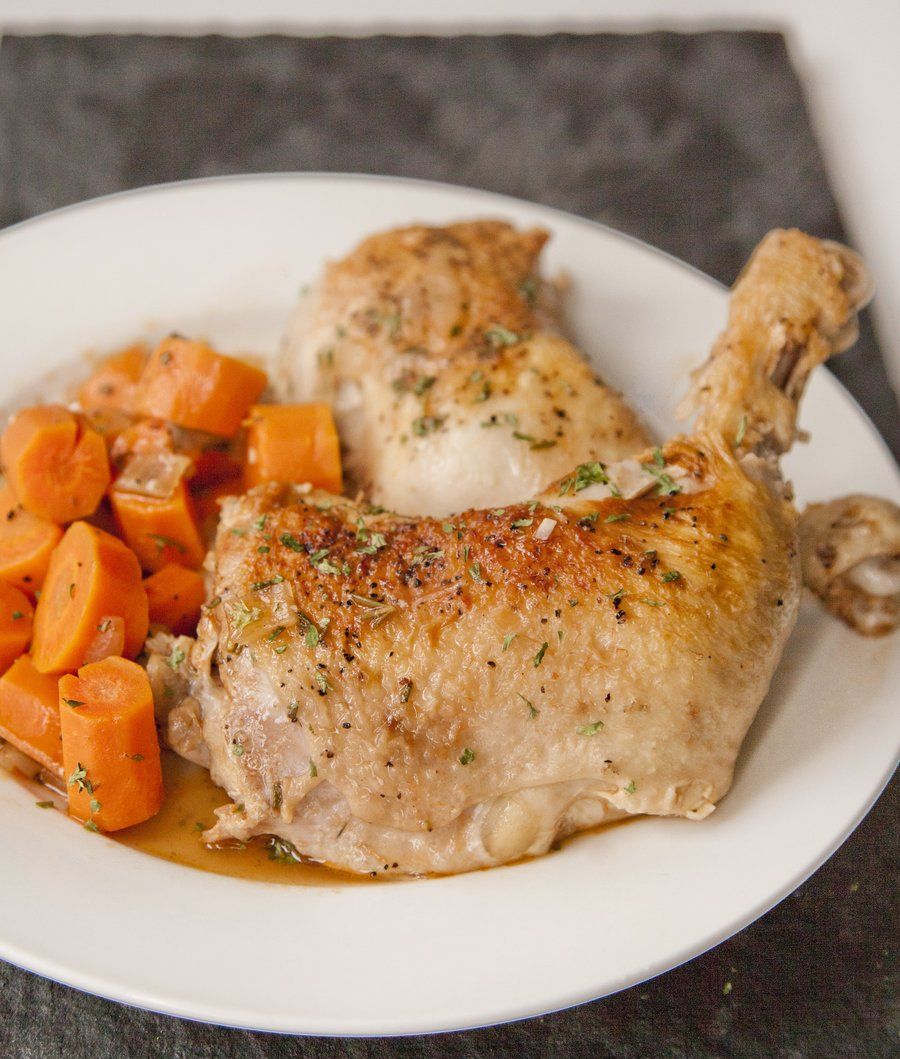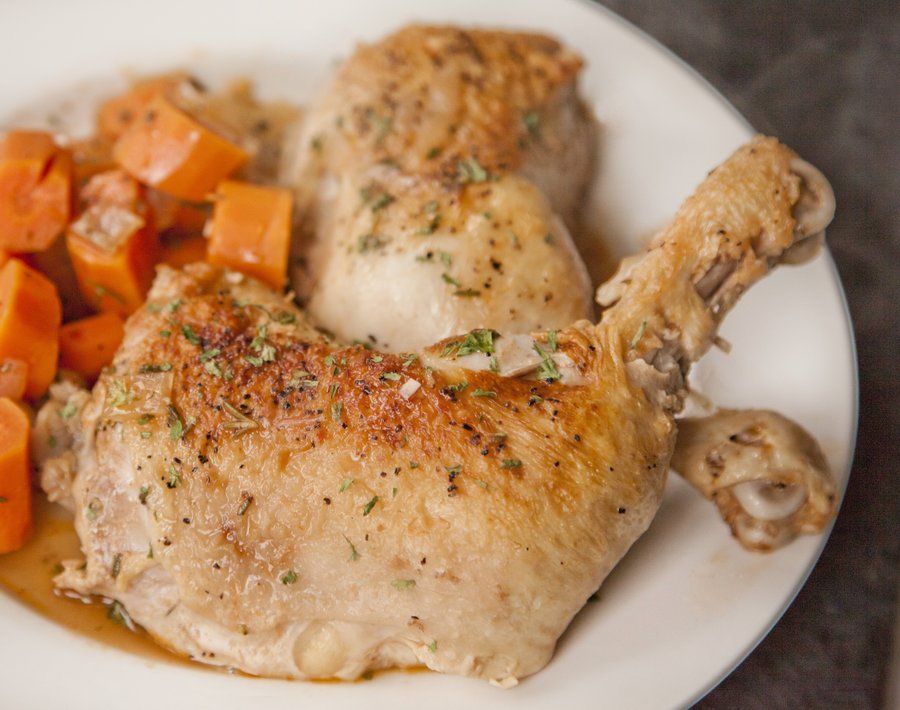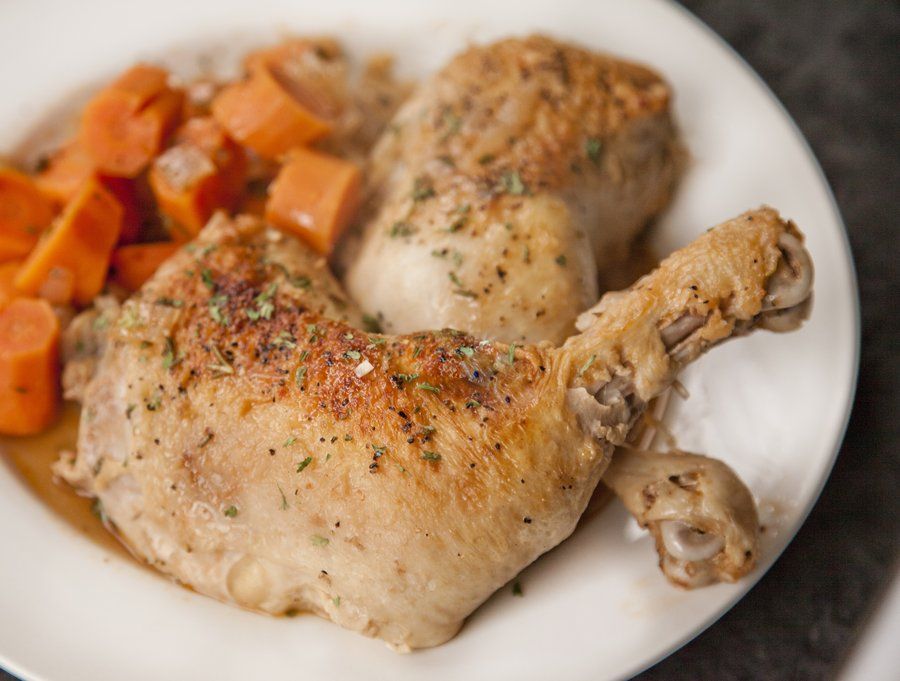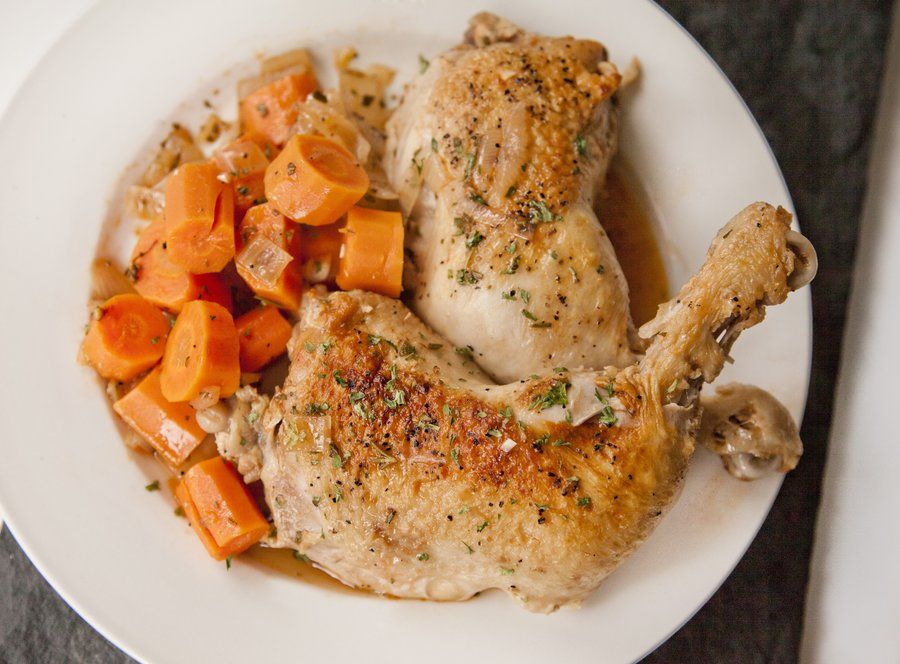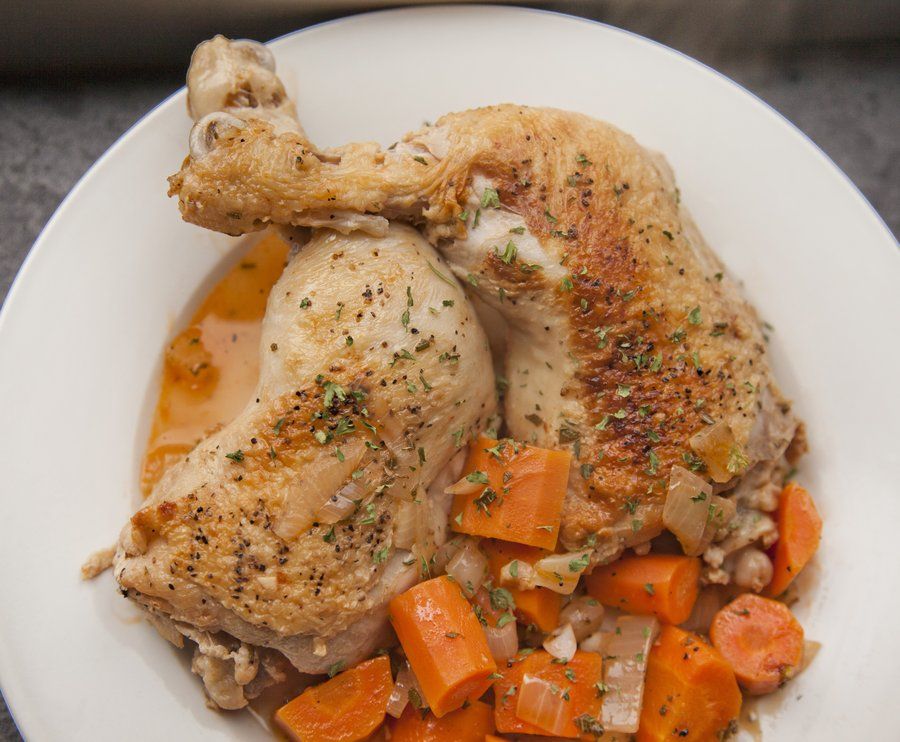 Braised Chicken Thighs with Carrots
Prep Time
---
10 Minutes

Cook Time
---
1 Hour 5 Minutes

Total Time
---
1 Hour 15 Minutes

Yield
---
Serves 2-4

Ingredients
3 1/2 lbs Bone in Chicken Legs/Thighs (Skin on, with the leg & thigh attached)
Salt and Pepper
1/2 Onion (diced small)
1 1/2 Cups Carrots (cut into 1" pieces)
2 T Tomato Paste
5 Garlic Cloves (minced)
1/2 Cup Dry White Wine (I used Pinot Grigio)
1 Tablespoon Sage Leaves (minced)
1 Teaspoon Rosemary (leaves only, minced)
---
Directions
Heat up a dutch oven with enough canola oil to lightly coat the bottom of the pot. Once the oil is smoking, season your chicken on both sides with salt and pepper and place in the pot. Cook on one side until golden brown (about 5 minutes), flip over and do the same on the other side. Once the second side is golden brown, remove the chicken from the pot, and place on a plate. Now add in your onion and carrots.
Reduce the heat to medium and stir, cooking the onions and carrots for about 2 minutes, and scraping the browned bits from the bottom of the pot. Add in your tomato paste and garlic and cook another minute stirring constantly. Add in your white wine, sage and rosemary and cook for about 3 minutes. Place your chicken back in the pot, and add 3-4 cups of water (you want the water to come halfway up the chicken).
Bring the pot to a boil, cover and reduce the heat to a simmer. Cook for 15 minutes, then carefully flip the chicken over, and cook another 10-15 minutes until the chicken is cooked through. Taste the broth and season with salt and pepper. Serve hot, with some of the carrots and sauce on top.