I am such a huge fan of classic French cooking. I don't care if it's summer or the dead of winter, I can always get into a slow braised beef dish like Beef Bourguignon.
Before I truly got into cooking, my husband (who was at that point just a boyfriend) decided to cook Julia Child's Beef Bourguignon recipe. Well, it's wasn't awful per se, but it wasn't Julia…and since then I just assumed I didn't like this dish. Until last year, we were in Napa and went to this great little French Bistro called Bistro Jeanty where I ordered the Beef Bourguignon in hopes of my opinions changing....and boy did they change. Their Bourguignon was melt in your mouth, buttery, rich, perfection. So with that I decided it was time I came up with a recipe to showcase this incredible stew.
There are so many cooking techniques used in a dish like Beef Bourguignon (ie. Proper meat searing, reducing liquids, seasoning, etc) which makes it a great learning experience as well as a fun dish to make (not to mention super impressive to serve to guests).
I have made this dish a number of times, and this recipe I am posting today is by far my best. The flavors were incredibly bold but not overpowering and the meat was melt in your mouth!
With the weather getting cooler and tonight being the start of Fall 2014, I encourage you to try this recipe and get your Julia on!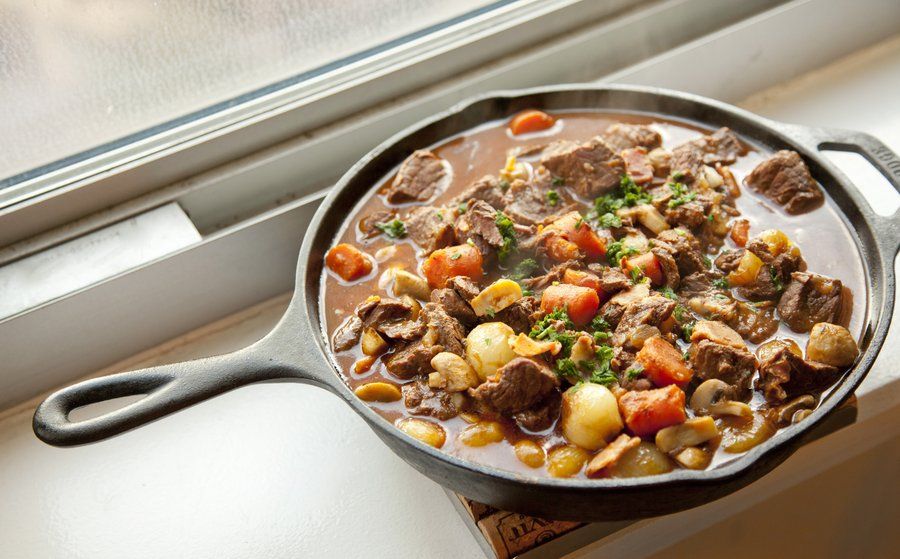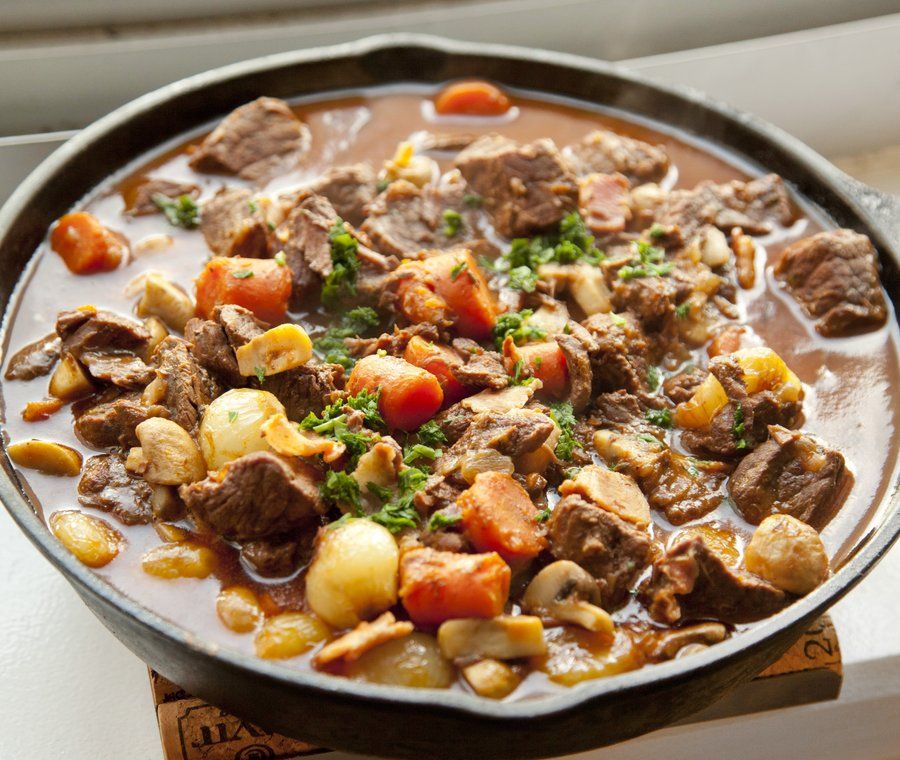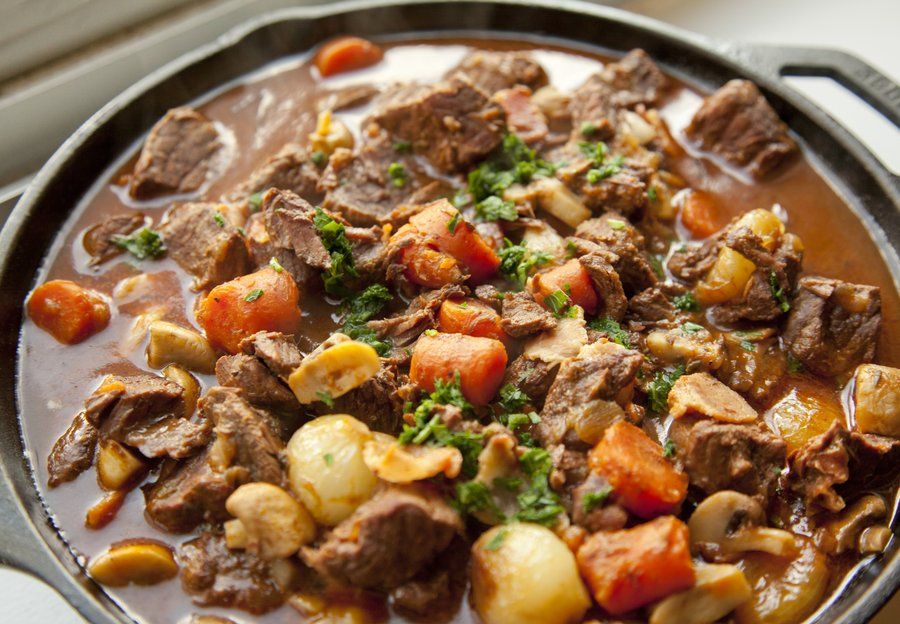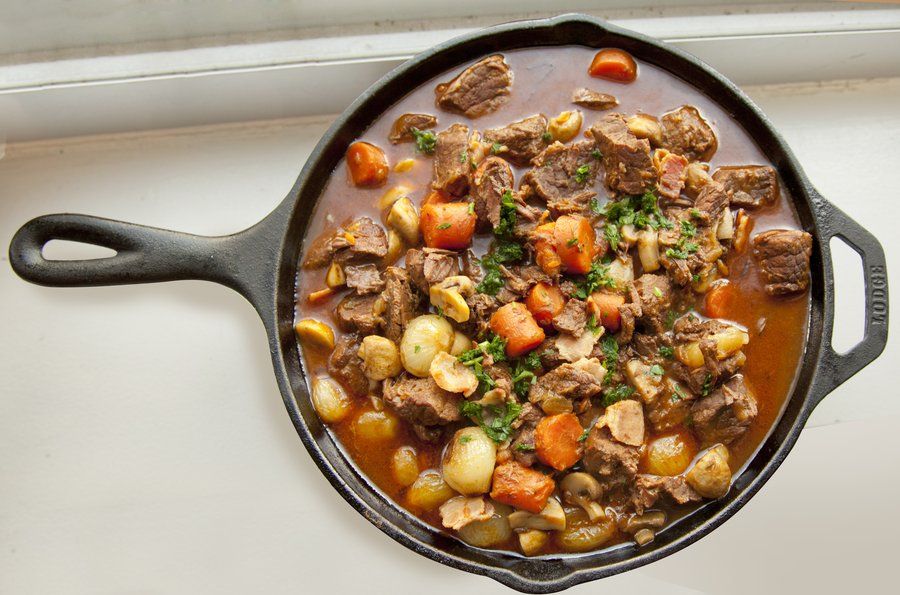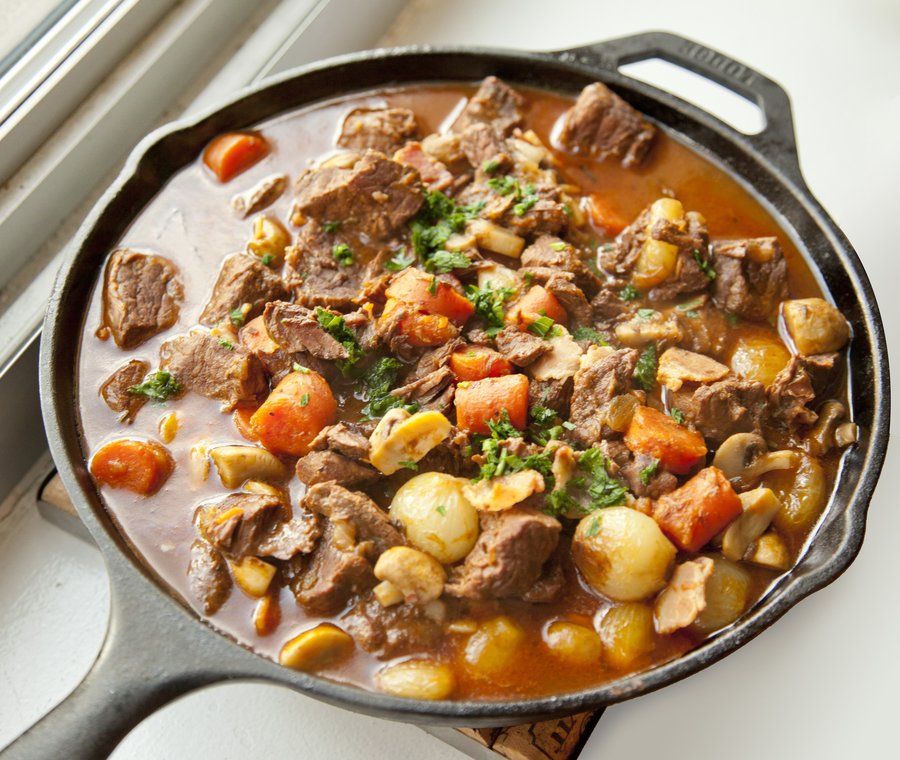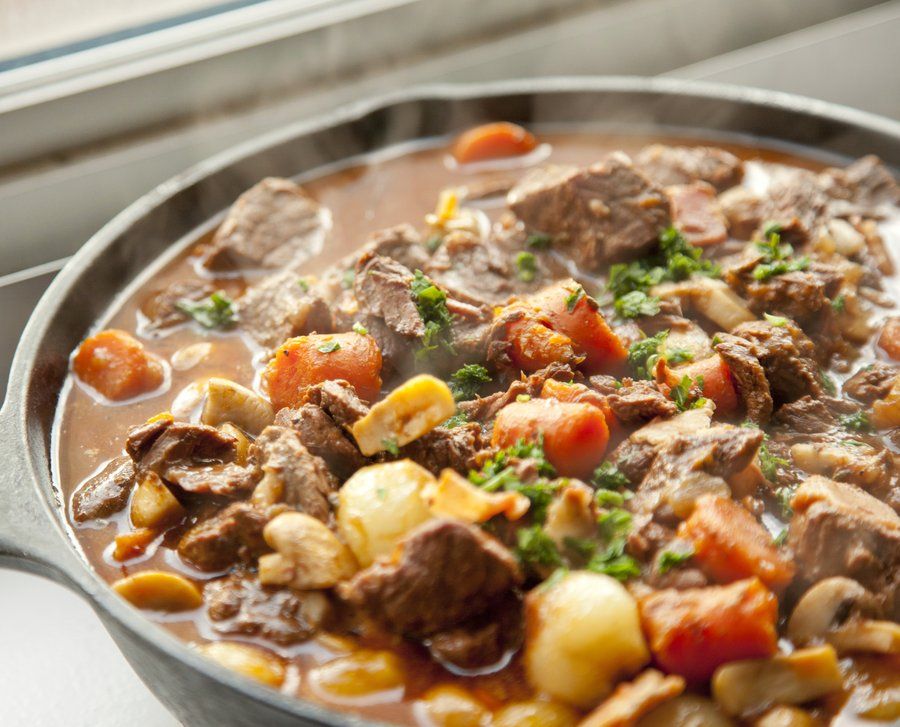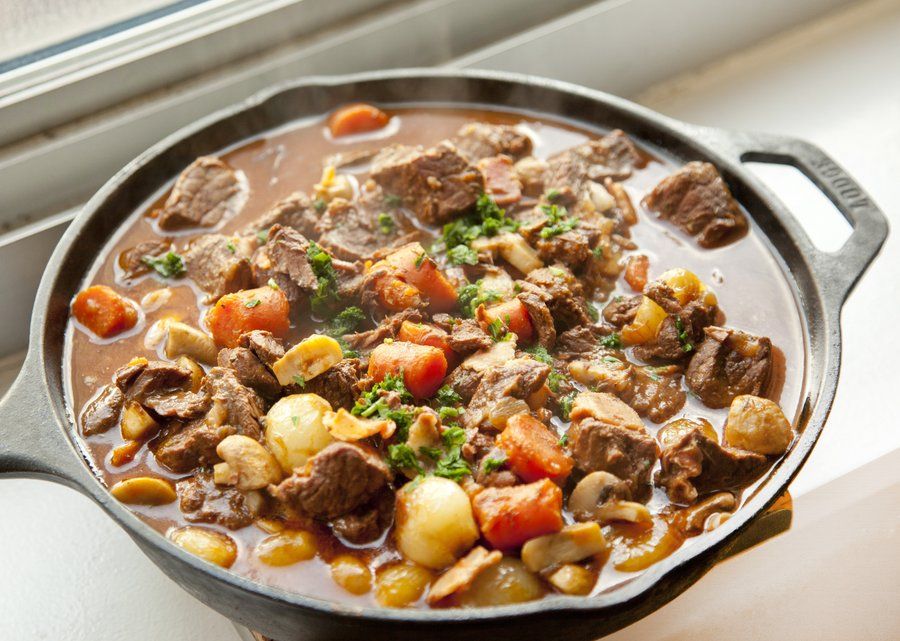 Beef Bourguignon
Prep Time
---
10 Minutes

Cook Time
---
5 Hours

Total Time
---
5 Hour 10 Minutes

Yield
---
Serves 4-6

Ingredients
1/4 Pound Bacon (Slab Bacon - cut into small Lardons)
1 1/2 Cups Onion (diced small)
1 1/2 Cups Carrot (scrubbed, unpeeled, and cut into 1" pieces)
1 Cup Celery Stalks (cut into 1" pieces, including the leaves on top)
5 Sprigs Thyme (plus 1 teaspoon thyme leaves for later usage)
7 Parsley Stems (plus 1 tablespoon of minced leaves for garnish)
1 Bay Leaf
3 lbs Beef - Chuck (cut into 1" cubes)
Salt and Pepper
2 Garlic Cloves (smashed)
2 T Tomato Paste
3/4 Cup Red Wine (I used a Pinot Noir)
4 Cups Beef Stock (low sodium)
2 T Butter
6 oz Pearl Onions (skin and roots removed, left whole)
10 oz Baby Bella Mushrooms (cleaned and quartered)
---
Directions
Heat a heavy bottomed pot, over a medium heat and add your bacon. Cook until almost crispy, remove with a slotted spoon and reserve. Season your beef with salt and pepper, add more oil to the pot, and start to brown the meat on all sides (once browned, remove the meat and place on a plate).
Once all the meat is cooked, add in your onion, carrot and celery. Cook about 5 minutes, then add in your tomato paste and cook another 2 minutes, stirring the paste in with the veggies. Add in your red wine, and cook another minute or until it start to simmer. At this point, add in your parsley stems, thyme, and bay leaf (all tied together in a Sachet), your garlic, beef, and your stock. Bring to a boil, and reduce to a simmer. Cover and cook 4 hours.
Once the cooking is done, remove your beef and carrots from the pot with a slotted spoon and place on a plate. Strain all the liquid in the pot through a fine mesh sieve into a fat separator. Discard of all the solids, and pour the liquid (without the fat), back into the original pot. Bring to a boil and start to reduce the liquid.
While the liquid is reducing, heat up two small sauté pans over a medium heat - to one, add a teaspoon of Olive Oil, and to the other, add your butter. To the pan with the oilve oil, add your mushrooms and cook til tender (about 10 minutes) - season with salt and reserve. To the sauté pan with butter, once the butter melts, add in your pearl onions and a teaspoon of thyme leaves. Cook over a medium heat shaking the pan every so often so as to glaze the onions. Once the onions are easily pierced with a pairing knife, they're done - season with salt.
After your stock has reduced for about 10-15 minutes. taste and season with salt. Add back your beef and carrots, your reserved bacon pieces, your mushrooms and your onions. Cook for 2 minutes. Serve hot with a garnish of parsley.