A few months ago I took a recreational cooking class at my former Culinary School. The class was called "Croquettes and Cava" – combining my love for fried food and bubbly alcohol (win, win). Not only was the class matter totally up my ally, but it was taught by the Executive Chef of "Casa Mono" – and awesome Tapas restaurant in Gramercy Park, NYC. Anthony Sasso, who is the Chef, taught us recipes for about 10 different Croquettes ranging from your Classic Jamon Croquette to Pulled Pork Croquettes (I will be making these again and blogging them in the future!)
I chose to showcase the Jamon Croquette on today's blog because it is the most classic form of Tapas there is. I changed up the recipe a bit, and decided to serve my croquettes with my incredible Honey Mustard Dipping Sauce (I say it's incredible because, it turned me from a Honey Mustard hater, into a total Honey Mustard advocate).
You can try this recipe with other meats too – try chorizo (Spanish sausage), pepperoni, prosciutto, Bacon, Pancetta, whatever you think may work! Side note, I realized I always intrinsically capitalize the word 'Bacon'….like it's God….well I mean it kind of is let's be honest.
Another great idea, which I do with my Arancini, is I will hide a little cube of cheese in the center of the croquette when I am forming them, so when you bite in, it's a little gooey cheese surprise! For the Jamon Croquettes, try adding in Smoked Gouda!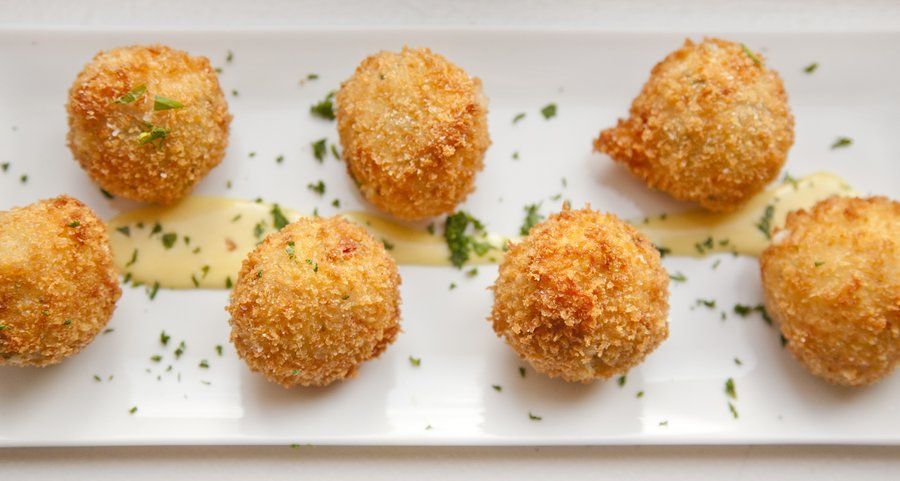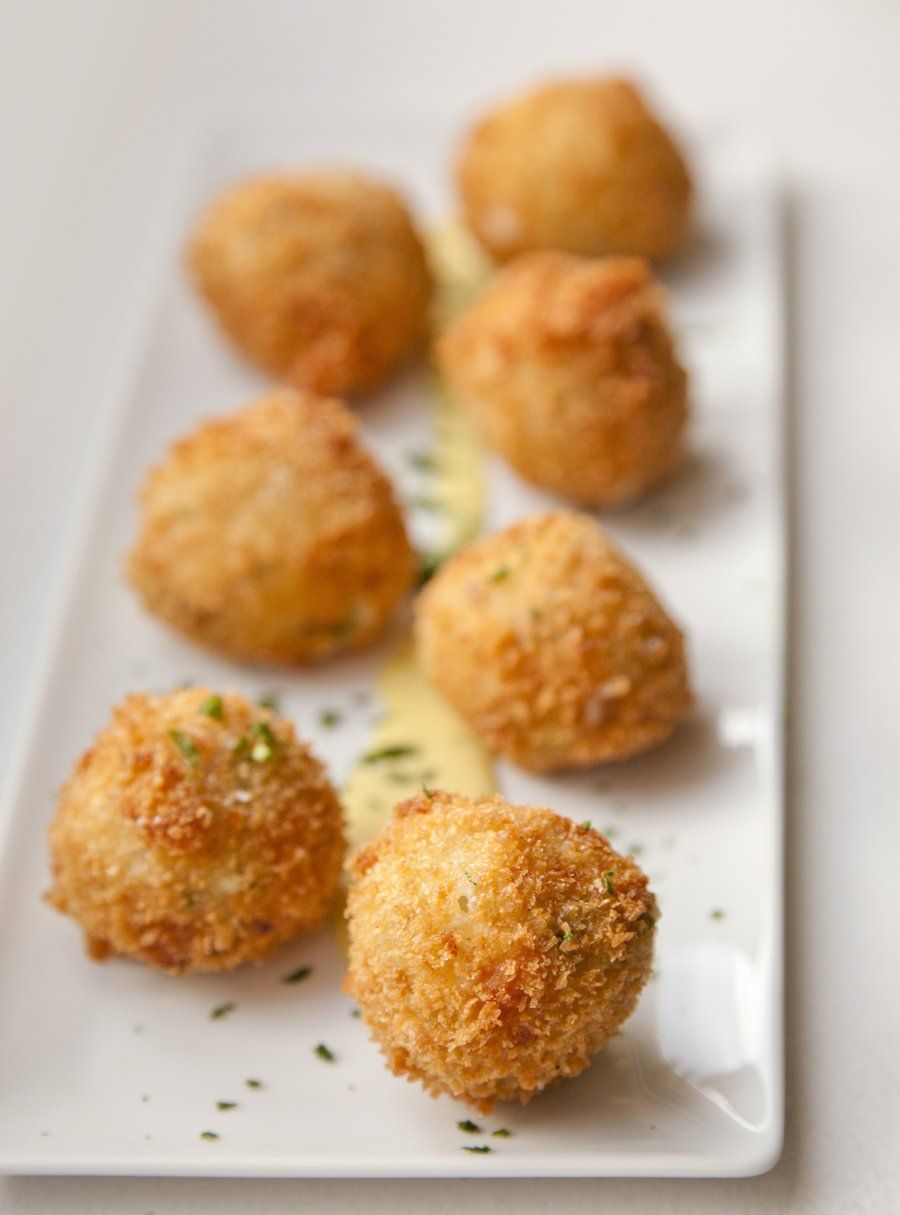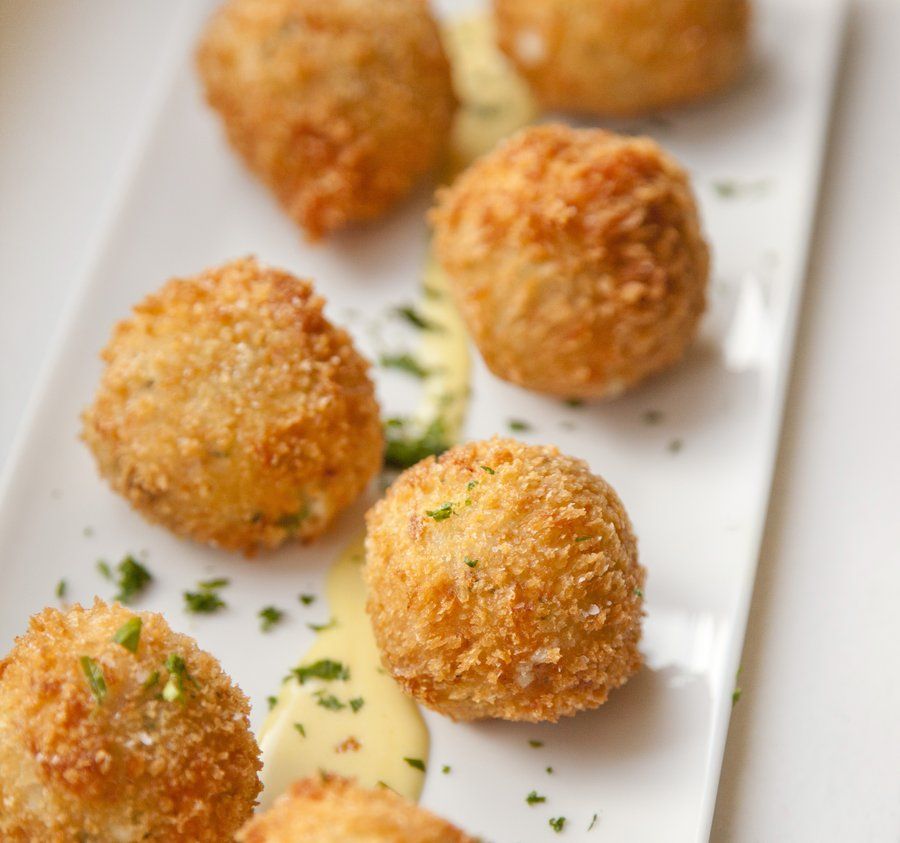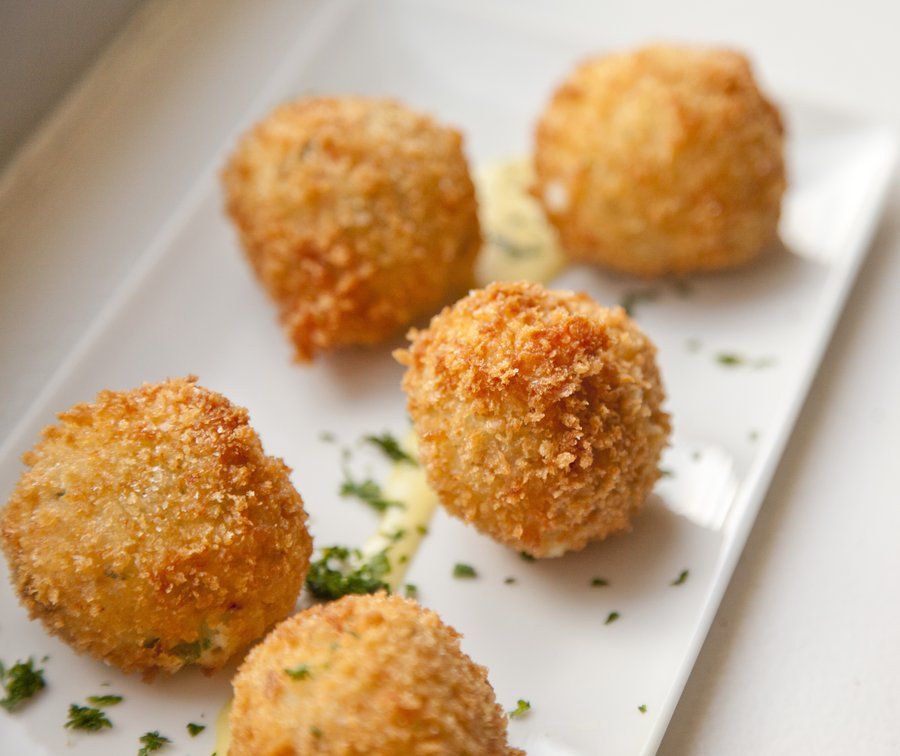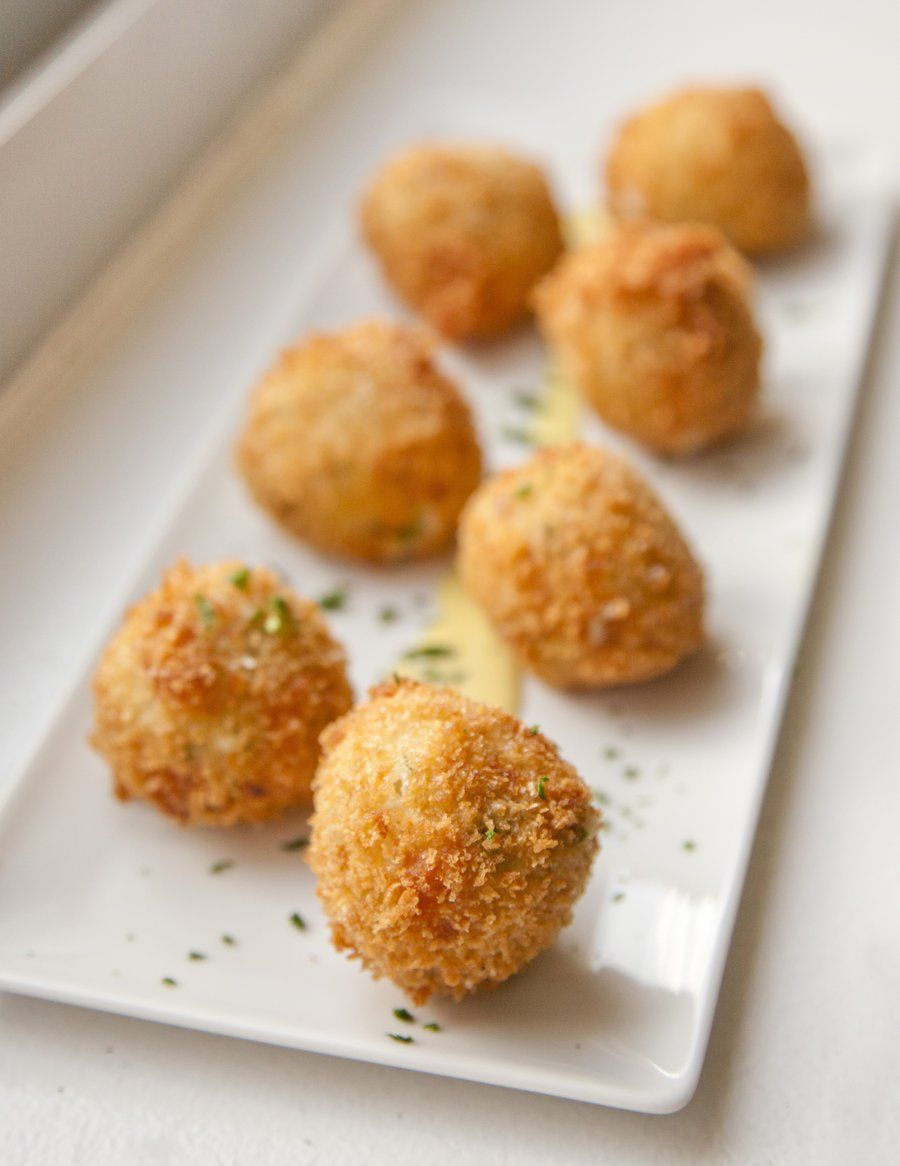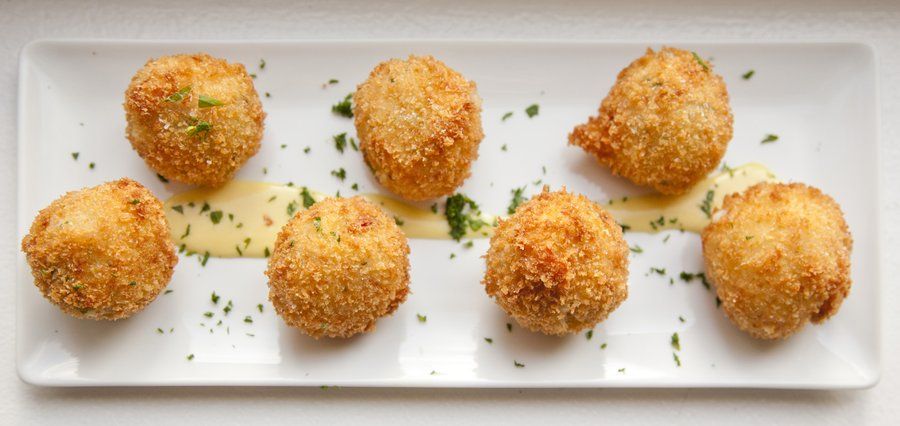 Honey Mustard Dipping Sauce
Prep Time
---
5 Minutes

Total Time
---
5 Minutes

Yield
---
Makes about 1 cup

Ingredients
1/2 Cup Mayonaise
3 T Honey
1 Tablespoon Dijon Mustard
1 Tablespoon Yellow Mustard
1/4 Teaspoon Salt
1 Teaspoon Lemon Juice (fresh)
Pinch Cayenne
---
Directions
Combine all ingredients in bowl, whisk together until smooth. Refrigerate til use.
Jamon Croquetas
Prep Time
---
3 Hour 30 Minutes

Cook Time
---
15 Minutes

Total Time
---
3 Hour 45 Minutes

Yield
---
Makes about 30 Croquettes

Ingredients
2 Potatoes
1 Onion (diced small)
8 oz Ham (Sliced thick, then cut into 1cm pieces)
2 Garlic Cloves (minced)
3 T Flour
1 Cup Milk (2%)
2 T Parsley (minced)
Salt (to taste)
2 Eggs (beaten with 1 tablespoon of water)
1 Cup Flour (for the breading)
1 1/2 Cups Panko Breadcrumbs (or regular breadcrumbs)
Canola Oil (for frying)
---
Directions
Peel and cut up your potatoes into 1" cubes. Place in a pot and cover with water. Add about 1 Tablespoon of salt to the water and bring to a boil. Reduce to a simmer and cook until they're cooked all the way through (about 10-15 minutes). Drain, and pass the potatoes through a ricer into a large bowl. Set aside.
Meanwhile, in a medium sized pot, heat up 1 tablespoon of Olive Oil. Add in your onion and ham and cook for 8 minutes over a medium heat, stirring frequently, until the onion is soft and translucent and the ham has become slightly crispy. Add in your garlic and cook another 2 minutes. Add in your flour and stir together - cook for 1 minute. Then, slowly, whisk in your milk. Bring to a boil, then reduce to a simmer and allow to thicken (a few minutes). Remove from heat and let cool.
Once your ham mixture has cooled slightly, pour it into the riced potatoes. Add in your parsley, stir together completely, taste, and season with salt. Place this mixture into the fridge for an hour to firm up.
After the croquette mixture has firmed up and cooled off completely - set up your breading station with a plate for the flour, a bowl for the eggs and another plate for the panko (you can use regular breadcrumbs if you like). Using a 1 Tablespoon ice cream scooper, scoop out some of the croquette mixture, form into a ball with your hands, place in the flour and coat completely. Make sure all the excess flour is off of the ball before immersing it into the egg wash. After the croquette is covered in egg wash, carefully coat it in the panko and place the croquette on a large baking sheet. Continue this breading process with the rest of the croquettes.
Once all your croquettes are formed, you can either deep fry them right away, or place your baking sheet with the croquettes on them, right into the freezer to firm up for an hour. To deep fry: heat up a pot filled 3/4 way with canola oil to 365 degrees. In batches fry the croquettes until the outsides are golden brown. Remove the croquettes from the oil, and place on a paper towel lined plate and immediately season with salt. Serve hot with the Honey Mustard Dipping Sauce (recipe below).