I never, ever eat fast food, but when I do I have two weaknesses: White Castle and Taco Bell (arguably the two most disgusting places….but don't judge me).
One of the best things to get at Taco Bell is the Crunchwrap – which, in essence, is like a hard taco wrapped in a soft tortilla (whomever invented this deserves a Nobel Peace Prize).
The combination of the soft tortilla, with the crunchy taco shell inside, along with the beef, cheese, sour cream and salsa…..is like my idea of utopia - holy deliciousness.
For this, finding Tostadas is key (which I could not seem to find for the life of me). Tostadas are basically your hard taco shell, but in the shape of a flat circle – which works perfectly for the crunchwrap. Since I was unsuccessful in my Tostada venture, I improvised with some tortilla chips, but really, the tostada gives you the full effect. I am currently petitioning NYC to get on the Tostada train and stock their supermarkets immediately.
You could even upgrade your Crunchwrap to what Taco Bell calls, the "Crunchwrap Supreme" which adds in some guacamole to the mix! Crayyyyyy!
I realize that this recipe is not high-brow or complicated, but even us chefs need a night off of complex cooking, and need some "fast food".
Feel free to use ground turkey or chicken if you want to give this a healthier spin….but seriously, this isn't exactly Weight Watchers food, just go for the beef and call it a day… don't be like those people who order 3 Double Bacon Cheeseburgers but get a Diet Coke (ugh).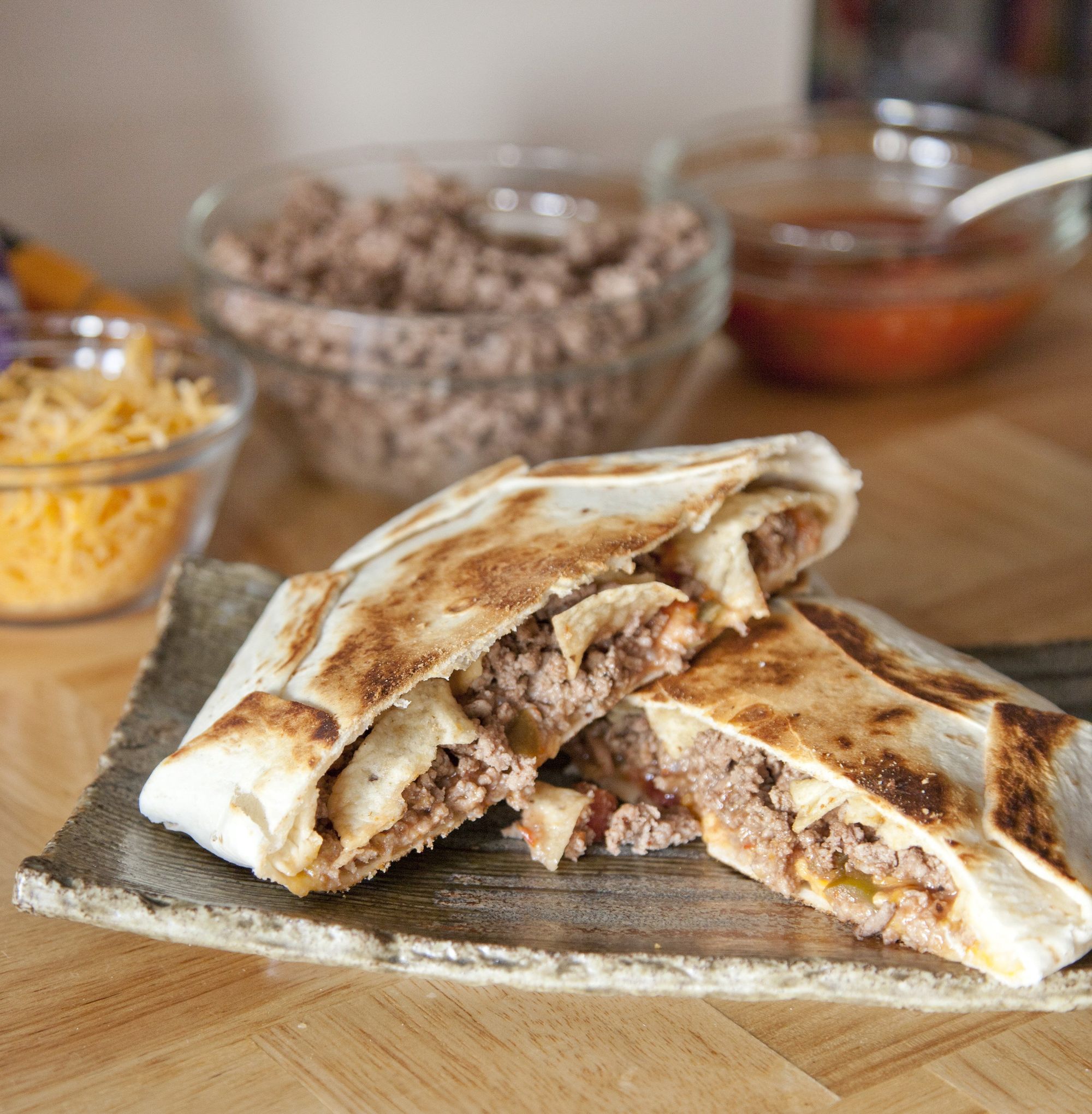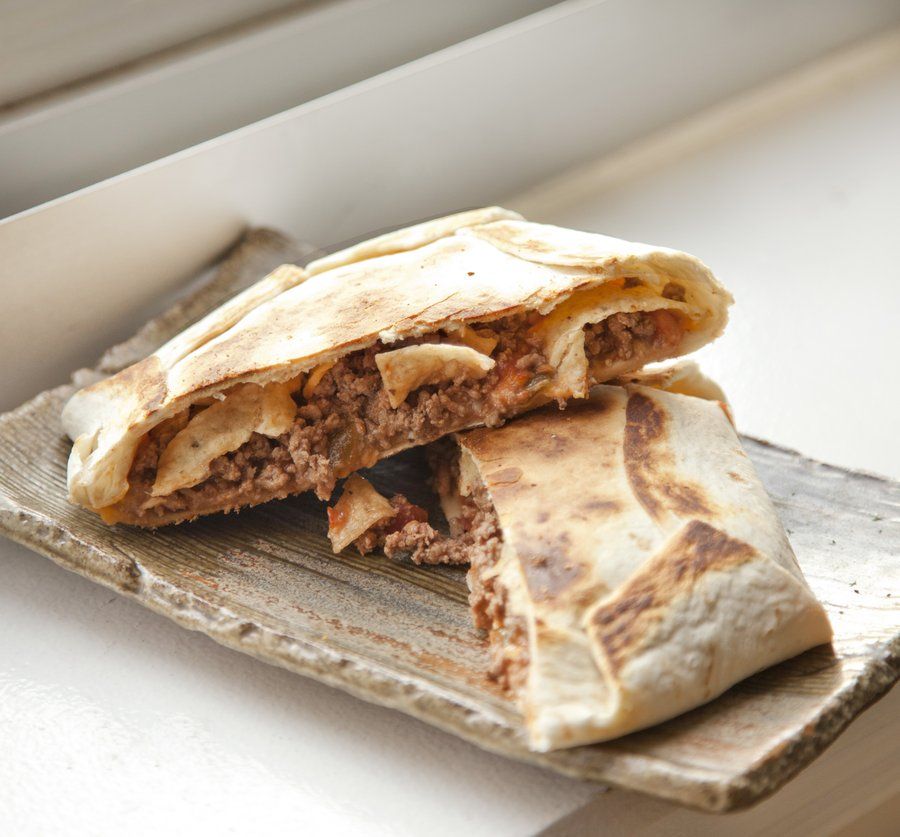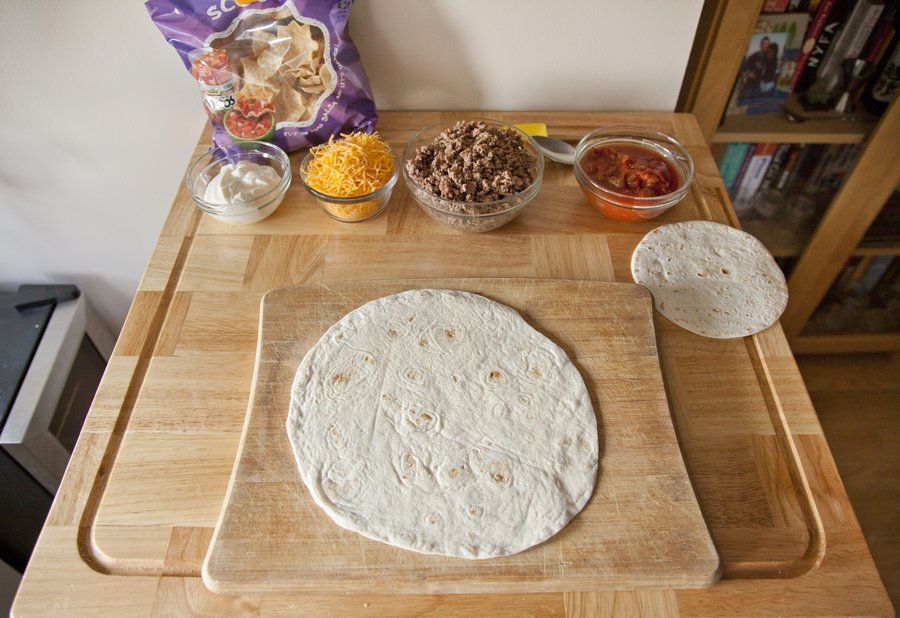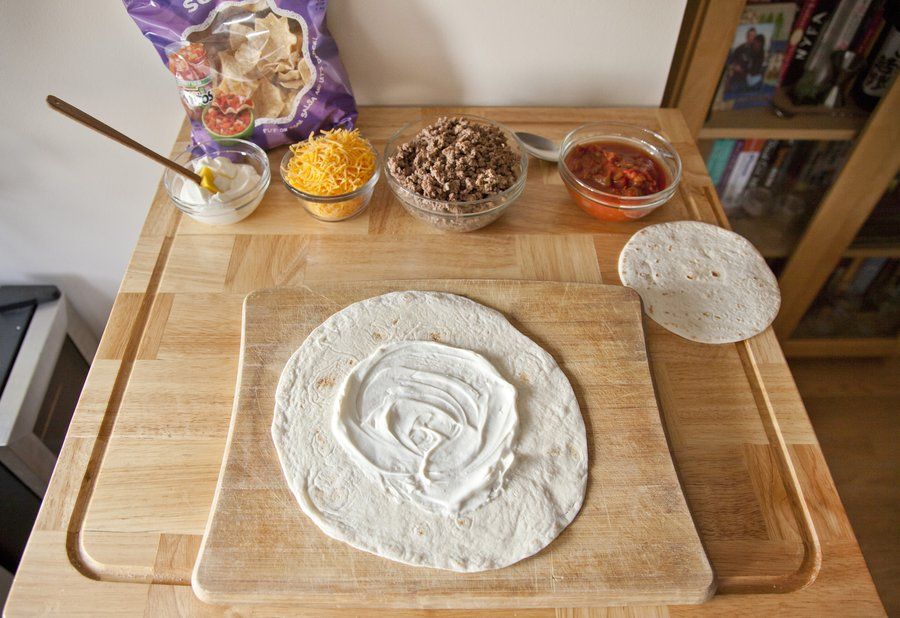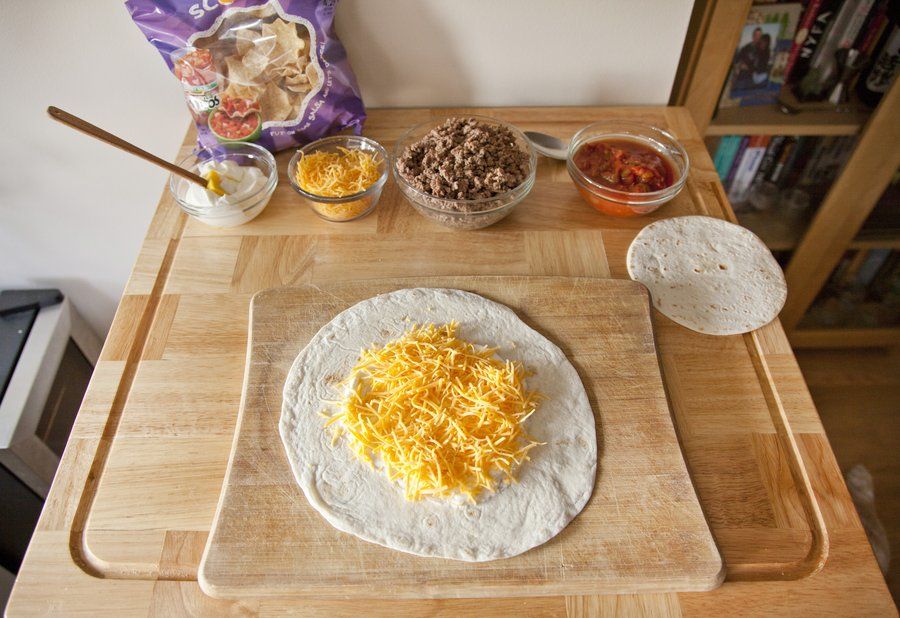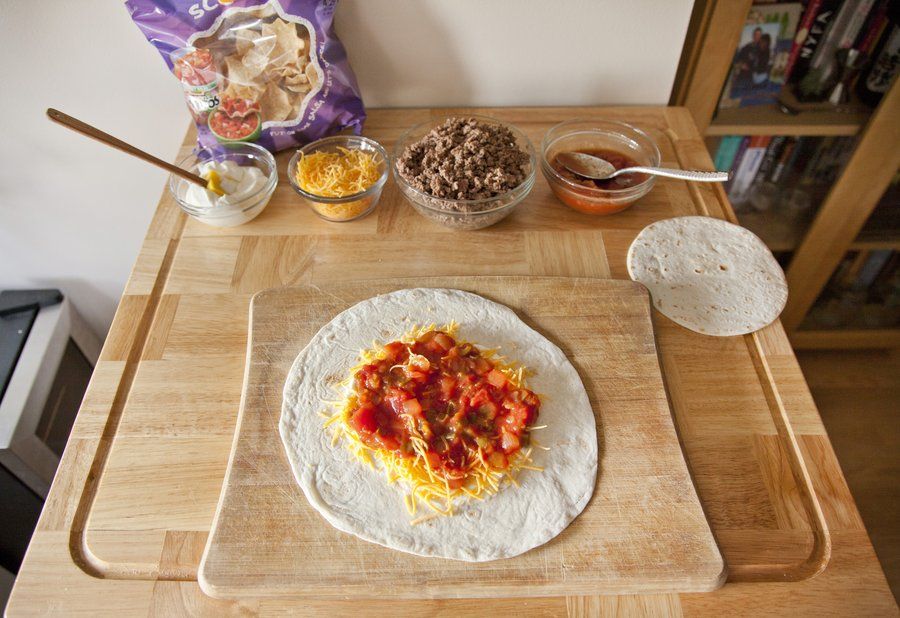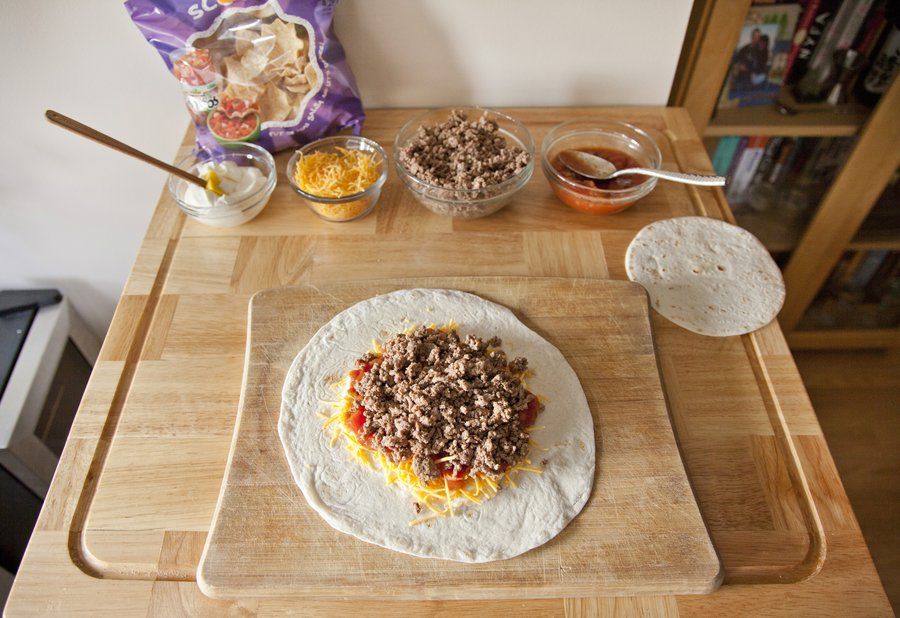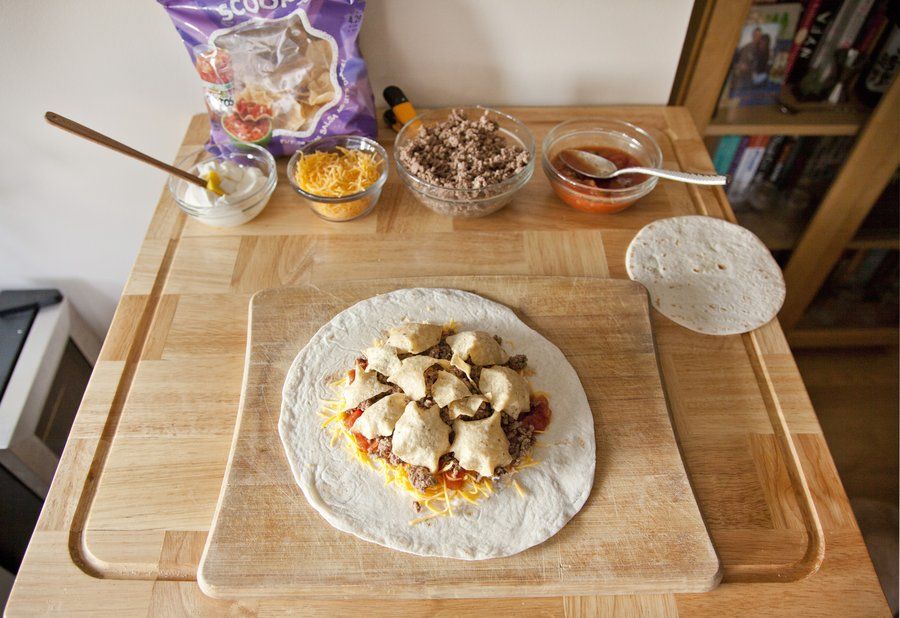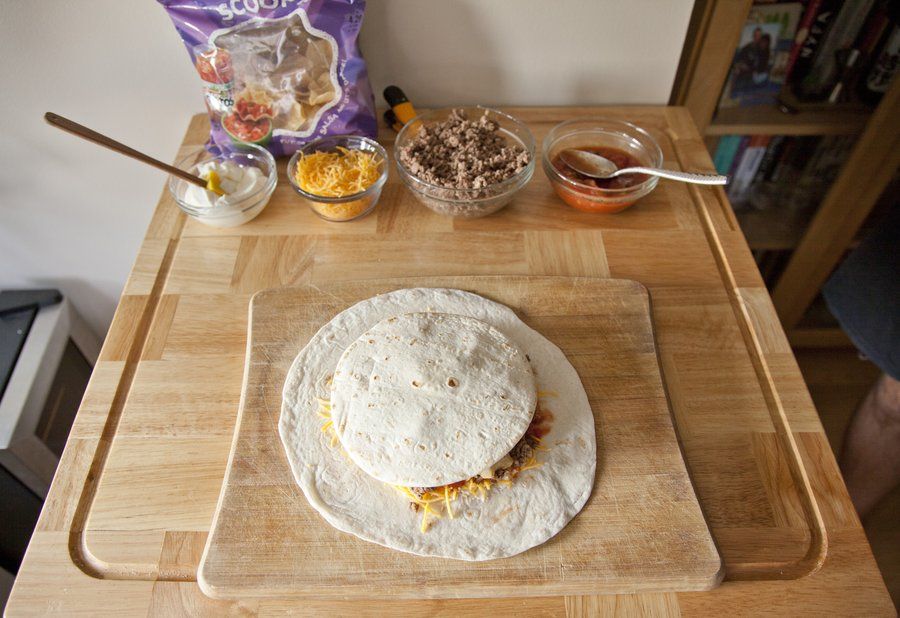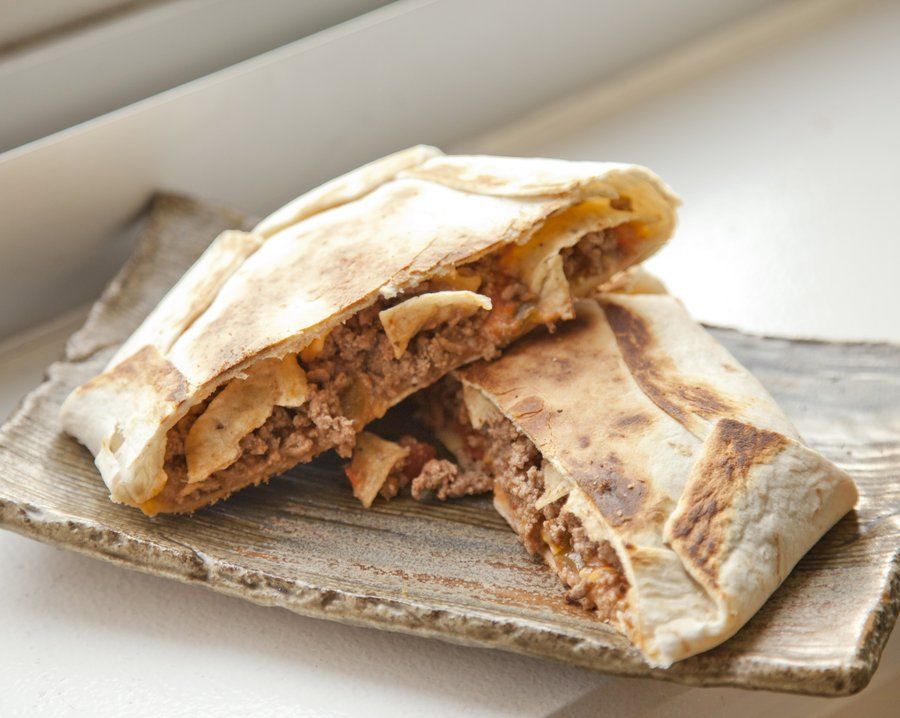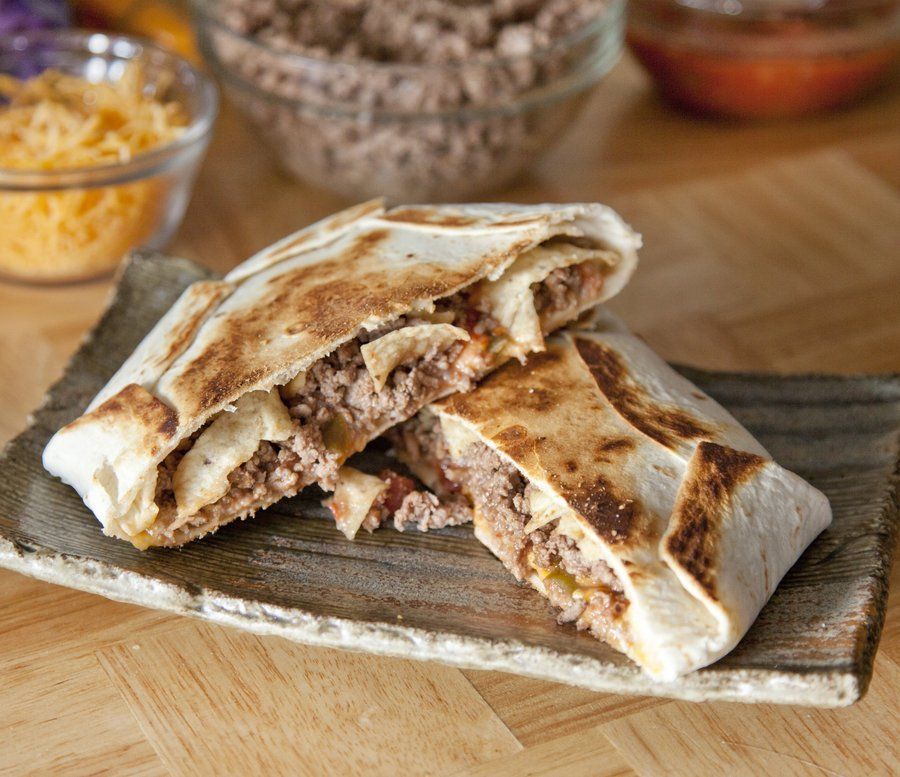 Taco Bell Crunchwrap
Prep Time
---
10 Minutes

Cook Time
---
10 Minutes

Total Time
---
20 Minutes

Yield
---
Makes 4 Crunchwraps

Ingredients
1 Pound Ground Beef (80/20)
1/2 Teaspoon Chili Powder
1/4 Teaspoon Cumin Powder
4 10" Flour Tortillas
1/2 Cup Sour Cream
1 Cup Cheddar Cheese (shredded)
1 Cup Salsa (store bought - I use Tostitos brand)
1 Bag Tortilla Chips (Or 4 tostadas if you can find them)
4 6" Flour Tortillas
---
Directions
Cook your beef - In a cast iron skillet, add your beef, chili powder and cumin powder. Cook, breaking up with a wooden spoon until there is no more pink on the meat. Drain the meat through a sieve, and discard of the fat that drains out.
Have all your ingredients in little bowls so it's easy to assemble. Lay down one of your large flour tortillas, and in the center, add some sour cream. Top with some shredded cheddar, then salsa, your ground beef, chips (or Tostadas if you can find them), and then top with the smaller flour tortilla.
Fold the larger tortilla carefully around the smaller tortilla in a clockwise pattern, overlapping the flaps so that the entire wrap is contained and you can't see any of the insides. Carefully place the crunchwrap, seam-side down in a pan and heat up over a medium high heat. Once the outside has gotten golden brown, carefully flip over and brown on the other side. Serve hot.