My husband and I love both Mexican Food, and anything smothered in Buffalo Sauce… So last night I decided to make a dish that encompassed both of these loves!
I had a bunch of errands to run during the day, so the slow cooker allowed me to do all the things I wanted to do, all while cooking the first part of the dinner.
If you don't have a slow cooker:
·      Bake the chicken in a 400-degree oven for 30 minutes. Remove and shred the chicken.
·      In a large pot, heat up some oil and sauté your onion and peppers until soft (about 8 minutes) add in your buffalo sauce and cream cheese and stir/whisk together until incorporated.
·      In a separate sauté pan, cook your spinach until wilted.
·      In a bowl, add your shredded chicken and spinach and slowly, ladle in the desired amount of buffalo sauce mixture (don't overdo it otherwise it will be soggy!)
·      Roll the chicken in tortillas and bake as mentioned in the recipe below
Another option is to make the burritos smaller, and call then taquitos. Just use double the amount of tortillas, for the same amount of chicken (therefore, using less chicken in each burrito), and serve them as smaller taquitos!
OR…
You can also make these with smaller tortillas (taco sized – 6") and serve this as an appetizer! Cut them in half to make them even more finger-food friendly!
I liked mine served with sour cream and fresh sliced avocado!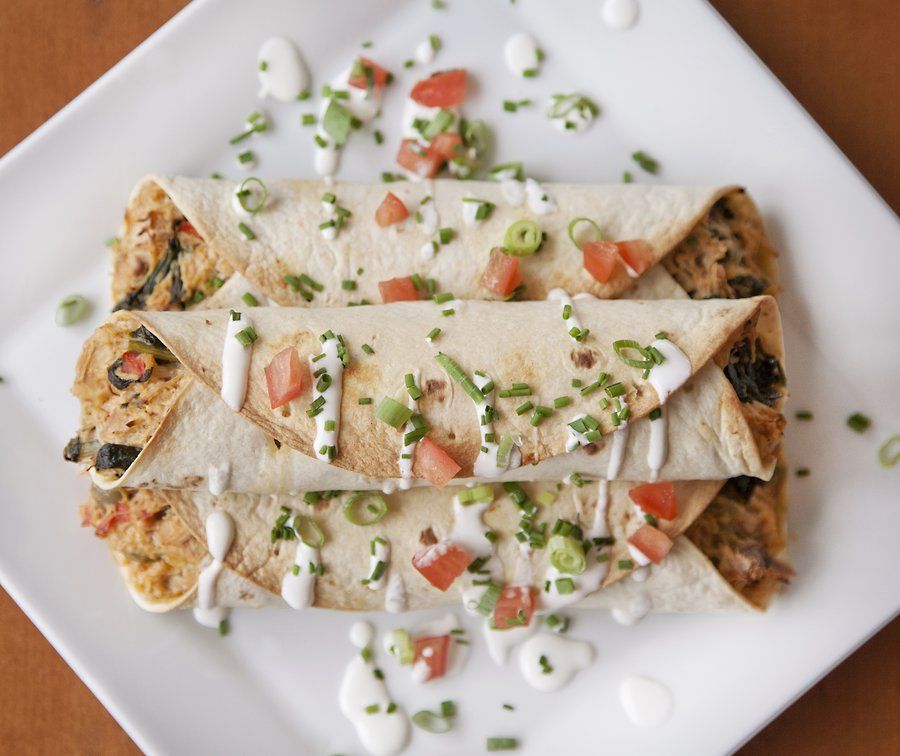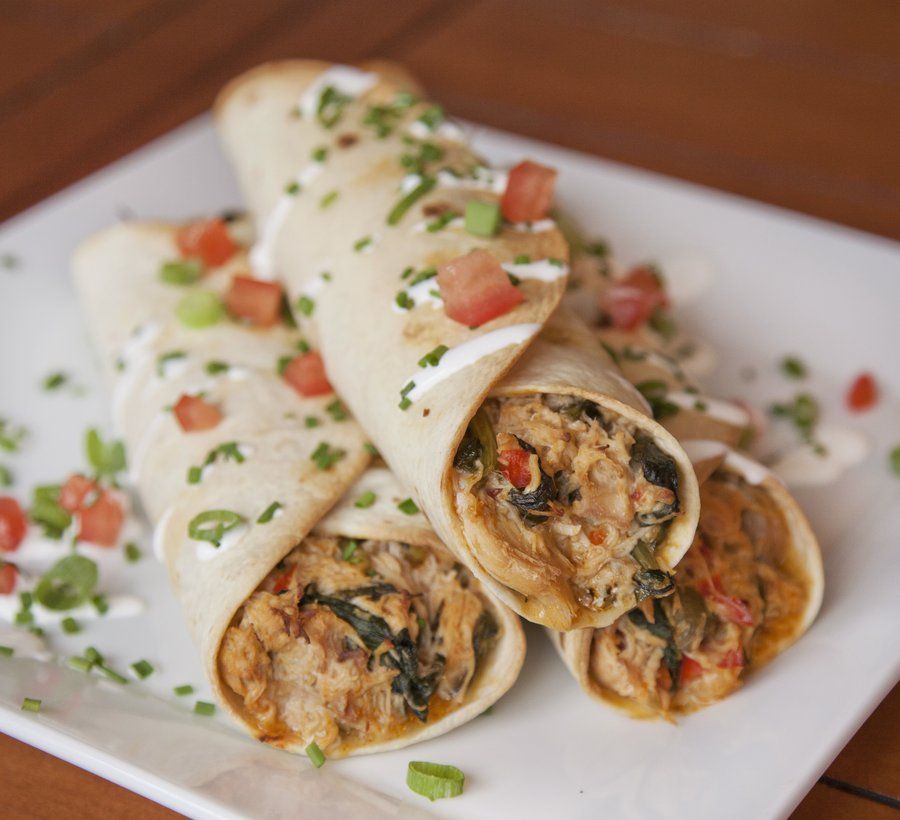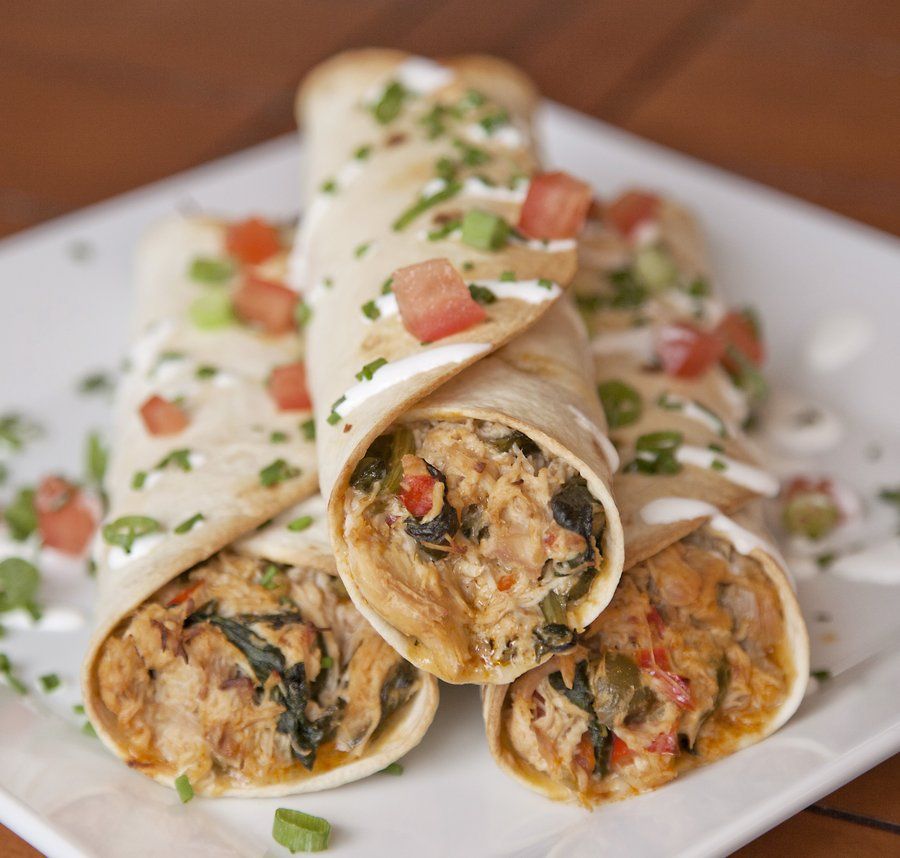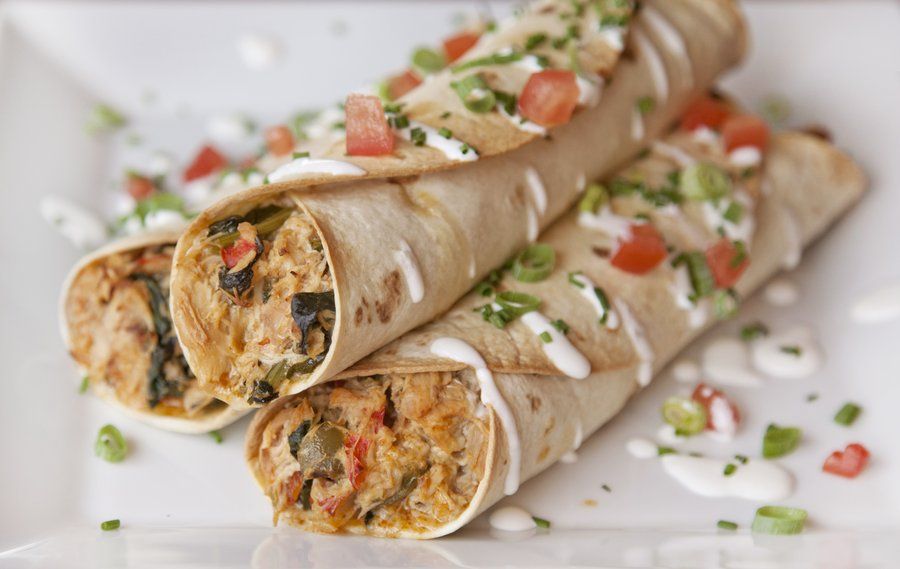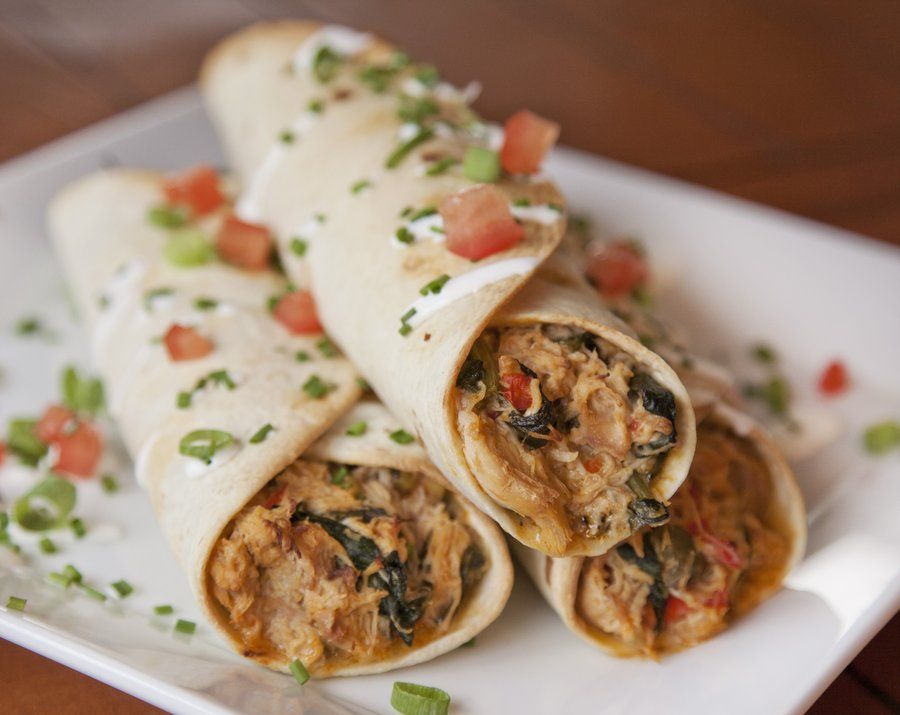 Baked Buffalo Chicken Burritos
Prep Time
---
15 Minutes

Cook Time
---
3 Hour 20 Minutes

Total Time
---
4 Hour 35 Minutes

Yield
---
Serves 2-4

Ingredients
2 lbs Boneless Skinless Chicken Thighs
4 oz Cream Cheese
2/3 Cup Frank's Red Hot, Buffalo Sauce
1/2 Onion (sliced thin)
1 Cup Red and/or Green Bell Peppers (diced small)
4 Cups Fresh Spinach Leaves
4 8" Flour Tortillas
Sour Cream (to serve with)
1 Avocado (sliced thin as a garnish)
---
Directions
In your slow cooker, combine your chicken, cream cheese, buffalo sauce, onion and peppers. Cook on low for 2 hours and 45 minutes. At this point, remove your chicken from the slow cooker and shred with 2 forks. Place the chicken back in the slow cooker and add in your spinach and cook another 15 minutes.
Preheat your oven to 375 degrees. Have a sieve sitting over a large bowl and pour all the contents of your slow cooker through the sieve, allowing the juices to collect in the bowl underneath.
Place a wire rack on a baking sheet. Taking one tortilla at a time, place the chicken mixture into the tortilla, and spoon a little of the drained juice from the bowl on top (*you don't want it too liquid, so only use a little.) Roll up the tortilla and secure with toothpicks. Place on the wire rack. Repeat this step with 3 more tortillas.
Bake in the oven for 20 minutes - serve with sour cream and sliced Avocado.