I realize the name of this dish, Artisan Cheesesteaks, sounds a little hoity, however it is anything but! Last night I was craving meat, cheese and bread and my first thought was a Cheesesteak. I have only had 1 legitimate Cheesesteak in my life (legitimate meaning, from one of Philly's top Cheesesteak places), and I know that the classic cheesesteak is made with Cheese Whiz. Cheese Whiz is up there with the condiments I will never, EVER buy for fear of entering some kind of merciless chef shunning - so this is kind of where the idea of my "Artisan" Cheesesteak came in. I decided to make this cheesesteak with some more French techniques and flavors (making a Mornay Sauce and using thyme with my caramelized onions).
It was a super satisfying meal, but not exactly like what you'd get in Philly at a famous Cheesesteak joint. This dish was more of a classy steak sandwich… maybe I should have just named it that…? But there's no fun in calling something a "steak sandwich" when you can make a joke at your own culinary expense.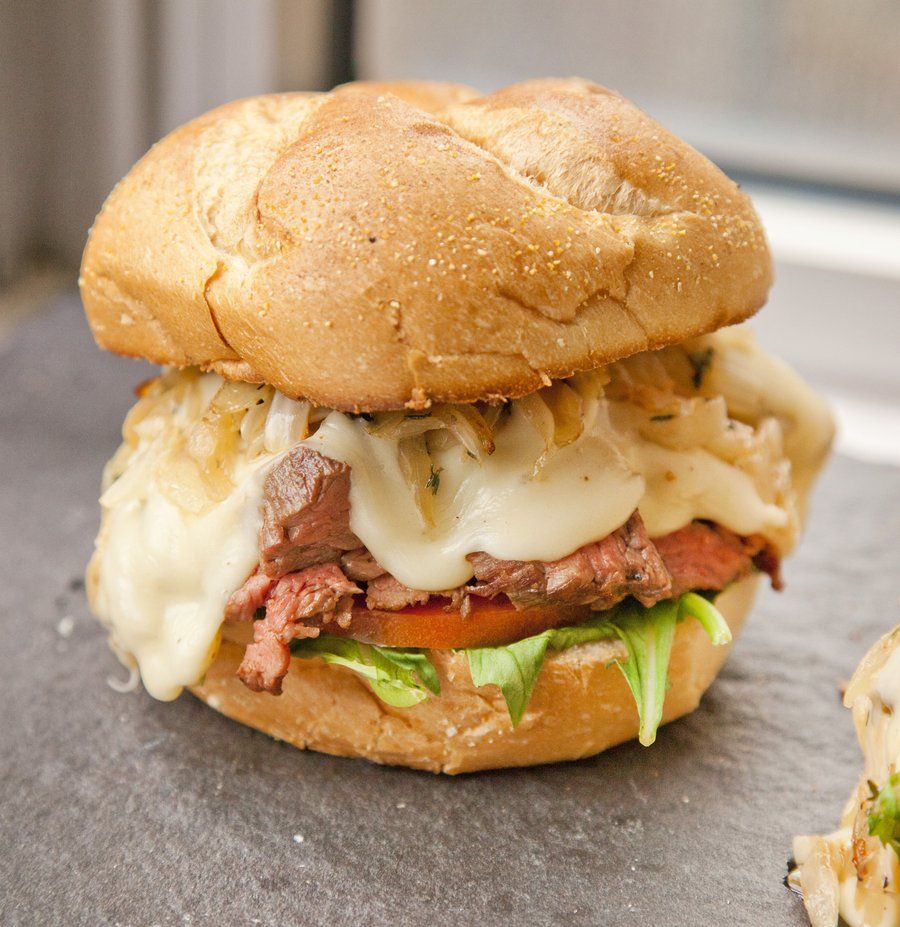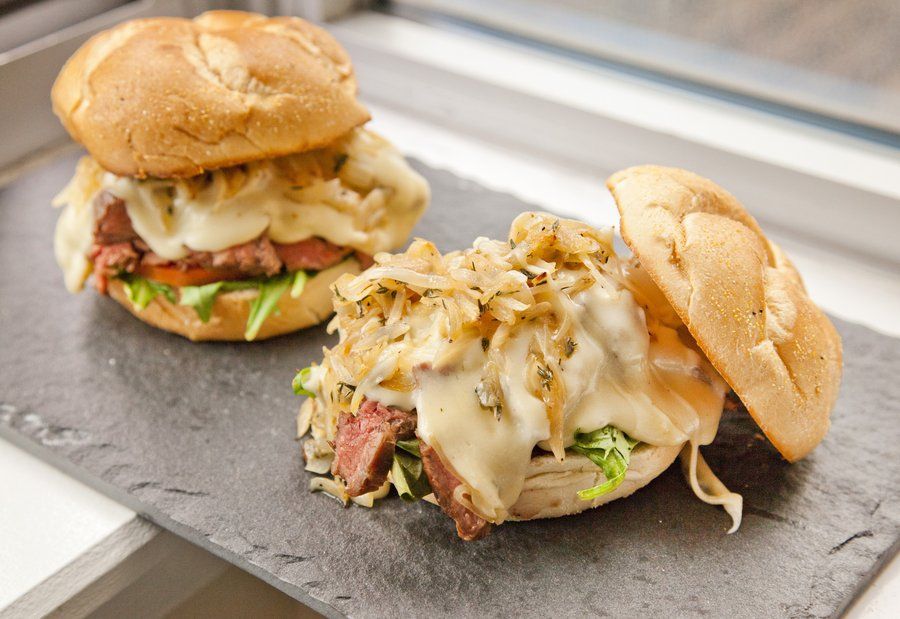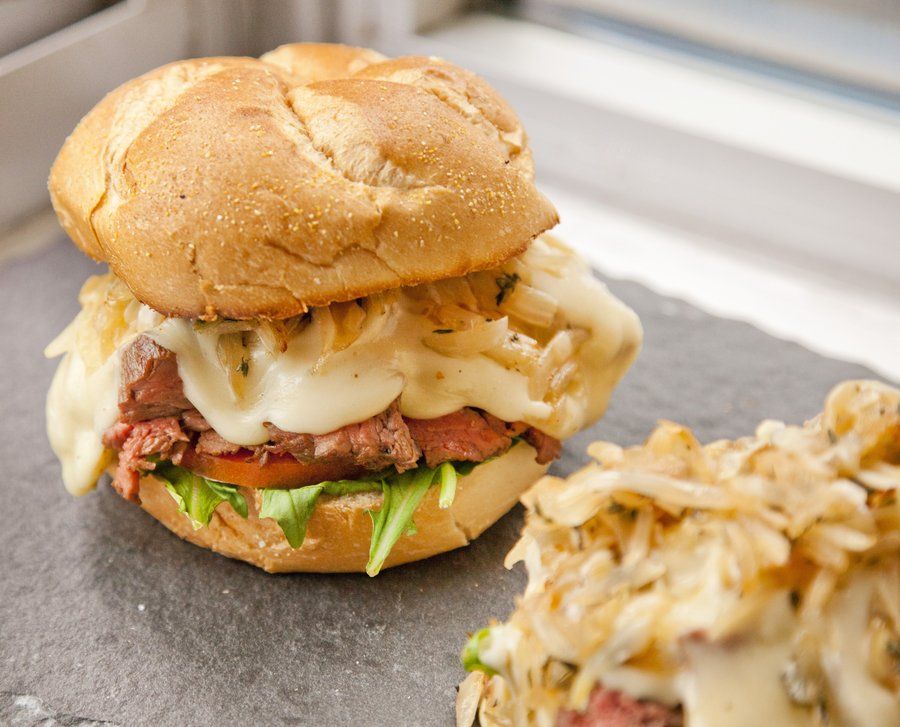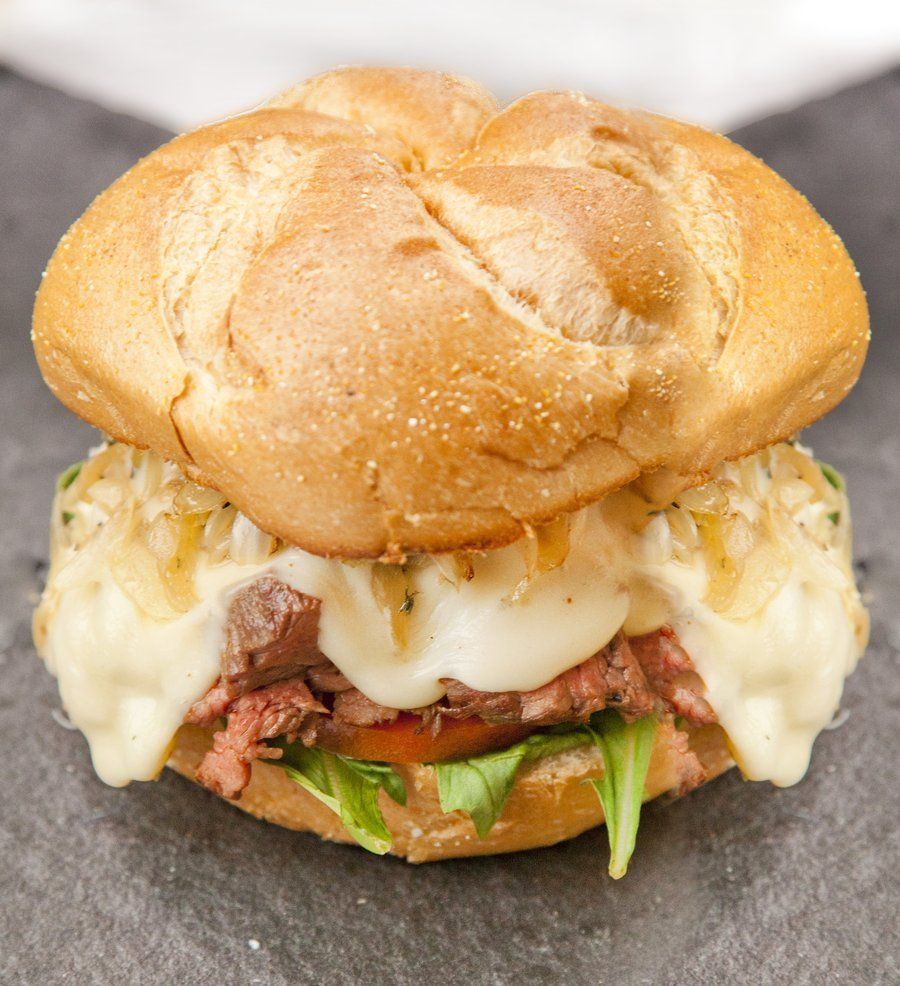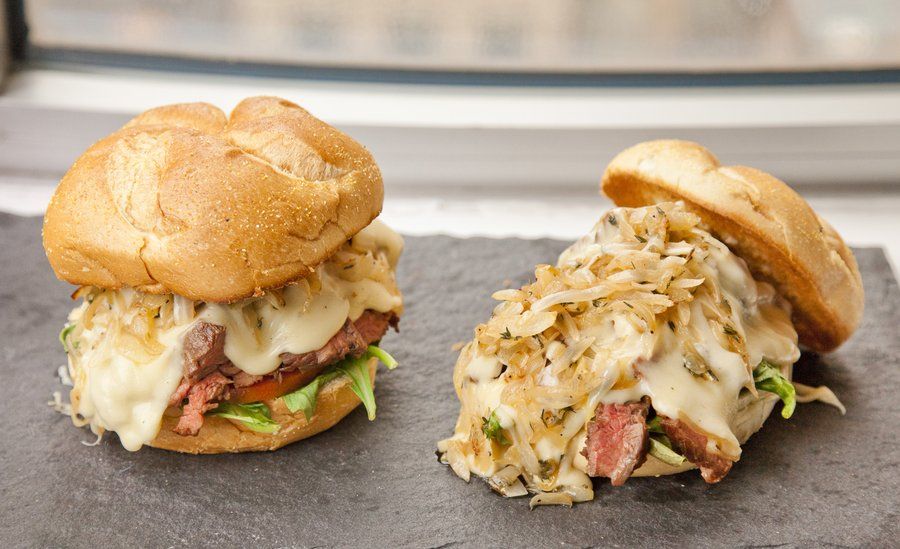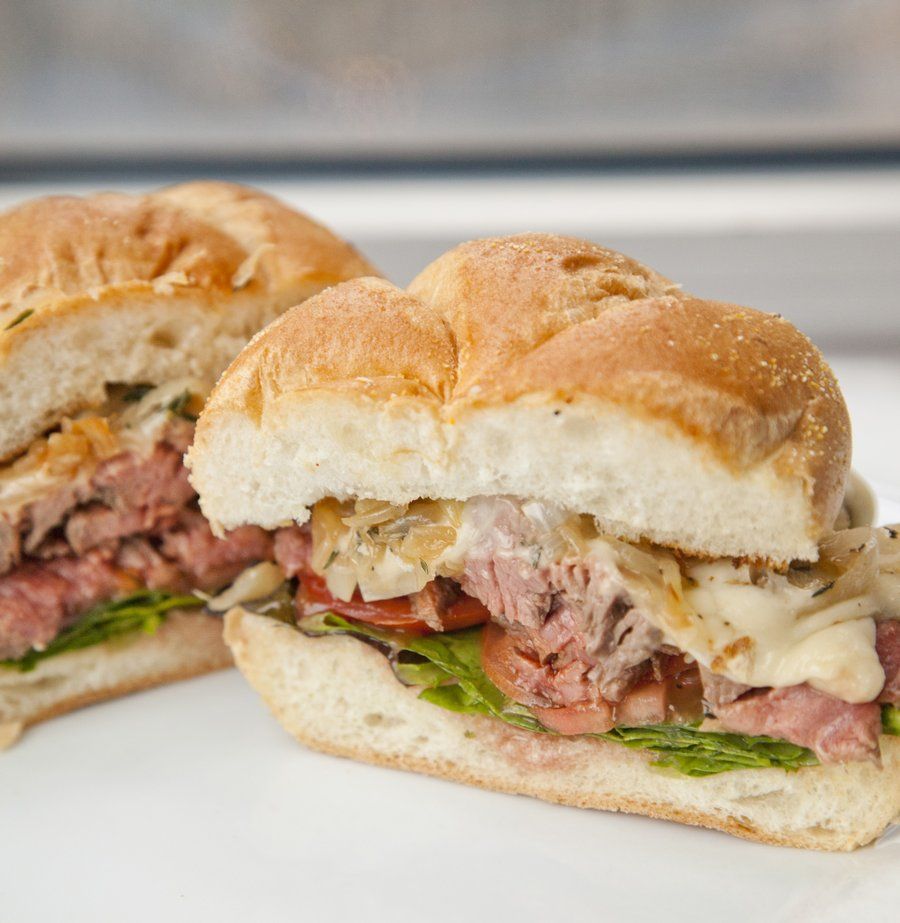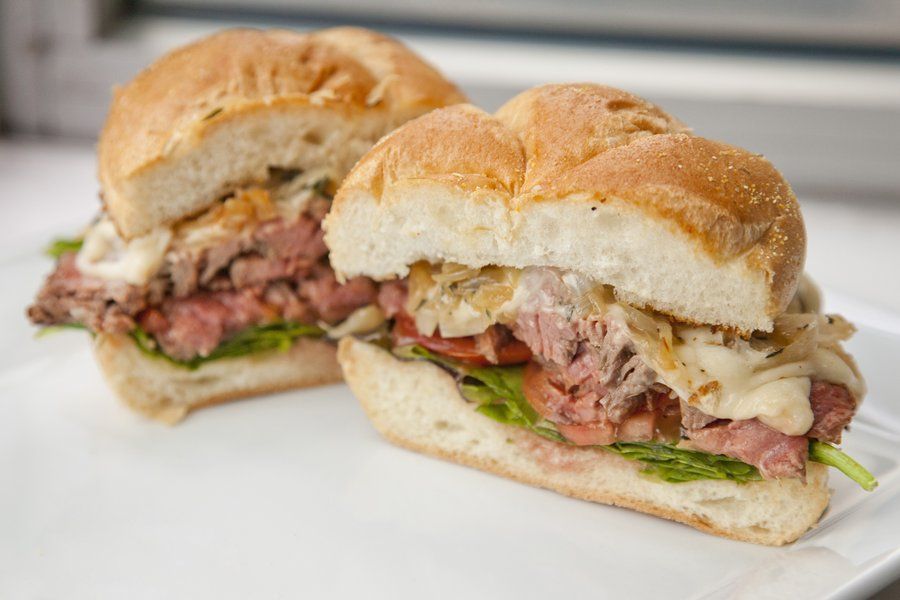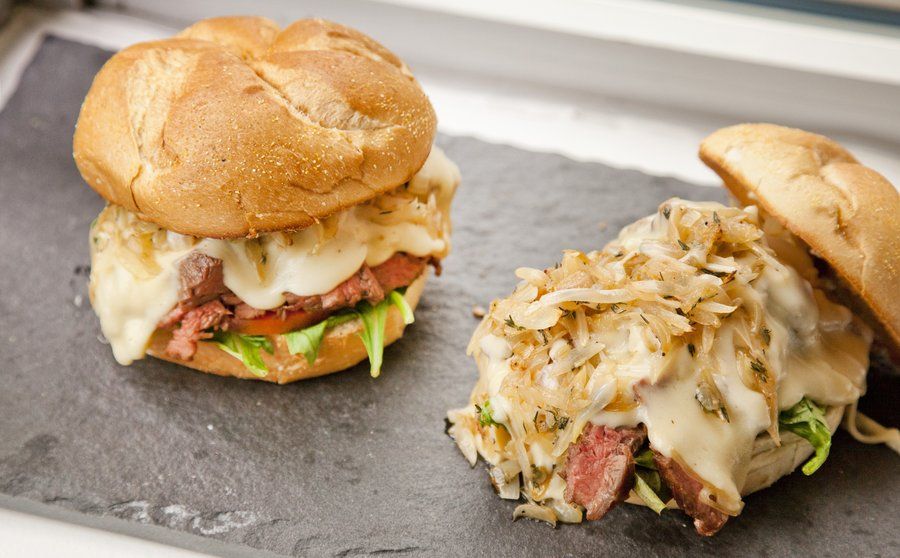 Artisan Cheesesteaks
Prep Time
---
10 Minutes

Cook Time
---
30 Minutes

Total Time
---
40 Minutes

Yield
---
Serves 2

Ingredients
2 T Butter (divided)
1/2 Onion (sliced thin)
1/2 Teaspoon Canola Oil
1 Teaspoon Thyme (leaves only)
1 Pound Flank Steak
Salt and Pepper
Smoked Paprika
1 Tablespoon Flour
1/2 Cup Milk
3/4 Cup Cheddar Cheese (shredded)
Pinch Nutmeg
2 Sandwich Rolls
Lettuce Leaves
Tomato (sliced thin)
---
Directions
First caramelize your onions: in a medium saute pan combine 1 tablespoon of butter and 1/2 teaspoon of canola oil - place over a medium high heat. Once hot, add in your onions and thyme and cook on a medium heat for about 15 minutes - stirring frequently. Remove from heat and set aside.
Now cook your steak. Season the steak on both sides with salt, pepper, and smoked paprika - and carefully score each side lightly in a cross hatch pattern to prevent buckling. Heat up a metal skillet til it's almost smoking. Add your steak in a cook on each side 3-4 minutes. Remove from skillet and let rest on a cutting board for 10-15 minutes.
While the steak is resting, make your cheese sauce. In a small saucepan, add your other tablespoon of butter in. Once melted, add your flour all at once, stirring together to make a roux. Cook for about 2 minutes over a medium high heat, then slowly whisk in your milk. Cook for about 1 minute until it starts to thicken. Add in your cheese and nutmeg and remove from heat. Stir together til the cheese melts - taste and season with salt.
Now it's time to assemble! Carve up your steak, against the bias, into super thin slices. Put your broiler on HI. Place your 2 rolls (halfed) on a sheet tray. On the bottom half of the roll add your lettuce and slices of tomato. Add your steak on to the top, then top with the cheese and then the caramelized onions. Bake under the broiler for 1-2 minutes (with the top of the bread off the sandwich to toast) . Serve hot.