I will preface this blog post by saying, that if I ever own a restaurant, this dish will be on the menu.
I was originally inspired to make pizza with Prosciutto and Artichokes when I saw a post on Instagram for a Pizza, topped with cooked Prosciutto, and an Artichoke Aioli. From that, I came up with a White Pizza (meaning, no tomato sauce), Prosciutto (not cooked, because cooked prosciutto grosses me out to no end), and Fried Artichoke Hearts on top. I also knew the pizza needed an element of sweet, and I have this Truffle Honey I've been dying to use, and knew this was the perfect application. Well....spoiler alert: this pizza was INCREDIBLE.
Before we get into the specifics, if you're going to recreate this recipe, I insist you copy it to a tee. Everything from my choice of cheeses, to herbs was done specifically to create the kind of taste it did. You need the melty Mozzarella combined with the Umami of the Pecorino. The garlic powder adds a ton of flavor and the course ground black pepper gives the spice. The addition of the artichokes fried not only adds a great kind of brine-y flavor, but the crunch is so satisfying to bite down on. Of course, anything with prosciutto on top is always going to be delicious, and to counter balance it's saltiness, the honey was the perfect element.
I previously stated how cooked Prosciutto grosses me out and that's because, the color it takes on when cooked in an application like this is truly unappetizing. I think prosciutto, as is, is perfection, and should not be tampered with. (this is me getting off my prosciutto soap box now)...
My husband was in charge of making the dough, using the techniques of Ken Forkish and his book, Flour Water Salt Yeast (which has become a quarantine bible of sorts around here).
You can feel free to use store bought pizza dough, or your own recipe! I also highly suggest getting yourself a pizza stone if you don't already own one -it's what will give your dough the most pizzeria-like texture and cook without the industrial pizza oven.
As for the last element, the Truffle Honey - I'm not usually a honey or truffle fan for that matter, but oh. em. gee. This is really what tied the whole dish together. You get sweet, salty, brine-y, decadence in each bite and I plan on making this a staple in my cooking repertoire.
Enjoy!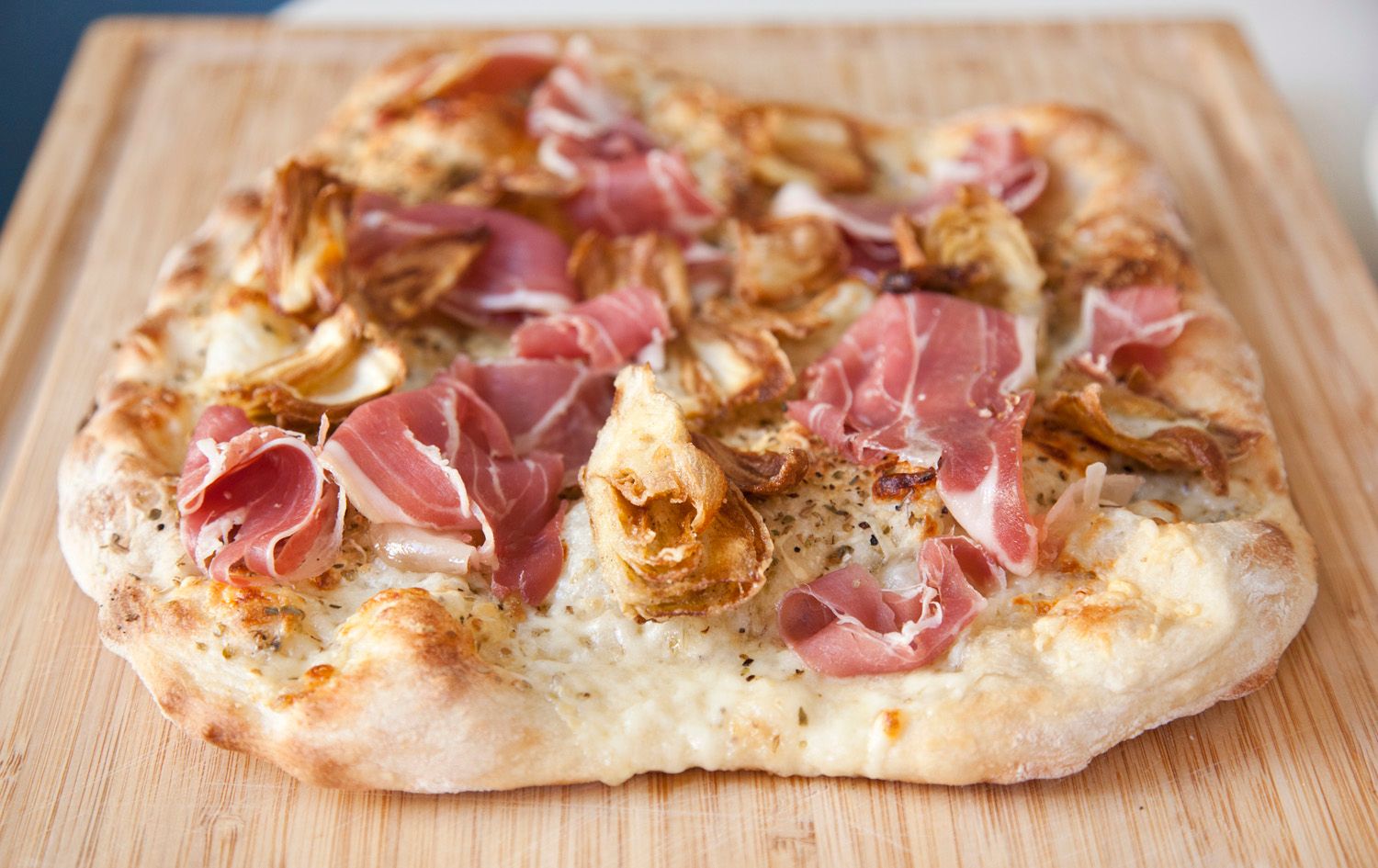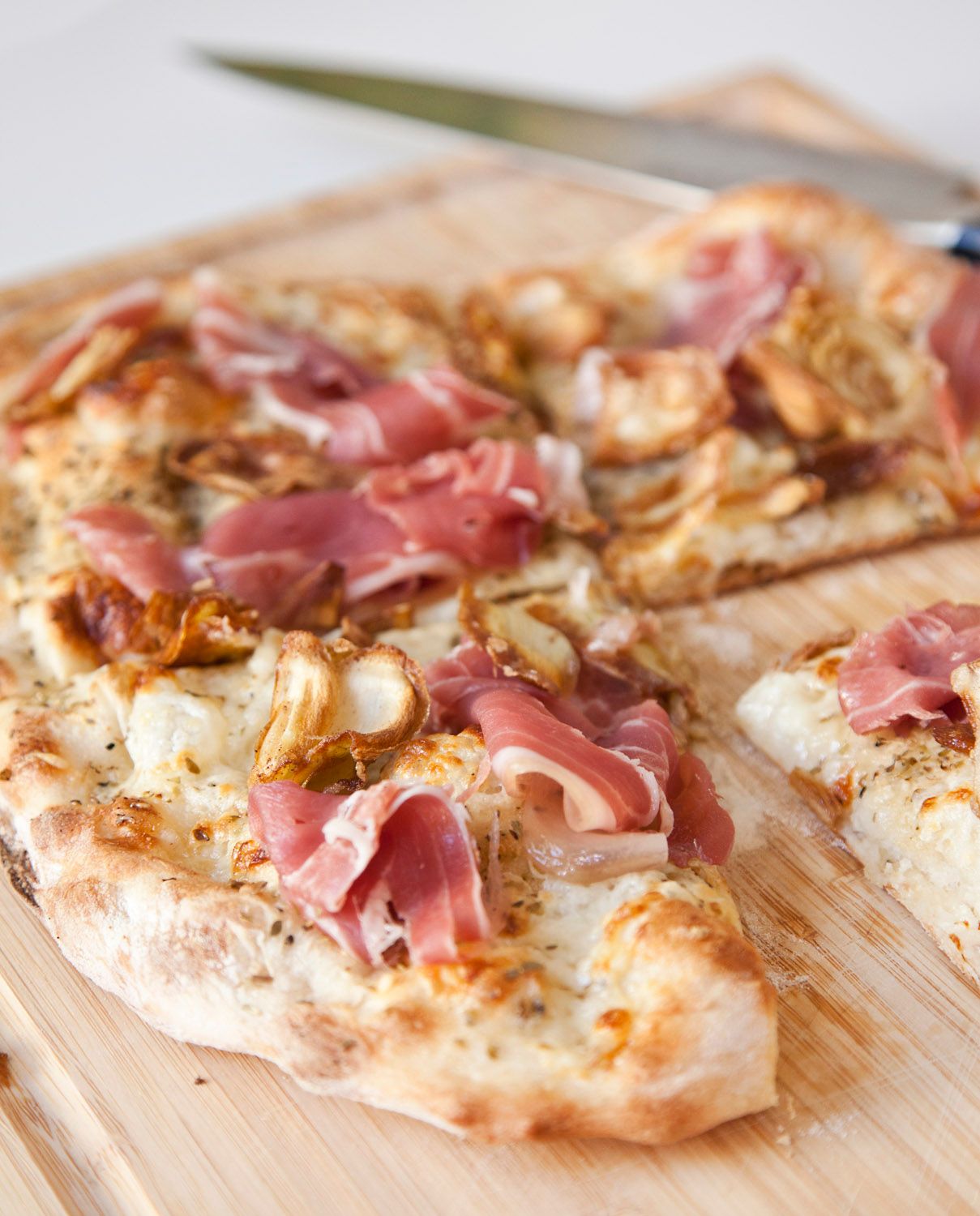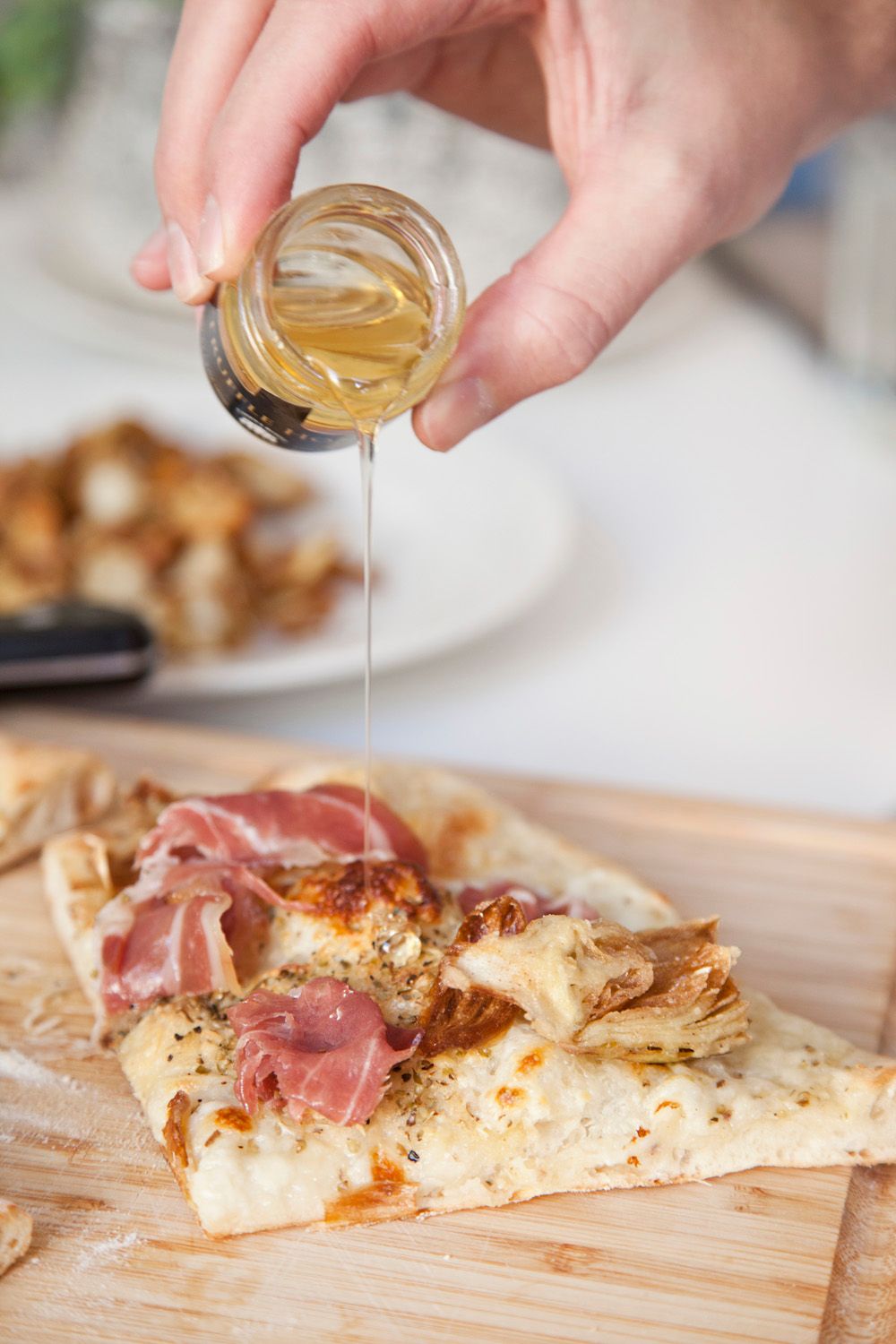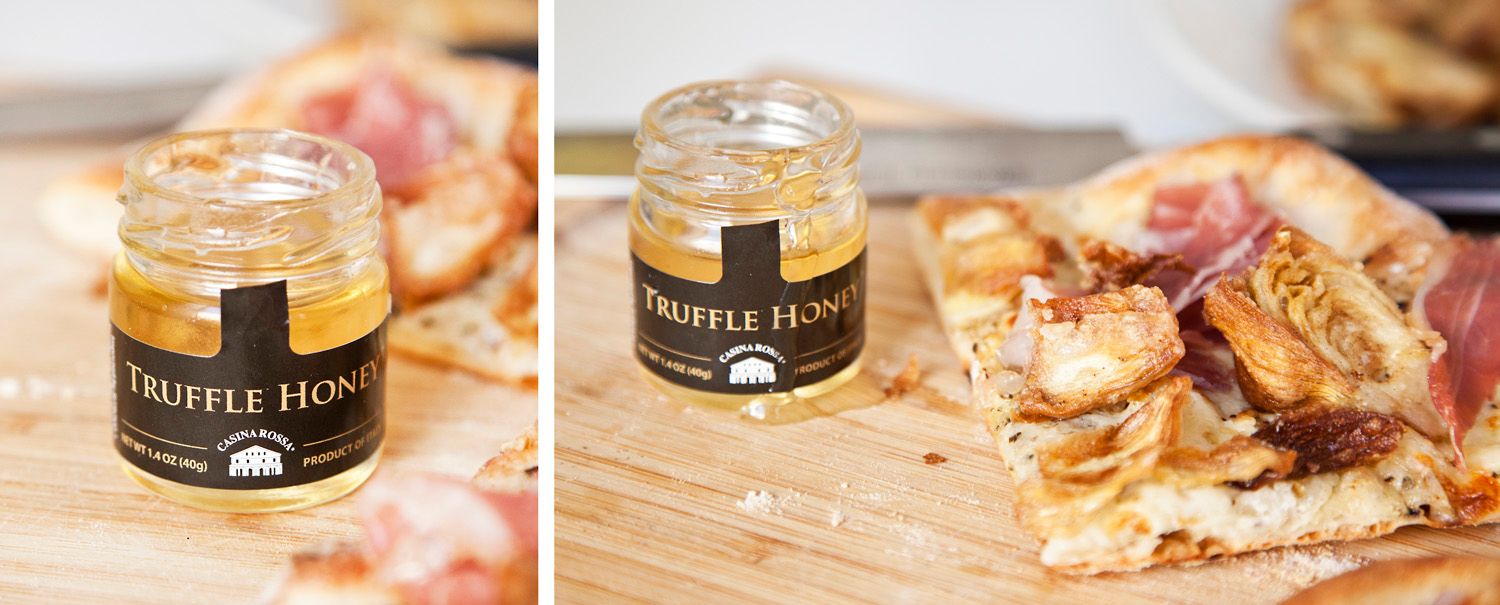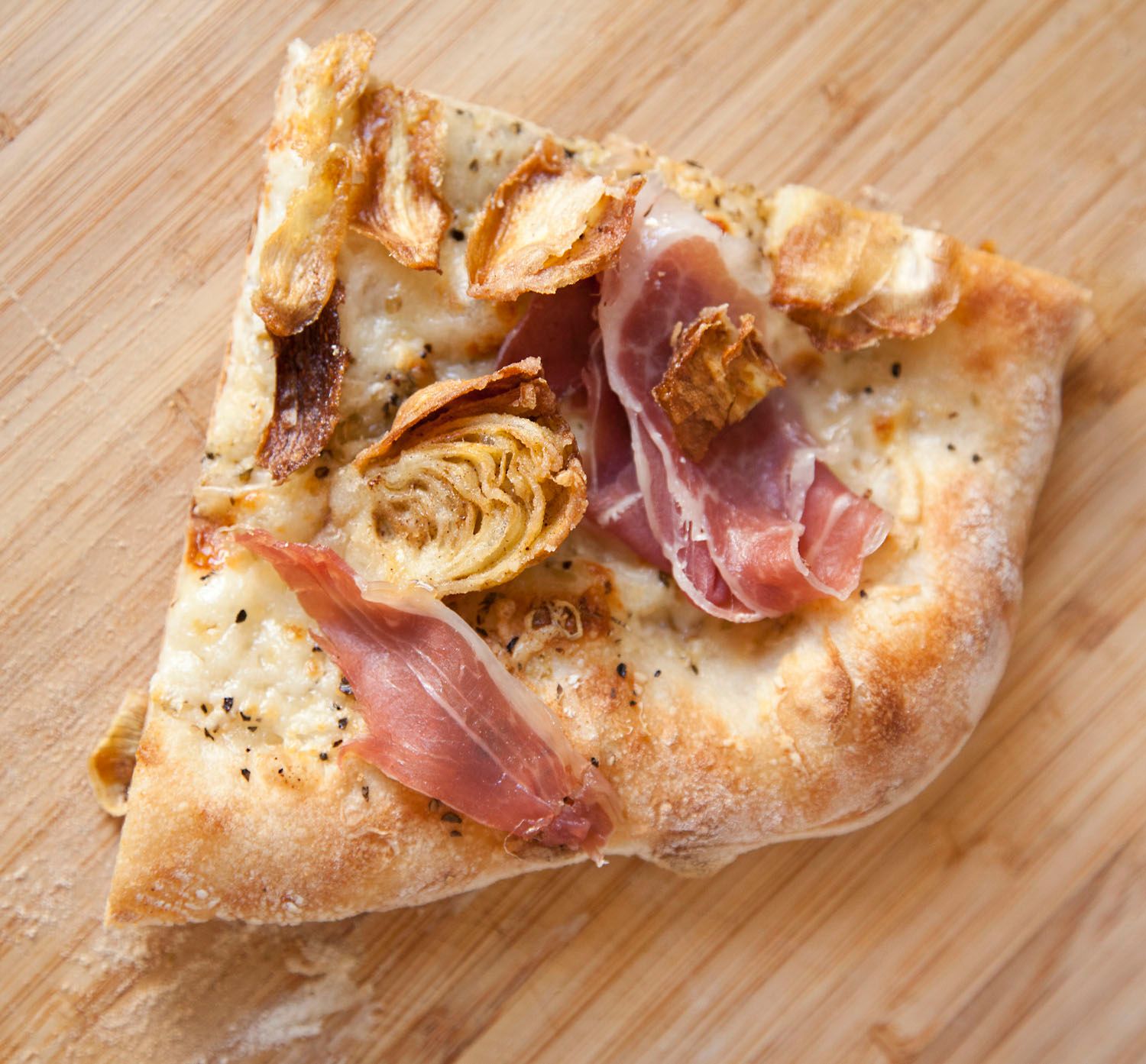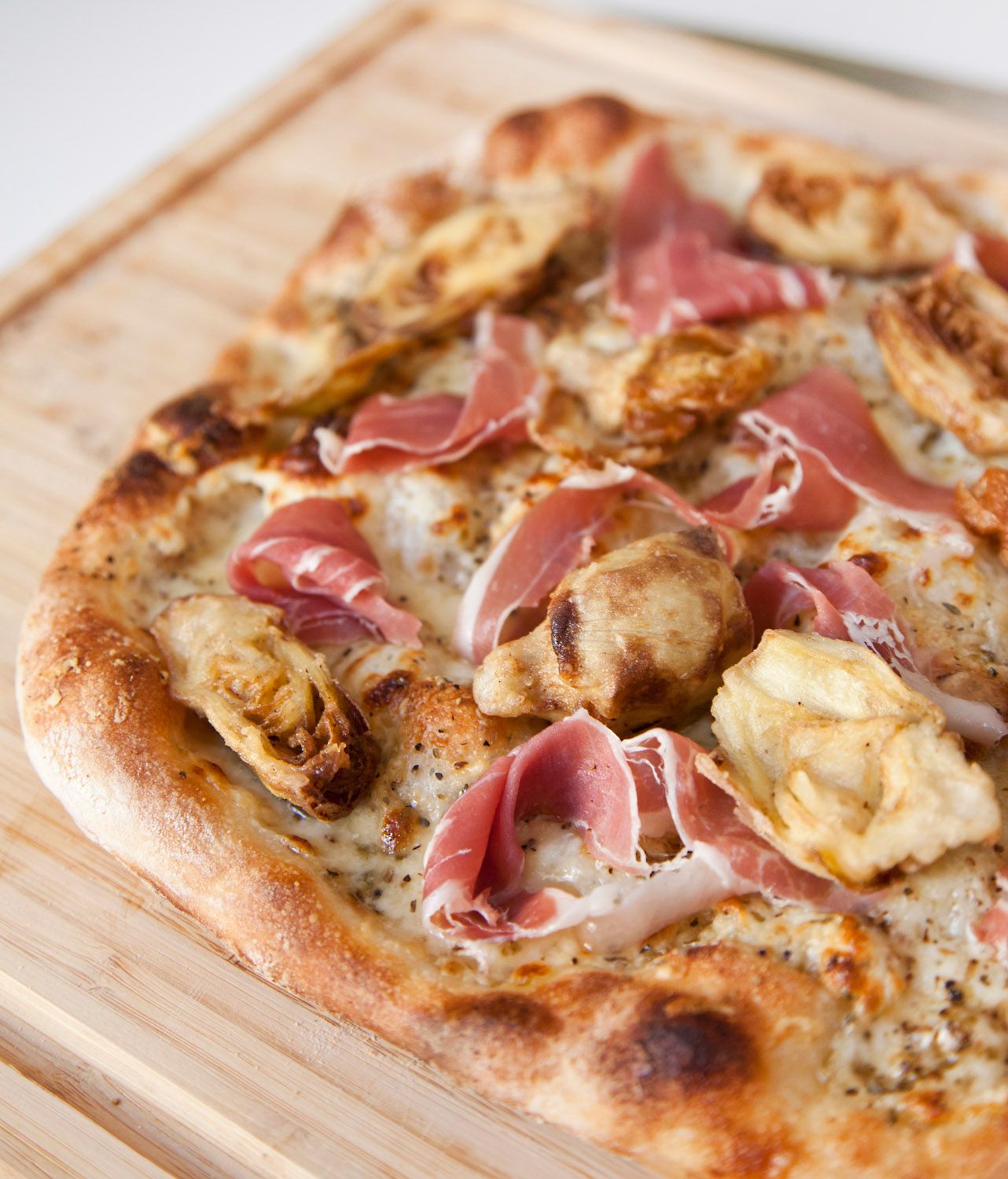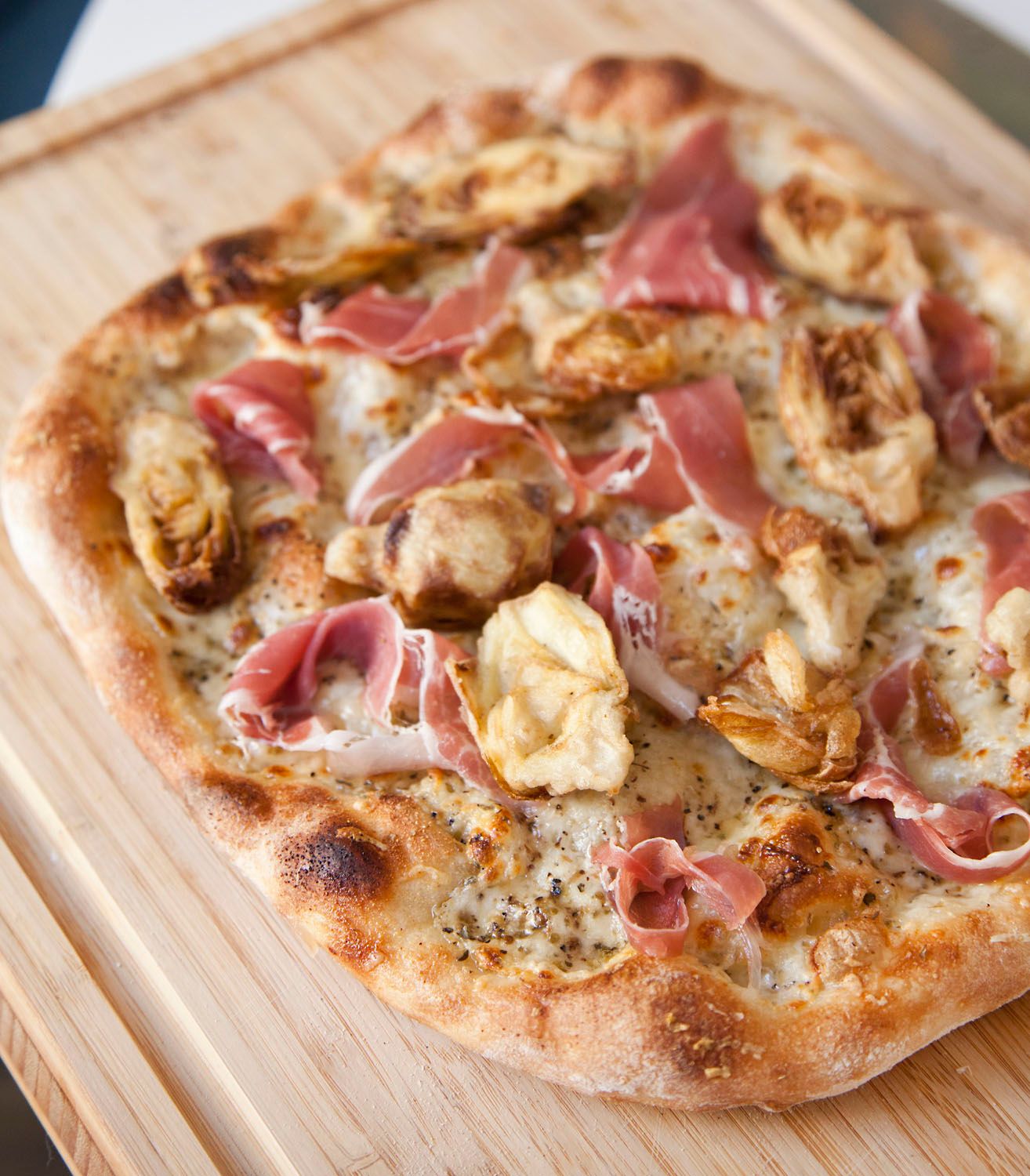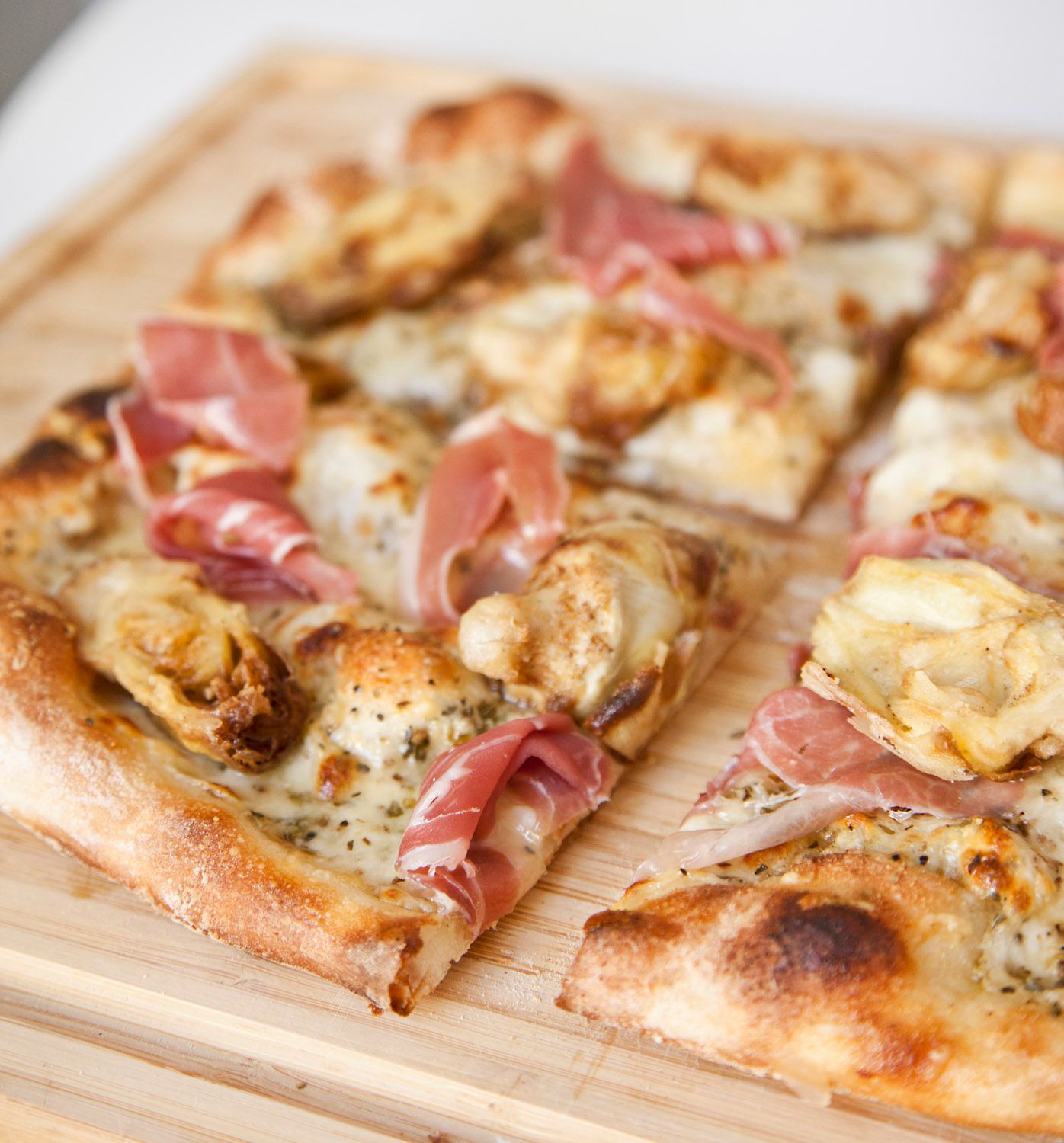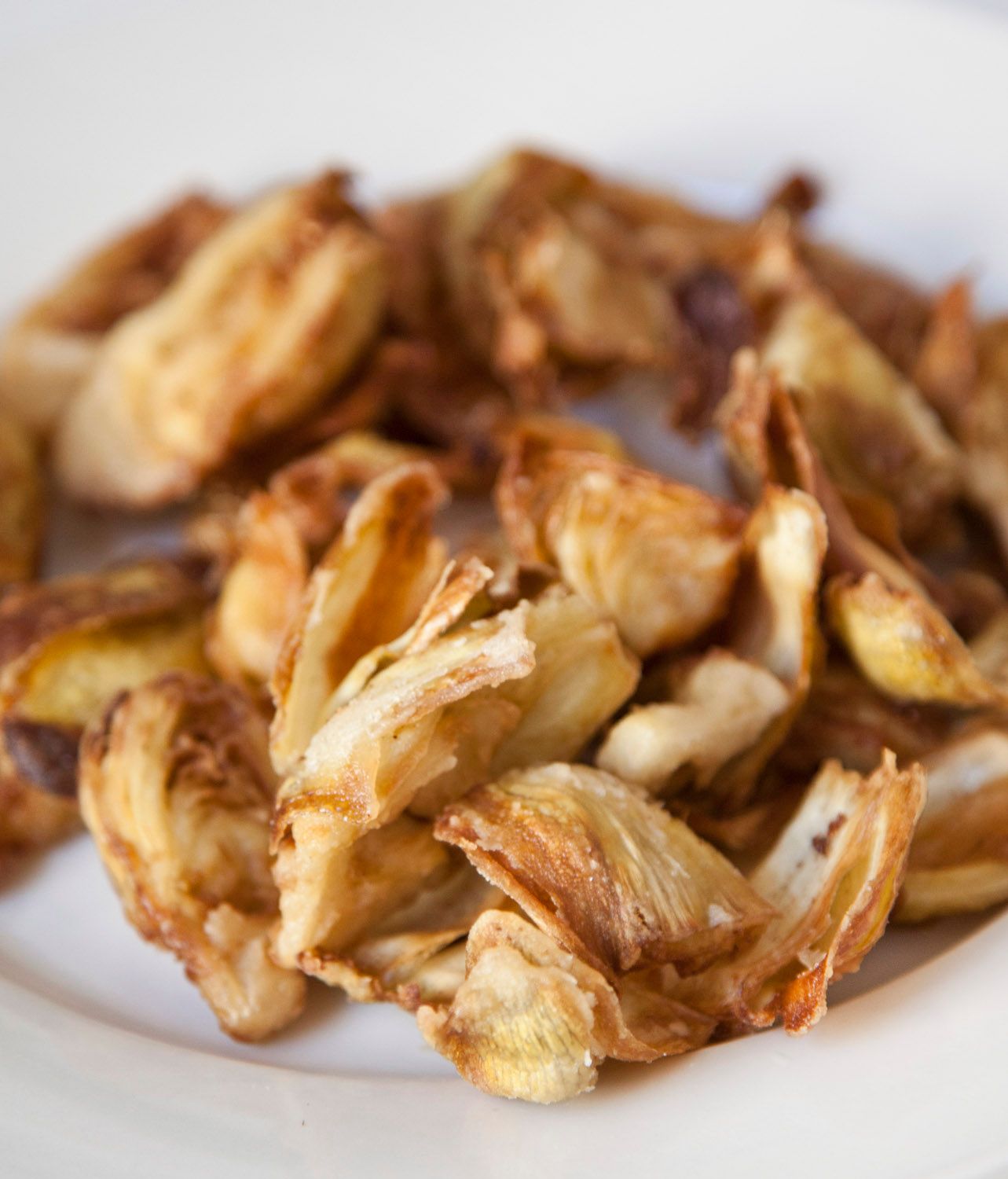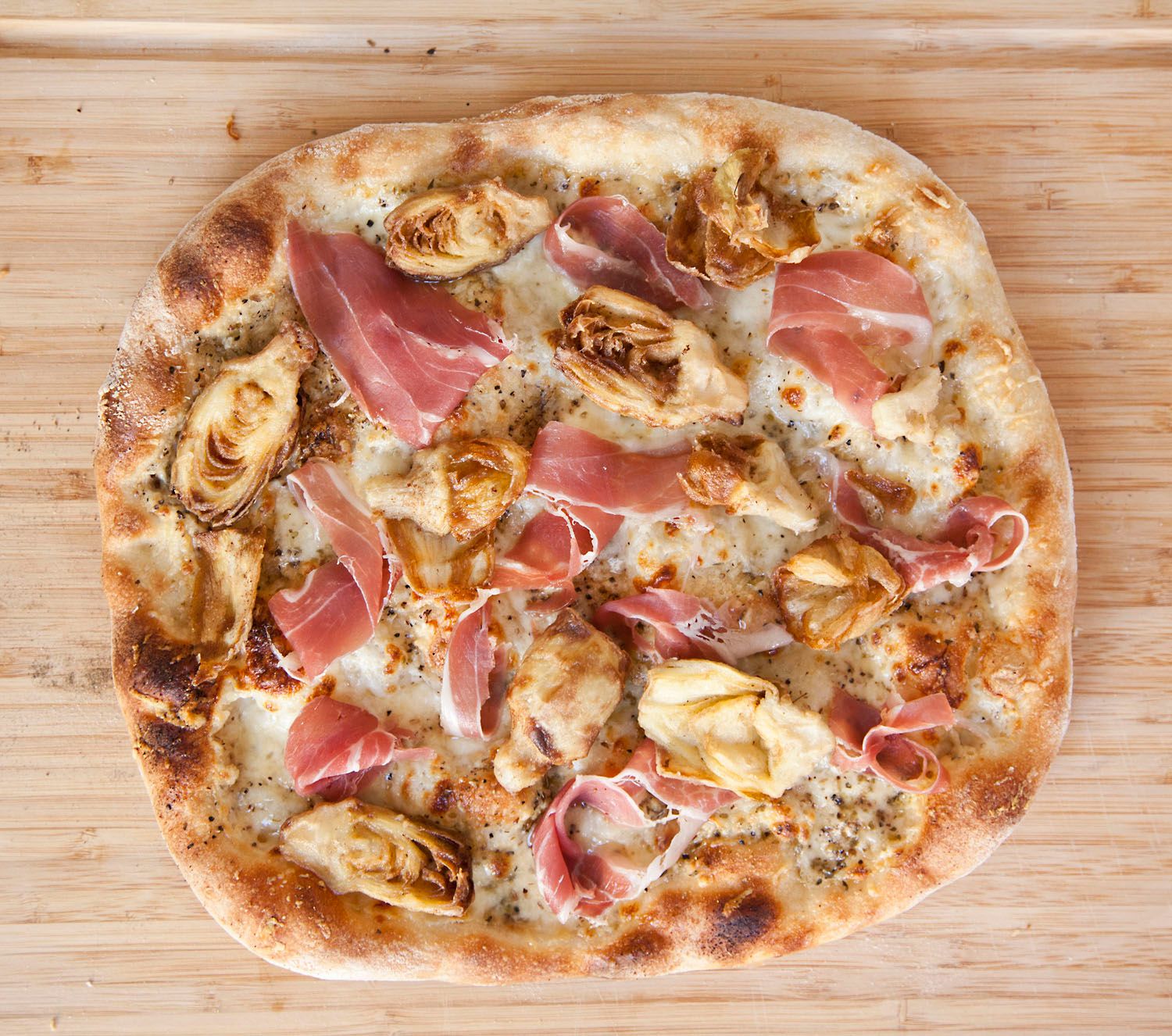 White Pizza with Prosciutto & Fried Artichokes
Prep Time
---
45 Minutes

Cook Time
---
8 Minutes

Total Time
---
53 Minutes

Yield
---
Makes 2, 15" Pizzas

Ingredients
2, 12oz Pizza Dough Balls
14 oz Can Whole Artichoke hearts, drained and rinsed
1/2 cup All Purpose Flour, plus extra for dusting
Salt
8 ounce Ball of Mozzarella, sliced thin
3/4 cup Pecorino Romano, grated
2 teaspoons Garlic Powder
1 teaspoon Course Ground Pepper
1 teaspoon Dried Oregano
1/3 pound Prosciutto San Daniele
Truffle Honey
---
Directions
Note: this makes two pizzas - so divide the cheeses and spices evenly between each pizza!
Preheat your oven to 525 degrees with your pizza stone in it. Make sure the stone is placed 8 inches from your broiler. Once the oven has reached 525 degrees, leave your pizza stone in there for 30 extra minutes to heat up.
While the pizza stone is heating, cut up your artichoke hearts into quarters. You also can rip off a few of the layers of the artichoke hearts so that you have some different shaped pieces. Toss your artichoke hearts in the flour and shake off any excess.
Heat up a medium sized pot with 3 inches of canola oil to 360 degrees. In batches, fry up your artichokes for 2-3 minutes or until golden brown. Remove the artichokes from the oil with a slotted spoon and place on a paper towel lined plate. Immediately season with salt. Set aside.
Once your pizza stone has heated in the oven for the full 30 minutes, it's time to assemble your pizza.
Prepare a pizza peel or cutting board by generously flouring the surface
Stretch pizza between your knuckles, gradually spreading until it reaches desired diameter
Apply the cheeses to the dough as desired (I like to place the mozzarella in random spots to give it a rustic feel, and then I sprinkle the Pecorino over it in an even layer). Add the black pepper, organo and garlic powder evenly over the whole pizza.
Transfer the dough into the oven by sliding from the peel/cutting board onto the pizza stone. A flick of the wrist helps the process without disrupting topping placement.
Bake at 525 degrees for 5 minutes. Change oven to Broil and cook another 2-3 minutes.
Remove from oven with tongs. Top with your prosciutto and Fried Artichoke Hearts. Drizzle with Truffle Honey and serve immediately.