I am well aware that last week I blogged my Chicken Flautas, but because they were such a big hit in both my house, and on the internet, I decided to try out a different version of these delicious little treats. So last night I hoped to appeal to the vegetarian audience, or to people who may want a night off of meat for a change.
These Vegetarian Flautas were quick and easy to make - with basically little to no prep. The Avocado Cream was delicious as well - it also paired great with tortilla chips as a dip!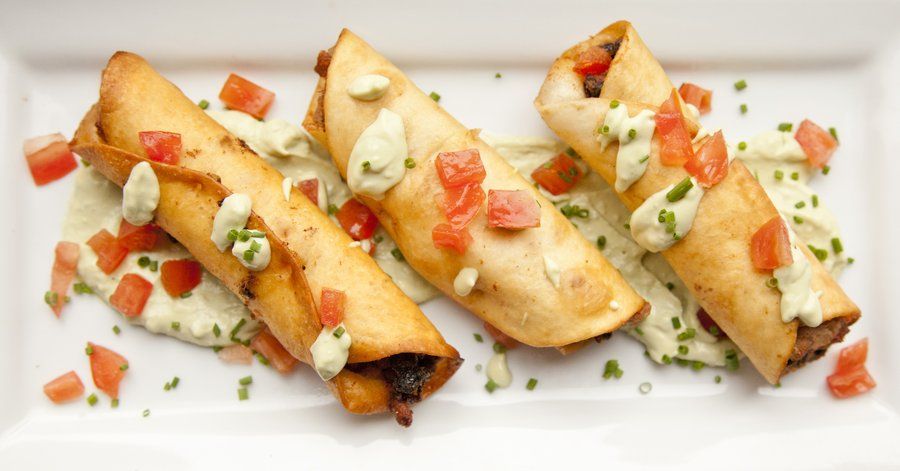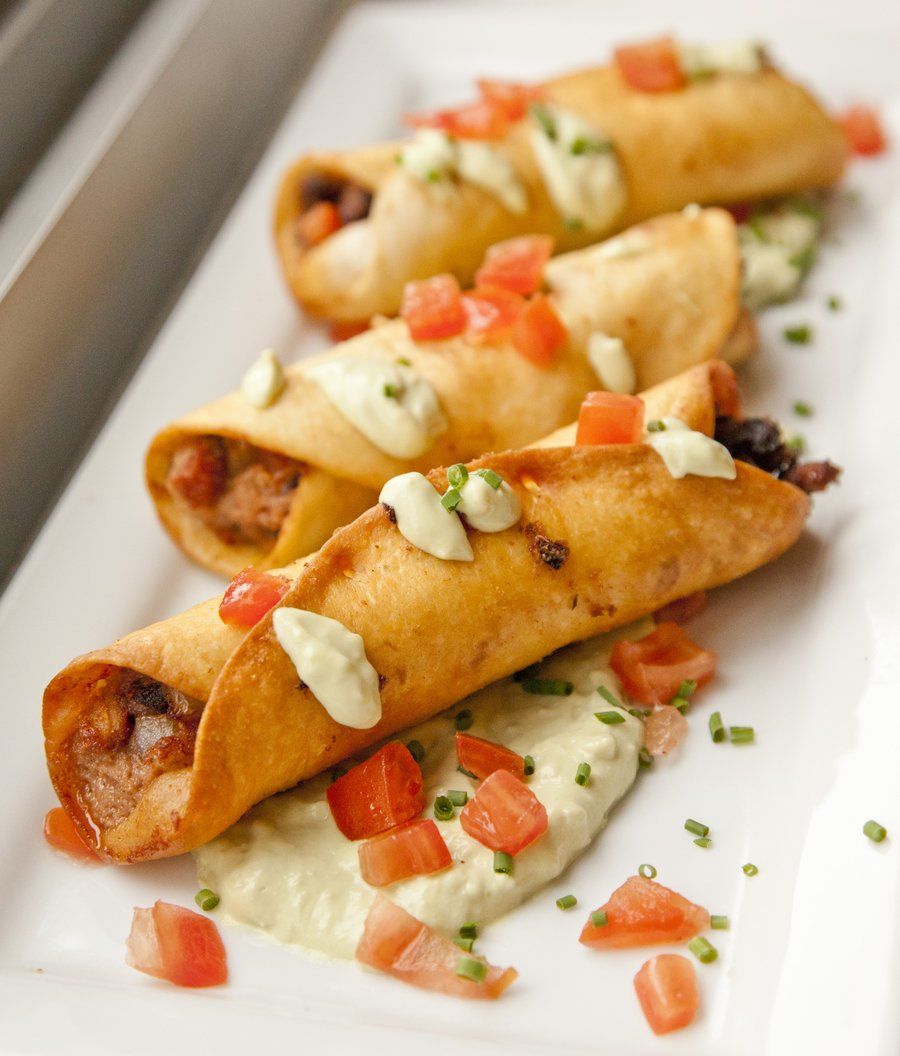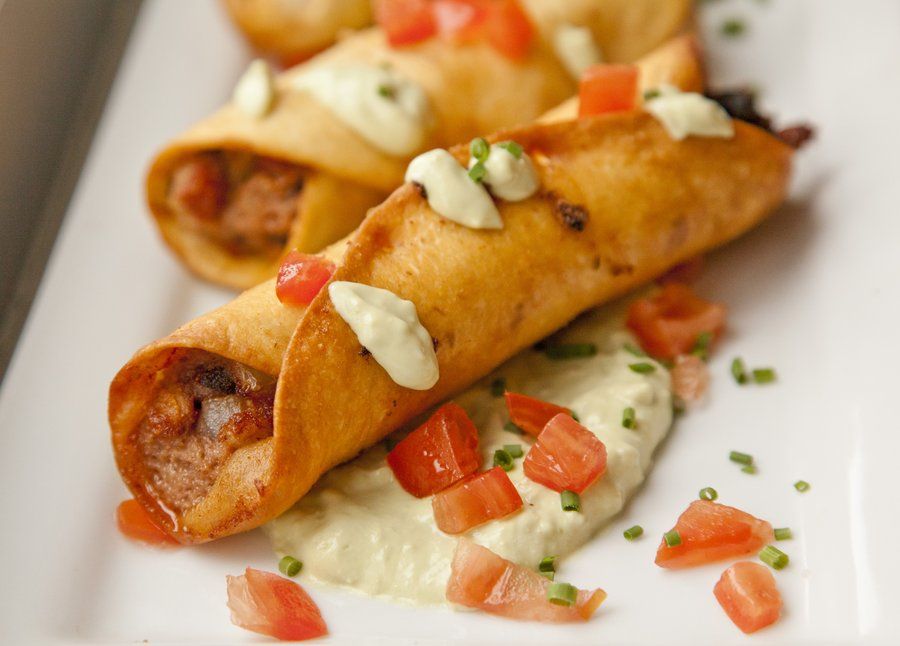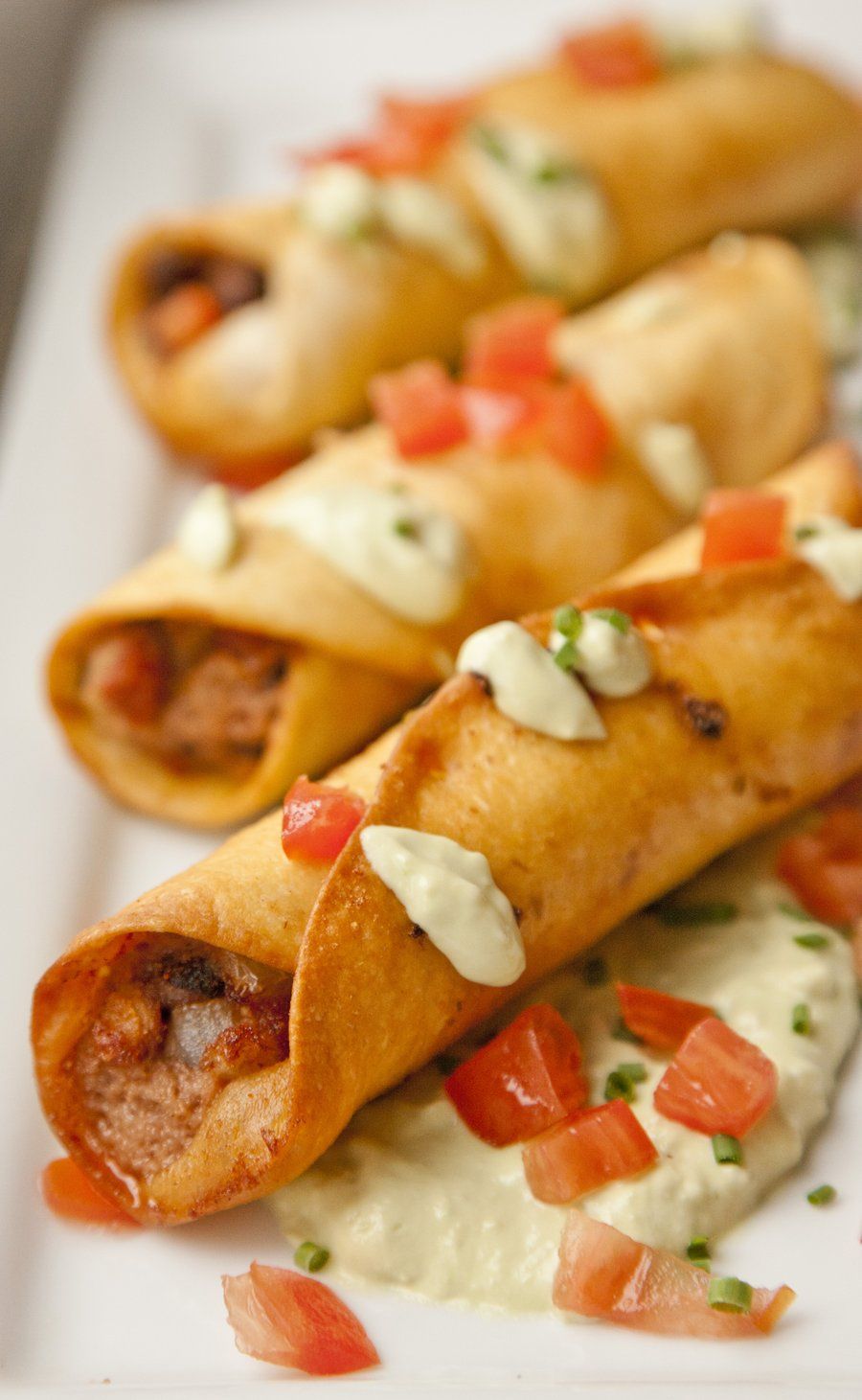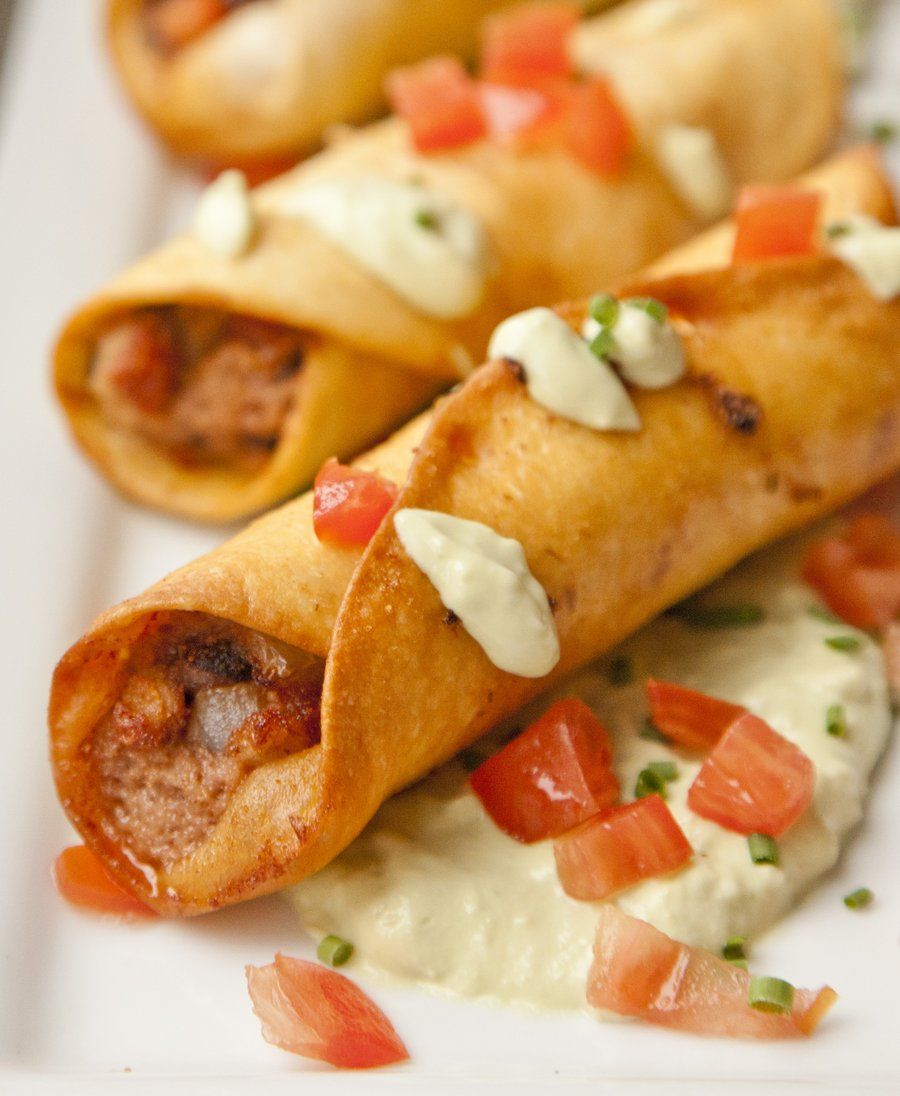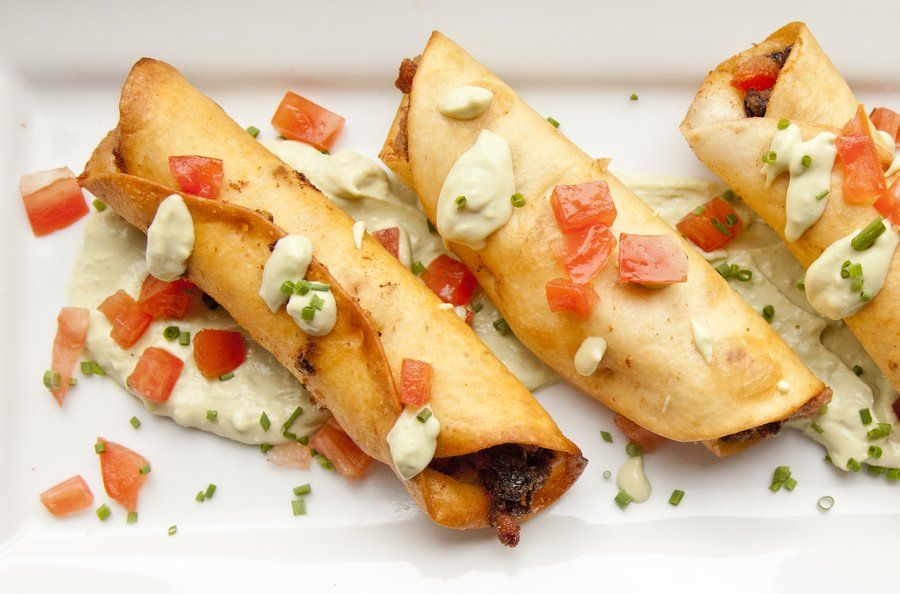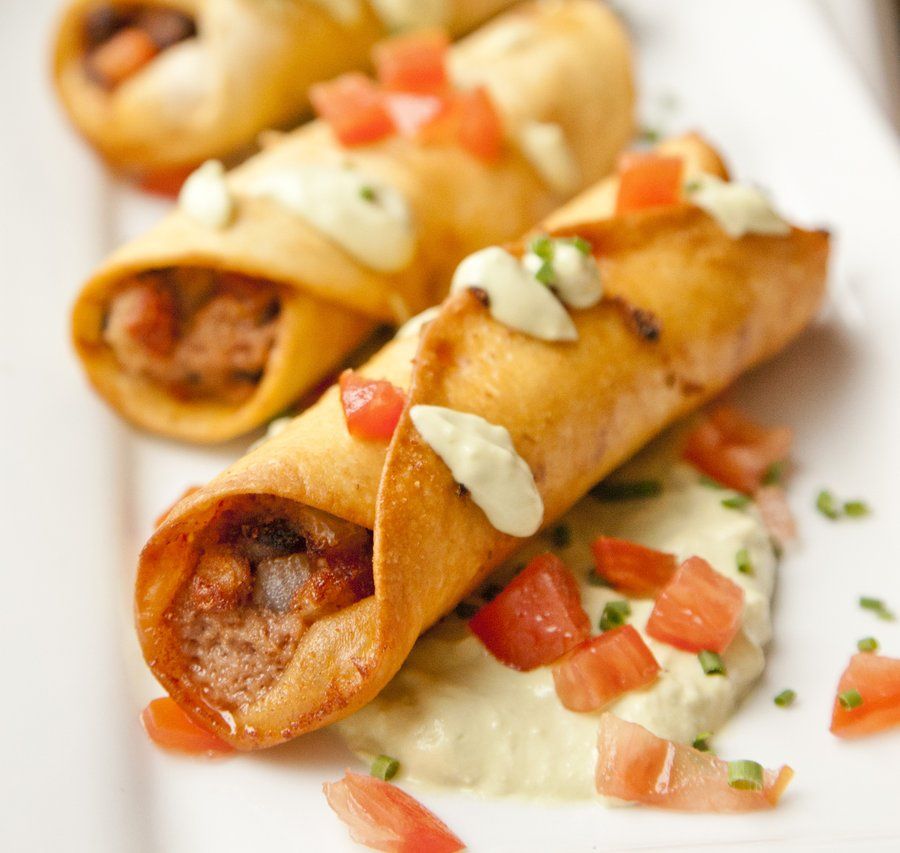 Vegetarian Flautas with an Avocado Cream
Prep Time
---
10 Minutes

Cook Time
---
25 Minutes

Total Time
---
35 Minutes

Yield
---
Makes 10-12 flautas

Ingredients
1 Avocado
1 1/2 T Fresh Lime Juice
1/2 Cup Sour Cream
1 Tablespoon Extra Virgin Olive Oil
1 Onion (minced)
1 Jalapeno (minced)
1 Tablespoon Adobo Sauce
15 Ounce Can Black Beans (drained and rinsed)
1 Tomato (diced small)
2 Garlic Cloves (minced)
1 Teaspoon Dried Oregano
Salt (to taste)
2/3 Cup Cheddar Cheese (shredded)
12 6" Flour Tortillas
Toothpicks
Canola Oil (for frying)
15 Ounce Can of Refried Beans
---
Directions
Make your avocado Cream. Mast up your ripe avocado with a fork. Add in your lime and sour cream and mix together until combined. Season with salt. To make creamier, add a little bit of milk in - this is better for drizzling the avocado cream on top of the flautas
Refrigerate til using.
For the flautas: In a medium sized saute pan, heat up 1 tablespoon of Olive Oil. Once hot, add in your onion and jalapeño and cook for about 8 minutes over a medium heat. Add in your adobo sauce, black beans, tomatoes, and garlic and cook another 3-5 minutes, stirring frequently. Add in your oregano and season with salt.
Remove the saute pan from the heat and mix in your cheddar cheese. Mix together until completely combined.
Heat up a large pot of oil or a deep fryer to 360 degrees and also preheat your oven to 200 degrees (with a sheet pan inside). Take your tortillas, and on each one, spread out about 2 Tablespoons of your refried beans and top with 1/3 cup of your flauta mix. Roll them up tight and secure with 3 toothpicks. Place in the deep fryer in batches, and fry til golden brown. Remove from oil and place on sheet pan in oven to keep warm.
Continue to fry all the flautas. Remove toothpicks before serving. Serve with a drizzle of your Avocado Cream and some small diced tomatoes.