One of my favorite cuisines to both cook and eat is Mexican Food. Burritos, Enchilladas, Tacos, Nachos….I love 'em all! When I used to live in my old apartment in the Murray Hill area of NYC, there was this great bar/restaurant that had the best "Tostaco Salads". It was a deep fried tortilla shell bowl, loaded with all the goodies: meat, cheese, guacamole, lettuce, tomato, sour cream etc., etc.
Last night, I wanted to make a healthier version of this favorite…I baked the tortilla shells, and used ground turkey instead of beef. In addition, I used low fat cheddar cheese and low fat sour cream. This came out awesome - and super easy to make!
*To make this same recipe gluten free:
Substitute either chickpea flour or cornstarch for the Flour
Use Corn Tortillas instead of Flour Tortillas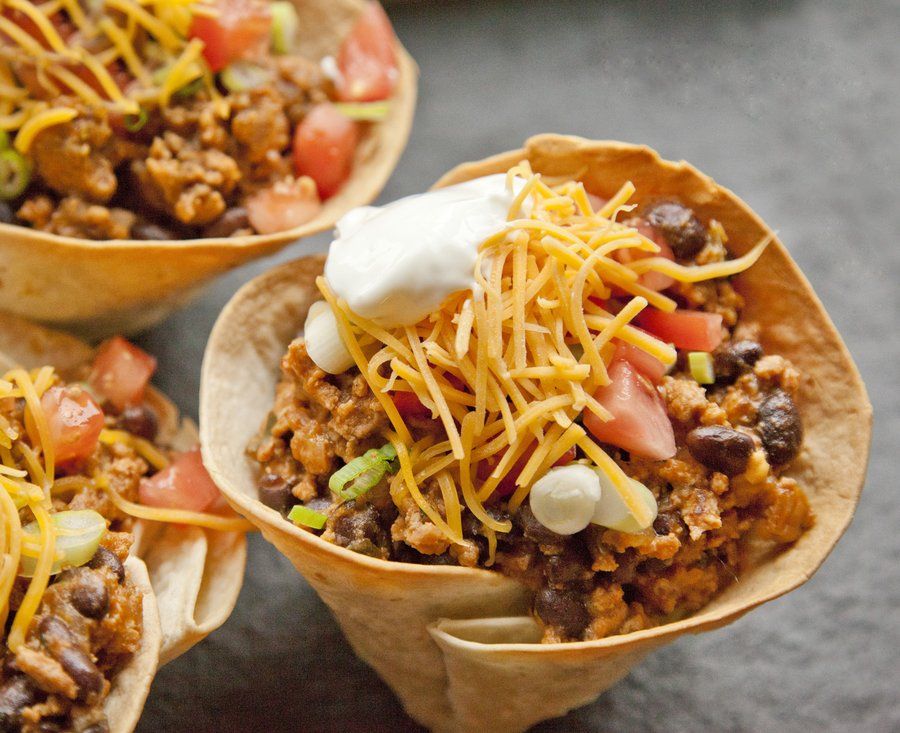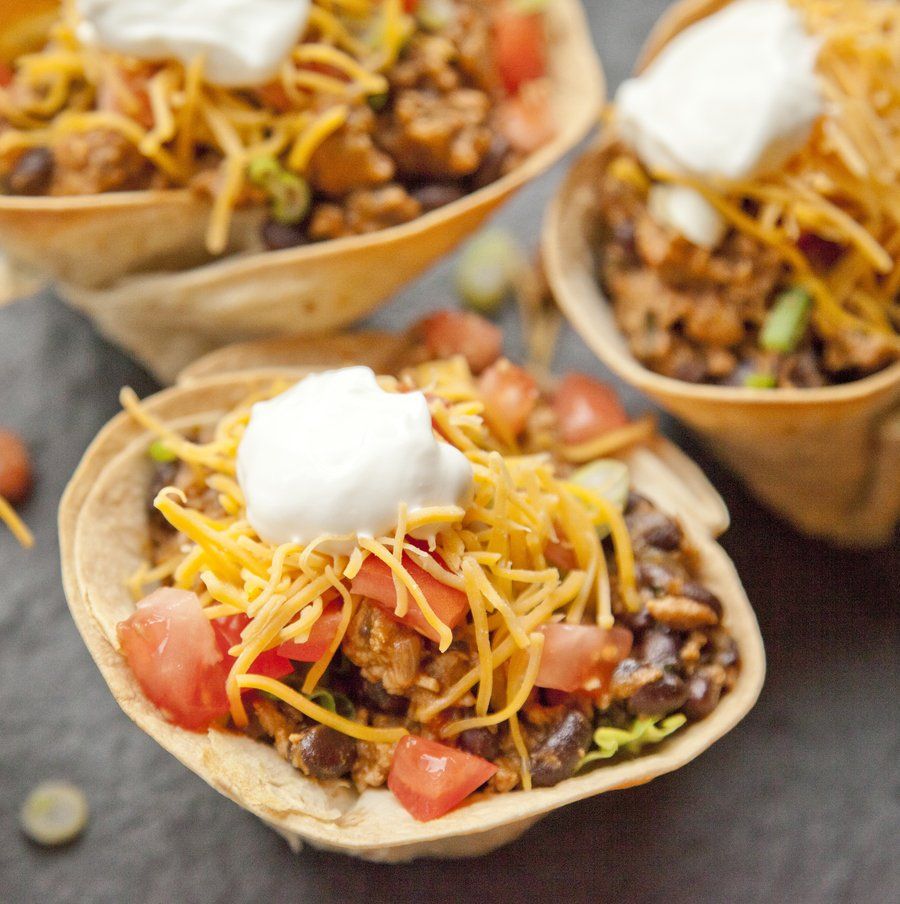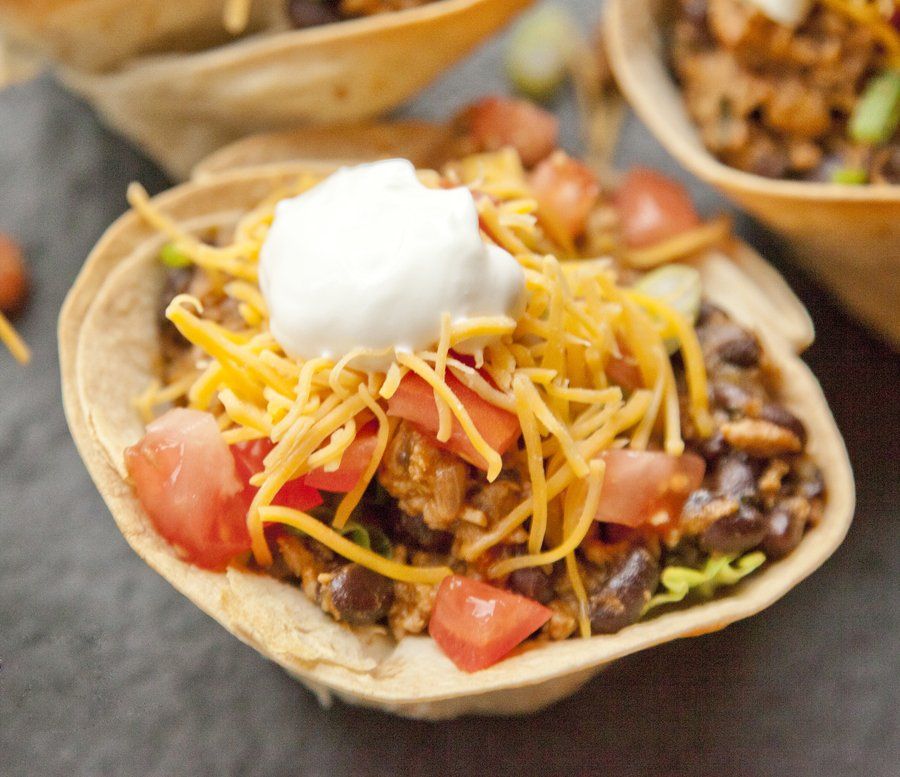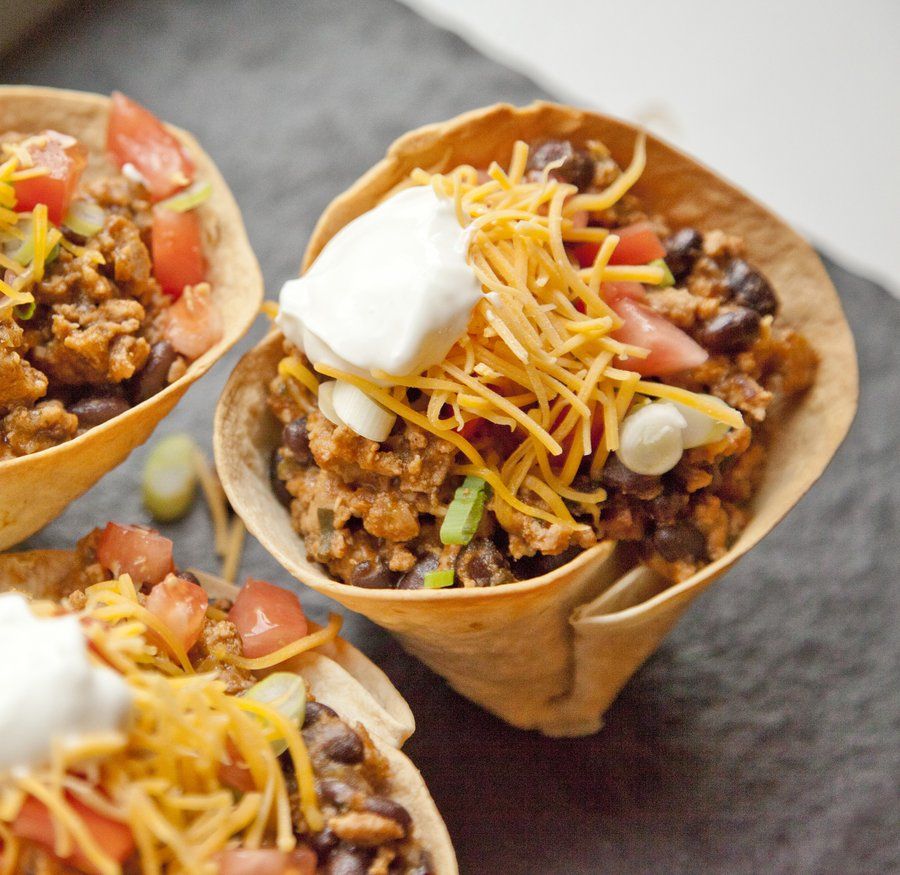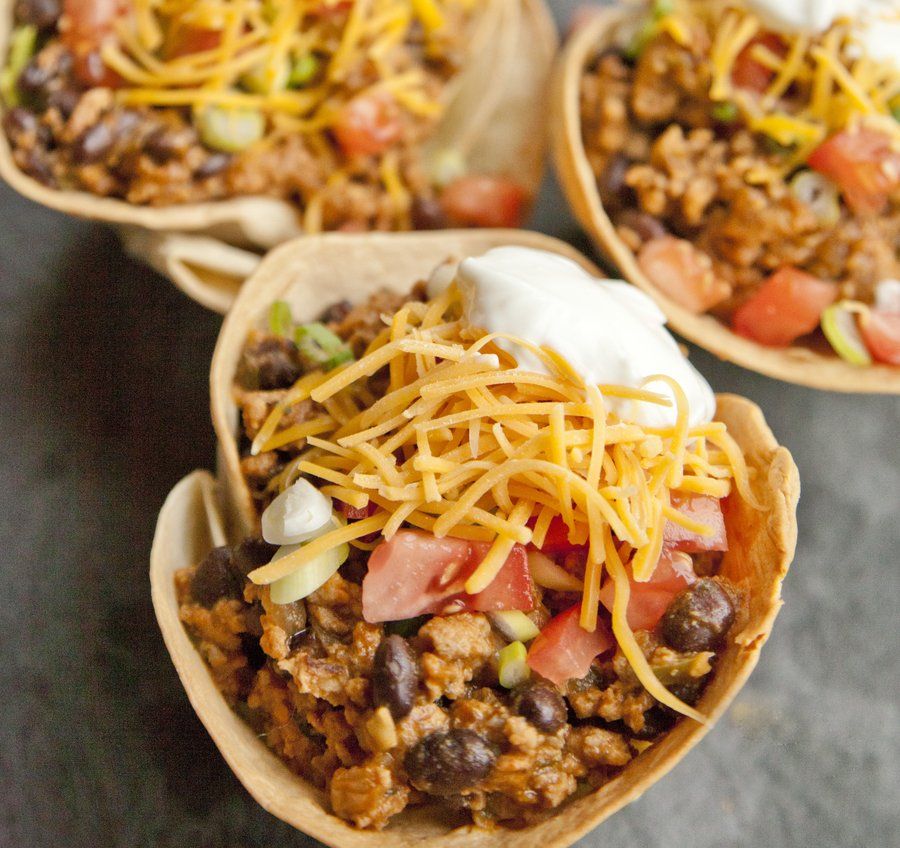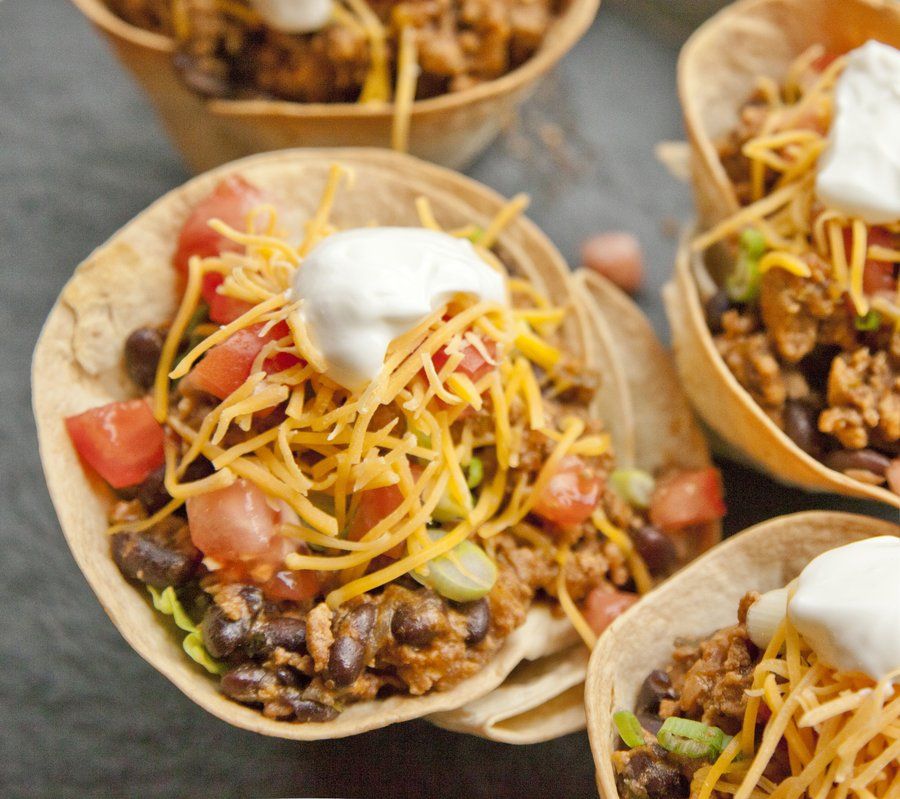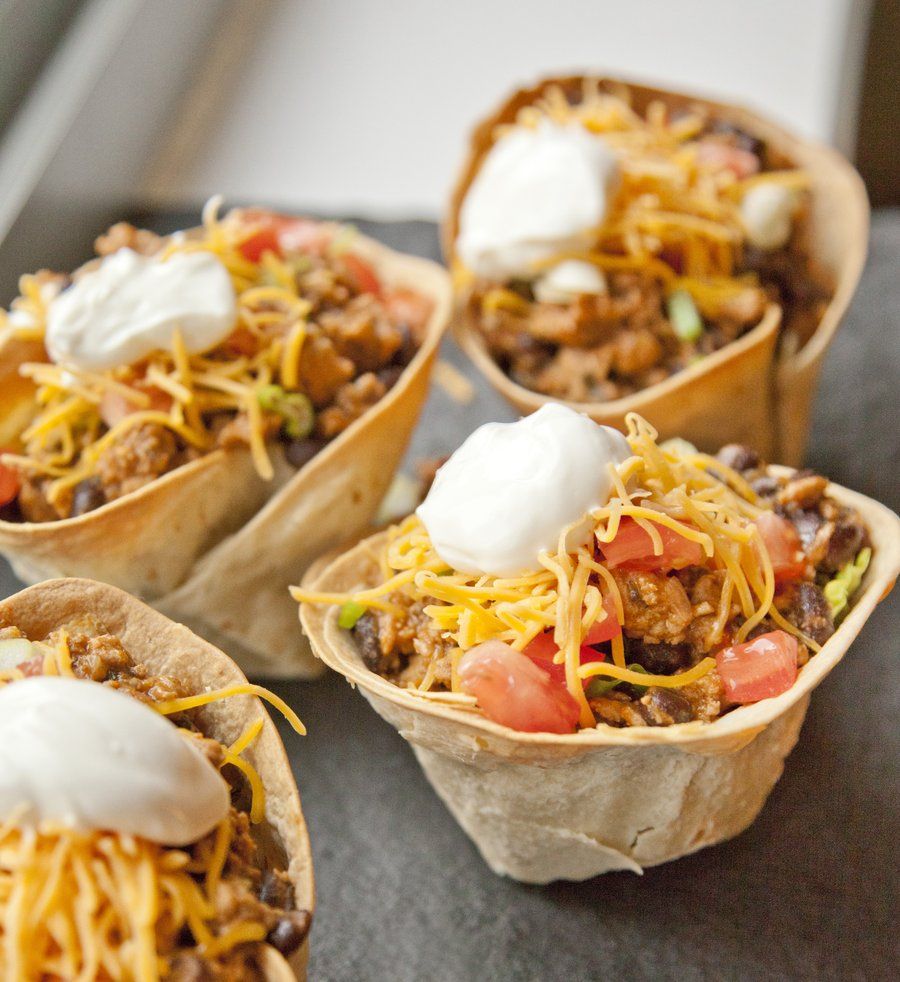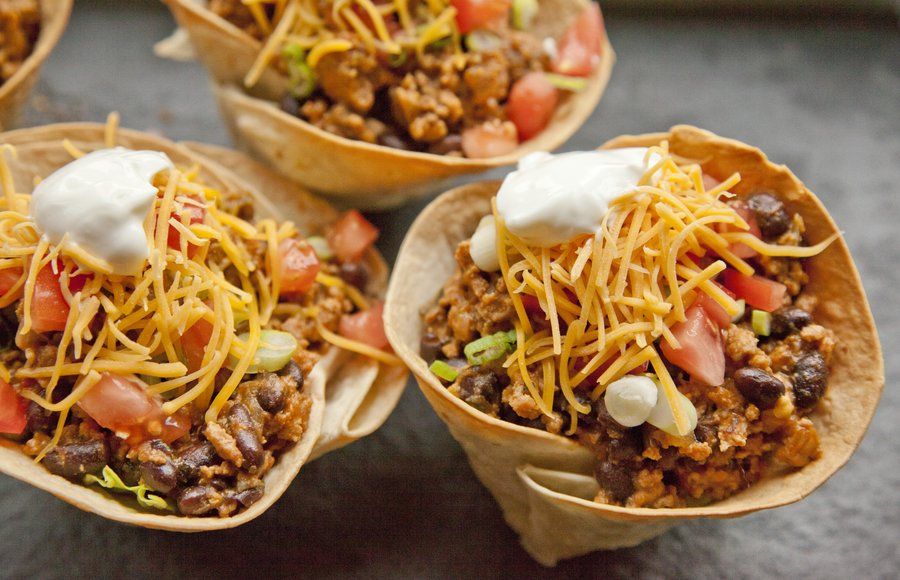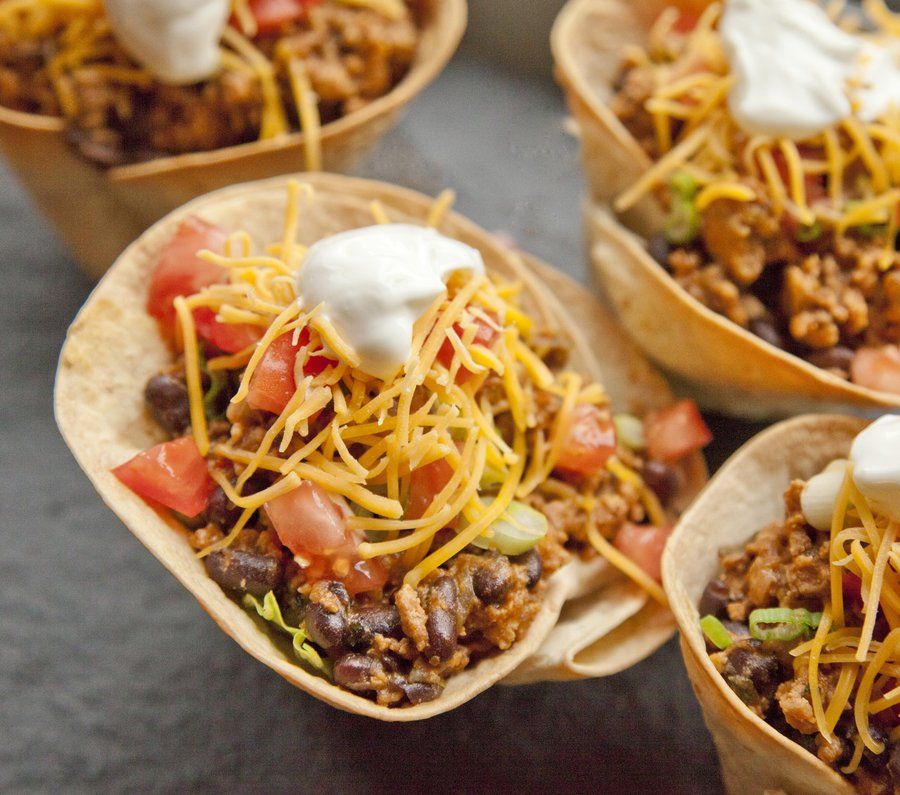 Taco Salads
Prep Time
---
10 Minutes

Cook Time
---
2 Hours

Total Time
---
2 Hour 10 Minutes

Yield
---
Serves 4

Ingredients
1 Tablespoon Canola Oil
1 Onion (diced small)
2 minced Jalapenos
1 1/4 lbs Ground Turkey
2 minced Garlic Cloves
1/2 Teaspoon Cumin Powder
1 Teaspoon Chili Powder
1/2 Teaspoon Mustard Powder
1/4 Cup Ketchup
1/4 Cup Low Sodium Chicken Stock
1 Tablespoon Flour
15 Ounce Can Black Beans (drained and rinsed)
8 8" Flour Tortillas
1/2 Head Iceberg Lettuce (julienned)
1 Tomato (diced small)
2 Cups shredded Cheddar Cheese
1 Cup Sour Cream
3 Scallions (sliced thin)
---
Directions
Heat up a large skillet with 1 tablespoon of Canola Oil. Once hot, add in your onion and jalapeños and cook for 8 minutes over a medium heat. At this point, add in your ground turkey, garlic, cumin, chili powder, and mustard powder. Cook until the turkey is cooked through, stirring often.
Add in your ketchup and chicken stock and cook, covered over a low heat for about an hour. After an hour, uncover, add in your flour and mix together. Add in your black beans and cook another 30 minutes covered. Taste and season with salt and cayenne.
Meanwhile preheat your oven to 375 degrees. Using either a tortilla salad mold or what I did, using small little dutch ovens, place your flour tortilla into the mold/bowl to create a bowl-like shape out of the tortillas. Bake in the oven for 15 minutes or until golden brown and crisp and allow to cool before handling.
To assemble your taco salads, take your tortilla bowl and layer with lettuce, tomato, turkey/beans, cheese, scallions, more tomato and sour cream. Serve hot.