Summer in Manhattan can start to ware on a person after a while.  To me, this oppressive heat is completely useless unless I am on a beach or by a pool (a mentality that I learned from my mom at an early age).  However, in reality, I am in the concrete jungle/sauna/heat box that is Manhattan in August.  Also, in the winter, the feeling of being stuck inside while a small blizzard is occurring out your window is enough to drive a sane person mad.  The desire to be on a beach in the middle of Bora Bora often enters my mind…So in order to "cure" my desire to be at a beach, I decided I needed to cook a dish that reminded me of the beach and the summer so I decided on Mussels! I've never cooked with mussels and I was a little nervous at first to buy good muscles that wouldn't give me food poisoning the next day.  I hit up Whole Foods (aka Mecca) and found these great mussels - 2lbs for $5.99 - sold.  Since the texture of mussels alone can start to make me a little queasy after half a dozen, I thought, why not make them into a stuffed mussel?!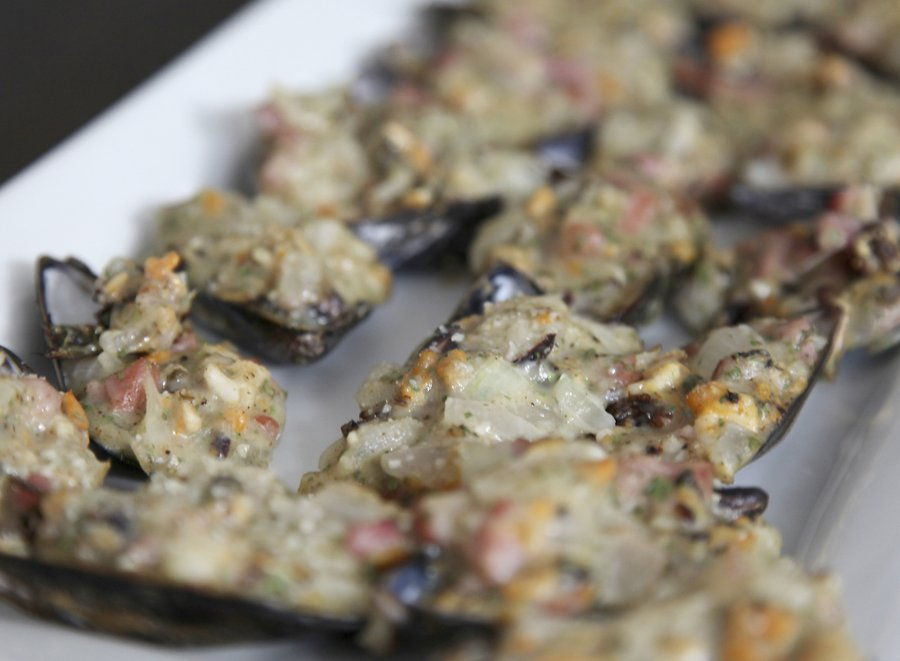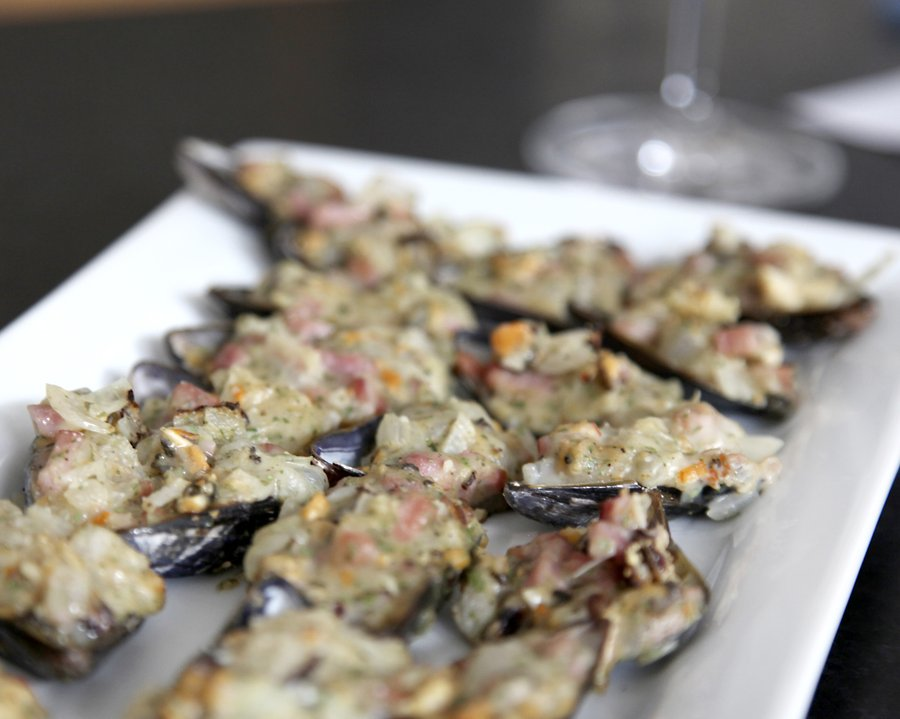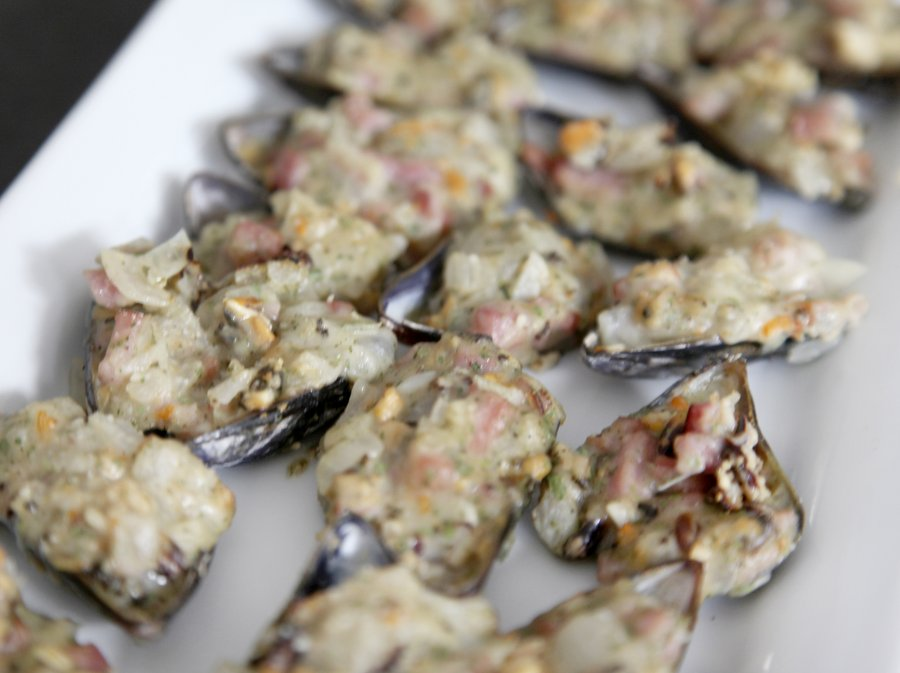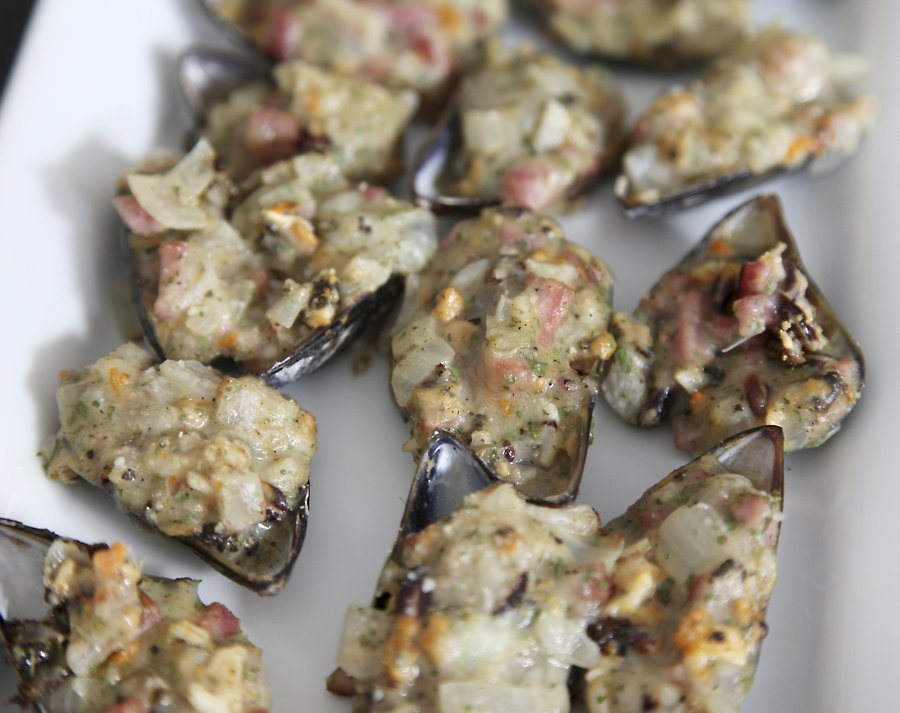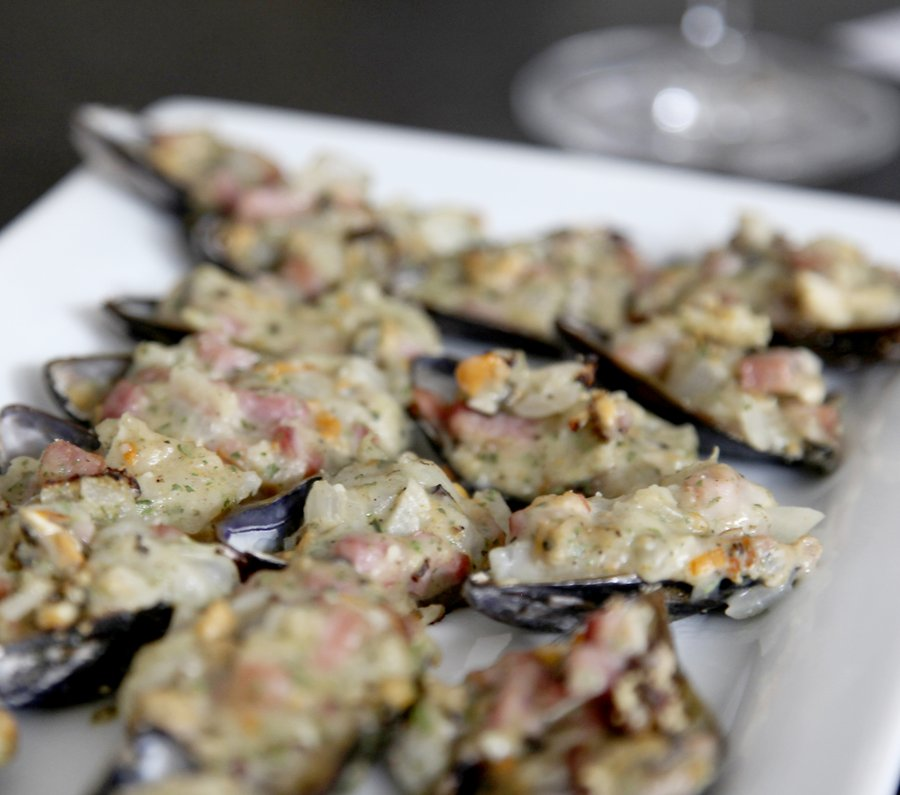 Stuffed Mussels
Prep Time
---
20 Minutes

Cook Time
---
15 Minutes

Total Time
---
35 Minutes

Yield
---
2-3 Dozen Mussels

Ingredients
2 lbs Mussels (Raw, cleaned, beard removed)
2 T Butter
2 minced Garlic Cloves
1/4 minced Onion
1/3 Cups minced Ham
1/4 Cups Flour
1/3 Cups Milk
1 T minced Parsley
grated Parmesan Cheese
---
Directions
First things first, when buying muscles, go through each one, clean the shell with a brush, remove the beard, and set aside. If ANY mussels are already open, get rid of them, that means they're dead and will make you feel dead in a matter of hours.

In a large pot, fill with enough water to cover the mussels. Cook on high until the mussels start to open, remove opened mussels as you go and set aside to cool. Once the mussels have cooled, remove all of the meat from the shells and dice up with a sharp knife - RESERVE SOME SHELLS!

Start on your stuffing: in a saucepan, melt the butter and add in your garlic and onion. Cook for about 5 minutes on a medium/high heat. Add in your diced ham and cook for another 3 minutes. Add in your flour, stirring constantly for about 2 minutes, until the flour is completely incorporated in your onion mixture. Slowly start to add in your milk, stirring constantly. Let cook on a low/medium heat until the mixture becomes more like a paste form (a roux). At that time add in your parsley and chopped mussel meat. a minute and remove from the heat.

In your reserved (and cleaned) shells, scoop out your mussel mixture, and top with a sprinkling of Parmesan Cheese. Cook in an oven at 350 degrees for about 4 minutes (just enough to melt your cheese).