Dear Urban Cookery,
I have been a terrible, terrible slacker lately and have not contributed any sort of content to you in forever… but I can explain…
While Urban Cookery was born and created in New York City, we have since moved to Princeton, New Jersey (cue horror music). After 13.5 years living in my beloved NYC, it was time to move out, and get a taste for 'burb life. While that was an incredibly traumatic experience in the beginning, it actually wound up being one of the best decisions I've ever made. Suburb life isn't half bad…..in fact, I think I really like it…..I even joined a Costco, so I am basically 1 step away from a Mini Van.
So, with all these adjustments, and whatnot, my blog unfortunately took a backseat… but my cooking didn't. In fact, I have cooked basically every single night for the last 7 months and have an arsenal of new recipes ready to be shared with you all!
And for those wondering, no, Urban Cookery will never be called Suburban Cookery because NYC will forever be the place I got my culinary start and will always be my main inspiration for creating meals.
So with that, here is my newest obsession, Skillet Chicken Fajitas. So easy, only one pan (yay less clean up), AND it's beyond tasty! I served mine on Flour Tortillas for Sour Cream and some Fresh Basil (an excellent addition) but you could also use this mixture on top of nachos, topped with shredded cheddar and make the most incredible nachos of your life (cook at 375 degrees for 13 minutes for nacho perfection).
You will also note the seasoning I used here (PC Willy's Green Chili Rub). I IMPLORE you to buy this incredible seasoning mix (no I am not getting paid for this, but I probably should….). A few years ago my husband went to New Mexico and brought me back a bunch of different Seasonings and this one is by far the best EVER. I never use pre-made seasonings, but there is something about the flavors of this one that I am obsessed with. I put it on everything now…. You can buy it on Amazon.com here!
Enjoy!
Xo
Sara "Suburb" Bojarski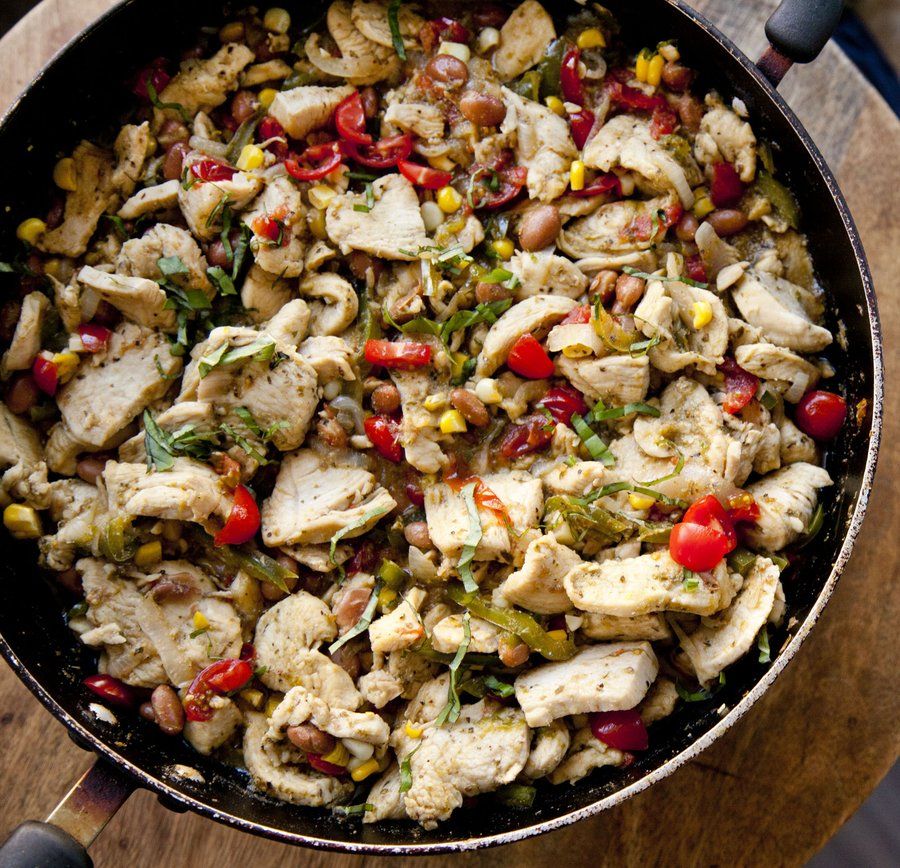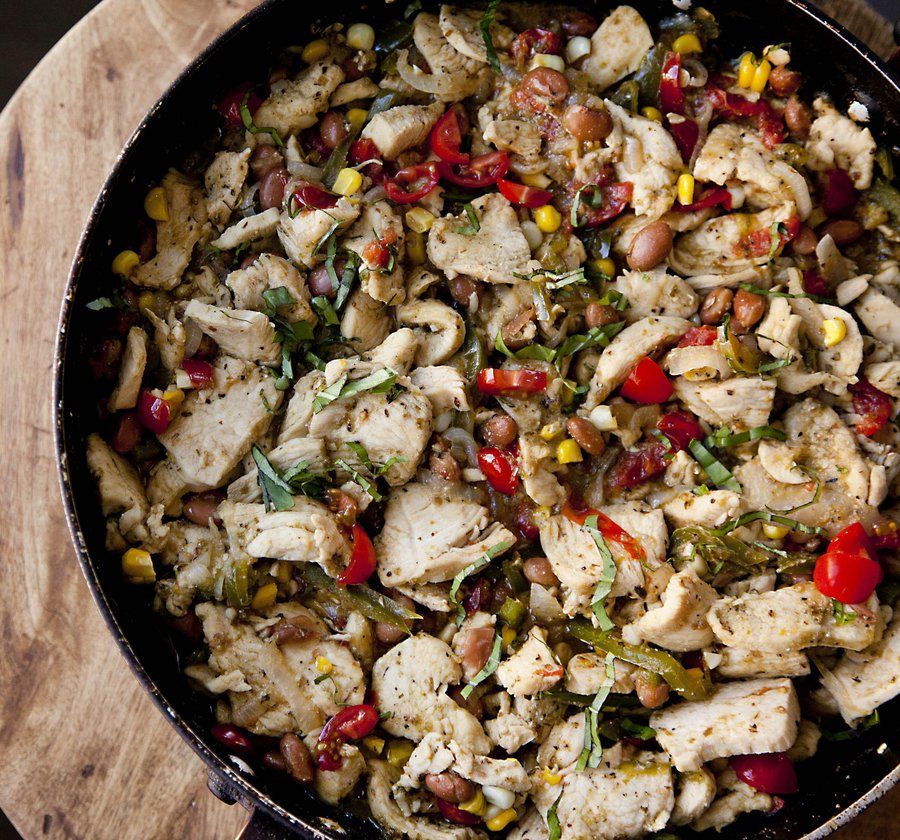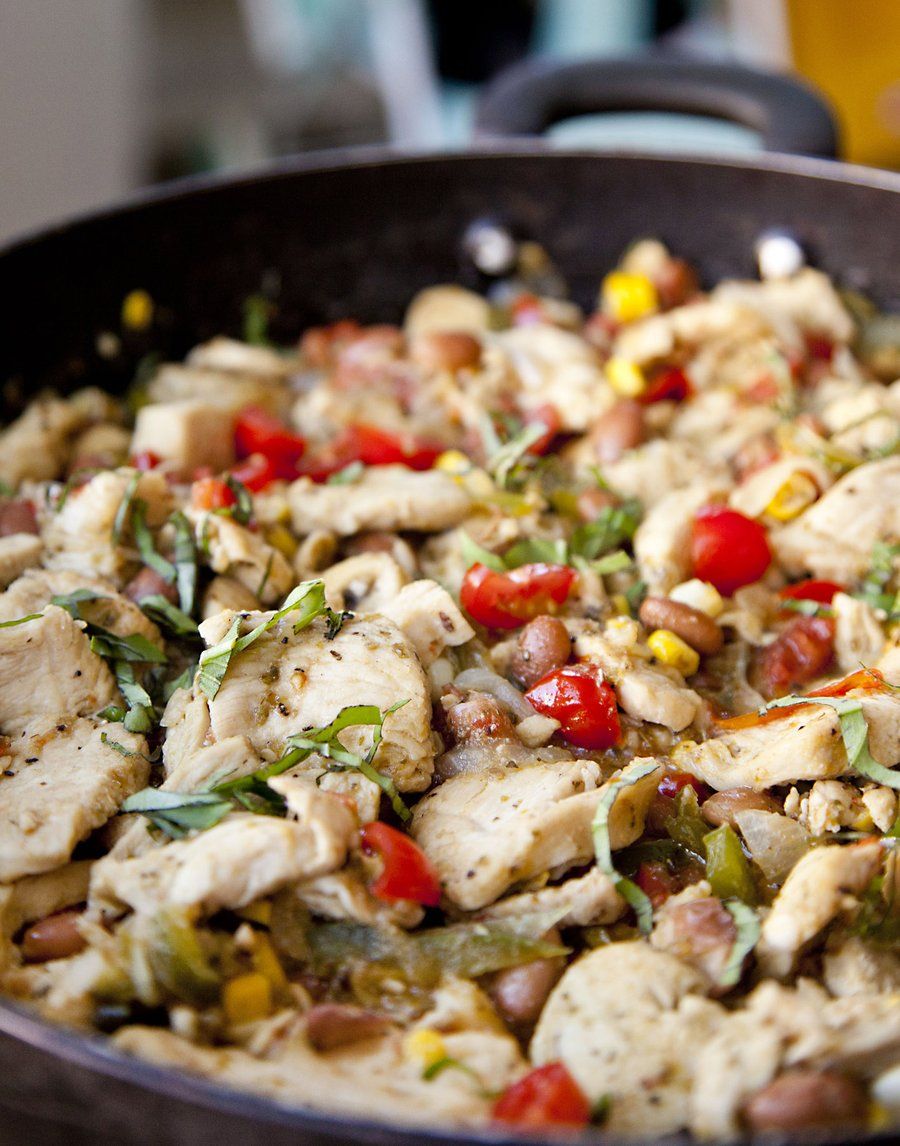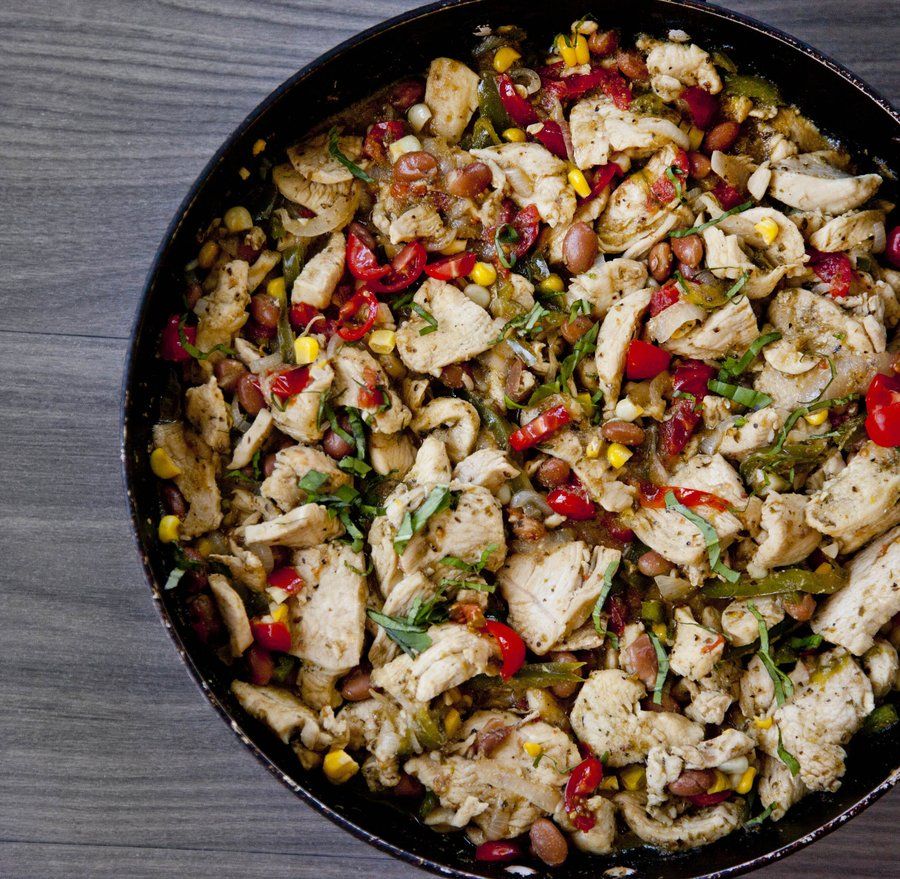 Skillet Chicken Fajitas
Prep Time
---
20 Minutes

Cook Time
---
35 Minutes

Total Time
---
55 Minutes

Yield
---
Serves 4-6

Ingredients
1 Onion (sliced thin)
1 Green Bell Pepper (Seeded, sliced thin)
1 Cup Corn Kernals
1 1/2 Cups Grape Tomatoes (cut into small pieces)
3 Garlic Cloves (minced)
1 Can of Pinto Beans (Drained and Rinsed)
4 Boneless Skinless Chicken Breasts (Cut into 1/4" thick strips)
1 Tablespoon Dried Oregano
4 T PC Willy's Seasoning
Flour Taco Tortillas
Sour Cream
Fresh Basil Leaves (chiffonade)
---
Directions
Heat up a large skillet with 1-2 Tablespoons of Oil. Once hot, add in your onion, pepper, and a teaspoon of salt, and saute over a medium heat until they are soft - stirring frequently (about 10-15 minutes). While this is cooking, in a large bowl, add your corn, grape tomatoes, garlic and beans.
Once the onion and pepper mixture is done cooking, remove from the heat, and pour it into the bowl with your corn mixture.
Place your skillet back on a medium to high flame, and add another 1-2 Tablespoons of oil. Once hot, add in your chicken, oregano, PC Willy's Seasoning, and salt and pepper. Cook until the chicken is fully cooked through - constantly mixing to make sure all the chicken is fully coated in the seasonings.
Once the chicken is cooked through, dump the contents of your bowl (onion, pepper corn, etc.) into the skillet and cook together, mixing throughly for about 5-10 minutes. Serve hot with tortillas and sour cream. Optional: Top with fresh basil.