When the Christmas and Hanukah seasons come around, I am always reminded of the foods that I associate with them.
Hanukah is basically synonymous with Latkes (potato pancakes) for me. I have blogged latkes before (recipe here) – but this time I changed up my recipe a bit and are calling these Latkes, my "Three-Onion" Potato Pancakes. In this version of latke, I used onion, scallion AND shallot (I know, I am totally out of control). All three of these are from the onion family, but all have such different and delicious tastes that I used a combo of each.
I also kept my latke recipe gluten free by using Chickpea Flour instead of All Purpose Flour. You could also sub in Gluten Free AP Flour – either will work!
So the idea to top the latkes with a little Crème Fraiche and Salmon came from an article I read about places across the country that make Latke Sandwiches (basically subbing out bread and putting 2 latkes in it's place). In my opinion….
Latke Sandwich > Ramen Sandwich
...but I digress. This is great dish to have as an appetizer at a party (you can make the latkes smaller and more appetizer friendly), you can serve it as a side dish….or you can do what my husband and I did last night and just have it as a dinner. This is also a great breakfast/brunch option!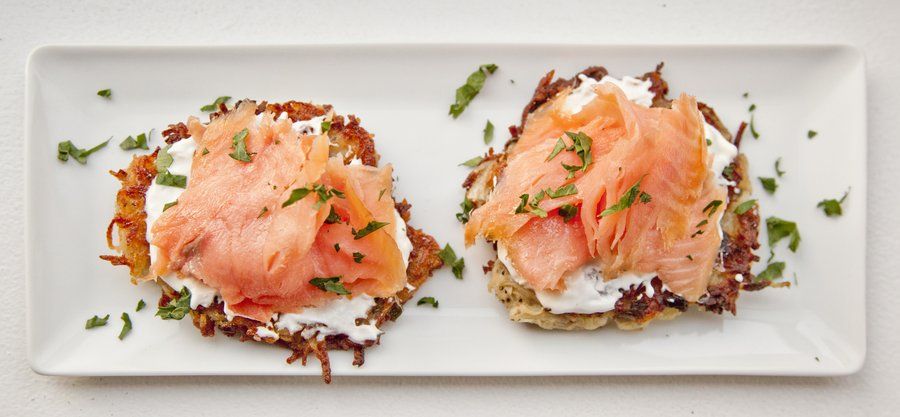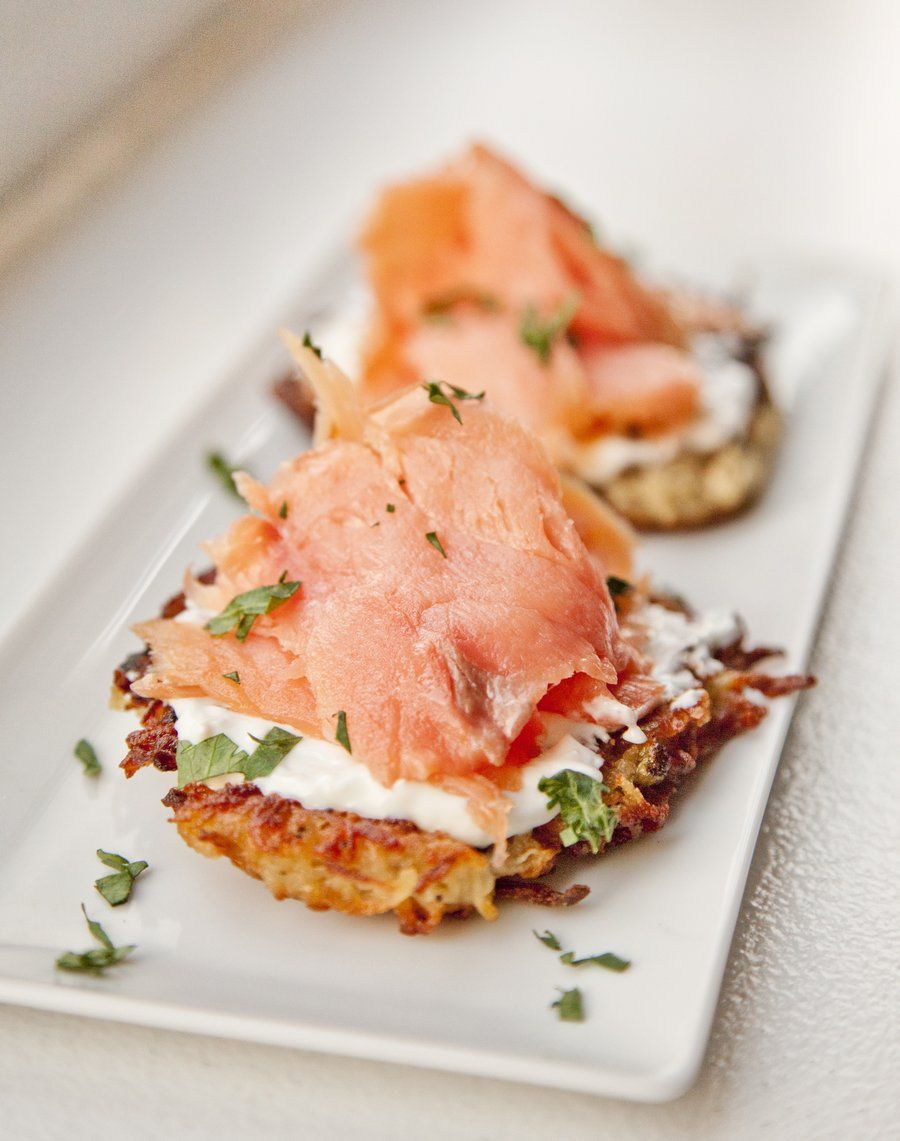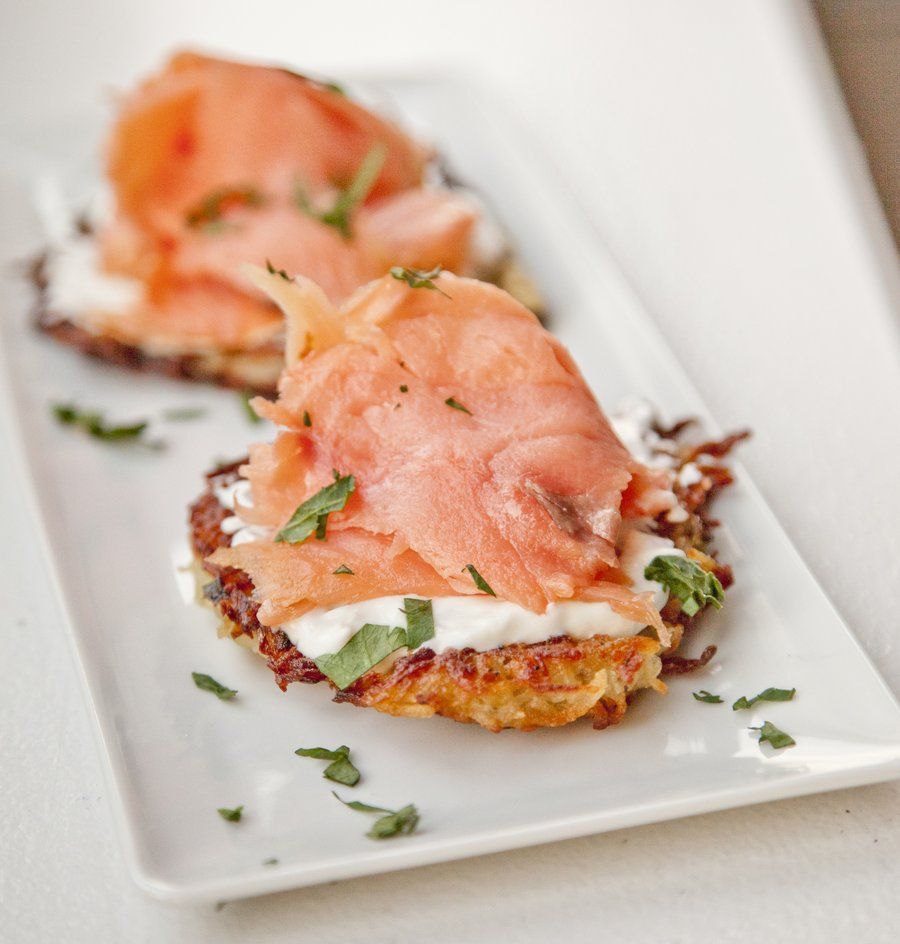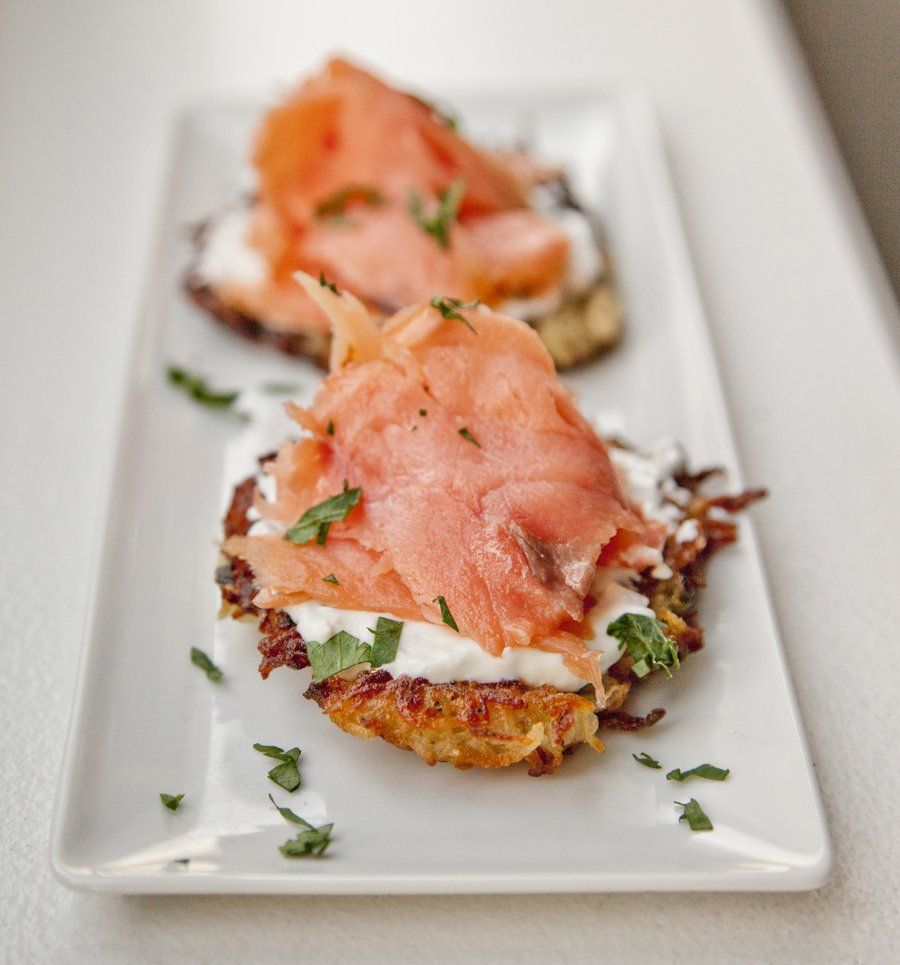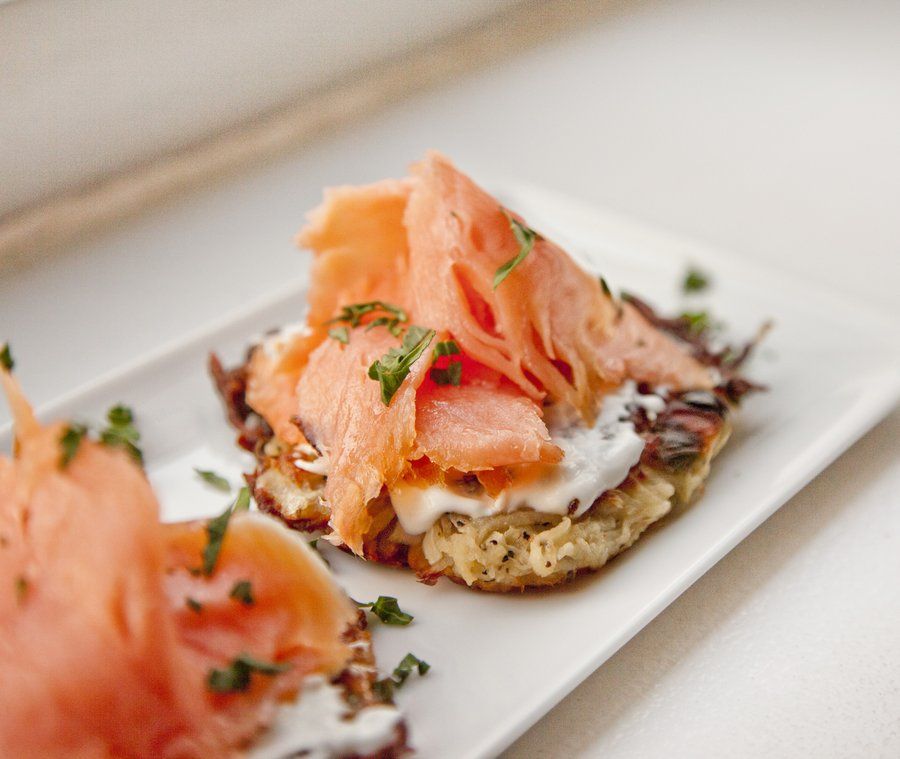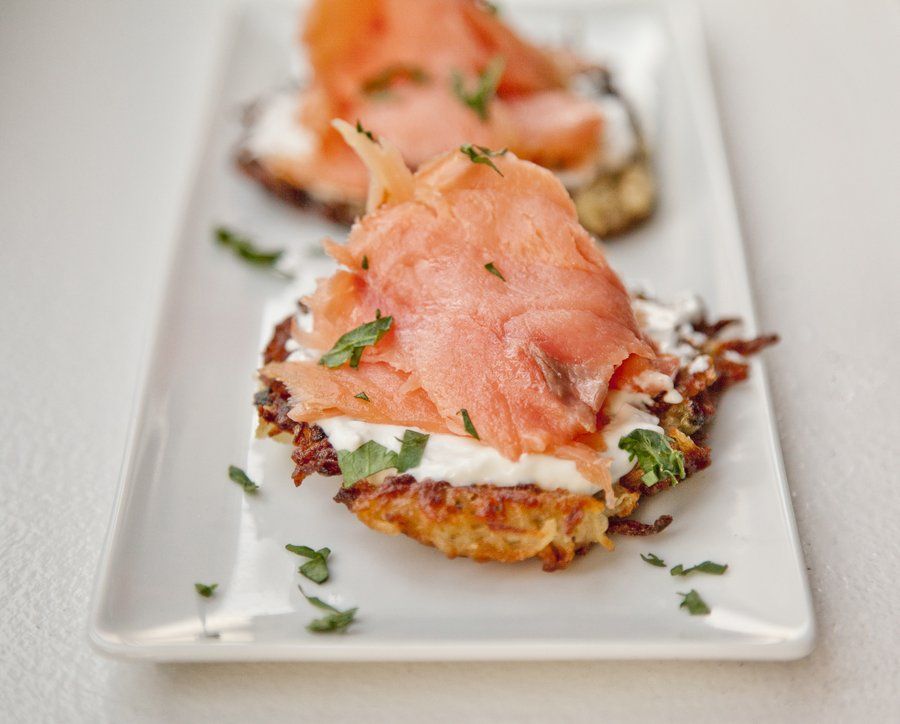 Potato Pancakes with Salmon and Crème Fraîche
Prep Time
---
15 Minutes

Cook Time
---
20 Minutes

Total Time
---
35 Minutes

Yield
---
Makes about 10 Potato Pancakes

Ingredients
2 Large Russet Potatoes (Peeled)
1/2 Onion
4 Scallions (sliced thin on a bias)
1/3 Cup minced Shallot
3 T Chickpea Flour
1 1/2 tsps Salt
1/2 Teaspoon Black Pepper
1 Cup Creme Fraiche
3/4 Pound Smoked Salmon (Lox) (sliced thin)
---
Directions
In a food processor fitted with a shredder blade, shred your potatoes and onion (if you don't have a food processor you can use a cheese grater). Place in a large bowl and mix in your scallions, shallots, chickpea flour, salt and pepper. Incorporate completely.
Heat up a large non-stick skillet with enough Canola Oil just to coat the bottom. Once the oil is hot, take a small handful of your potato mixture, form a 1/2" thick patty in your hand and place in the oil. Fry on both sides til golden brown, remove and let drain on a paper towel. Season the tops with a little pinch of salt.
Continue this process until all your potato mixture is used up.*Note: You can make these ahead of time and then just pop them in the oven at 350 degrees for about 15 minutes to warm them back up!
When ready to serve top the potato pancakes with some Crème Fraîche and Smoked Salmon.