I absolutely LOVE Mexican food....so much so that whenever I am in a fight with New York City, I think of packing up, moving to a random mid-Western city and opening a hole-in-the wall Mexican Joint (this fantasy has never been divulged before). I love experimenting with the many peppers used in Mexican cooking, as well as adding spices and playing with different meats in each dish. Using various tortillas/Nachos/Taco Shells as a vehicle to eat these delicious foods just makes it even better.....I'm not sure there's anything better than a Nacho....I mean really.....
So the other day when I posted my Chicken Pot Pie Recipe, a good friend of mine, JP, told me I should make a Mexican Pot Pie. Uhhhh Why Didn't I think of this?!?! So instead of using a Pot Pie Crust, I used my all incredible Burrito Tortillas....I made a layered pie filled with meat, beans, peppers and onions in a tomato based sauce and topped it with melty Cheddar Cheese, Scallions Tomatoes and Sour Cream.
This isn't exactly on the list of foods you should eat everyday if you're trying to stick to that New Years Resolution....but I don't care....I will suffer through a 2 hour work out at the gym just to eat Mexican food everyday.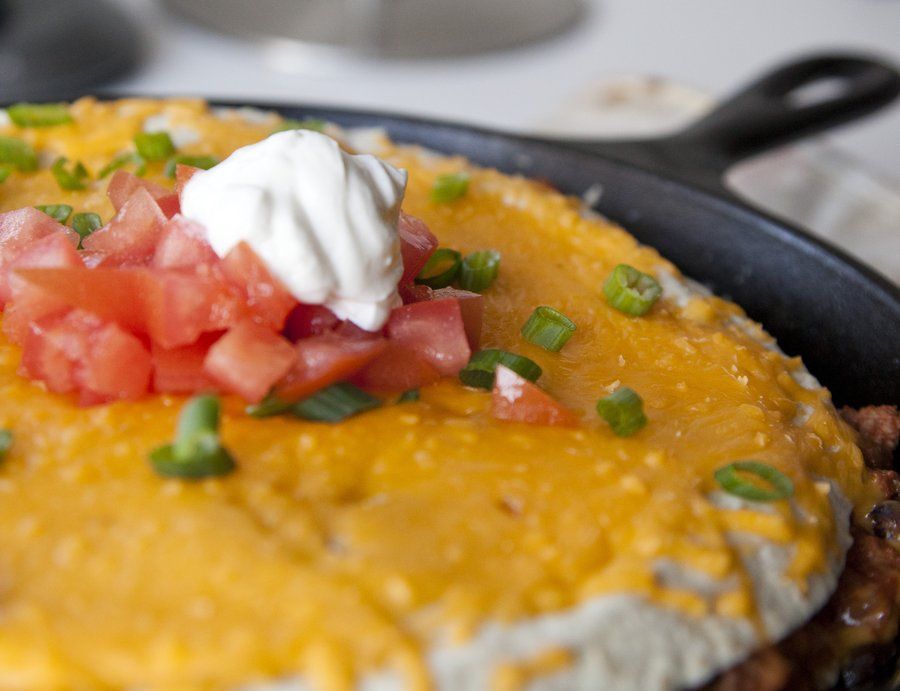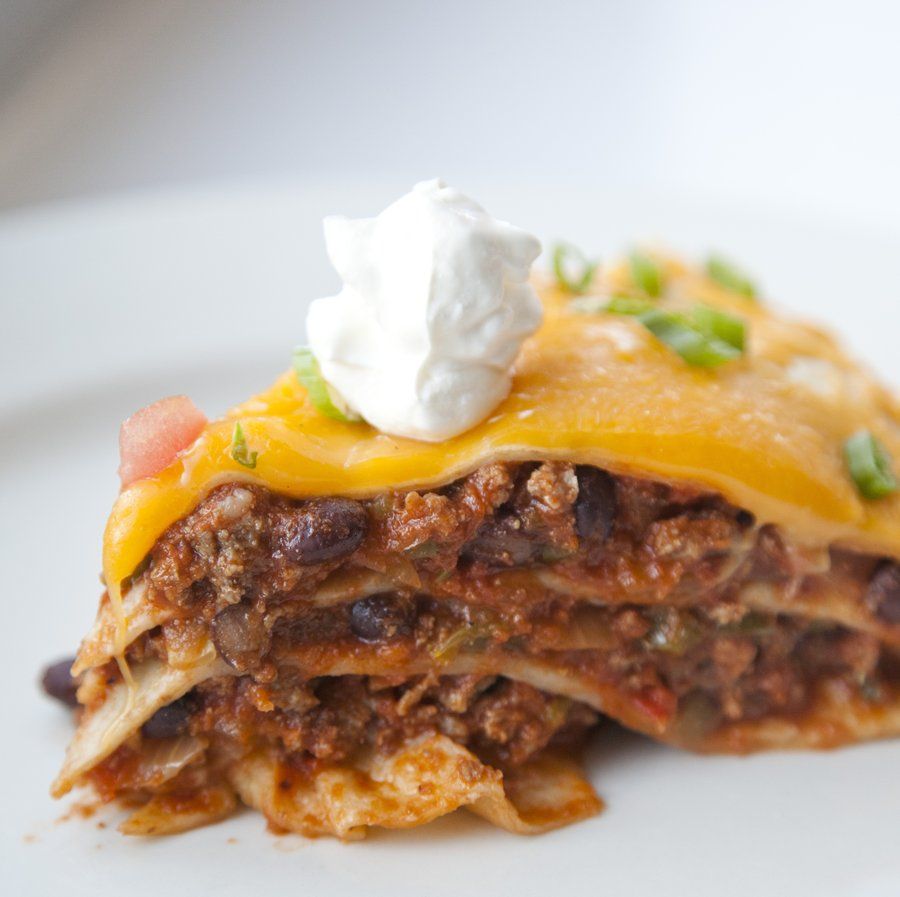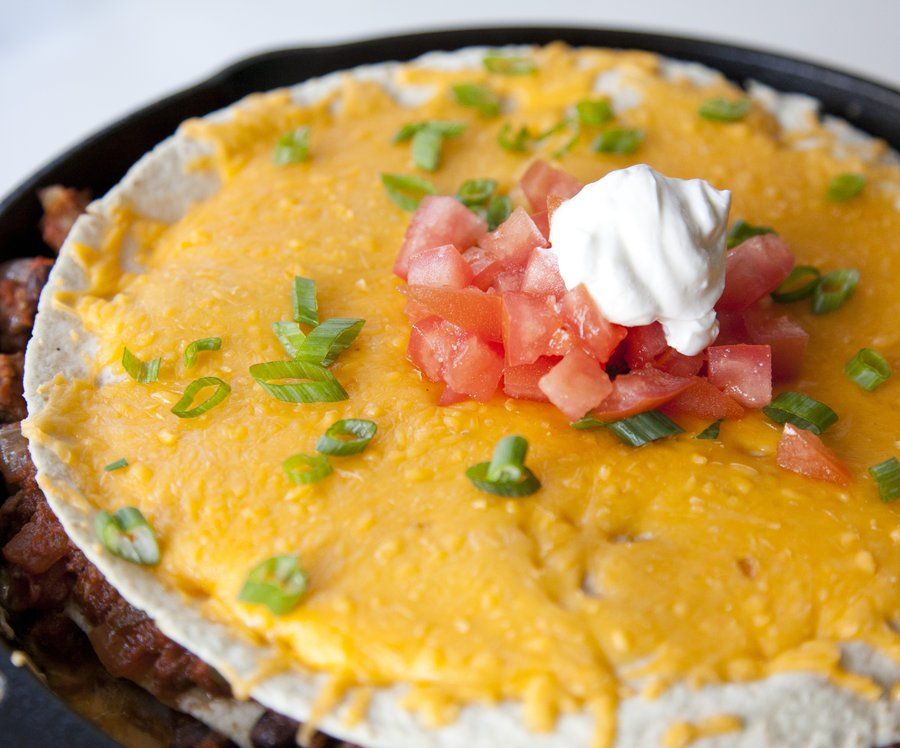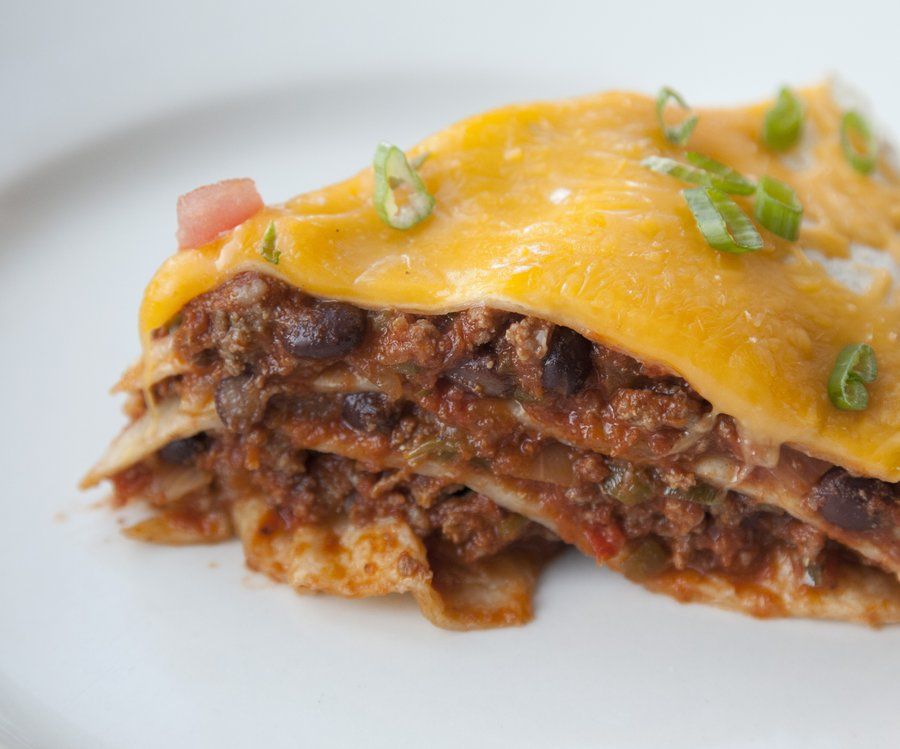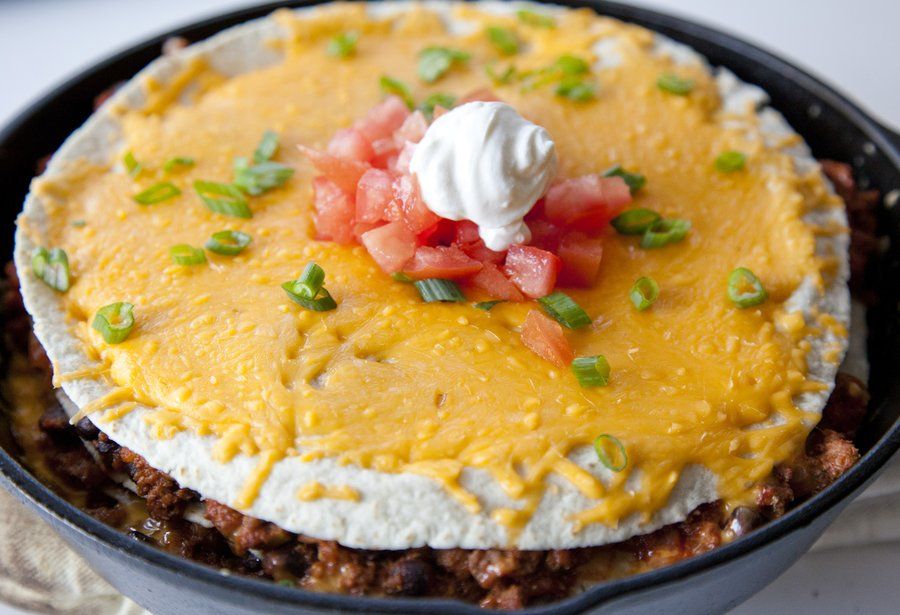 Mexican Tortilla Pie
Prep Time
---
1 Hour

Cook Time
---
15 Minutes

Total Time
---
1 Hour 15 Minutes

Yield
---
Serves 4-6

Ingredients
1 1/2 lbs Ground Beef
1/2 minced Onion
1 Poblano Pepper (Roasted, skin removed, seeded and minced)
1 minced Jalapeno (Seeds removed)
1 tsps Canola Oil
3 minced Garlic Cloves
1 tsps Cumin Powder
28 oz Can of Crushed Tomatoes
Salt and Pepper
4 Tortillas (burrito)
4 oz shredded Cheddar Cheese
1 small dice Tomato
3 sliced thin on a bias Scallions
1 Can Black Beans (Drained and Rinsed)
Sour Cream
---
Directions
Heat up a large saute pan. Once hot, add your ground beef and cook until it's no longer pink. Drain through a sieve and reserve.
In the same saute pan, heat up 1 Teaspoon of Canola Oil. Add in your onion and cook for 5-8 minutes. Then add in your jalapeño, Garlic and cumin - cook another 2 minutes.
Now add back your drained meat. Now pour in your can of Crushed Tomatoes and add your mined Poblano Pepper. Season with a little salt and cook over a medium heat for at least 30 minutes (the longer you cook, the more the flavors will develop).
After cooking the meat at least 30 minutes, add in your drained/rinsed Black Beans and cook another 5-10 minutes.
Preheat your oven to 350 degrees. In a Cast Iron Skillet that is the exact same width as your tortillas, spray with non-stick cooking spray and lay down one tortilla. Top with your meat.bean mixture, add another tortilla, and repeat til you've topped with your 4th tortilla. Top that with the shredded cheddar and cook for 15-20 minutes, until the cheese is bubbling.
Garnish with Tomatoes, Scallions and Sour Cream if desired.
*Feel free to add in cayenne if you want more heat - this dish is fairly mild which is great when serving a crowd with mixed tastes.