This past week my husband and I have taken to binge watching "The Chef Show" on Netflix. The premise of the show is to follow Korean Chef Roy Choi and actor, turned trained chef, Jon Favreau around both in the kitchen and at various restaurants, cooking and eating foods that inspired the film, "Chef".
Each episode contains a lot of cooking, a lot of eating, and a decent amount of comedy (I must say I have become an even bigger fan of Jon Favreau since watching this)….but the food….the FOOD…my god, the food looks amazing in every episode they make.
In one episode, Roy Choi makes a marinated Korean Short Rib (known as Kalbi) and then cooks it at the world Famous Franklin BBQ in Austin Texas. He starts by creating this incredible marinade using 400 ingredients and then smoking the short ribs in one of Franklin's massive amazing smokers which I would sell my left leg for, and then finishes the fall off the bone short ribs on the grill to give them a little char and crispiness. The finished product looks so good you can almost taste it through the tv.
When you're watching this episode, drool will actually form in your mouth and drip down your face…it just looks so delicious. So I decided, the next nice weather day we had, I was going to attempt to recreate these Short Ribs (sans smoker, since I don't have one) but just grilled. As if by divine intervention, while at Costco the other day, I noticed they had thin sliced short ribs (the same exact cut Roy Choi uses in his recipe) which prior to that day, I had never seen before…so I took this as a sign that my Korean Short Rib recipe was meant to be.
Today, in New Jersey, the weather was perfect grilling weather….sunny, not a cloud in the sky, and 60 degrees. I had my Short Ribs marinating over night in preparation for the grill and woke up with the kind of vigor only chefs get in anticipation for cooking something they're super excited about.
These short ribs turned out amazing – I served them with my Homemade Korean Hot Sauce (recipe below), which has become a staple condiment in my daily food consumption. I can only imagine what the step of cooking the short ribs on a smoker would do for both the flavor and the tenderness, but without a smoker, these short ribs were still incredible.
In the show, Roy Choi serves his short ribs as tacos which is how I intend to eat the leftovers tomorrow, but for today, I wanted to enjoy them on their own to get the full flavor profile of the marinade.
This marinade recipe also will leave you with about 2 cups of leftover marinade, which this week, I am going to try out on some chicken, which I will then grill.
Enjoy!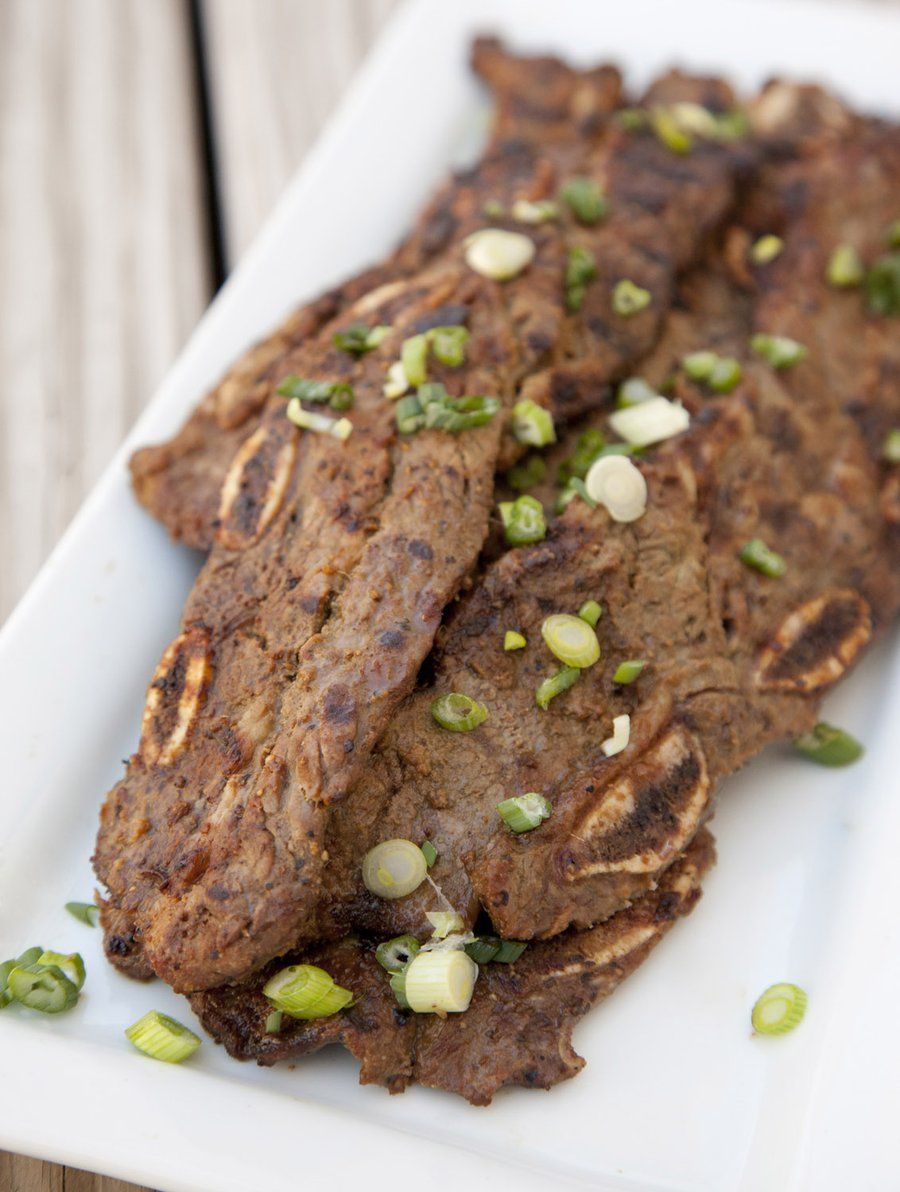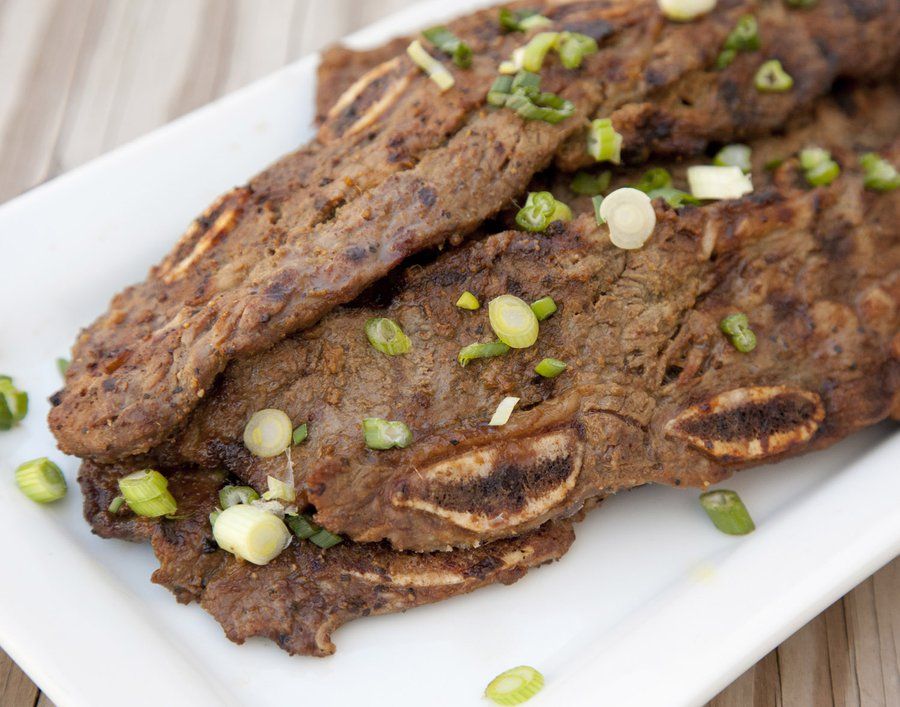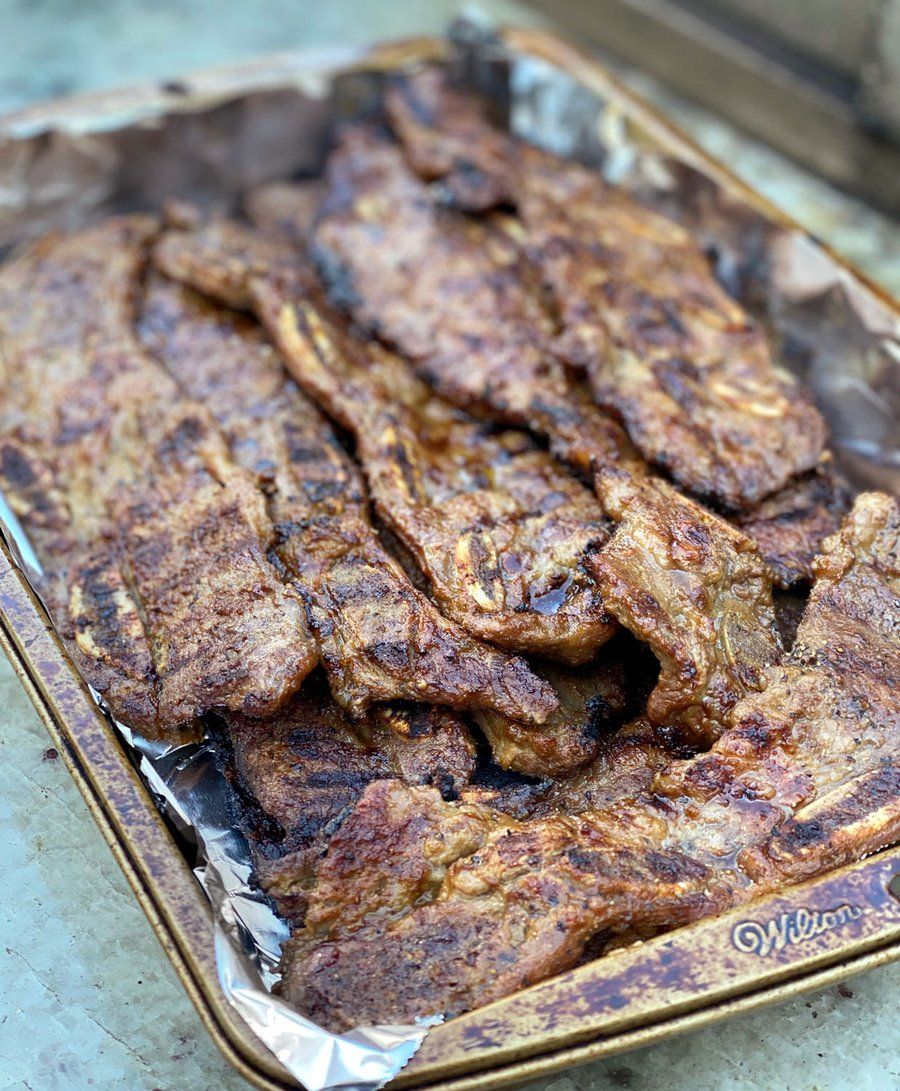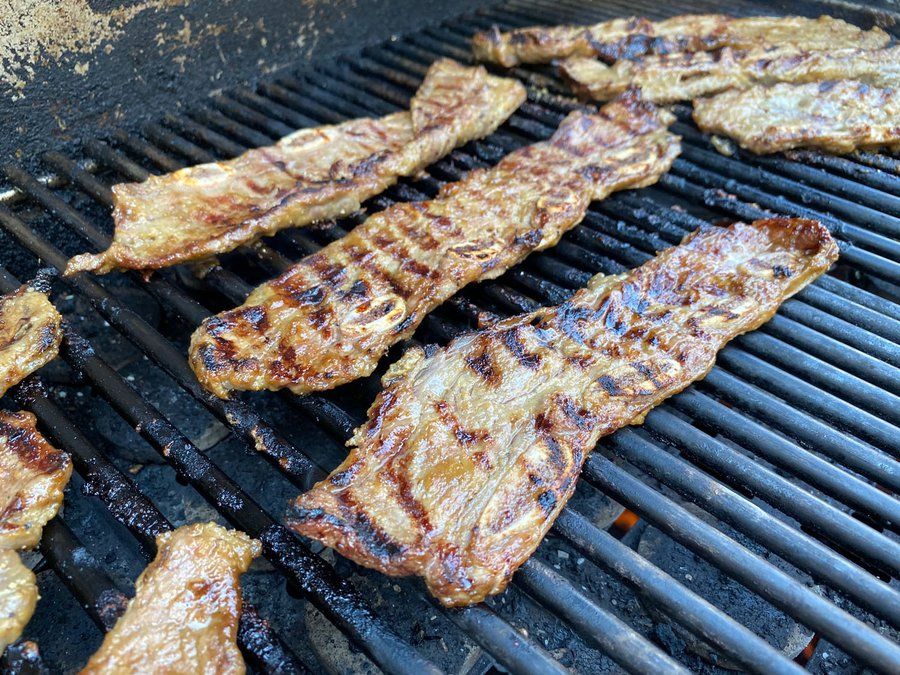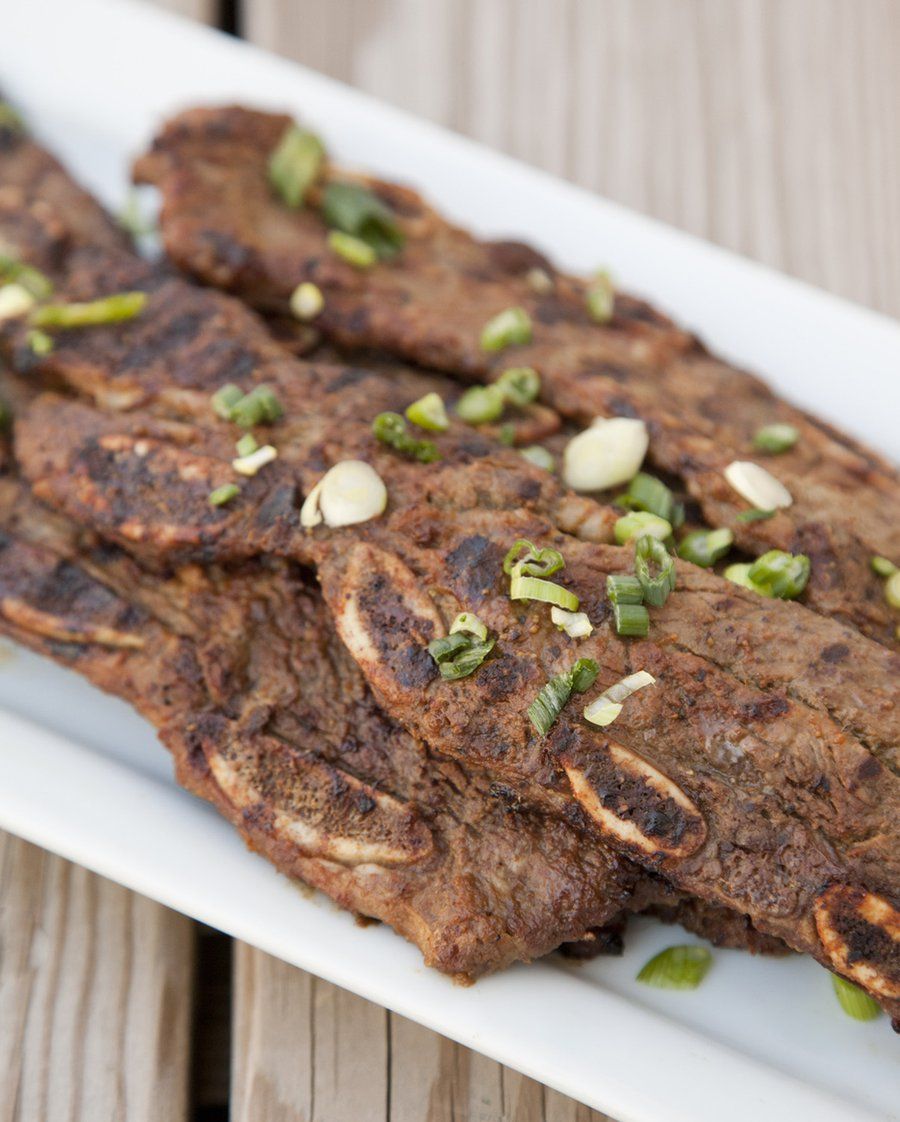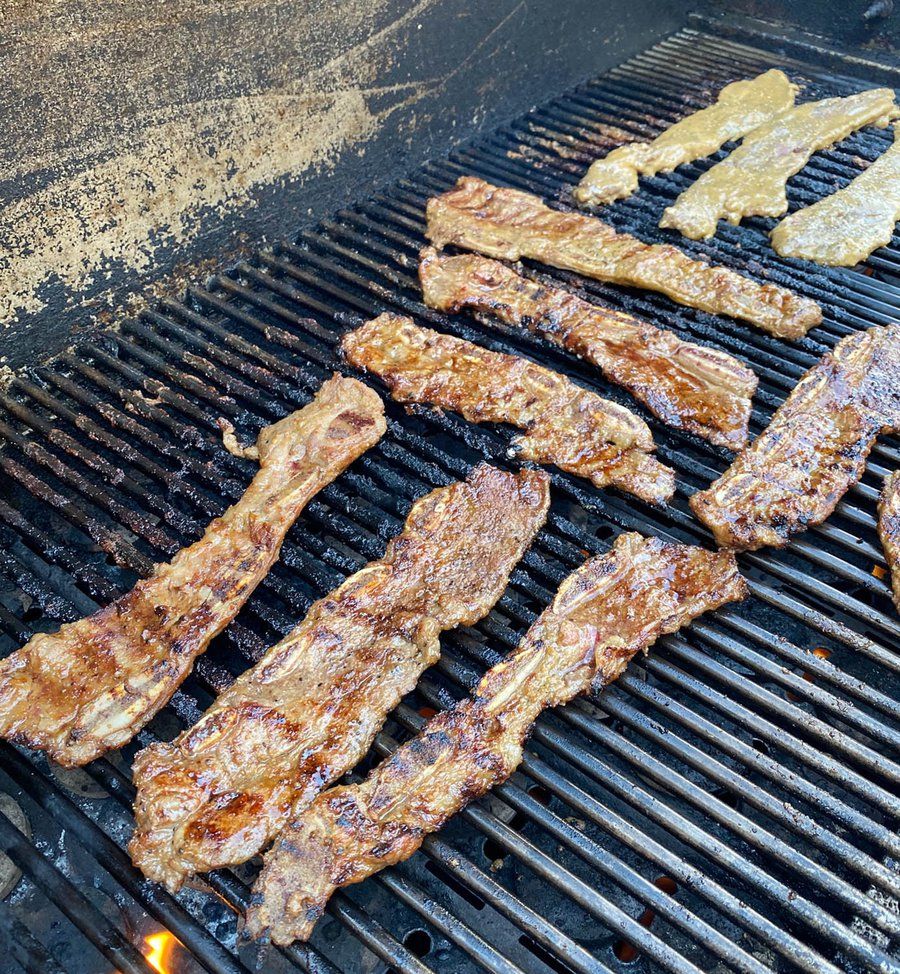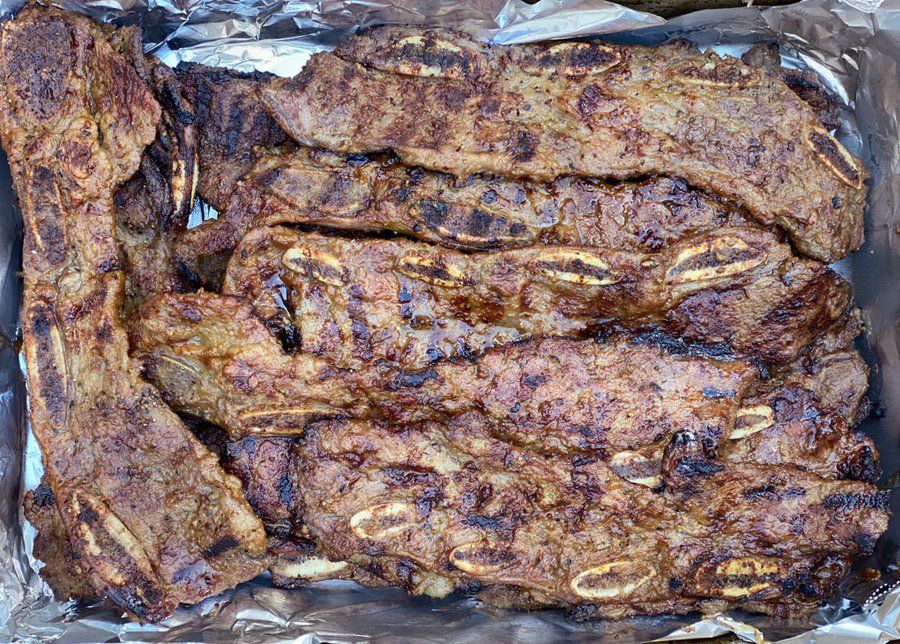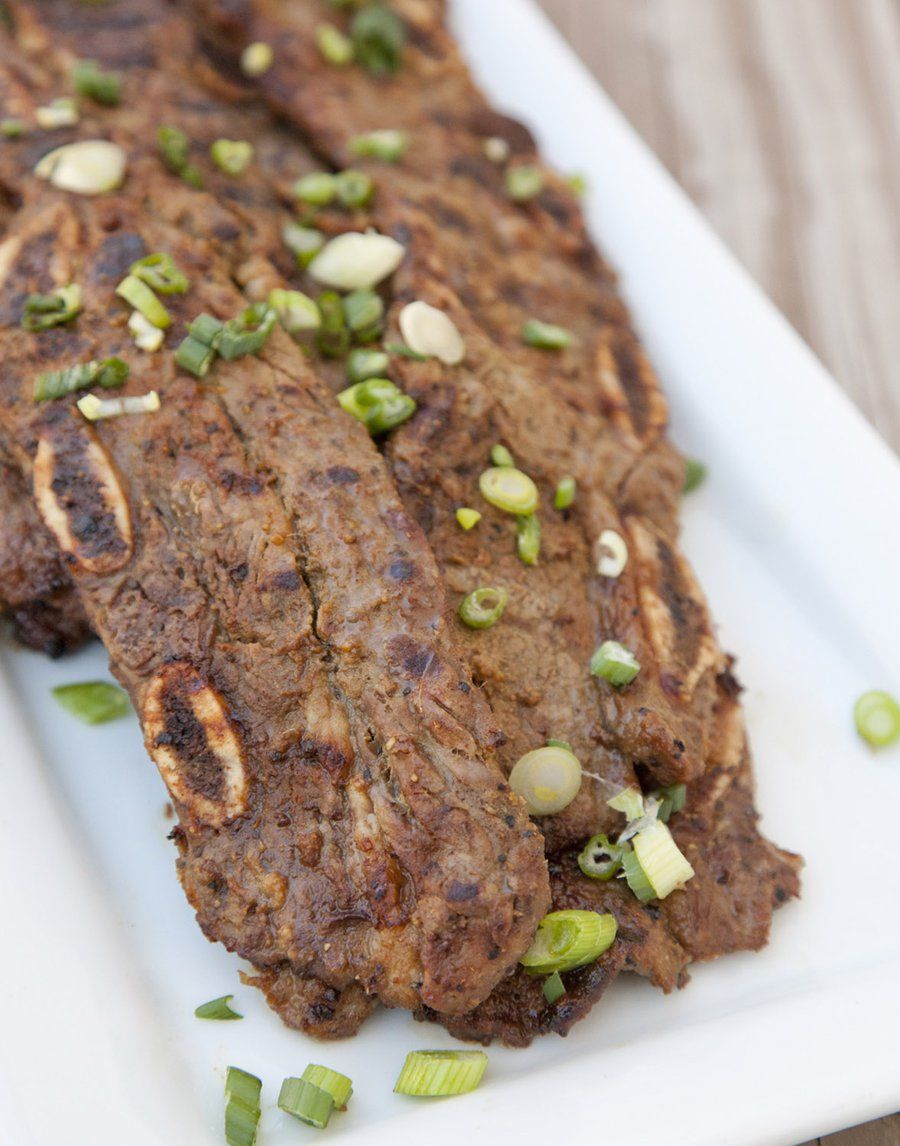 Homemade Korean Hot Sauce
Prep Time
---
5 Minutes

Total Time
---
5 Minutes

Yield
---
Makes 1/2 cup of Sauce

Ingredients
2 T Gochujang Korean Chili Paste
2 T Plum Sauce
1/2 Tablespoon Soy Sauce
1 Tablespoon Mirin
1/2 Tablespoon Garlic (minced)
3 T Water
1/2 Teaspoon Sesame Seeds
---
Directions
Whisk all ingredients together in a small bowl - can be kept in an airtight container in the fridge for a few weeks.
Grilled Korean Short Ribs
Prep Time
---
6 Hour 10 Minutes

Cook Time
---
20 Minutes

Total Time
---
7 Hour 30 Minutes

Yield
---
Serves 6

Ingredients
1 Onion (cut into quarters)
4 Scallions (cut in half)
1/2 Pear (skin on, cut into small chunks)
3/4 Cup Garlic (whole cloves, peeled)
1 Cup Low Sodium Soy Sauce
1 Cup Orange Juice
1/2 Cup Mirin
1/2 Cup Sesame Oil
1/4 Cup Granulated Sugar
2 T Sesame Seeds
1 Tablespoon Ginger Root (peeled)
1 Tablespoon Gochujang Korean Chili Paste
4 1/2 lbs Beef Short Ribs (Sliced 1/4" thick - bone in)
---
Directions
In a blender combine all ingredients except the short ribs. Blend on high until completely smooth. In a large ziploc bag, add your short ribs and the marinade and seal the bag without any air in it. Mix the short ribs by hand in the bag until all are coated.
Place in the fridge and let the short ribs marinade for at least 6 hours (or overnight if possible). Remove the short ribs from the fridge 1 hour before grilling.
When ready to grill, heat a grill up over a high heat - season the short ribs on both sides with salt and pepper and grill about 3-4 minutes per side.
Remove short ribs from the grill and serve hot - can be served with an awesome Homemade Hot Sauce (recipe below!)