I absolutely love Sushi. I would east sushi every single night if I could. So last night I decided I wanted to try making on of my favorite rolls; a Dragon Roll. Typically a Dragon Roll consists of the following:
·      Shrimp Tempura
·      Eel
·      Tobiko (red fish roe)
·      Cucumber
·      Avocado
·      Unagi Sauce
·      Spicy Mayo
·      Nori (seaweed)
·      Rice
So with that, I set out to one of my favorite NYC Japanese Market Places, M2M in the East Village. I was lucky enough to find all my ingredients (including the eel which I was super happy about!) While making all the various components of this dish is time consuming and requires a lot of patience (something I lack greatly), it came out tasting AWESOME.
My original plan was to make these into actual rolls….which I did….although that lack of said patience mentioned above, kicked in and after a few rolls, I wound up making Hand Rolls instead.
Either way, this came out awesome! If anything, try making just the Shrimp Tempura Part – they were delicious!!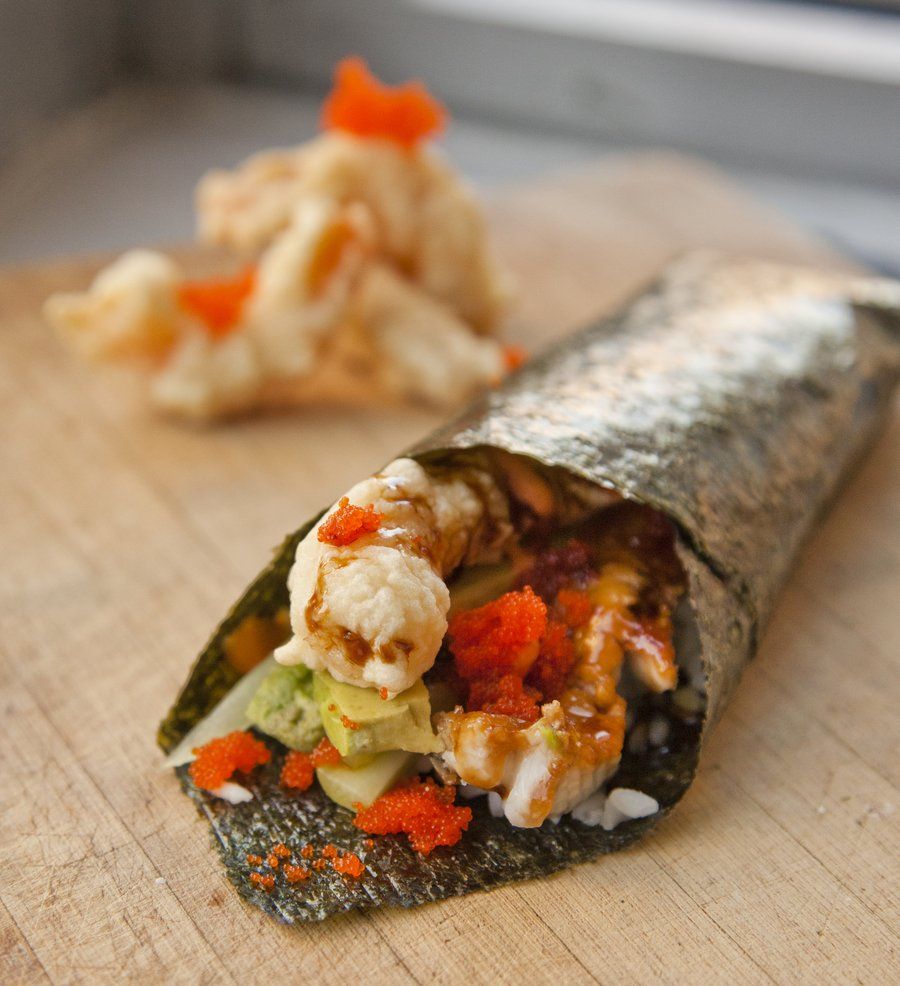 If you've never rolled a Sushi Roll before, I suggest trying this in a hand roll first.
Lay down a sheet of Nori, on half of the nori, lay down a thin layer of Sushi Rice.
Top with julienned sliced of cucumber, thin slices of avocado, a slice of eel*, 3 shrimp tempura, tobiko, a drizzle of unagi and spicy mayo.
Roll up into a cone shape and enjoy!
* I got eel from my Japanese Market. It comes in a vacuum sealed bag, marinated in a delicious Japanese BBQ Sauce. You literally remove it from the bag, microwave it for 2 minutes and then slice it up!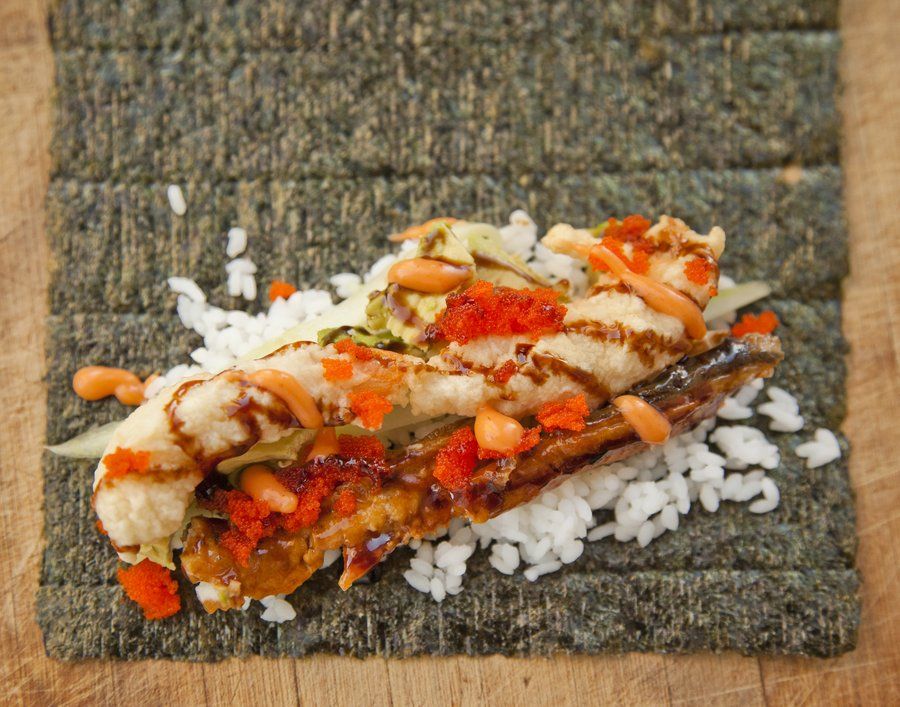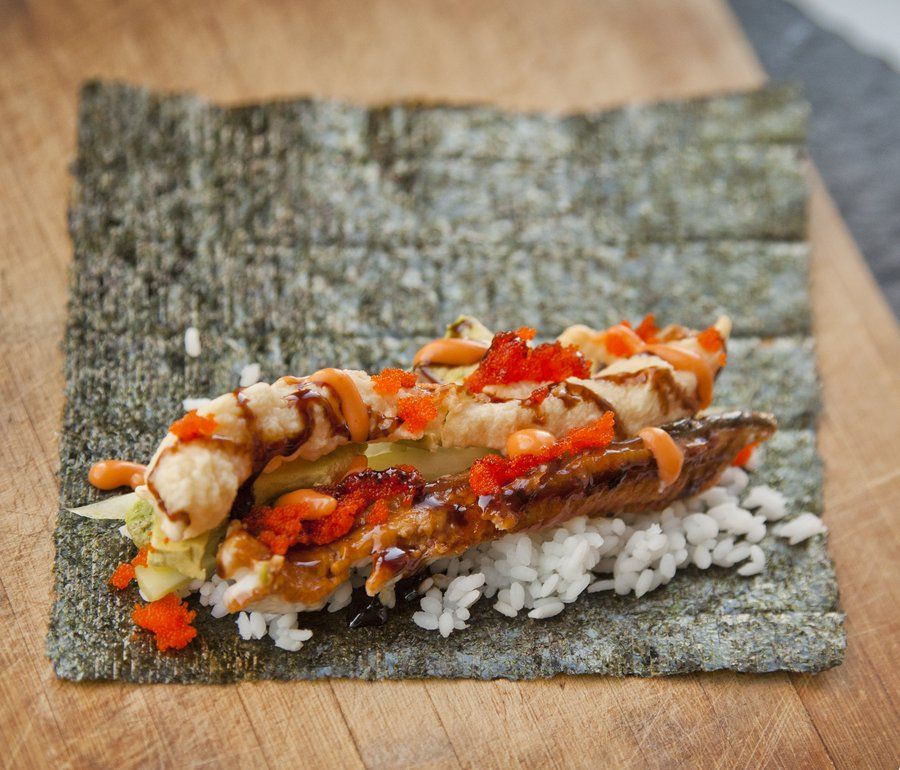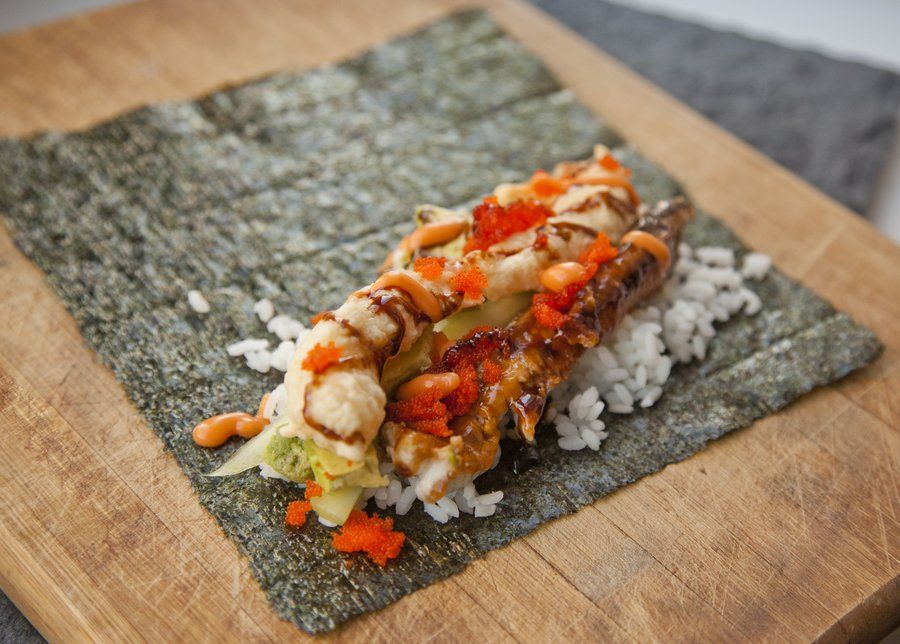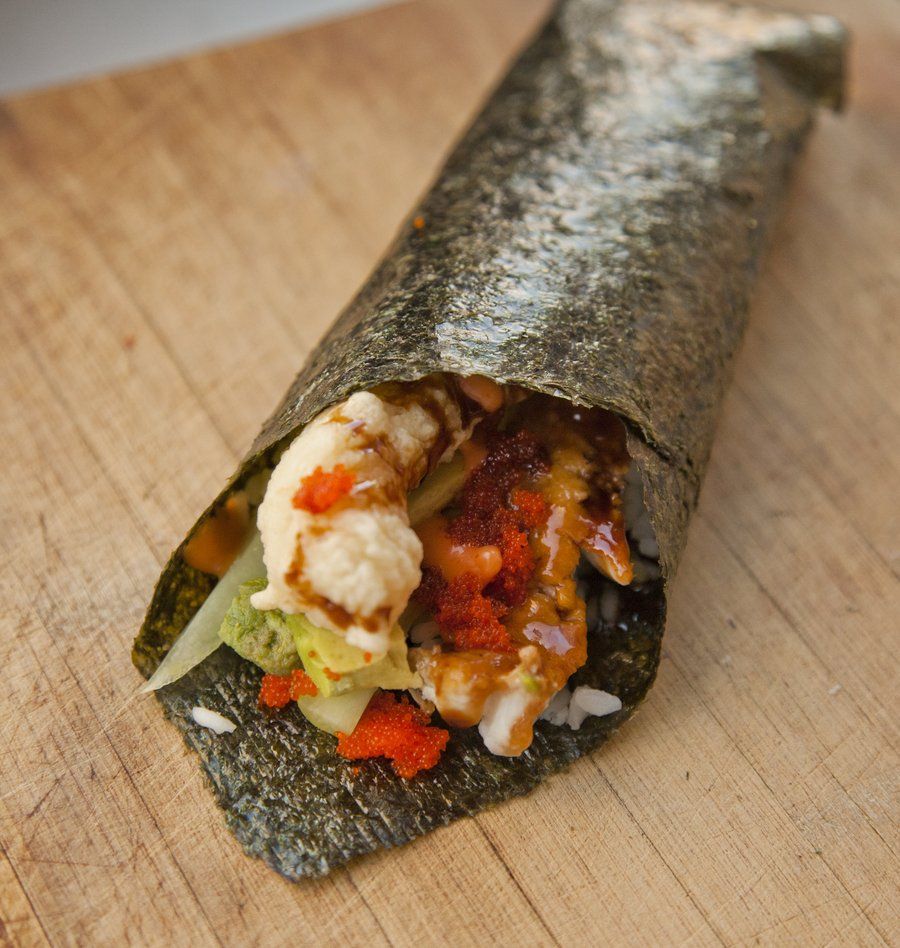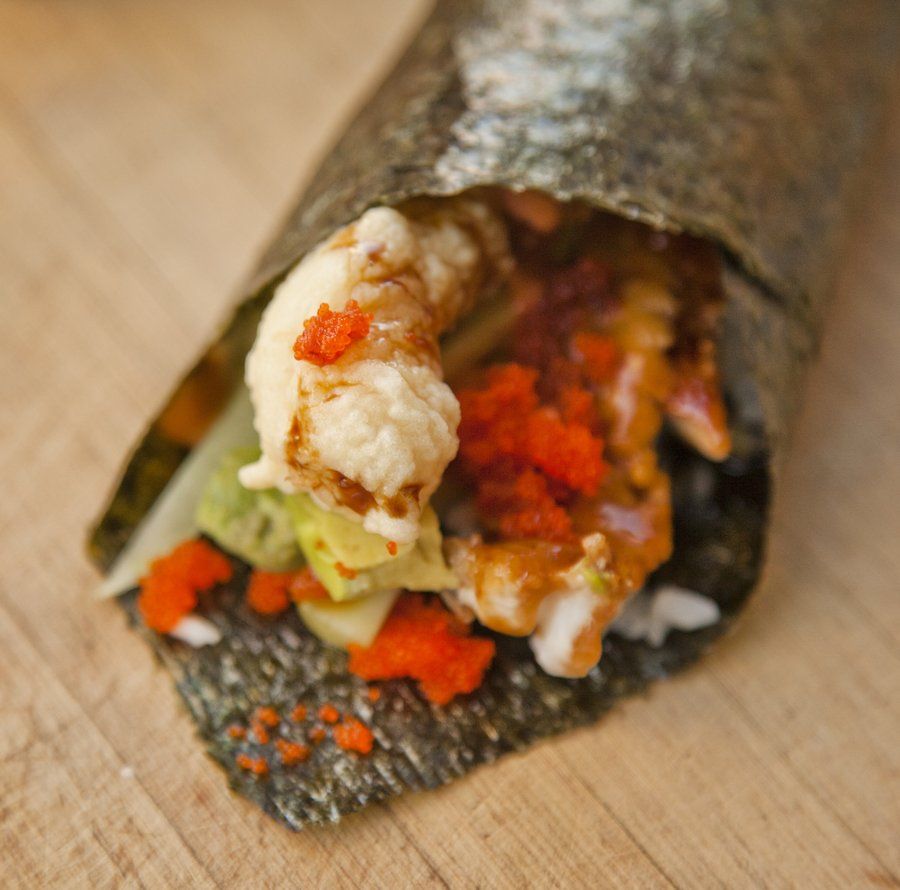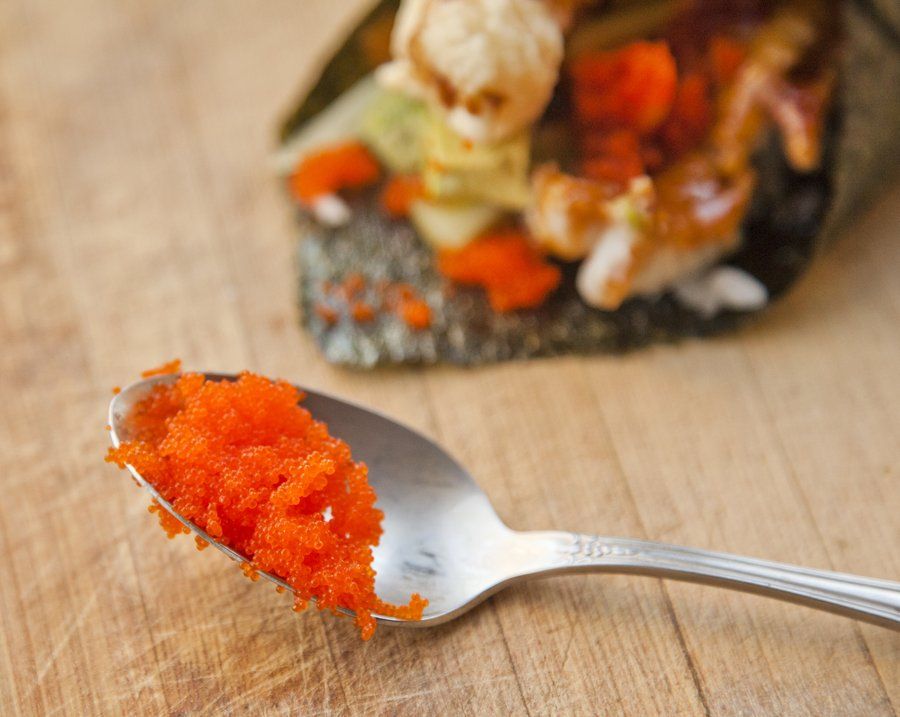 Here are some photos of my sad, sad attempts at making a beautiful sushi roll: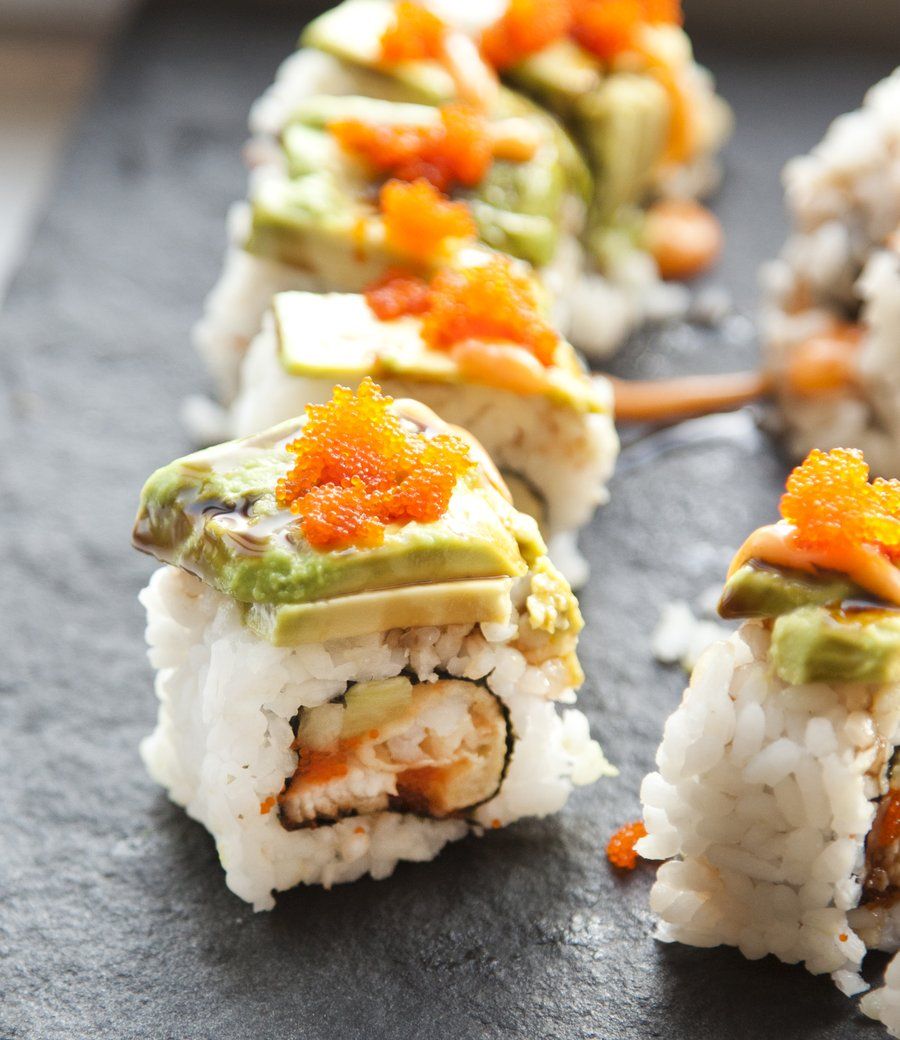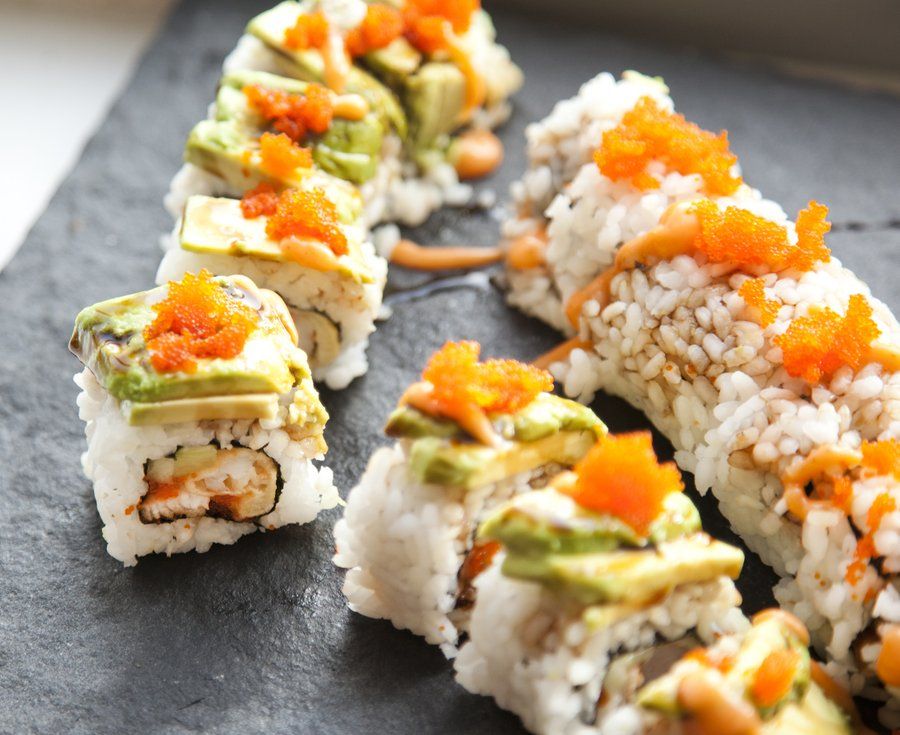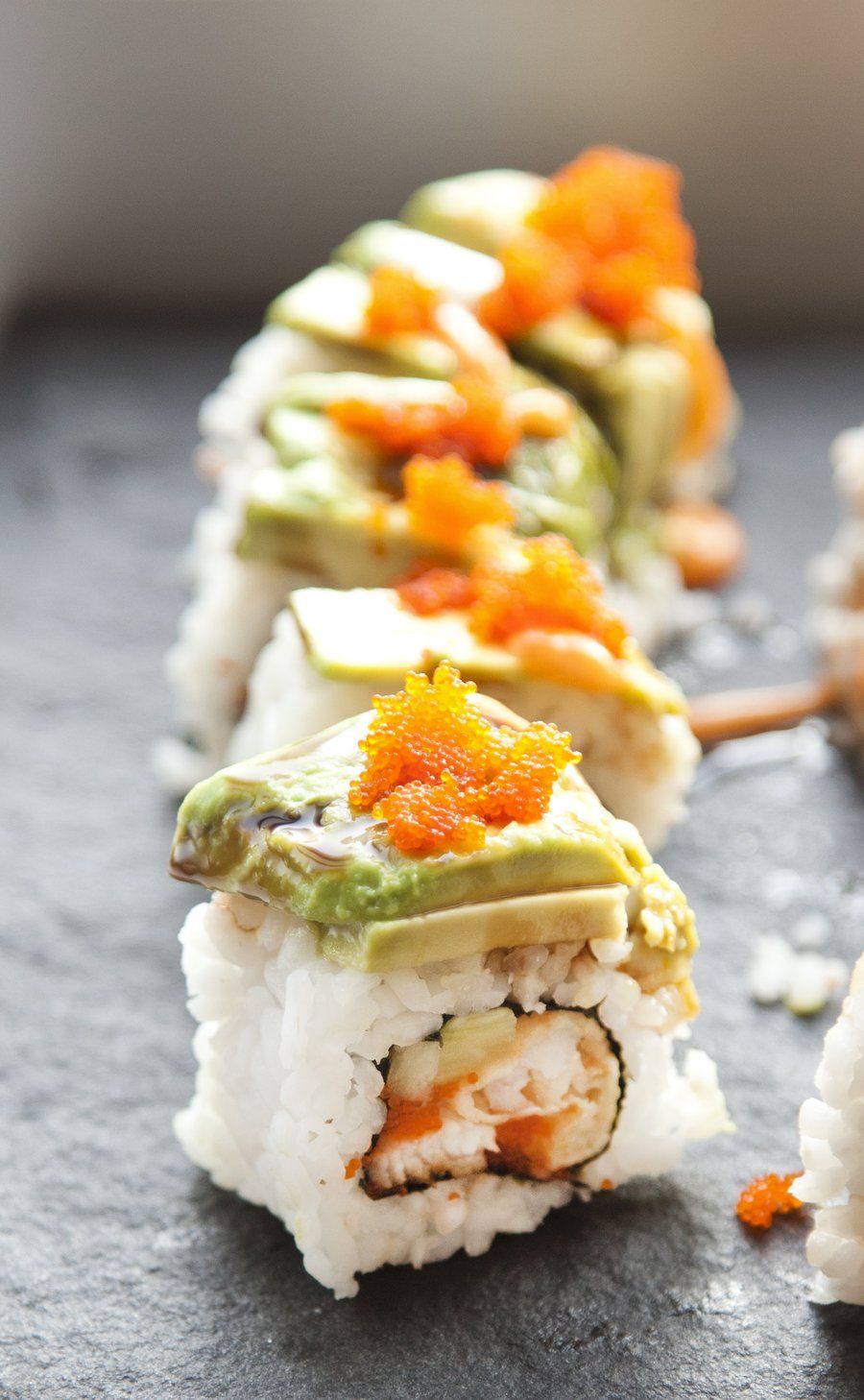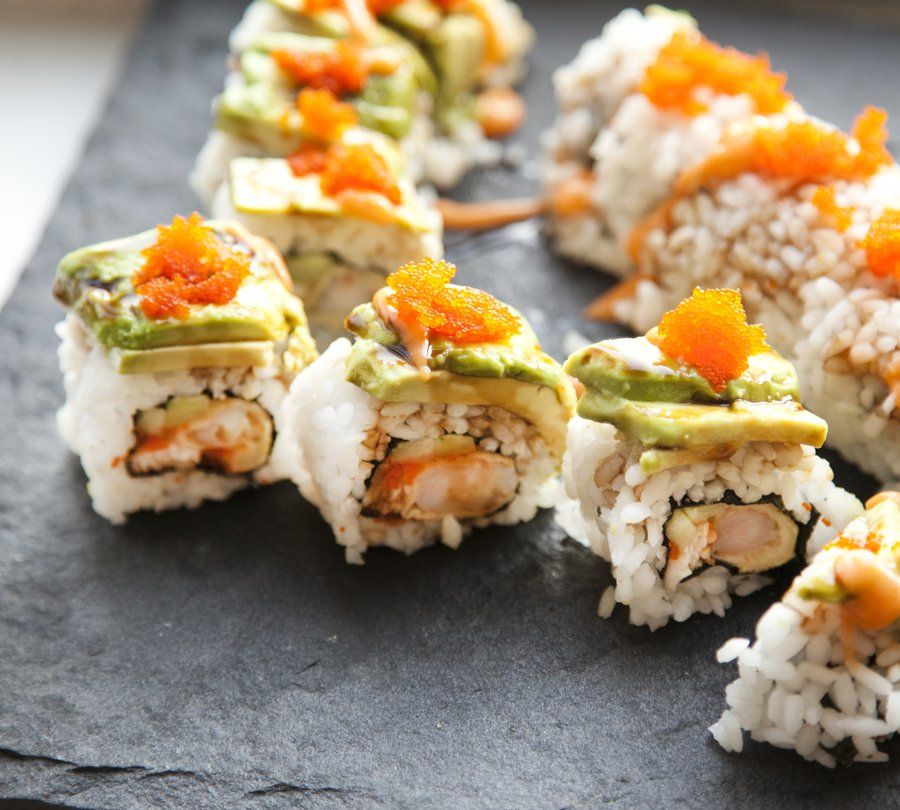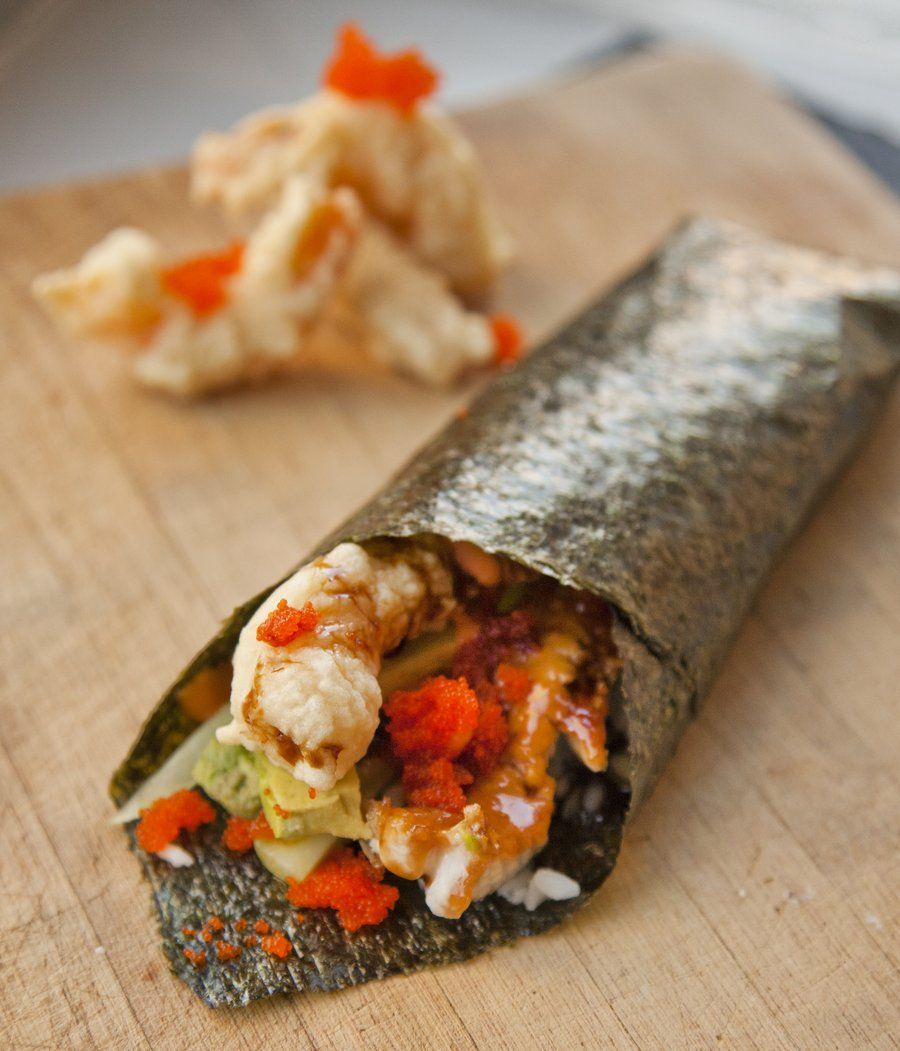 Sushi Rice
Prep Time
---
5 Minutes

Cook Time
---
25 Minutes

Total Time
---
1 Hour

Yield
---
2 cups

Ingredients
1 Cup Sushi Rice
1 Cup Water
1 Tablespoon Rice Vinegar
1 Tablespoon Sugar
1/2 Teaspoon Salt
---
Directions
Place the rice into a bowl and cover with cool water. Swirl the rice in the water, pour off, through a strainer and repeat 4 or 5 times or until the water is clear.
Place your rice and water in a pot, and bring to a boil. Once it boils, turn the heat down to the lowest setting, cover and cook 18 minutes. Remove the pot from the heat, still covered and let sit 10 minutes.
At this point, in a microwave safe bowl, combine your rice vinegar, sugar and salt and heat in the microwave for 35 seconds.
Put your rice in a metal or wooden bowl and pour the rice vinegar/sugar/salt mixture over it. Using a wooden spoon, mix the rice. Allow the rice to cool to room temperature before using for sushi.
Spicy Mayo
Prep Time
---
2 Minutes

Total Time
---
2 Minutes

Yield
---
Makes 1/4 cup

Ingredients
2 T Mayonaise
1 Teaspoon Sriracha
1 Teaspoon Water
---
Directions
Combine your mayo and sriracha in a bowl. Add in a touch of water to make it a more silky texture (easier to drizzle on top of sushi). Refrigerate til use.
Shrimp Tempura
Prep Time
---
15 Minutes

Cook Time
---
15 Minutes

Total Time
---
30 Minutes

Yield
---
Makes 40 shrimp

Ingredients
1 Egg
1 Cup Water
1 Cup Flour
40 Medium Shrimp (peeled and deveined)
---
Directions
In a large bowl, sift in your flour. In a separate bowl, whisk together your water and egg for about a minute. Fold the egg mixture into the flour and stir to combine completely to make your batter.
Meanwhile, for your shrimp, remove the shells and veins. Turn your shrimp so that the curve of the belly is facing up. Using a sharp paring knife, cut horizontal slits along the belly of the shrimp, about 2mm deep every 5 mm. Carefully bend the shrimp back so that the shrimp now lays flat instead of curved (this is a process that will make rolling sushi easier).
Heat up a deep fryer or a pot of oil to 360 degrees. Dip the shrimp in your tempura batter, coat completely , and put in the fryer. Cook for about 3 minutes until a light golden brown, remove and set on a sheet tray lined with paper towels.
Unagi Sauce
Prep Time
---
1 Minutes

Cook Time
---
20 Minutes

Total Time
---
21 Minutes

Yield
---
Makes 1/4 cup

Ingredients
1/4 Cup Mirin
2 1/2 T Sugar
1/4 Cup Soy Sauce
---
Directions
In a small saucepan, add in your Mirin and sugar. Cook over a medium high heat until the sugar dissolves. Add in your soy sauce, and cook on a simmer for about 15-20 minutes. Remove from heat and let cool