With Summer comes delicious fresh Seafood in abundance. I am a huge fan of Summer seafood dishes like Lobster Rolls, Soft Shell Crab Sandwiches and the likes...
So I wanted to combine this love of fresh Summer Seafood with my obsession with Avocado.
This is a great summer salad that can be served as an appetizer at your next party. You can even make it into smaller bites and serve it on a crispy wonton chip or on a slice of cucumber.
Stay tuned for more Summer Seafood recipes later this month when me and my husband spend a week in Bar Harbor, Maine going fishing for our own fish and getting some fresh Maine Lobster!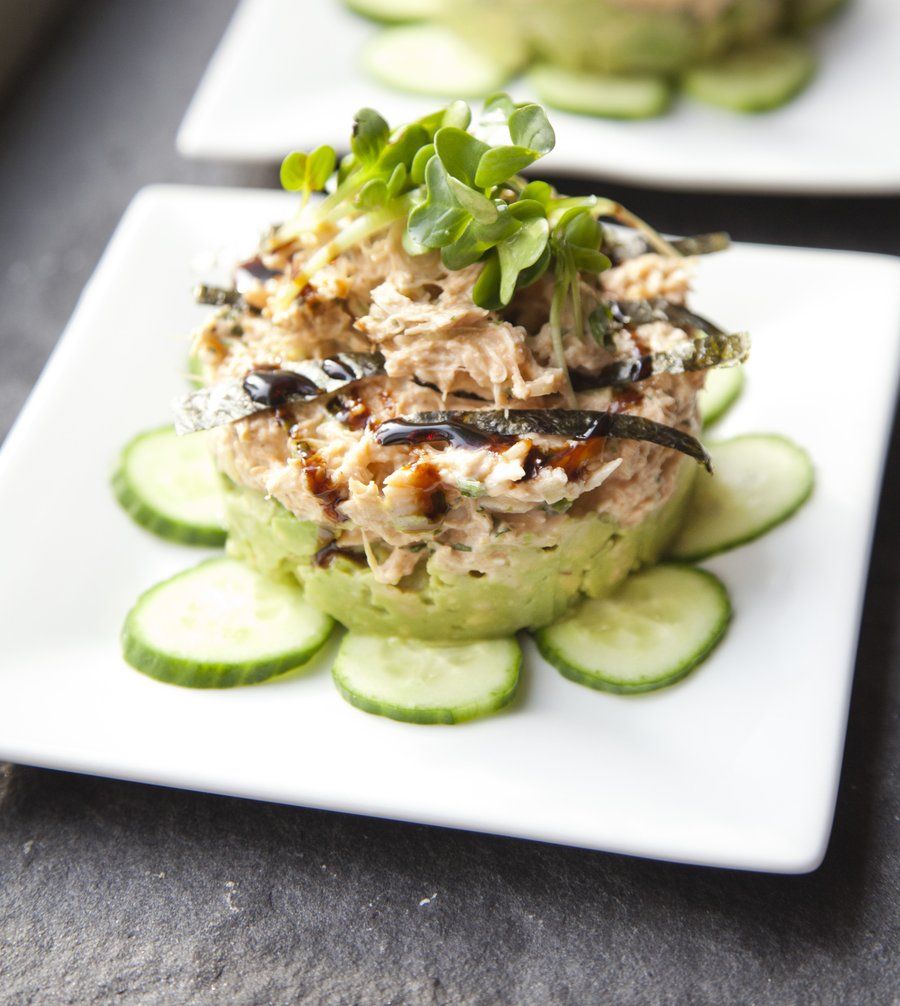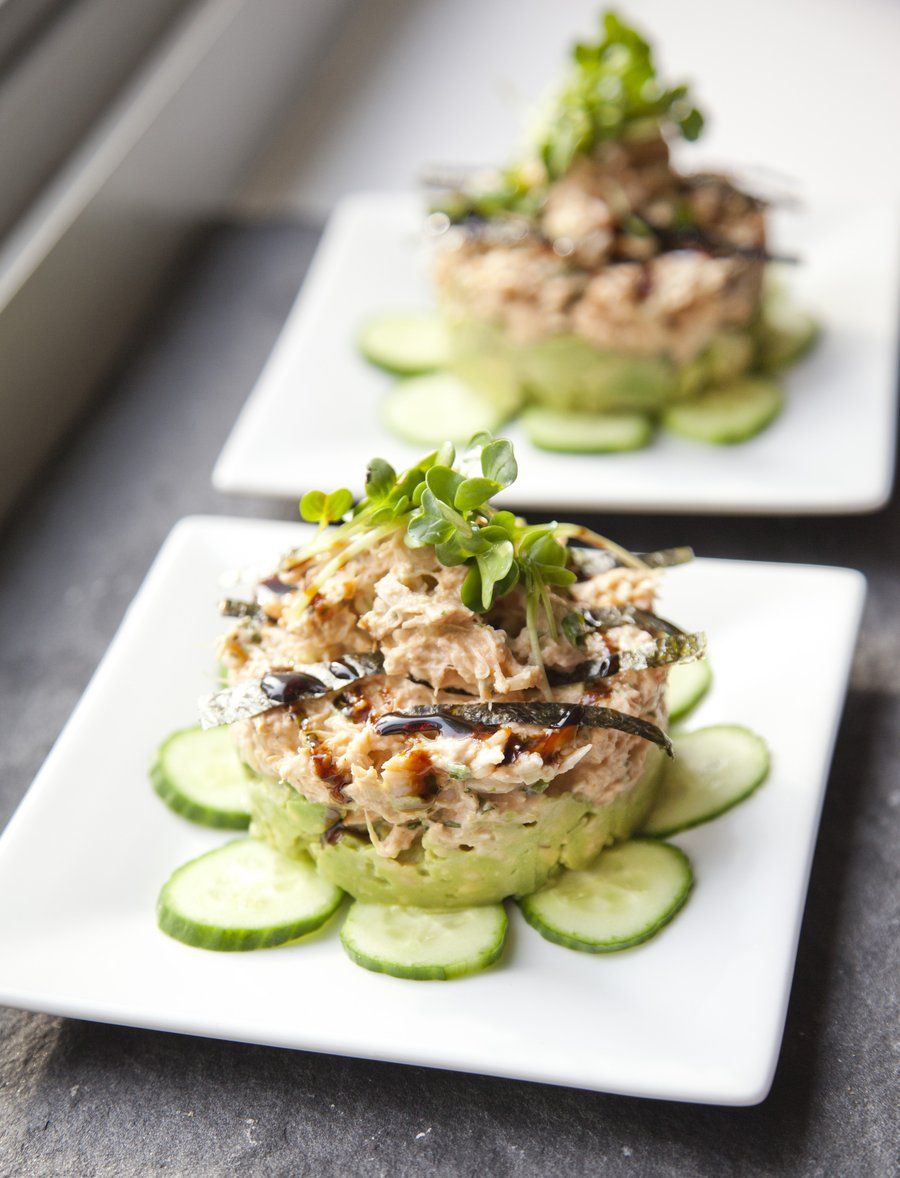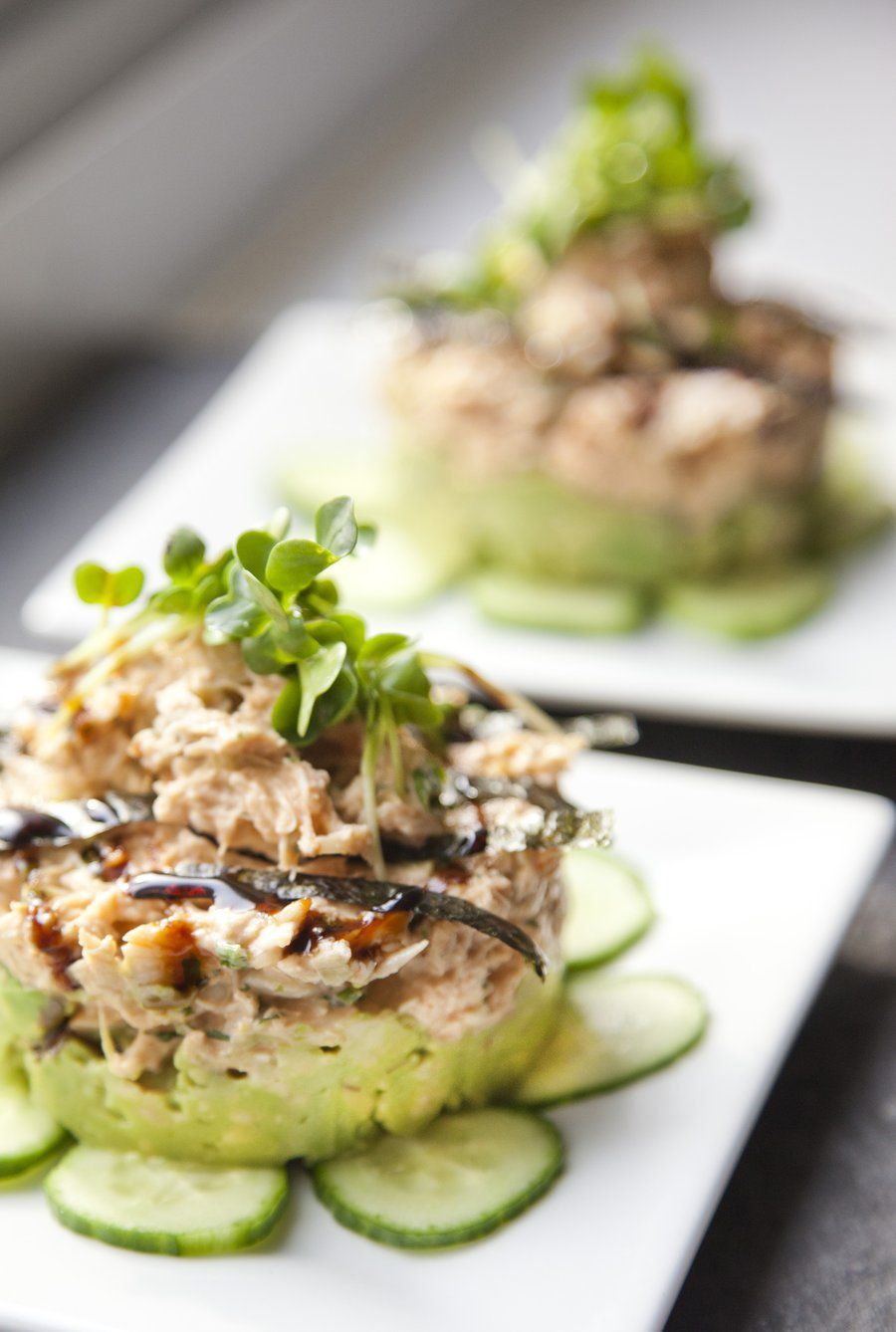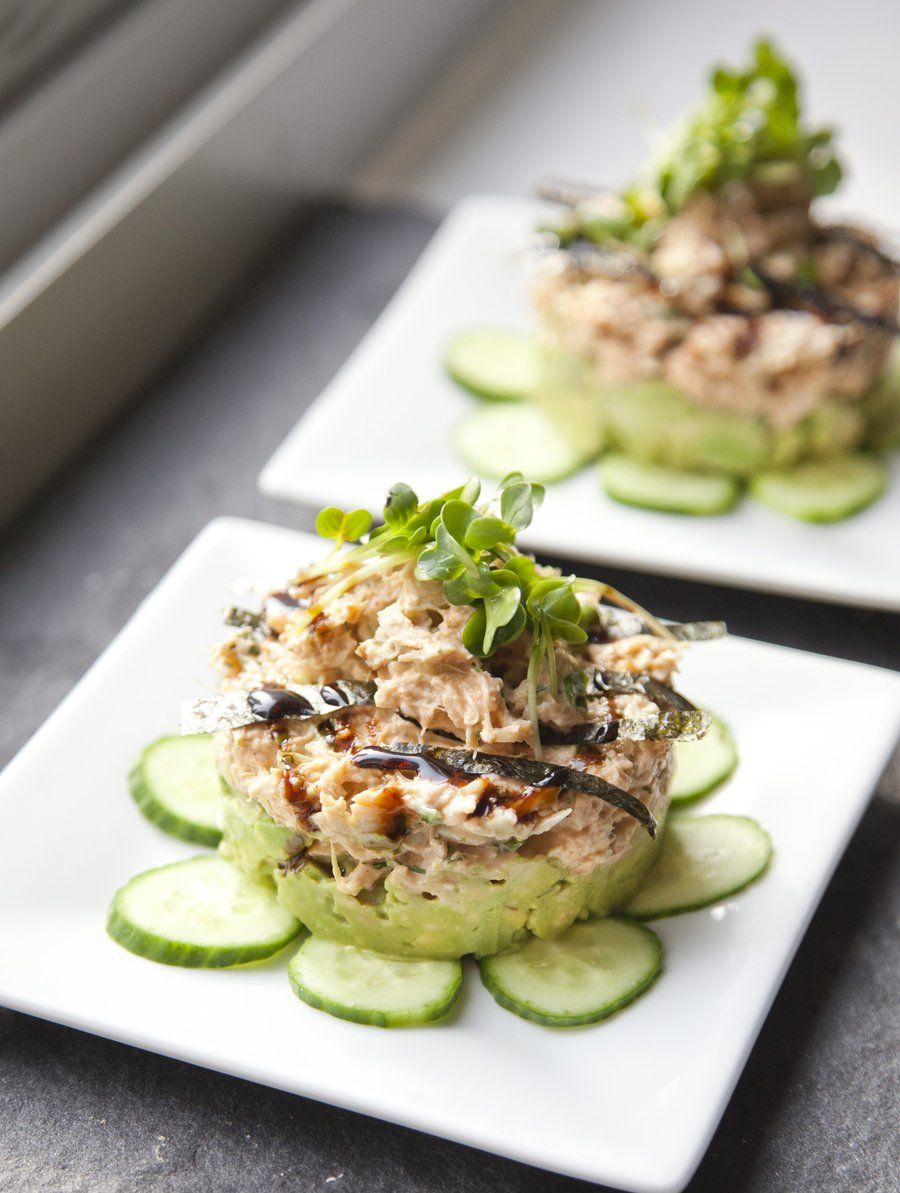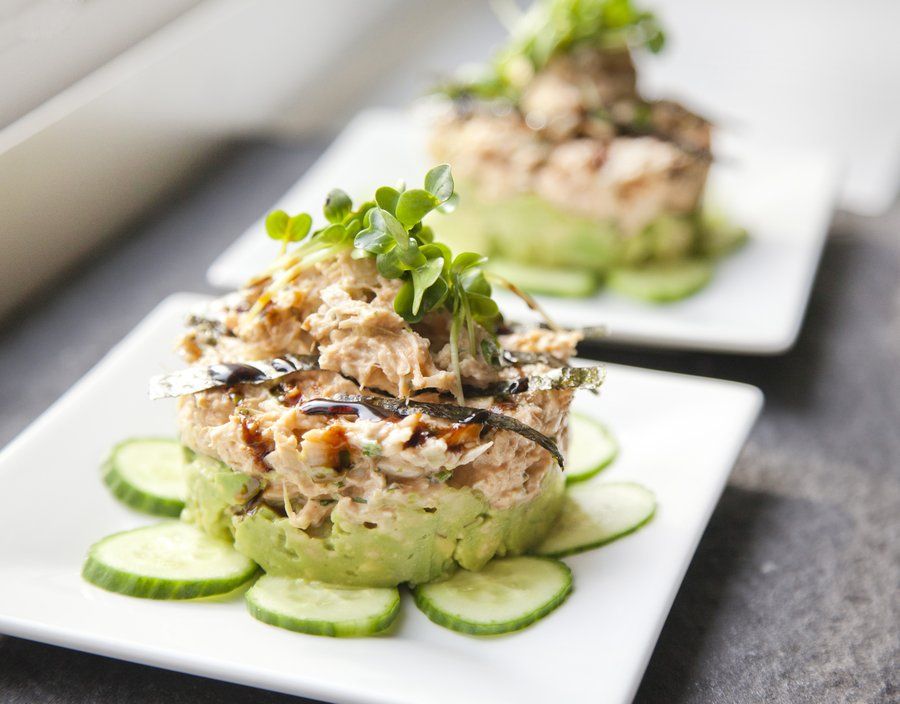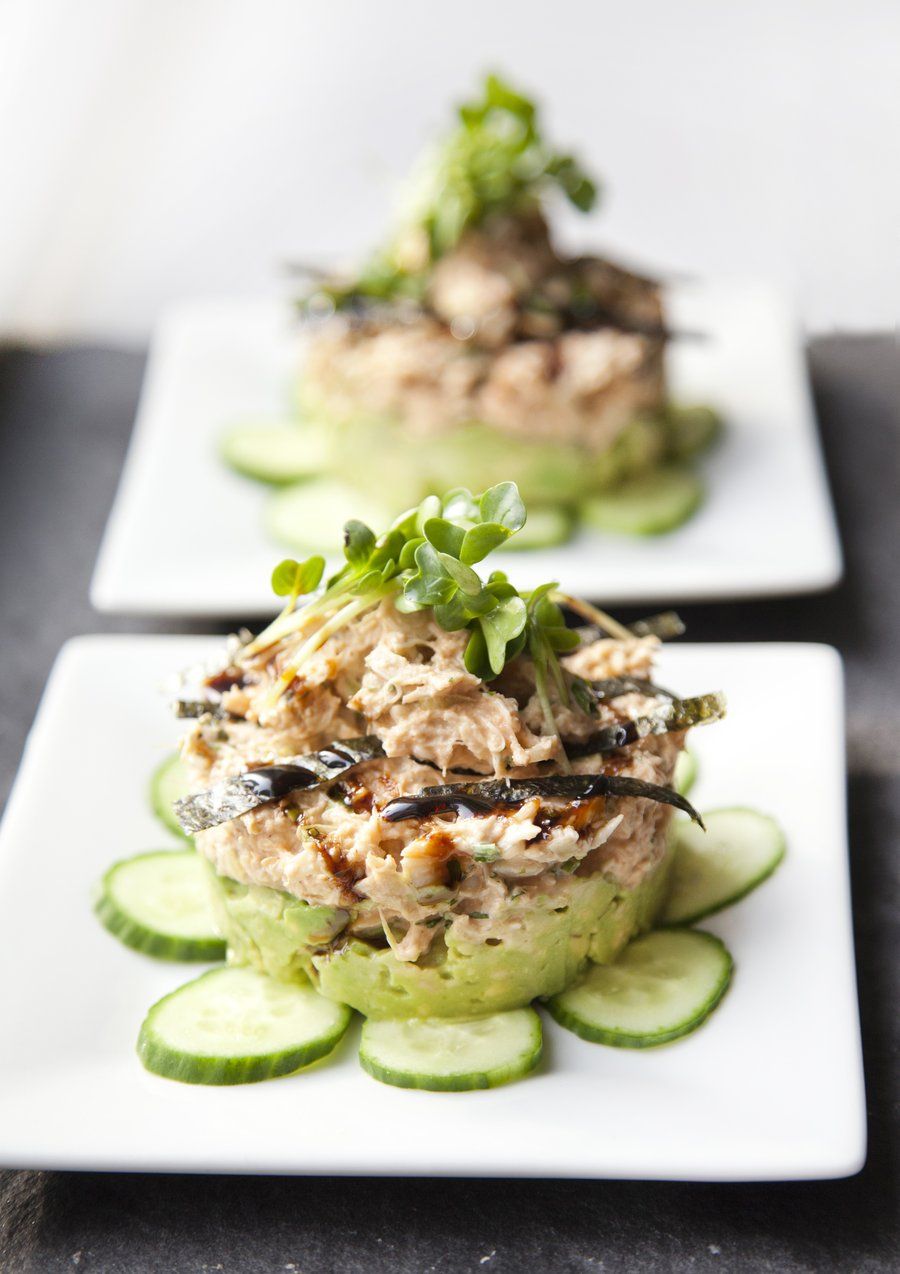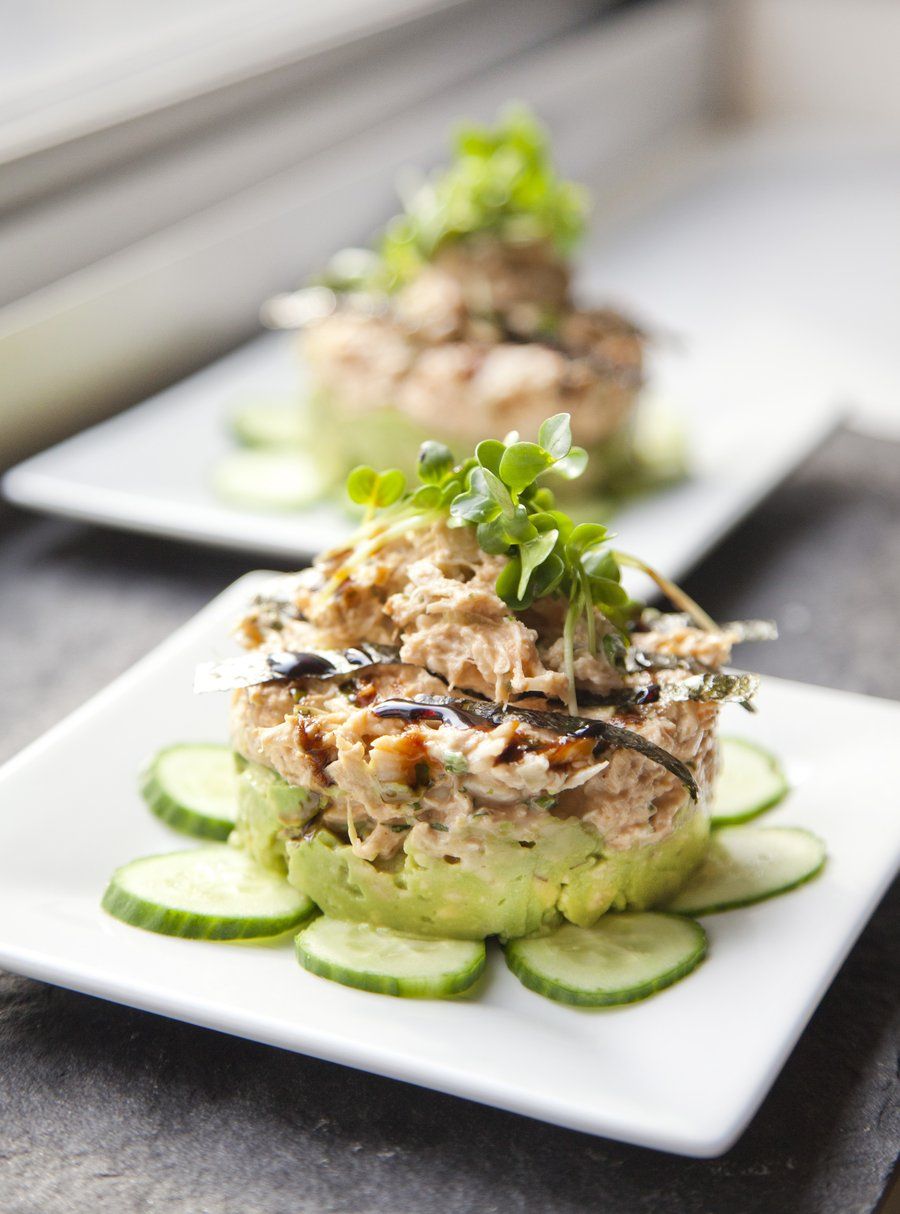 Crab and Avocado Salad
Prep Time
---
15 Minutes

Total Time
---
15 Minutes

Yield
---
Serves 2

Ingredients
1 Cup Crab Meat - Claw Meat only (cut up small)
1/4 Cup Mayonaise
1 1/2 tsps Sriracha
2 tsps Soy Sauce
2 Scallions (sliced thin)
1 Teaspoon Sesame Oil
1 Teaspoon Sesame Seeds
1 Teaspoon Rice Vinegar
1 Teaspoon Cilantro (minced)
1 Persian Cucumber
1/2 Avocado
1/2 Lime (juiced)
Unagi Sauce (recipe below)
A few thin cut slices of Dried Nori
Daikon Sprouts
---
Directions
In a small bowl combine your crab meat, mayo, sriracha, soy sauce, scallion, sesame oil, sesame seeds, rice vinegar and cilantro. Mix together.
Take your cucumber and cut it in half. Using a mandolin, slice the first half the cucumber super thin (1/16th inch) - reserve. With the other half of the cucumber, peel it and then dice it up very small. Take the diced cucumber and place it in a bowl with the avocado and lime juice. Mix together and season with salt.
To assemble: Lay down a circle of your thin sliced cucumber. Using a 4" diameter ring mold, place the mold on top of the cucumber and fill up the ring mold with half of the avocado mixture. Pat it down in the mold evenly with a spoon. Top with half of the crab mixture. Carefully remove the ring mold. Top with a drizzle of Unagi Sauce (recipe below), slices of Nori, and top with Daikon Sprouts. Repeat with second salad.
Unagi Sauce
Prep Time
---
1 Minutes

Cook Time
---
20 Minutes

Total Time
---
21 Minutes

Yield
---
Makes 1/4 cup

Ingredients
1/4 Cup Mirin
2 1/2 T Sugar
1/4 Cup Soy Sauce
---
Directions
In a small saucepan, add in your Mirin and sugar. Cook over a medium high heat until the sugar dissolves. Add in your soy sauce, and cook on a simmer for about 15-20 minutes. Remove from heat and let cool