My husband has been requesting Arepas for about a month now. I associate Arepas with those dried out, corn pockets you get at NYC street fairs, which to me are less than appetizing. I have always been more of a fan of flour-based tortillas than corn based - I feel like the corn based tortillas are always so dry, whereas the flour tortillas are more pliable and soft (insert thoughts of a Chipotle Burrito here *yum*).
So when asked to make arepas, I decided to go a slightly different route with them and not only grill them on a griddle, but then deep fry them in hopes to impart some moisture and goodness into them. Well, these came out great - They have the flavor of hard taco shells with the crispiness and pliability of the ultimate taco delivery device. It's as if a hard taco shell and a soft taco shell made a taco shell baby.
The filling of pulled chicken was so easy to make - I poached the chicken to cook it through, shred it and then added it to a great tomato based sauce loaded with Poblano and Jalapeno Peppers! You can top these bad boys with your favorite taco toppings (cheese, tomatoes, salsa, sour cream, etc).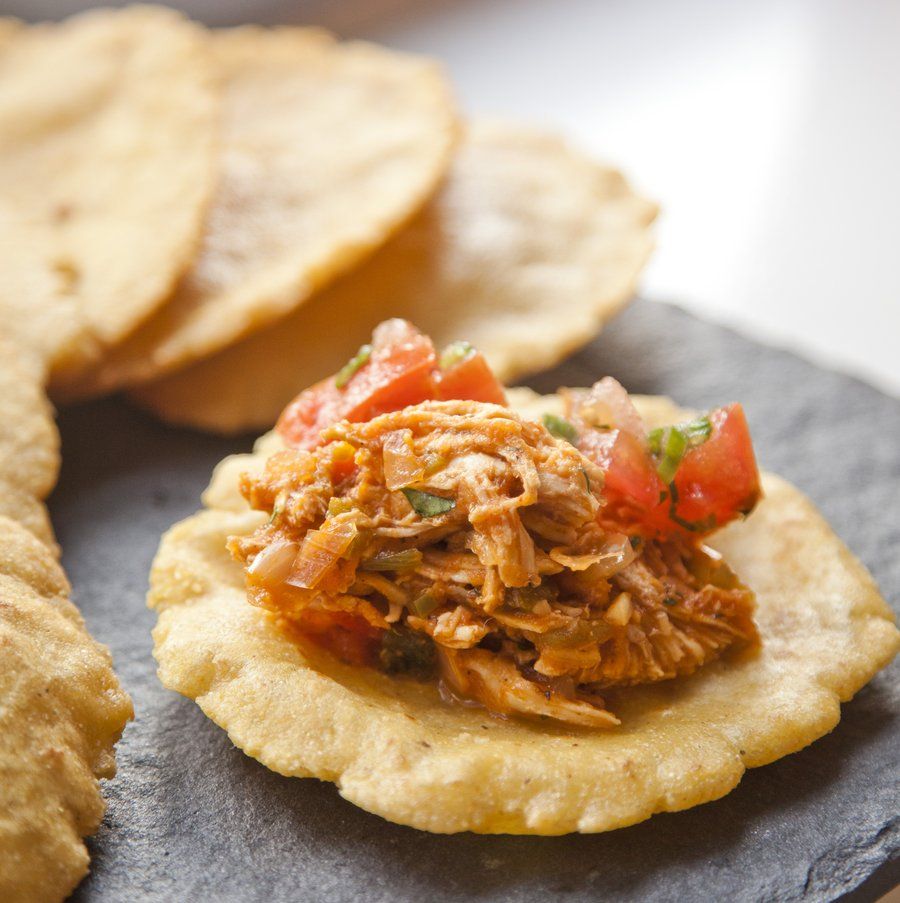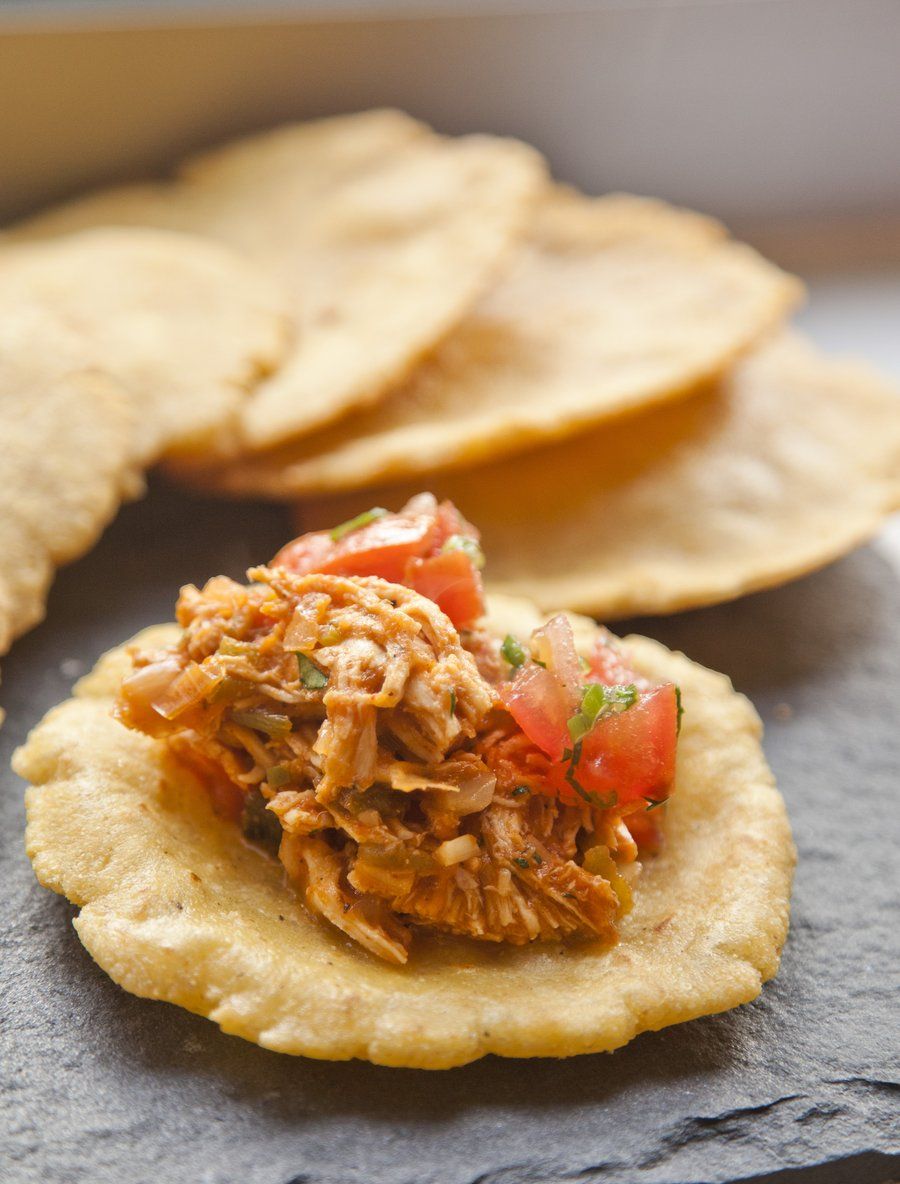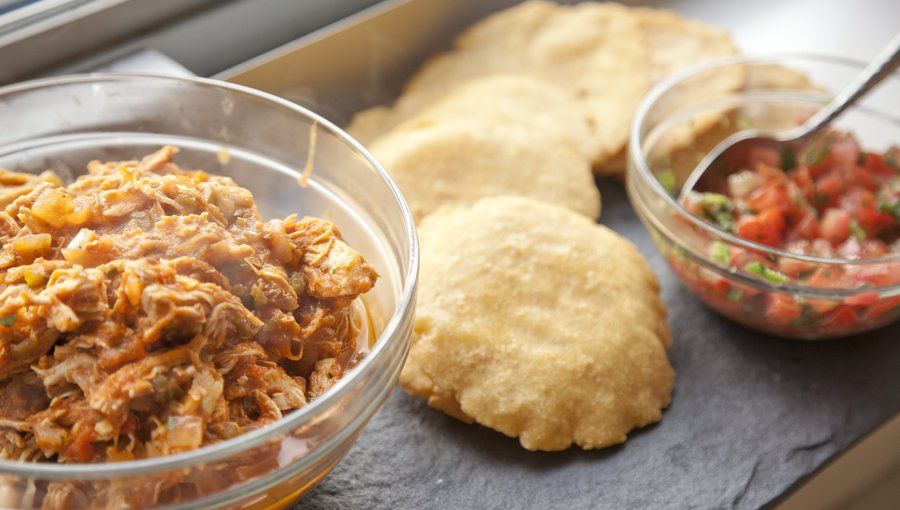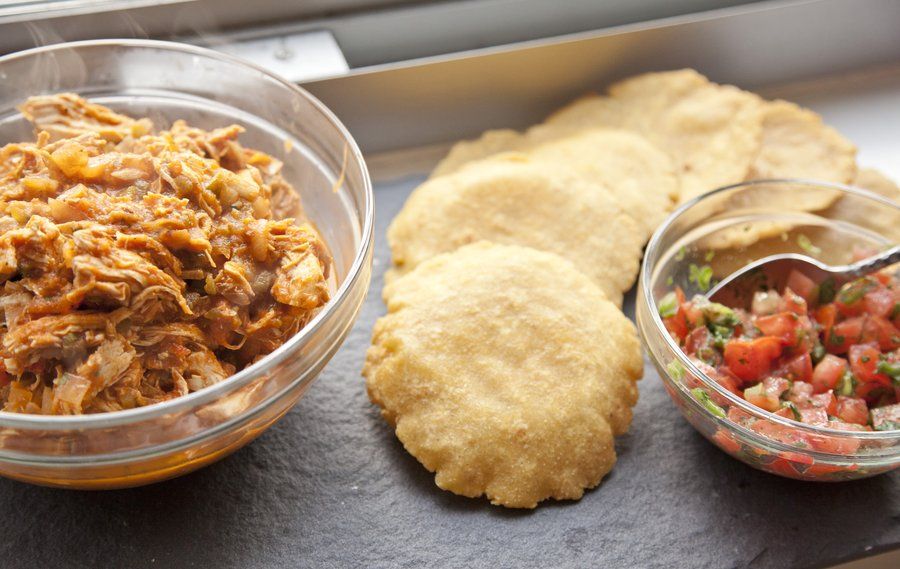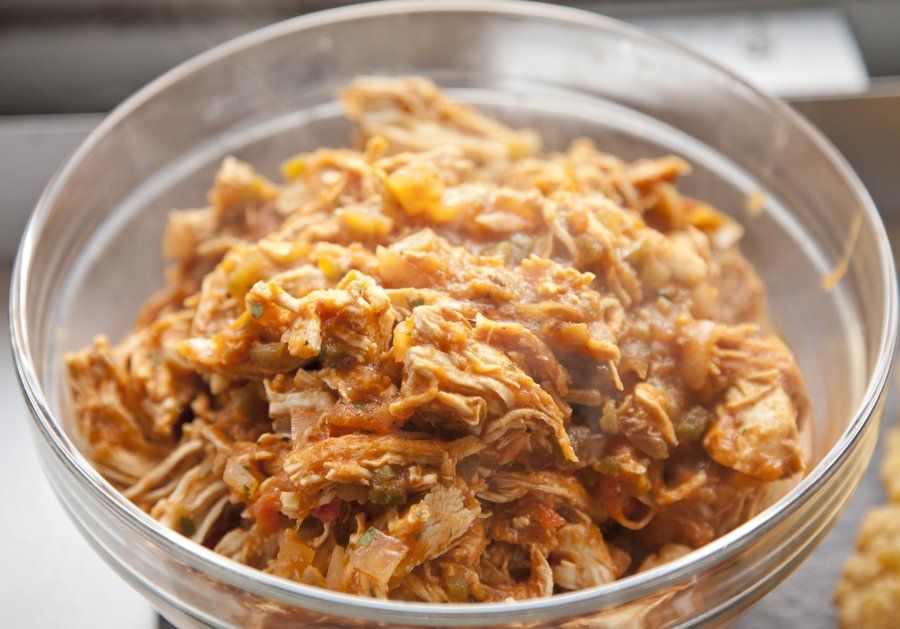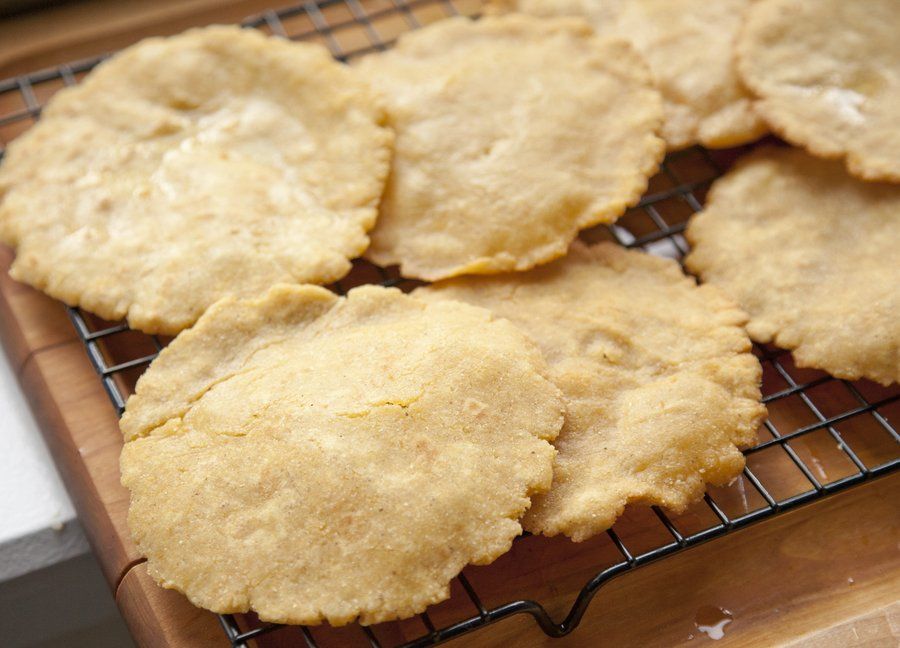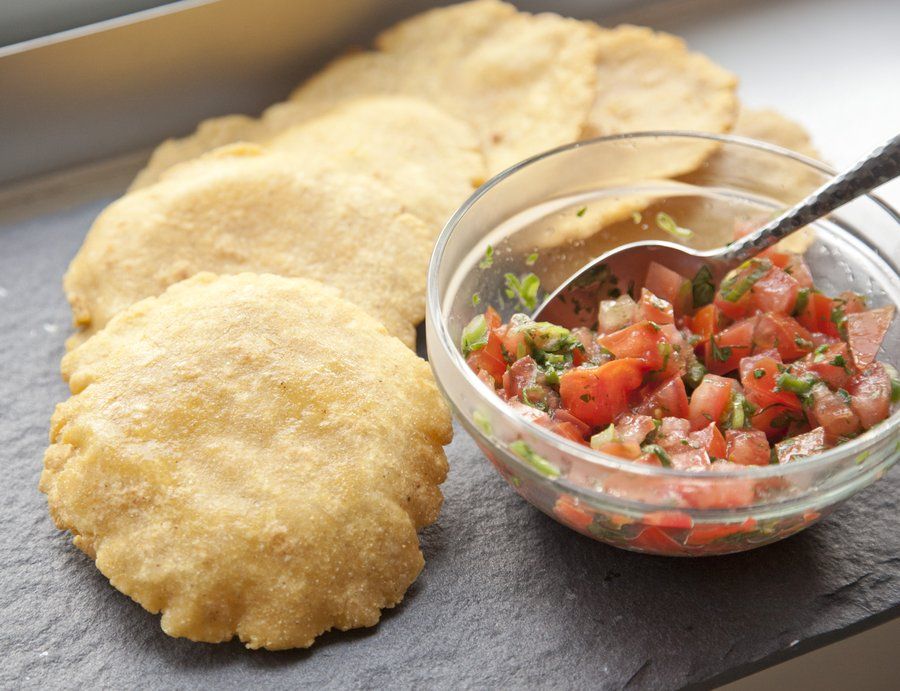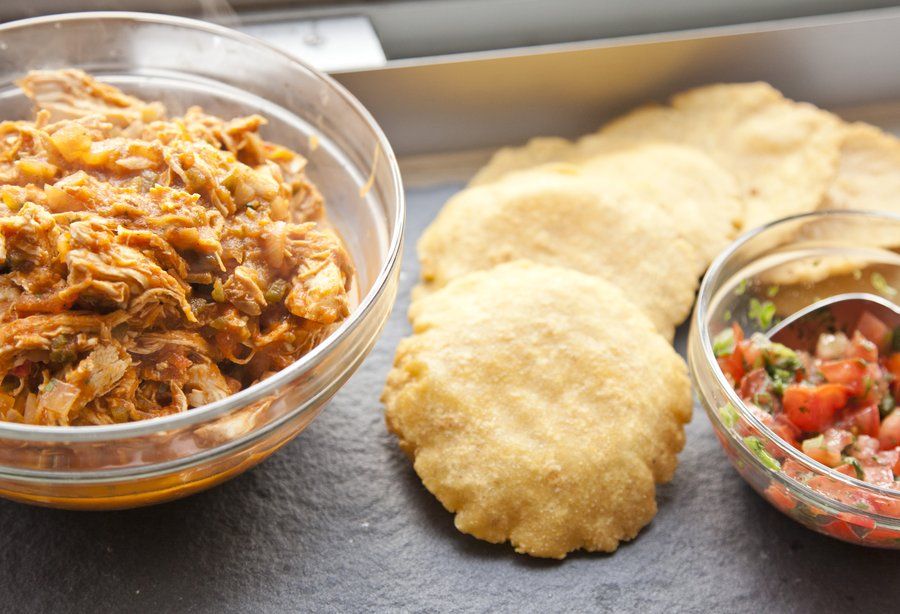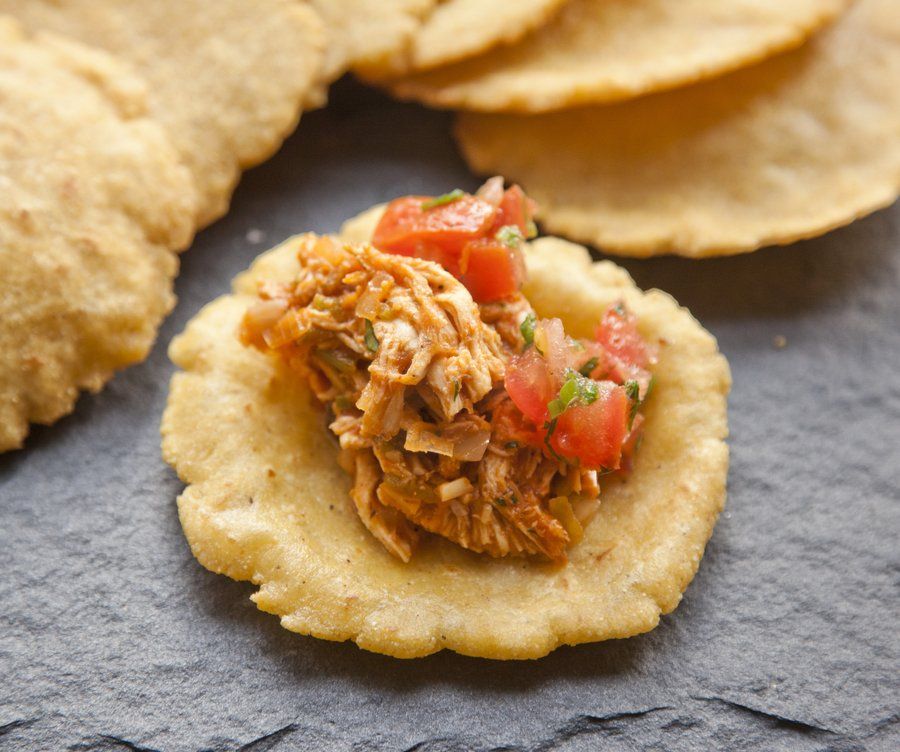 Chicken Gorditas
Prep Time
---
15 Minutes

Cook Time
---
45 Minutes

Total Time
---
1 Hour

Yield
---
Serves 2-4

Ingredients
3 Boneless Chicken Breast
2 Garlic Cloves
1/2 small dice Onion
1 minced Poblano Pepper (Roasted, seeds and stems removed)
1 minced Jalapeno (seeds and stems removed)
1 Teaspoon Cumin Seeds
2 minced Garlic Cloves
1 Teaspoon Paprika
2 Cups Tomato Puree
1/2 Cup Water
1/2 Teaspoon Black Pepper
1 Cup small dice Tomato
---
Directions
In pot add 5 cups of water, 1 teaspoon of salt, and 2 garlic cloves. Bring to a boil. Add in your chicken breasts - turn down the heat and simmer 30-35 minutes. Remove chicken with a slotted spoon, and shred with two forks.
Meanwhile make your sauce. In a large saute pan, heat up 1 teaspoon of canola oil. Once hot, add in your cumin seeds and cook about 2 minutes. Now add in your onion and jalapeño and cook another 8 minutes.
At this point, add in your garlic, poblano, and paprika - cook 2 minutes. Add your tomato puree, water and black pepper and cook over a medium heat for about 10-15 minutes, stirring frequently. Add in the diced tomato and cook another 5 minutes. Taste and season with salt.
Add your shredded chicken into the saute pan with the sauce. mix together until all chicken is coated in the sauce - cook about 3 minutes. Serve hot with Gordita Shells (recipe below), cheese, sour cream, tomato and sliced Scallion.
Masa Gordita Pockets
Prep Time
---
10 Minutes

Cook Time
---
20 Minutes

Total Time
---
30 Minutes

Yield
---
20 gorditas

Ingredients
3 1/2 Cups Masa Harina
18 oz Water
2/3 Cup Flour
2 tsps Baking Powder
1 1/2 tsps Salt
---
Directions
Combine all your ingredients in a bowl and kneed with your hands until fully incorporated.
Heat up a flat top griddle and also heat up a large pot of oil to 350 degrees. Make it so the griddle is right next to the pot of oil for easy maneuvering.
Divide your dough into 20 equal pieces and roll each into a ball - cover with a towel to prevent the masa from drying out. Using either a tortilla press or your hands - press down each ball to create a thin 5" round tortilla. In batches add your tortillas to the griddle and cook over a high heat for about 1 minuter per side. Immediately then drop the tortillas into the deep fryer and spoon oil on top of the tortillas to help them puff up. Fry for about 1-2 minutes. Remove with a slotted spoon to a resting rack to allow draining. Repeat with all the tortillas. Serve hot.