I think if I could pick my dream job, it would be to do the menu concept of a sandwich shop. I love coming up with fun sandwiches that are a little out of the ordinary, or riffs on old favorites. To me, there's nothing better than a sandwich – I love every component, and would die of a broken heart if I ever had to give up bread. How people go gluten free voluntarily is literally beyond my comprehension.
This sandwich is quite literally the best sandwich I have EVER eaten. The flavors work perfectly together and truly are the epitome of what I think a sandwich should be. There's a balance of amazing flavors (smokey, salty) and textures (crunchy, melty, and crisp)
The best bread for this in my opinion are ciabatta rolls or getting a large Italian Baguette and cutting it into smaller sandwiches. You don't want anything too stiff or flavorful – because the sandwich fillings will take care of all your flavoring needs.
Can't find Smoked Gouda Cheese? Use Smoked Mozzarella! But don't skip the Smoked part – that is half the taste in this treat!
Also, feel free to add your favorite condiments – Mayo, mustard – I have tried both and found that the sandwich really doesn't need them if you get good quality pastrami and gouda!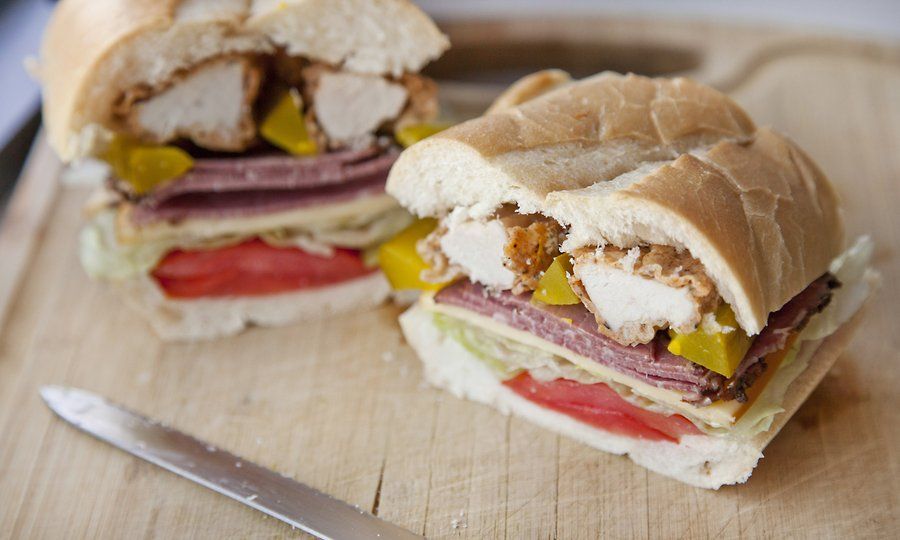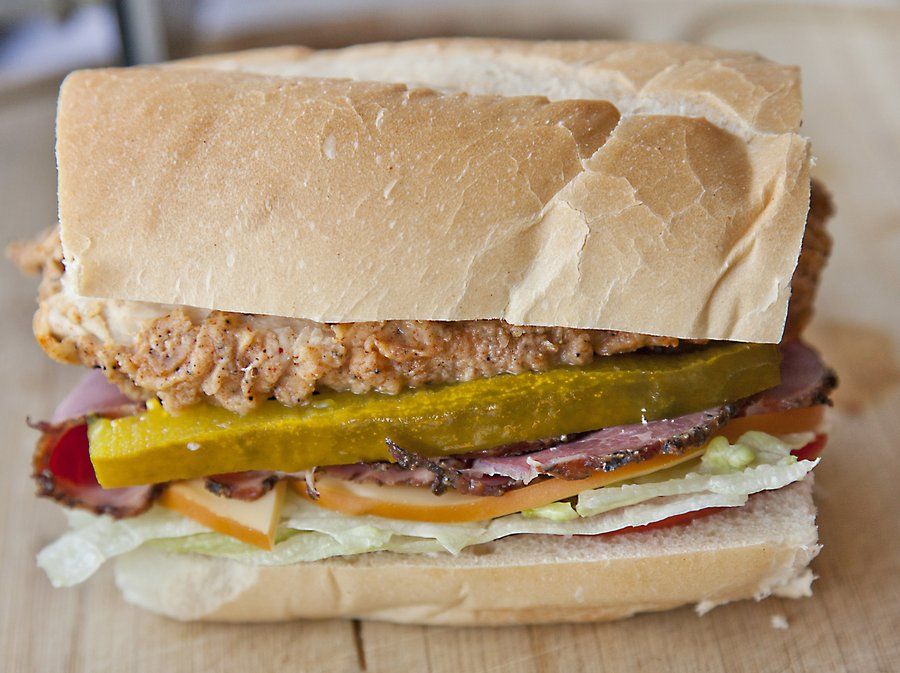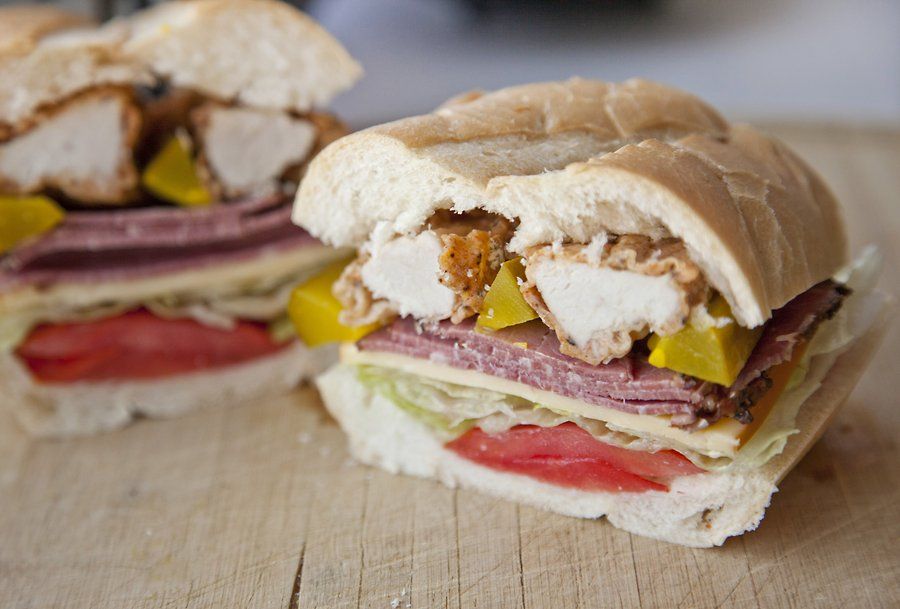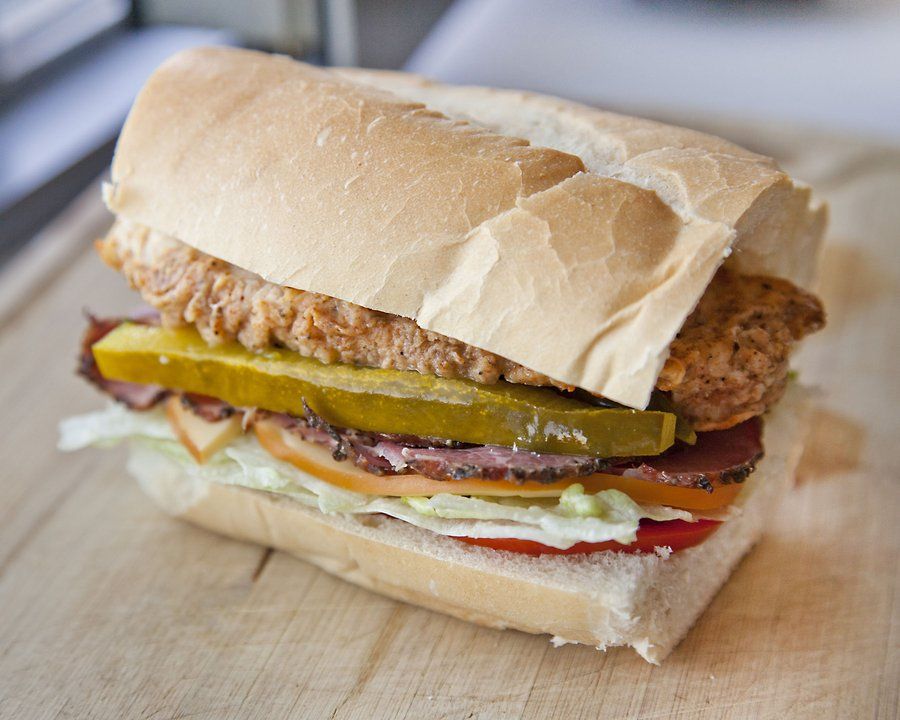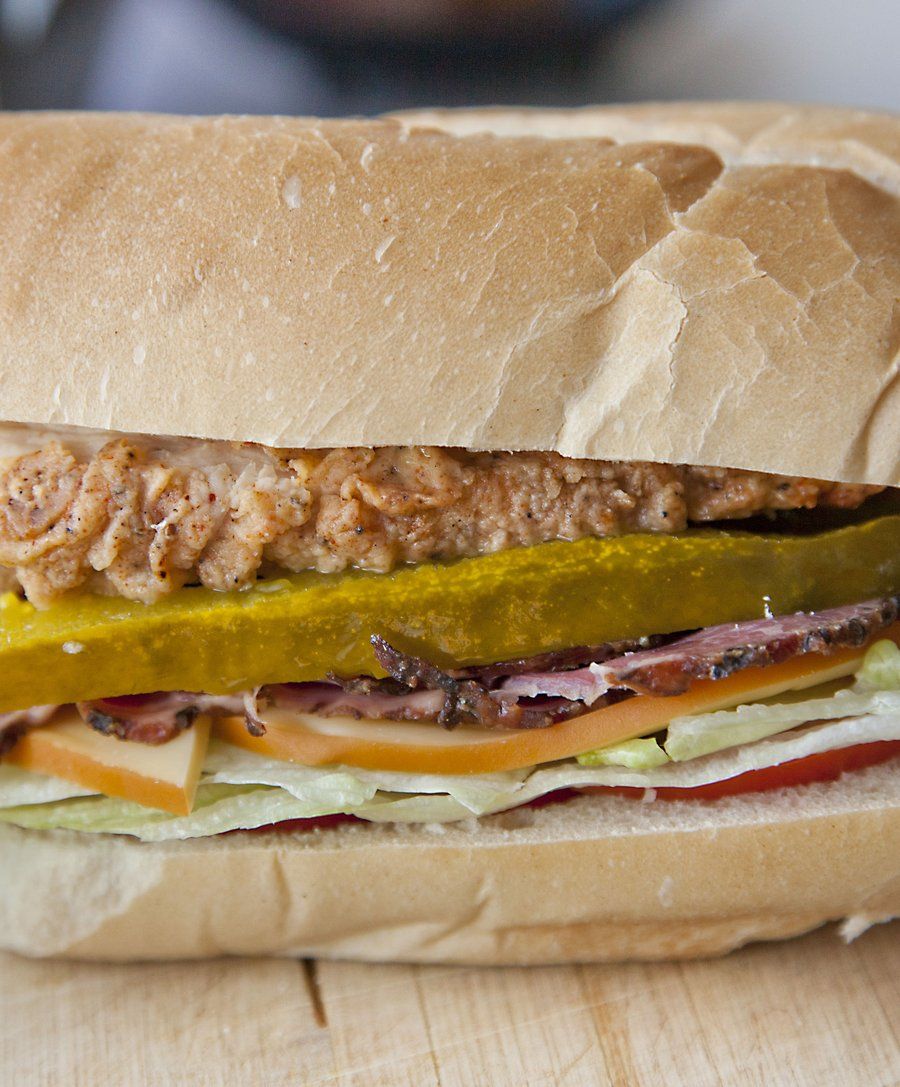 Chicken Cutlet Sandwich
Prep Time
---
10 Minutes

Cook Time
---
20 Minutes

Total Time
---
30 Minutes

Yield
---
Makes 4, 6" Sandwiches

Ingredients
1/2 Recipe Chicken Cutlets
1 1/3 lbs Pastrami (sliced thin)
1/2 Pound Smoked Gouda (sliced thick)
2 Dill Pickles (cut into strips)
1 Tomato (sliced paper thin)
Iceberg Lettuce (shredded)
4 Ciabatta Rolls (or your favorite roll)
---
Directions
Prepare the chicken cutlets as stated in the recipe below. ** When cutting up your chicken before the breading process, make sure they're thin - this makes it easier to assemble the sandwich!
To assemble, cut open your rolls, and evenly distribute each component to the 4 rolls - pastrami, cheese, chicken, pickles, lettuce and tomato.
This can be served warm, cold or room temperature.
Chicken Cutlets
Prep Time
---
10 Minutes

Cook Time
---
20 Minutes

Total Time
---
30 Minutes

Yield
---
Serves 4

Ingredients
2 1/2 lbs Boneless Chicken Breast (cut into smaller pieces)
1 1/2 Cups Breadcrumbs
1 T Dried Basil
1 tsps Salt
1/2 tsps Black Pepper
1 beaten Egg (with 1 teaspoon of water)
---
Directions
Breakdown your chicken breasts into smaller, chicken finger -like pieces. In a dish mix together your Breadcrumbs, basil, salt and pepper. In a small bowl, whisk your egg with 1 teaspoon of water.
Dip your chicken into the egg wash, coating completely, then into the breadcrumbs, covering on all sides. Set on a plate, and continue till all of your chicken pieces are breaded.
In a large skillet, heat up enough Canola Oil to coat the bottom of the pan. Once hot enough, add in your chicken pieces and cook on both sides till cooked through. Remove from skillet and let drain on paper towels. Serve hot.