I love Monkey Breads....for those who've never seen nor heard of such a bread let me tell you how amazing it is.  Imagine layers of delicious dough, stuffed with yummy filling, and glazed - it is then cooked in the form of a loaf of bread however, with it's layered quality, the bread becomes this "pull-apart" bread. Almost like a loaf sized Cinnamon Bun.
Ok, clearly my explanation is less than subpar, however, I guarantee you will love this bread. It's a great change up from an Apple Pie, easy to make, and easy to transport if you want to bring it to someone's house!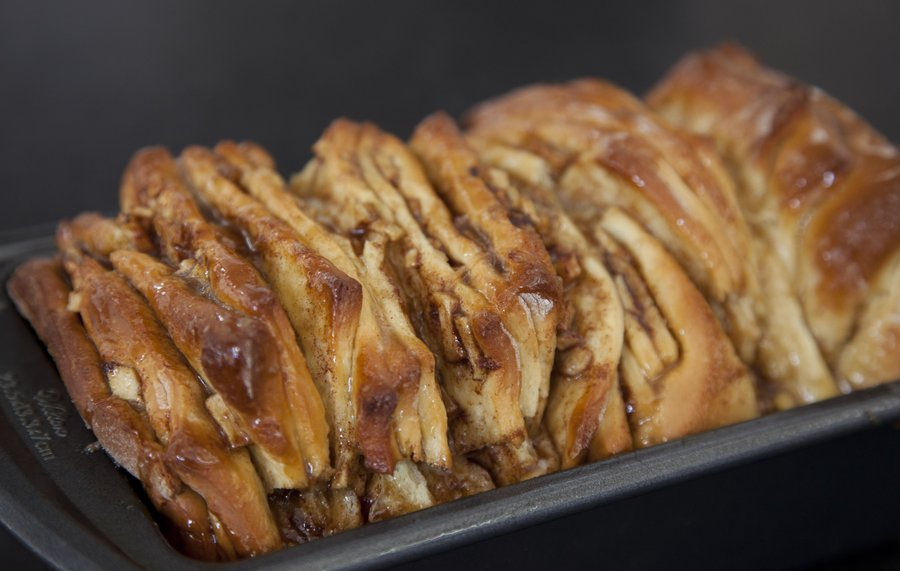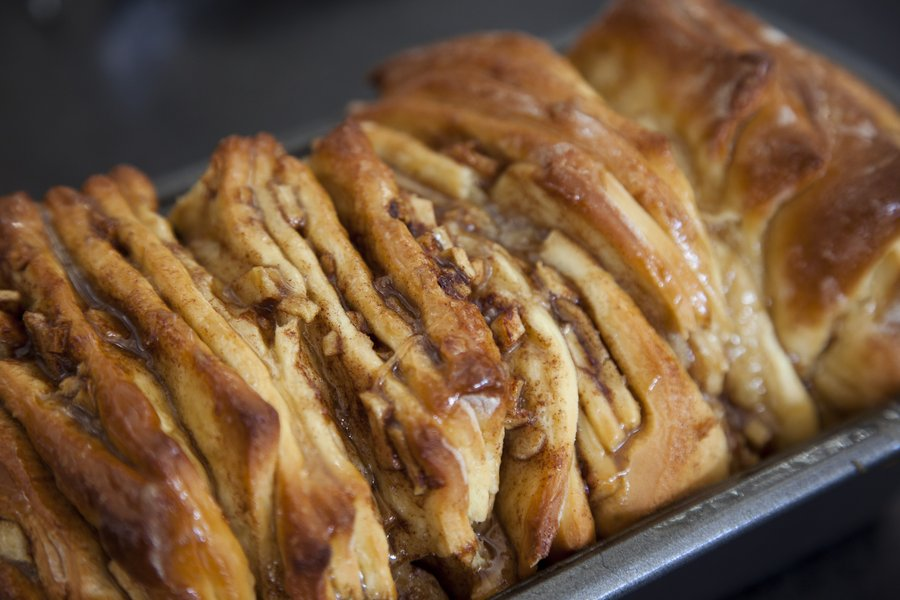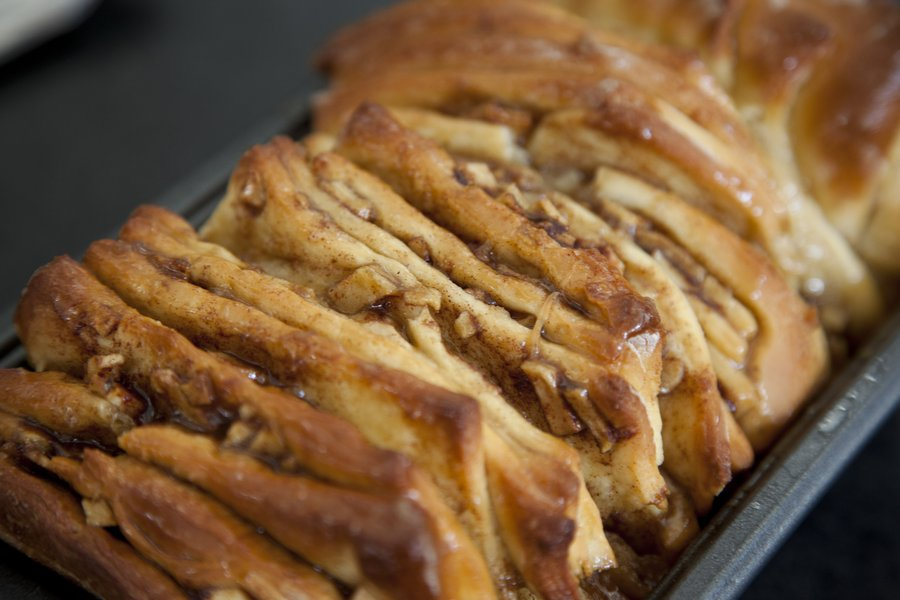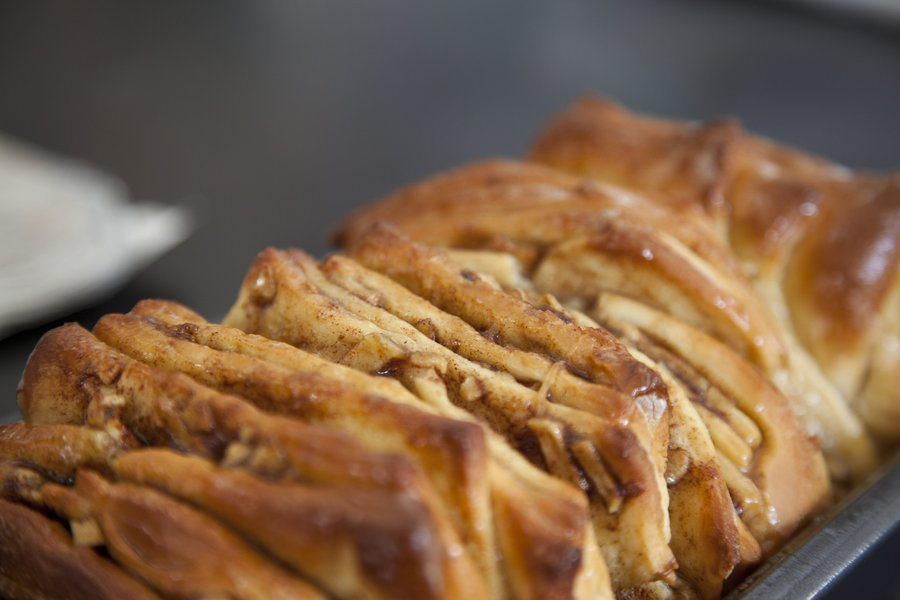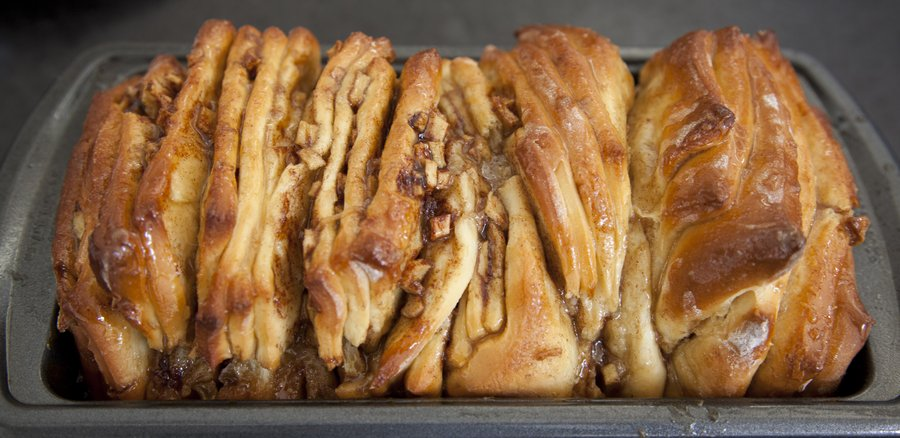 Apple Cinnamon Monkey Bread - DOUGH
Prep Time
---
2 Hour 25 Minutes

Cook Time
---
35 Minutes

Total Time
---
3 Hours

Yield
---
1, 9x5 Loaf Pan

Ingredients
1 Packages Active Dry Yeast
1/4 Cups Water (105-110 degrees in temperature)
3 Cups Flour
1/4 Cups Sugar
1/2 tsps Salt
4 T melted Butter
1/3 Cups Milk (I used Skim Milk)
1 tsps Vanilla
2 Eggs
---
Directions
In a food processor, add your yeast and warm water. Add in your flour, sugar, and salt on top of the yeast and mix. While it's mixing, add in your melted butter, milk, vanilla and eggs. Mix until a dough ball starts to form. If the dough is too wet, slowly add in teaspoons of flour, until it's a better consistency.
Set the dough aside in a bowl (sprinkle the dough with a little flour to prevent it from sticking to the sides of the bowl). Let the dough rise for 90 minutes.
While the dough is rising, mix together your filling ingredients thoroughly (recipe below). Once your dough has risen, on a floured surface, roll out the dough into a large rectangle (about 1ft by 2 ft in size). Cut the dough with a knife or pizza wheel from the short sides to create about 6 strips of equal length and width.
To each strip, rub the filling on top until there's no more filing left. Make sure to equally distribute the filling to all strips and all part of the strips. Then, stack each strip on top of each other until it's one thick strip. With a knife cut every 3 inches to make about 4-5 square stacks.
In a greased loaf pan, stack the squares vertically. Let the dough sit for another 30-45 minutes.
In a 350 degree preheated oven, cook for 25 minutes on the middle rack, take out, cover in foil, and then cook for another 10 minutes on the same rack.
Take out of the oven and let cool on a cooling rack. While cooling, make your glaze (recipe below). Add all ingredients into a small saucepan, and bring to a boil while stirring constantly. Cook until the consistency becomes thicker. Drizzle over the top of the loaf and serve!
Apple Cinnamon Monkey Bread - Filling & Glaze
Prep Time
---
15 Minutes

Total Time
---
15 Minutes

Yield
---
Ingredients
3/4 Cups Brown Sugar (light brown)
2 tsps Cinnamon
3 T melted Butter
1 Granny Smith Apple (Peeled and Diced Small)
2 T melted Butter
1/2 Cups Brown Sugar
2 T Milk
---
Directions
For the Filling: Mix together the 3/4 c Light Brown Sugar, Cinnamon, 3T melted butter and apple.
For the glaze: Mix together the 2T butter, 1/2 c Brown Sugar and the Milk.