I have a total weakness when it comes to cereal. If on the off chance, we have a box of cereal in the house, I will completely annihilate the entire box in less than 24 hours. And granola is no exception.
My main argument with premade, boxed/packaged granola is that it never has the kind of flavors or ingredients I want, so I decided to make a batch of my own, customized to my flavor profile. This granola has oats, nuts, and coconut, and is made without any processed sugars. It has just the right hint of sweet and salty, and a great combination of textures (one of the most important aspects of a good granola, in my opinion).
If you've ever purchased premade granola in a store before, you know how expensive it can be – I mean $5 for 2 cups of granola hardly seems logical…
With this recipe, you can make the granola in bulk, not only saving money, but also having fresh granola on hand for breakfast, snacks, dessert, etc. I store my granola in a mason jar for easy use and to help keep it fresh!
I am a purest when it comes to eating granola – I like it in a bowl with some milk, just like I'd eat any other cereal… however, granola with fresh berries and Greek yogurt is another great go to snack I like which this recipe works flawlessly with.
If you don't like the choice of nuts I used in this recipe (slivered almonds and chopped pecans), feel free to substitute in any other nut: Pistachios work great as well! Just make sure to not get salted nuts – it ruins the smooth flavor of the granola.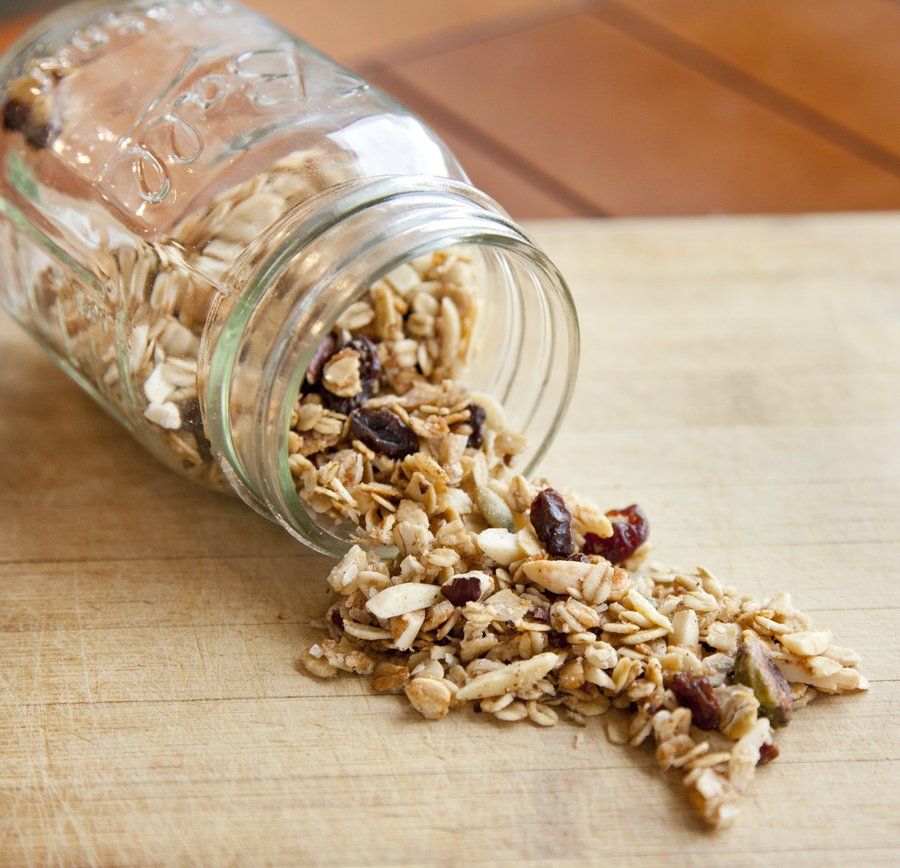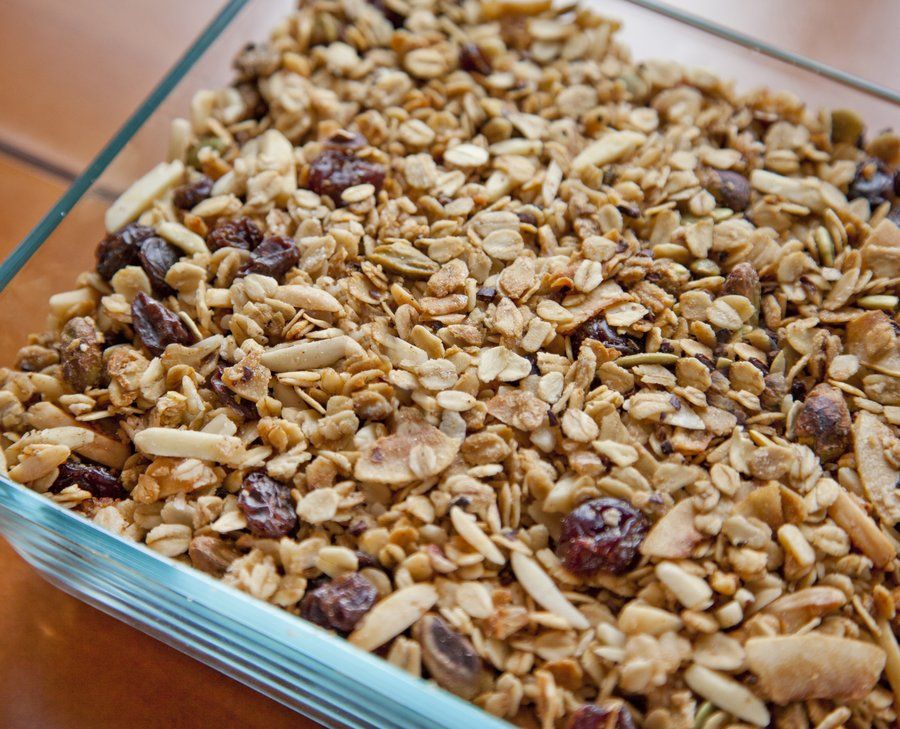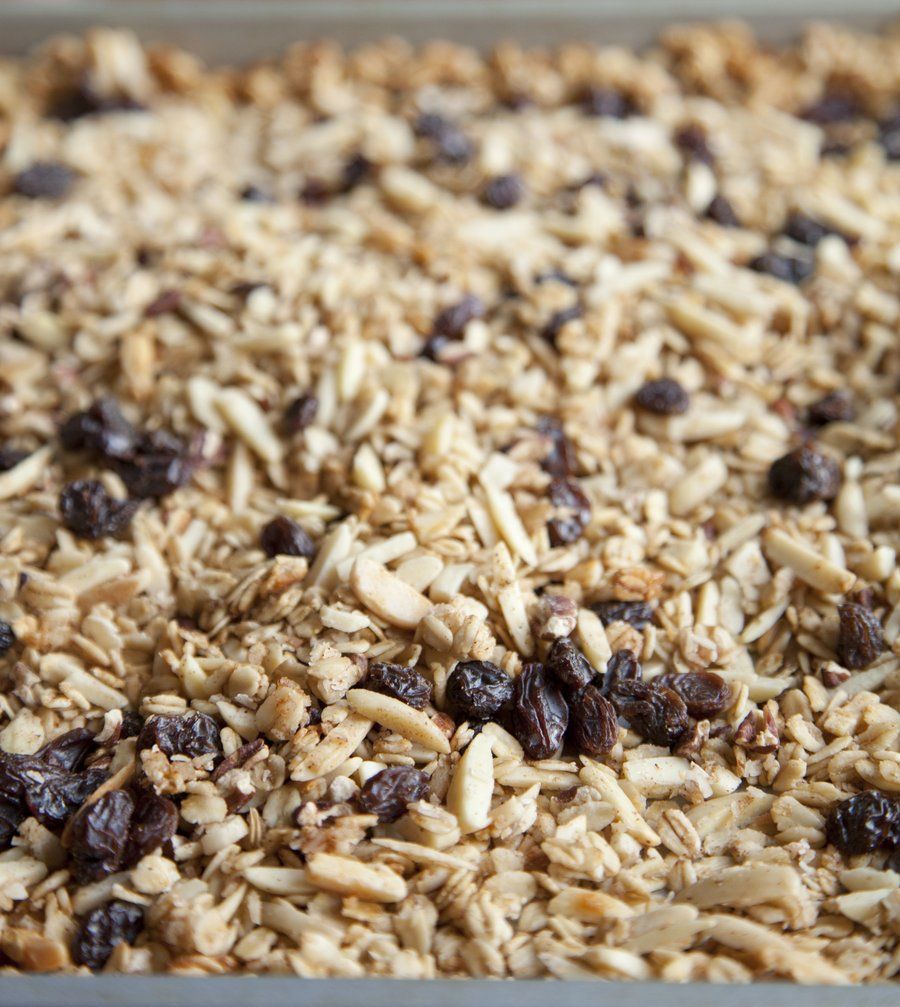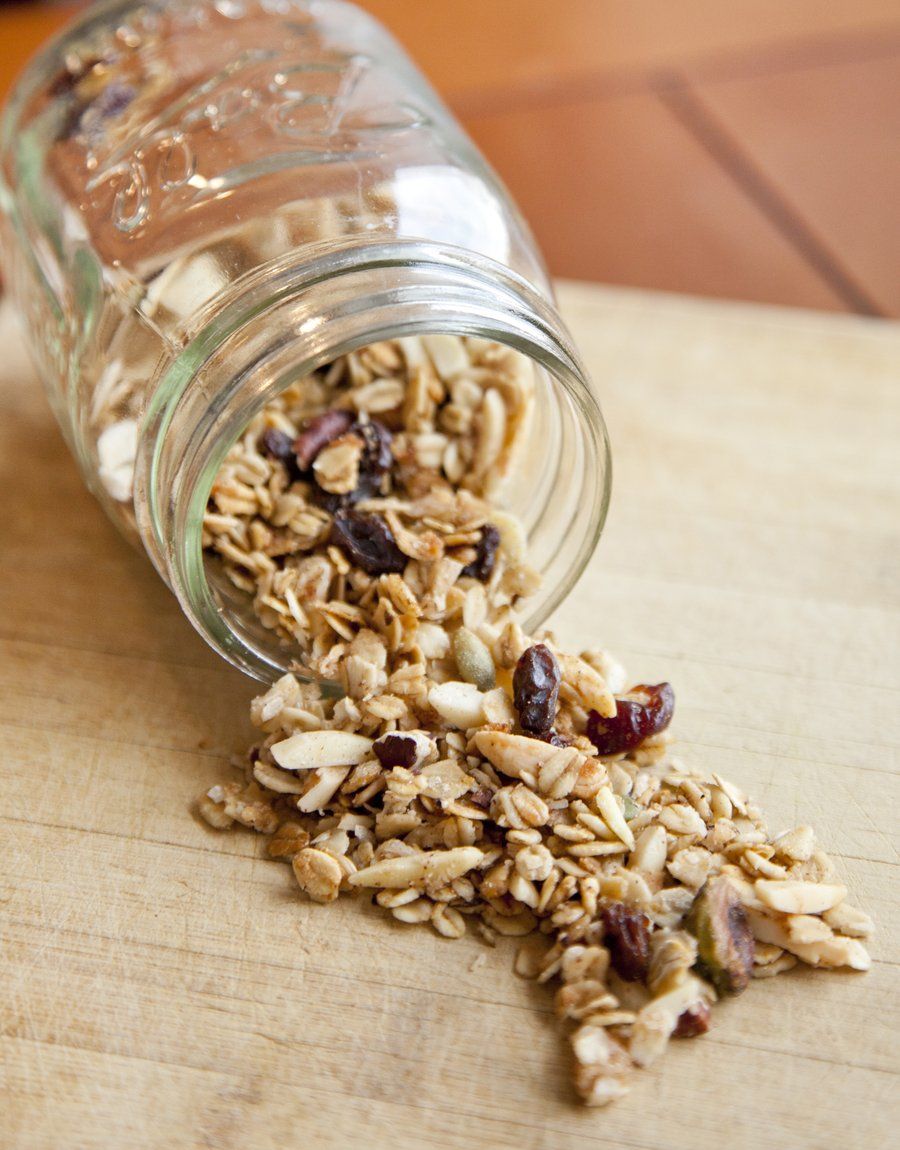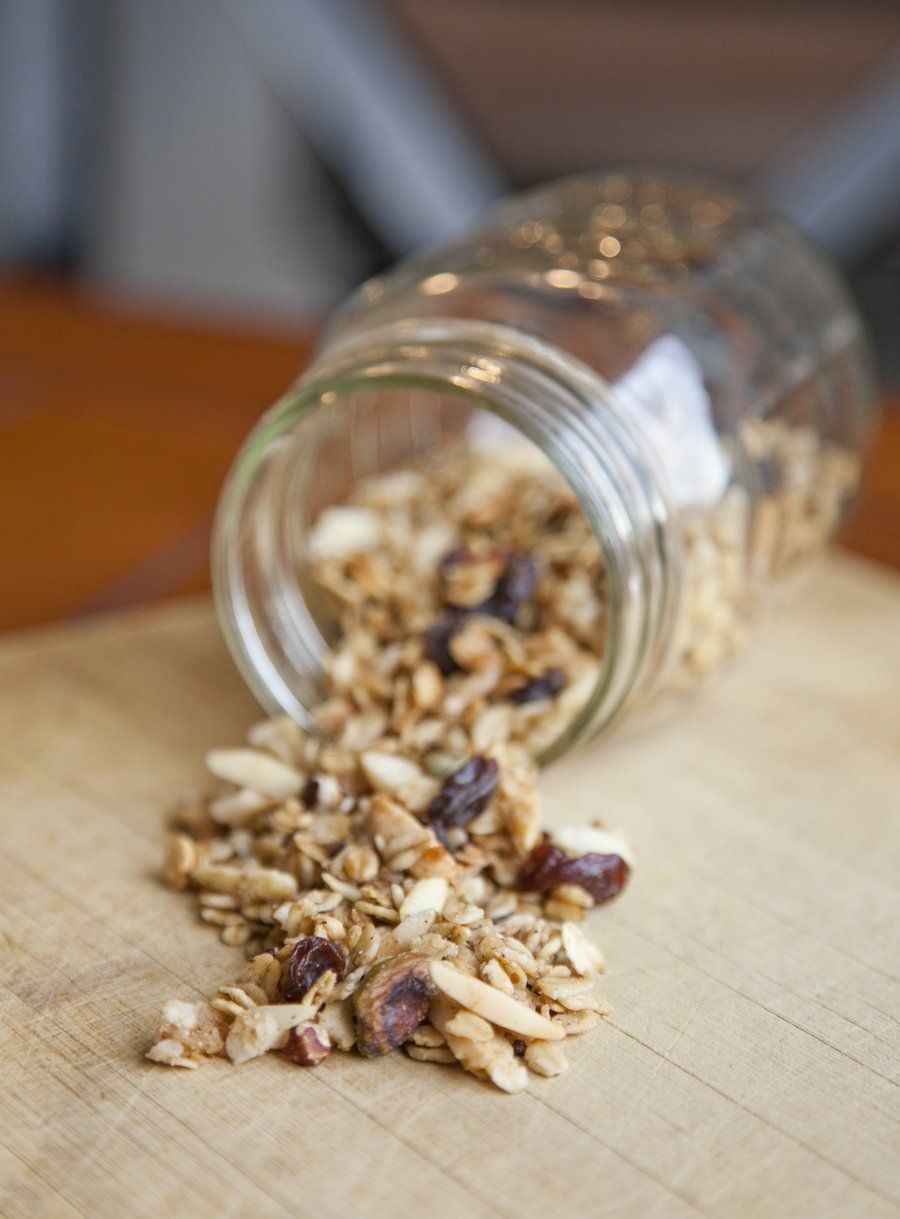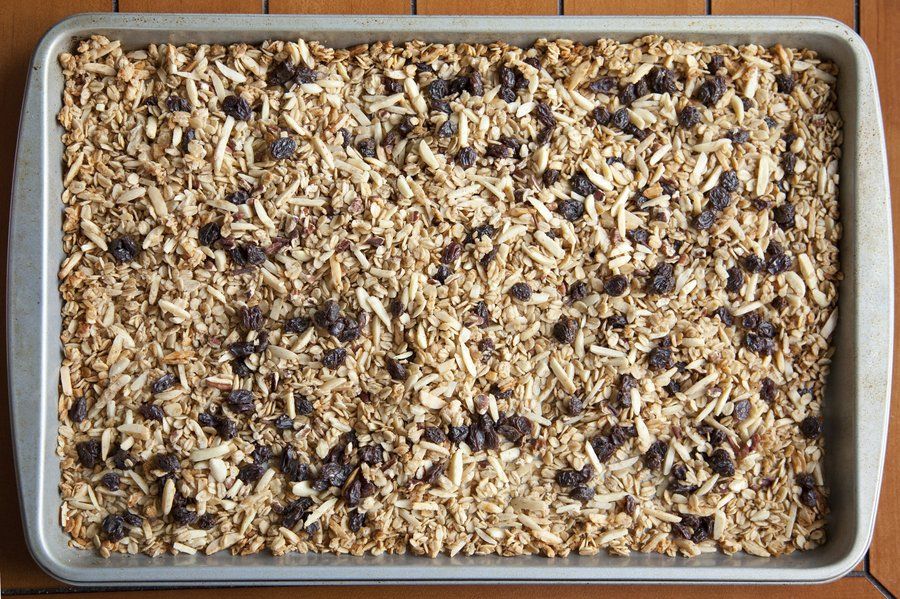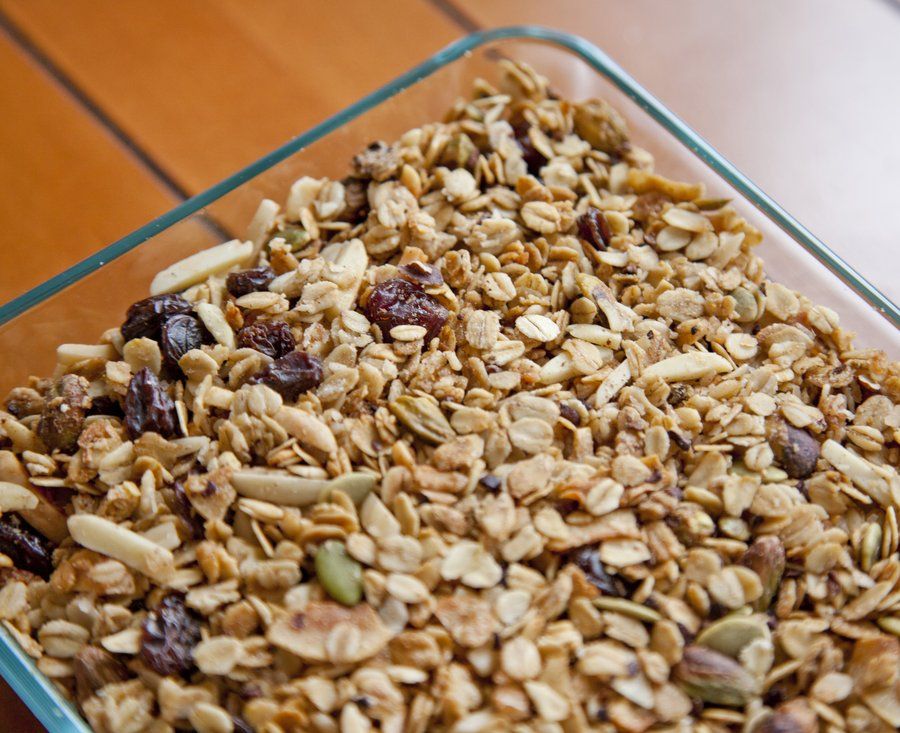 Almond & Coconut Granola
Prep Time
---
5 Minutes

Cook Time
---
30 Minutes

Total Time
---
35 Minutes

Yield
---
Makes about 5 cups

Ingredients
2 1/2 Cups Rolled Oats
1 Cup Sliced/Slivered Almonds (raw)
1 Cup Coconut (unsweetened)
1 Teaspoon Cinnamon
1/2 Teaspoon Salt
1/2 Cup Maple Syrup
1/4 Cup Coconut Oil (melted)
1/4 Teaspoon Almond Extract
1 Tablespoon Vanilla
3/4 Cup Raisins
1/4 Cup Pecans (unsalted, roasted, chopped)
---
Directions
Preheat your oven to 325 degrees. In a bowl combine your oats, slivered almonds, coconut, cinnamon and salt. Toss to combine. To that mixture, add your maple syrup, coconut oil, almond extract, and vanilla - stir to combine again.
Spread the oat mixture onto a sheet tray and bake in the oven for 30 minutes (shaking the pan every so often to prevent burning/sticking).
Once the almonds are a nice golden brown, remove the tray from the oven and allow to cool. Once cooled, toss in your raisins and pecans and serve! This granola can be kept in an airtight container for a few weeks.